Post content has been hidden
To unblock this content, please click here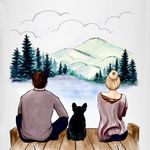 Are You Soldering Your Rings Together?
Are you planning to solder your rings together, or do you plan to leave them separated? I have heard of people soldering their rings, but I don't actually know anyone who has done this. When I first went to the jewelry store to look at/try on options for wedding bands, the lady at the jewelry store we went to kept pushing the idea of soldering them, and kept telling me rings I was looking at wouldn't work with my engagement ring because they couldn't be soldered together. When I told her I did not plan on soldering them, she looked at me horrified. Personally, I don't like the way rings looked soldered together. And I would also like the option of wearing only my wedding band on days that I don't feel like wearing a big diamond engagement ring. I didn't know soldering rings was that big of a "thing". Is everyone planning to solder their rings, or are you planning to leave them separate?
I am leaving mine separate! This way, I can choose to replace just one of them later on (if I ever decide to) or if one of them needs to be repaired (such as, a stone falls off), I can still wear the other ring while the one is being repaired.

I am leaving mine separate, in fact my fiance got me an extremely unique engagement ring that I absolutely adore but it has a unique shape so when we get married the engagement ring will be moving to my right hand and the wedding ring will be on my left hand since theres no comfortable way to wear them both on the same hand.


It depends on the design of your rings, and your personal preference. I'm keeping mine separate, as I plan to wear just my wedding band on some occasions (very hands on projects for work, travel, etc).


My rings are soldered. My engagement ring is a pear shape with a half-eternity, and my wedding band and the band for my stepdaughter are both half-eternity. It drives me NUTS when my rings spin around and the half-eternities don't line up!

I also hate the look of soldered rings. I only know 1 person who has done that. I've been married about 2.5 years, and I really like the ability to wear just my wedding band without my engagement ring. For instance, I will sleep with my wedding band on, but not with my engagement ring. Also, if I'm not leaving the house or just going to the grocery store or whatever, I usually don't put on my engagement ring. I just find it so much more practical because there are plenty of times where I want to wear my wedding band and not my engagement ring. When I wear both, sometimes they don't line up. If I notice, I take the 2 seconds fix it and then go about my day.

I didn't want to solder mine for the same reason as you, I wanted to be able to wear just a band on days I don't want my engagement ring on. However, I have one of those engagement rings with stones on all sides of the band, and a jeweler told me that if I don't solder that ring and my two bands together, there's a higher risk of the stones on the sides falling out because the rings are sliding against each other and that can supposedly loosen the stones over time. So, unfortunately I will probably do it unless another jeweler gives me a different opinion (haven't asked around yet). It probably isn't a concern if you don't have stones on the sides of your engagement ring band that would rub against your wedding band(s) - it doesn't sound like the jeweler mentioned that to you.

No way! I always wear both of my rings and one of my favorite features of my engagement ring is the beautiful Verragio detailing on the side.

Nope… never! I have 3 rings (the main e-ring and 2 diamond wedding bands) and I'd never want them permanently stuck together. In my case, there are times when I love wearing just my 2 bands since they're flat. Other times I like wearing the e-ring and only one of the diamond bands. I also mainly wear the 2 bands behind the e-ring, but sometimes I put a wedding band on each side of my e-ring (front and back). So, for ME soldering would be so limiting and wouldn't allow me to switch things up and enjoy the variety of ways that I can wear my beautiful rings.

View Quoted Comment

I never even thought about it making repairs easier! That's a great point!

View Quoted Comment

I've thought of moving my engagement to my right hand as well. I like at least having that option available. And I remember your unique ring! It reminds me of the Nightmare Before Christmas (one of my faves from when I was younger!) 🖤

View Quoted Comment

I completely get that! I'm OCD and that would probably drive me batty, too! 😆

View Quoted Comment

Thank you so much for sharing this! When I think of the future, I just always imagine that there will be times I won't want to wear both rings. It's so nice to hear from someone who has been married already for awhile and can speak from experience.

View Quoted Comment

She did mention that bands rubbing against eachother could potentially loosen stones over time, but my engagement ring is a solitaire with a solid band. Some of the wedding bands I was looking at did have stones (only half eternity though), but I figure that's what insurance is for. (As long as it doesn't loosen my engagement ring stone!)

View Quoted Comment

Definitely would not want to cover up all that beautiful detail!

View Quoted Comment

I feel the same- I have my engagement ring, an enhancer, and will have a wedding band also; and I like the idea of being able to mix-and-match them.

View Quoted Comment

My mom is a jewelery wholesaler (sells fine jewelery to stores across the country). My engagement ring and wedding band are a half eternity, and I have never been told by her, or her jeweler, that the bands rubbing against each was a concern. I mean, regular wear and tear will happen, but I don't think soldering the rings together makes a huge difference on that front.

I plan on soldering mine. I easily lose things, so the idea of having to keep track of two rings instead of one sounds like a disaster. I'm also not really a ring person, so wearing only one without the other isn't something I'd ever put thought into on a daily basis. I do plan on getting a silicone band to be able to wear in the garage or at the track, but we don't really do anything where an engagement ring would be too much or a silicone band too little.

View Quoted Comment

Thanks for that info Hannah! The lady that told me that was beginning to scare the crap out of me at first! She was saying she almost lost her huge diamond because of it. The actual jeweler there didn't seem to think it was a big deal though, and kind of expressed that it was a very small likelihood that would happen; and if the ring is regularly cleaned and inspected, any loose stones should be found during the inspection and could be fixed before falling out.

View Quoted Comment

Oh yeah, people do crazy things with their rings. Stores have legit sent back customer rings to get fixed on several occasion that my mom was convinced were repeatedly used as a gardening shovel or something based on how bent and dirty they were. As long as you take them off when doing things like gardening, working out, etc., you don't have much to be worried about.

View Quoted Comment

It actually is a Disney ring based off the Nightmare before Christmas so you are spot on there!
WeddingWire celebrates love
...and so does everyone on our site!
Learn more
Groups
WeddingWire article topics