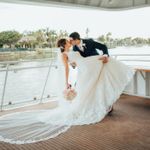 Laura
Planning our wedding the first time was a lot of fun, but having to change everything due to Covid… not so much. Message me if you want suggestions on... View More
Planning our wedding the first time was a lot of fun, but having to change everything due to Covid… not so much. Message me if you want suggestions on vendors in Naples, Florida!
Happily married 🎉
July 25, 2020
What went "wrong" at your wedding?
Every wedding has something go wrong, at least that's what I've heard. We could only have 14 people at our wedding which I was fine with because we planned on Facebook Live-ing the ceremony for...
3