655 Reviews
Recommended by 99% of couples
Quality of service

5 out of 5 rating

Average response time

5 out of 5 rating

Professionalism

5 out of 5 rating

Value

5 out of 5 rating

Flexibility

5 out of 5 rating
50 User photos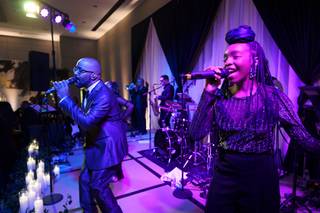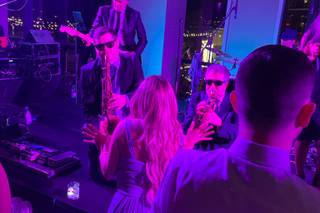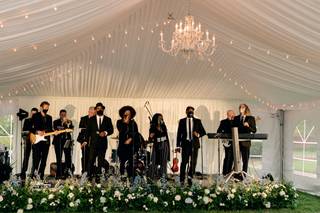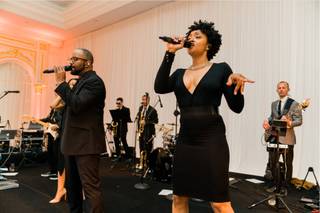 + 46

photos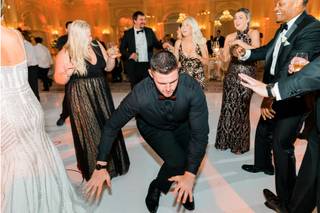 Featured

Jack K.

Married on 12/31/2022

Excellent band for any event or special occasion.

I highly recommend KeyNote as a band for any party or event! They are a fantastic band with great energy. We hired them for our NYE wedding celebration and could not have asked for more. They were extremely talented and had a great song selection. Definitely choose KeyNote for a memorable experience!!

Entertainment Exchange's reply:

Jack! Thank you so much for having Keynote and for this amazing review. The band was so happy to ring in 2023 with you and your loved ones. Until next time!!

Mary S.

Married on 12/31/2022

Free Spirit Band 12/31/22

Free Spirit played at our sons wedding on 12/31/22. They were MOST AMAZING band I have ever heard!! They absolutely made my sons NYE wedding extra special. From their music, to their professionalism, to their communication skills...we would hire them again in a second!! Someone told us that one of the most important aspects at a wedding reception is the band you choose. We had many options to choose from & did our homework. Free Spirit nailed it!!

Laurie

Married on 12/31/2022

Nightsong was AMAZING for 2022 NYE Wedding!

Nightsong made our daughter's 2022 New Year's Eve wedding the most memorable night ever. Bennet Scher and Nightsong were professional and fantastic communicators--but most importantly they completely ran the reception after dinner! Nightsong's music was phenomenal--AMAZING for ringing in 2023 on New Year's Eve!! They played everything and anything that was requested! Our families and guests keep telling us (and they told us that day too) how insanely amazing the band was!! The dance floor was PACKED all night as Nightsong played until 1 am and the fun just didn't seem to want to end. Nightsong exceeded our expectations over and over. Our trust in Nightsong may have been the best reception decision our daughter made.

Are you interested?

Send a message

Danielle H.

Married on 12/13/2022

Hire nightsong as your band!

First, I will start by saying how extremely flexible and wonderful Nightsong is to work with. I unfortunately had to postpone my wedding numerous times due to COVID in 2020, and was finally able to pick a date to use Nightsong as my band for another event. They did NOT disappoint. Not only are they easy to work with, but they are also SO talented and fun. They really know how to work the crowd and play the best of the best hits (and also work with your style). The 3-year wait (!!) to finally partner with them really was worth it. Hire Nightsong as your next band - you won't regret it! 

Roger S.

Married on 11/18/2022

Nightsong Band Equals Amazing Wedding Reception

I went through the debate of band vs. DJ and also if a band, which one. I can say that the decision to hire Nightsong was the best decision I made for the wedding. They transformed the reception into an incredible party with their enthusiasm, professionalism, willingness to accommodate the bride's specific desires, and phenomenal musical talent - both instrumental and vocal! They were worth every penny, and the band leader, Bennett, was extremely responsive and the ultimate professional, adding his invaluable experience to help guide us through the process and make everything perfect! I truly could not have asked for more. They delivered more than expected and made the evening a fun memory for everyone I spoke to. I had more compliments about the band than the gourmet meal, beautiful mansion setting, or delicious deserts. Nightsong made the reception!!!

Alyssa S.

Married on 11/12/2022

Free Spirit was the best!

Thanks to Free Spirit for such an amazing evening on Saturday night! I wanted to pass along that I received numerous comments that Free Spirit was the best wedding band people have ever heard, and that the playlist they used was the best they had experienced. We could not have had more fun!!

Trish R.

Married on 10/29/2022

Nightsong is THE BEST

We heard Nightsong was the best in the DMV (and beyond) and they proved it! All our guests raved about Nightsong and were on the dance floor the entire night! Nightsong vocalists were amazing and the musicians blew us away! Hiring Nightsong was one of the best decisions we made!

Conrey C.

Married on 10/22/2022

Infusion Band and Entertainment Exchange were incredible!

Seriously, hire this band! Nita and Infusion band were absolutely incredible. All of our guests are still talking about how amazing Infusion band was, saying it was the best band they've ever heard. Our dance floor was packed the entire night and Nita's vocal range was unreal. The mix of genres was spot on and appealed to all. Truly this band made our wedding night completely unforgettable. HIRE THIS BAND- you will be blown away!

Kaitlyn H.

Married on 10/22/2022

Excellent DJ!

We worked with Karla Googins to find the best choice for entertainment for our wedding. She was so helpful and very responsive. She got us in touch with DJ Frankie Sanchez. From the moment we spoke with him on the phone we new we had to hire him. We liked his energy and how he really listened to our thoughts and what we wanted. I sent him a Spotify playlist for the music we wanted for the wedding and he did a great job and everyone had a great time on the dance floor. Initially we told him that we wanted to do the bouquet and garter toss and gave him music for it. The night of our wedding his assistant came up to me and asked when we wanted to do it. I looked at the dance floor and everyone was just having a great time that I decided not to do it and ruin the moment for everyone. DJ Frank was a pleasure to work with. He listened to exactly what we wanted and made it a reality. I would recommend him to anyone else in the future!

Layne R.

Married on 10/15/2022

Nightsong performance - 10.15.22

Nightsong put on a spectacular performance for our wedding last weekend. Not only did Nightsong produce a set list that kept everyone up and dancing the ENTIRE night, they were an absolute joy to work with. We had a couple changes that had to be made last minute and Nightsong was extremely accommodating and professional when addressing them. Nightsong brought the ultimate energy that made it such a memorable night for us and our guests. We could not recommend them more to anyone looking for an extremely talented, high energy and downright fun band.

Debby G.

Married on 10/08/2022

It was awesome working with Free Spirit

Just a quick note to say how awesome it was to work with Free Spirit for Madeline and Jacob's wedding. I'm still trying to catch my breath from the whirlwind weekend. 

They were very responsive from the start and I knew we were in good hands from other weddings where I saw the band perform. But I was absolutely blown away from the very first song!  

My husband David didn't have much interest in the wedding details but when he found out we had Free Spirit, he was super excited. He kept telling everyone how they were the best years ago and are still the best band around today - no comparison!  I completely agree with him! 

I loved that so many of our guests were on the dance floor during the hora having a blast (a highlight for me) and Madeline and Jacob had fun in the chairs!  They were great at keeping the party going until the bitter end.

Mike, the singers, musicians, and crew really made the evening a success.Thank you from the bottom of my heart for making the day so special for us!

Patricia B.

Married on 10/08/2022

Keynote Band

We recently had Keynote band perform at our wedding and they impressed everyone. The communication prior to wedding was very professional and all questions answered. We literally could have not chosen a better band. Patrice, lead singer, engaged on dance floor with guest and really got the party going!! All of our guest said they were the best band and have not danced so much at a wedding!! I highly recommend hiring Keynote because they truly got the party started!!

Ben R.

Married on 10/01/2022

Wedding - October 1, 2022

Nightsong did a fantastic job at our wedding, required very little handholding - they are pros at what they do. Our wedding guests continue to comment about how good the band was, including the great solos from the guitarist and sax. Highly recommend Nightsong!

Leah S.

Married on 09/24/2022

Round Midnight = The BEST

We hired Round Midnight for all of our wedding day musical needs (ceremony, cocktail hour, and reception) and we were completely blown away! My husband and I first found this band at a wedding we attended in 2017 and we never left the dancefloor, so I made it a point to never forget them. When we got engaged, my first email was to Entertainment Exchange to confirm they were still together and to get their availability. The team we worked with leading up to the event was so professional and detailed, and they listened very closely to our wants and needs. Mike J knew exactly what type of instruments to use for the ceremony to achieve the songs we wanted, and they also knew how to create the ideal flow for the reception so we could maximize time on the dancefloor. All throughout the night we received so many compliments and comments about how awesome the band was and how they were the best that people had ever seen at a wedding! The song list couldn't have been better; they definitely knew how to keep the crowd engaged and dancing all night. They even let me on stage to play the cowbell! Thank you Round Midnight for making our wedding day extra special, so many countless memories were made to the tune of your sound!

Brittney

Married on 09/24/2022

Nightsong - best band ever!

My family and friends won't stop talking about how INCREDIBLE Nightsong was. People were quite literally dancing for 2 hours straight. Nobody wanted to sit down!! Nightsong exceeded ALL expectations and the party would not have been the same without them....THEY WERE THE PARTY! I could not recommend them enough. If you are wanting your guests to dance the entire night and wake up a little sore from dancing too much THIS IS THE BAND TO HIRE!!!

Thank you SO SO MUCH!
Brittney + Billy

Alan C.

Married on 09/18/2022

NIGHTSONG was the band that played for our wedding on September 18, 2022. NIGHTSONG was phenomenal.

NIGHTSONG did a great job performing at our wedding on September 18, 2022 in Washington D.C. Many people came up to my wife and me during and after the wedding and told us that NIGHTSONG was the best band they ever heard at a wedding! We agree with that assessment! NIGHTSONG had many people out on the dance floor dancing right up through the last song they played for the evening. NIGHTSONG'S singing was fabulous and their instrumentation was outstanding. NIGHTSONG played a wide variety of songs and did all of them in splendid fashion. Of particular mention is the wonderful Hora medley NIGHTSONG played at our request, as this was a Jewish wedding. As a result, NIGHTSONG had many guests dancing the Hora out on the dance floor for a very long time. NIGHTSONG'S band leader -- Bennett Scher -- was a delight to work with. In addition, NIGHTSONG'S keyboardist -- Attila Molnar - did a great job in lining up a concert pianist to rehearse with and accompany two sopranos we know who each sang a song at our wedding ceremony. NIGHTSONG helped to make our wedding a great success. We would urge any couple planning a wedding to choose NIGHTSONG as their band.

Zach B.

Married on 09/17/2022

We LOVED Free Spirit!

We absolutely loved having Free Spirit at our wedding and know that we made the right decision choosing them.

From the moment they came on stage to the last song of the night, the dance floor was rocking! Every aspect of the band was great, starting with their style and presence, their song selection, and most importantly their musical talent. So many guests at our wedding came up to say they were the best wedding band they had ever seen. Plenty of people came up to us and wanted to know how we found them because they were so great. 

We also had some interactions with various members of the band and crew and they were all so fun and kind to talk to off the stage. Even the sound guy was a crowd favorite, jamming out with all the guests while still keeping everything going well. We did appreciate how they learned the requested songs for our wedding as well and how great the performances were. 

And one of our favorite parts was when the band went into a slew of punk songs from our era and even brought us on stage. It truly was an amazing experience that we will surely never forget. 

Kyle G.

Married on 09/17/2022

Phenomenal Wedding Band

Nightsong lived up to their reviews and exceeded our expectations. They did a great job of playing the music we requested while also reading the room and keeping the crowd entertained. They worked very well with our venue, wedding coordinator, and us. I highly recommend them!

Sam K.

Married on 09/10/2022

Free Spirit is AMAZING!

Thanks to Free Spirit for playing such an integral role in our wedding day. They are AMAZING and were exactly what we envisioned to make our day extra special and fun. Everyone had a blast, and that was in large part due to the band. They stuck with us through two postponements and they were so flexible through it all. We are so grateful that we finally got to work with them. Thanks again for making our day so special!

Kristen S.

Married on 09/10/2022

Five stars - amazing band

I got married on Sept. 10, 2022 and NightSong was THE MOST amazing band. My top priority as a bride was a fabulous dance floor and NightSong did not disappoint! we had so many guests comment on the high-energy they brought. People were dancing all night. I cannot recommend NightSong enough - they were professional, well-rehearsed and had a great playlist. They fed off the crowd and really worked with us to make the night super special. In short, GET NIGHTSONG YOU WILL NOT BE DISAPPOINTED.

Joanne

Married on 09/04/2022

Nightsong is exceptional

Nightsong was truly amazing! My daughter's wedding was a success thanks to them. Their choice of music was varied but they clearly knew what to play to keep our guests engaged because they kept everyone on the dance floor, young and old, until the end. And we appreciated the pre-wedding "interview" so we could share our thoughts with Bennett and with his assistance come up with the perfect timeline. Nightsong was very professional and the entire evening was seamless because of them. A magical night! Thank you Nightsong!

Steve M.

Married on 09/03/2022

Nightsong - Best Wedding Band you could choose!!!

Nightsong made our daughters September 3, 2022 wedding a musical sensation. We hired their 9 piece band. From the moment they started playing to the end of their encore no one literally left the dance floor. Once they had the crowd going they never let go. Every song played teenagers to senior citizens knew the songs. The band as well as the song were lively, fun, and happy. They were as engaged with the guests as performers as well as musicians, but never stole the show from the bride and groom.
Bennett and his crew were accessible for planning, learning new songs, and helping to arrange the night in order to satisfy the bride and groom's wishes.
We would highly recommend them for your wedding!

Brittany M.

Married on 09/03/2022

Hire nightsong!

NIGHTSONG played for my wedding on 09/03/22 and they were absolutely INCREDIBLE! We were completely blown away. They played the best songs and kept the energy and party going the entire night, nobody left the dance floor! They made our wedding so fun and perfect and I wish I was having another wedding so I could hire Nightsong again!! We got so many compliments from family and friends throughout the night and in the weeks after we were still thinking about them!! Nightsong was a pleasure to work with, they worked with my vendors and I in developing a timeline that I would be happy with and they were so kind, flexible, and excited to make my day the best it could be and it absolutely WAS!! HIRE NIGHTSONG it will make you the happiest bride and have the best party!! They were the BEST and one of the best decisions we made!!!

Ida

Married on 08/27/2022

Nightsong Made Our Celebration!

Nightsong was exhilarating! They emceed our wedding reception on August 27th and the evening went like clockwork. We could not have been more impressed with Nightsong's performance – beautiful vocals, accomplished musicians, and absolute professionals who kept everyone dancing all evening! Friends who were professional musicians expressed how much they enjoyed Nightsong's performance and asked for their names – the band was a tremendous success! My daughter-in-law and son received many compliments from their friends along with our guests and family members enjoying a perfect mix of music appealing to all ages. The main vocalists came down from the stage and sang alongside everyone on the dance floor igniting the room with their energy and cheers for an encore! Nightsong keeps everyone engaged and surpassed our expectations – thank you for a night we will always treasure!

Steven H.

Married on 08/24/2022

If you want the best wedding experience ever

K Street Union performed for my son's wedding and the entire experience absolutely couldn't have been better. Bandleader Karla was a dream to work with, a consummate professional, not to mention having a voice and stage presence second to none. The musicianship and all of the vocalists were truly outstanding. Our guests couldn't stop telling us K Street Union was the best band they've ever heard, without exception. The flow of the wedding was seamless, thanks to Karla's experience handling all aspects of ensuring a successful and memorable wedding. I know there are many good bands available, but K Street Union should clearly be at the top of anyone's list.
Are you interested?
Send a message