A Shindig Southern Event Planning Reviews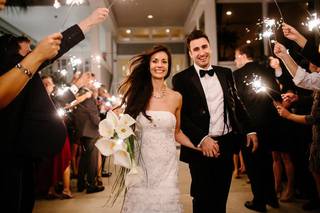 A Shindig Southern Event Planning
Wilmington, NC
View more information
Reviews
5.0 out of 5 rating
Quality of service

5 out of 5 rating

Average response time

4.9 out of 5 rating

Professionalism

5 out of 5 rating

Value

5 out of 5 rating

Flexibility

4.9 out of 5 rating
99%
Recommended by couples
Richard

Married on 04/27/2018

My now-wife and I had a phrase for our wedding planning: "That's a Jessica problem," Jessica being the amazing woman behind A Shindig.

Anything that we either didn't want or couldn't deal with (or both!), was a Jessica problem. Jessica not only solved all of the Jessica Problems we gave her--from coordinating the electrical requirements of our band to organizing lighting for our tent--but solved ones I didn't even know we would have like blocking out the rehearsal. Jessica recommended all our vendors (who were uniformly excellent), was responsive to our contact, and even continued answering my borderline inane questions ("What was that cheese the caterer served?") after the wedding was over.

I absolutely cannot recommend her highly enough. Anyone planning a wedding would do well to create some Jessica Problems of their own, and then watch it amazement as she makes solving them look easy.

Lauren

Married on 11/12/2016

Understood my vision and executed perfectly! Wouldn't have changed a thing :)

Jessica was a joy to work with. She is very knowledgeable about the area and the vendors she works with are all superb. Being an out of town Bride, I felt that everything was taken care of - even when the weather took a surprise turn. Jessica truly showed grace under pressure and even though we were on back up weather plan C or D, our event was an incredible success. Cheers!

Are you interested?

Send a message

Jennifer

Married on 07/10/2016

Jessica was quite possibly the best thing that happened to my wedding. Throughout the process I had someone I could trust to give me suggestions and point me to the best vendors for the things I wanted. This made the planning process far less stressful than it would have been. Most importantly, her work the day of my wedding allowed me to enjoy the day and not worry about any of the details from set up of the venue, schedule of events, to the clean up at the end of the night. My husband an I had a great time at our wedding, even managing to enjoy the food which I hear is rare. This was all due to Jessica :-)

Hiring her was worth every penny!

Jessie

Married on 06/17/2016

Looking at the price tag of a quality planner can be intimidating. It was by far one of the best investments we made in our wedding! Jessica was amazing! It feels like figuring out your wedding details with your best friend. She had so many inside wedding insights on the area, vendors & minutia that there is no way someone without years of experience could possess. Our wedding day was the best day of my life and I credit Jessica as a huge factor in its success!

Amanda

Married on 05/07/2016

Jessica is so awesome and hiring her as my wedding planner was the best decision I made during the wedding planningprocess!! I recently got married in Wilmington but I live out of town, several hours away. A couple months into wedding planning, my fiancé and I decided that I needed a wedding planner to keep my sanity. After the first conversation with Jessica, I knew that hiring her as my wedding planner would be a good decision and it definitely was! Jessica provided suggestions for every single vendor along the way and always thought about things that never even entered my mind! Jessica was always very reps onside to any email or text that I had and always made herself available based on my schedule. My fiancé met Jessica several months before our wedding and after just 15 minutes with her, he told me that Jessica was worth every penny of her fee! The whole planning process and wedding day went so smoothly and i know that was mostly thanks to her. Jessica truly is a life saver and such a delight to work with! You will not regret having Jessica as your wedding planner!!

Jessica was literally the best thing that happened to our wedding. We had Jessica just for "day of coordination" but her services are WAY beyond that. She was so helpful in the planning process. For our venue we had to bring everything in and she gave us such piece of mind that we weren't forgetting anything. I truly never was overly stressed in the months/weeks leading up to our wedding which is all because of her. She handled everything so smoothly day of and I had such confidence in the day. Could not recommend her enough!

Melissa

Married on 04/24/2016

Absolutely, positively well worth her weight in GOLD! Jessica was so attentive to every detail, from 9 months prior to the days after the ceremony. I'm so grateful and thankful for her for making our special day beyond anything we could imagine ourselves!

Jen

Married on 04/02/2016

Jessica is absolutely wonderful, I am not even sure where to begin! She is so kind, thoughtful, sweet, organized, detailed and polished. Jessica makes to you feel comfortable and relaxed on your wedding day - believe it or not! She truly listens to your desires, goals and everything in between. Here is a little break down:
Pre-Wedding/Planning: Jessica makes you feel like she is the ultimate girlfriend, she will answer every question you have and never makes you feel silly. She works through every detail with you and while she has wonderful ideas (I say trust her and go with what she recommends) that if you want to do something a little nontraditional on your day, she helps plan it so it goes smoothly! Jessica is beyond organized and prompt.
Rehearsal: Jessica gets to know your family, wedding party and other bridal crowd all while managing the event. She answered everyone's questions so politely while still keeping everyone on track. Jessica also spotted some kinks and worked them out perfectly with a well executed and communicated plan.
Wedding Day: WOW! Talk about someone to calm your nerves, make you feel great, keep you on track, keep your wedding party focused yet allowing them to have fun and beyond. Jessica helped us all feel comfortable before the ceremony and ran our ceremony flawlessly. She truly is so organized and tactful.
After: Jessica sends well wishes and makes you feel like you gained a friend. She is amazing!!!!


Jessica was absolutely amazing!! From the first phone call (only about 2 months out from my date) I knew she was the planner for me. Not only did she understand what I wanted, she instantly gave me amazing ideas. She was so kind and easy to work with - and never made me feel like what I wanted was out of reach. Throughout the time A Shindig was helping me plan my dream day, Jessica was only a call or text away. She truly made my day magical, and it would not have been the same (or as classy, or amazing) without her. Best wedding planner ever!'

Cheryl

Married on 10/17/2015

Working with A Shindig Southern Event Planning was an absolute pleasure. I had so many questions and fears about planning the rehearsal dinner. I had no idea about current etiquette, menu, cake, flowers, invitations, rentals, etc. A Shindig Southern Event Planning provided me with excellent options to choose from and wonderful guidance on making choices. Jessica Gibbs is so personable and delightful to work with. She is very detail oriented and hands-on with everything. She offered to handle so many details for me personally since I live out of town. Our event was a tremendous success and we are still receiving compliments on it.

Morgan

Married on 10/09/2015

Jessica Gibbs made the planning process of our wedding STRESS FREE! She is wonderful at what she does and was a pleasure to work with. I would recommend her to anyone looking to hire a wedding planner.

Jessica is an absolute must if you are in the process of wedding planning! We originally started working with her from CA, where she expertly scheduled our top priority vendors all in one weekend trip to NC. Before our move, she was also extremely flexible and responsive despite time zone differences and our busy work lives. One of the things she helps you with is knowing what to worry about and when in order to keep you on track but not feel overwhelmed. After our move to NC, Jessica was available for quick meetings with vendors to fine tune the overall "theme" and little details. She's also excellent at creating your vision and gives lots of great recommendations! On the day of the wedding, Jessica was an absolute lifesaver! Despite the rain and other smaller issues, Jessica made sure the night ran smoothly, helping us have the best night of our lives! She always has an extremely positive and optimistic attitude that makes working with her enjoyable and fun! So long distance or close to home, Jessica is without a doubt the person to choose to help you plan your special day!

A Shindig Southern Event Planning made all of my wedding dreams come true. Jessica was fantastic to work with and was so accessible to both my mom and I from the very beginning. She dealt with all of our vendors from start to finish and we did not have to worry about a thing on the day of the wedding. She knew exactly the style I was going for and was so great in giving me advice and keeping me on track. If you want a beautiful experience from start to finish, A Shindig is the way to go!

Paulette

Married on 05/30/2015

I was very pleased with Jessica Gibbs she was professional but with a very personal touch in all that she did. My daughters wedding was beautiful and went off without any problems. We had an out door wedding and reception with a wedding party of 26 and 250 guest. All went smoothly. She went above and beyond what her job discription was and I would recommend Her to anyone who was in need a a wedding planner.

Jade

Married on 11/30/2014

Jessica was absolutely amazing to work with throughout the whole process!! My husband was skeptical about hiring someone as a wedding coordinator because he was unsure of the value, but she sold him on the idea in the first meeting and again and again with every step. She was personable, professional, dedicated and thought of every detail. Our day was PERFECT and it was all because of Jessica. She was worth every penny to have stress free wedding day. There are no words to describe our wonderful experience working with Jessica and her crew at A Shindig!

We had an absolutely flawless wedding day thanks to Jessica. She is full of energy, professional and is so SHARP! I started planning with a different wedding planner, and due to a snafu we were referred to Jessica about 10 days prior to our wedding. Before the first time we met, Jessica already knew my full itinerary, had spoken to my vendors and was already in full control of the day! After reviewing our initial plan, she was immediately able to make some suggestions and ask very detailed questions to make sure everything was exactly how we wanted. It made all the difference on our big day. She had tons of experience working with our vendors and our reception venue, and fine tuned everything so that it was flawless.

The day of the wedding she had superpowers! She wasn't standing with her clip board and barking orders like other wedding planners I've seen. You barely noticed she was there, but the second you needed anything she was right there and available to help. She must have bustled my dress a dozen times and had secret tips and tricks for just about everything. She is calm, friendly, organized and thinks quick on her feet.

I have a very demanding job and was planning the wedding from out of town. I only wish I had hooked up with her sooner and let her do more of the planning. After meeting with her just once I had so much confidence in her that I basically turned over everything to her so I could relax before the wedding. Everything was absolutely terrific and I've already referred her to a bunch of friends! Thank you for an amazing day!


Our event was wonderful. In spite of bad weather, for an outdoor event, we were able to have a fantastic event. Everything was perfect. Thank You. Highly Recommended.

Mehegan

Married on 10/25/2014

Jessica is absolutely amazing!! She had everything under control from our first meeting and always got right back to me. She thought of things I never thought of and was on top of everything! She even made sure she was easy for me to find during the reception just in case I needed anything (lipstick, a drink, etc). I cannot speak highly enough about A Shindig and would not chose anyone else!!

Canaan

Married on 09/27/2014

This will be one of your best bookings for your wedding!! Absolutely fantastic wouldn't recommend another planner!

I can't say enough about the service provided by A Shindig Events! My wedding came together flawlessly because of Jessica's planning and attention to detail. Jessica listened closely to how I wanted everything to come together and I was able to have a stress free wedding day thanks to her team! Most of all Jessica was a friend and confidante during the stress of wedding planning - I would recommend A Shindig to any bride!

Joanna

Married on 08/23/2014

Jessica was awesome! She went above & beyond my expectations. I couldn't of had the wedding I did without her help. Highly recommend her and her services!!!

Katie

Married on 06/07/2014

Jessica is awesome! I thought I could plan a wedding on my own but since all of our family lives out of town, I'm a full time student, and I work full time - I needed help. We met Jessica and I just knew that she could bring our vision to life. She is so sweet and easy to work with. Honestly- I'm not sure if our wedding would have been the same without Jessica. So many people said "your wedding looks like it is out of a magazine!" Jessica has such a great eye and she knew a lot of vendors in the area which was really helpful. I say all of this to tell you - I was able to relax the day of my wedding. I was able to focus on my husband and our family and friends and not worry about a thing. Thanks Jessica!!

Hiring Jessica to plan and really run my wedding was the best decision I made. Originally I thought I would just hire her to be a day-of coordinator but after speaking to a few friends about their own weddings I decided to upgrade and I am so glad I did. Throughout the entire planning process she was so helpful in providing ideas, coordinating vendor conversations, and making recommendations. Any time I felt stressed I talked to her and she was on top of everything so I no longer had to worry. I am not from Wilmington so having her expertise and guidance was so valuable. She also knows all of the vendors and the venue people which afforded us some leniency since they knew Jessica was on it. Even before our wedding weekend I knew she was worth every penny but it was even more obvious across our wedding day. I didn't have to worry about a thing and even when my bustle ripped the minute I got to my reception she was there to fix it in seconds. My bridesmaids also commented how helpful she was to them with the little things like making sure they had a secure place to store their bags/accessories from the day. I highly recommend her services for anyone getting married in the Wilmington area!

Asking Jessica (A Shindig Southern Event Planning) to be my event coordinator was the best and most important decision I made while planning for my wedding. She has wonderful recommendations for brides to be, not only re basic vendor info but also for the little details such as bridal party accessories or things that will make your guests more comfortable during the wedding and at the reception. She is also a great communicator, especially when finalizing the details of your event (which is a high stress time so this is REALLY important). I seriously have no idea what husband, family and I would have done without her. As soon as you begin the planning process, call Jessica immediately. She will make it fun and worry free!
Are you interested?
Send a message