The Scoop on Hiring a Professional Wedding Vow Writer
If you're struggling to write your vows, hiring a professional wedding vow writer may be a good option. Here's everything you need to know about hiring a vow-writing pro.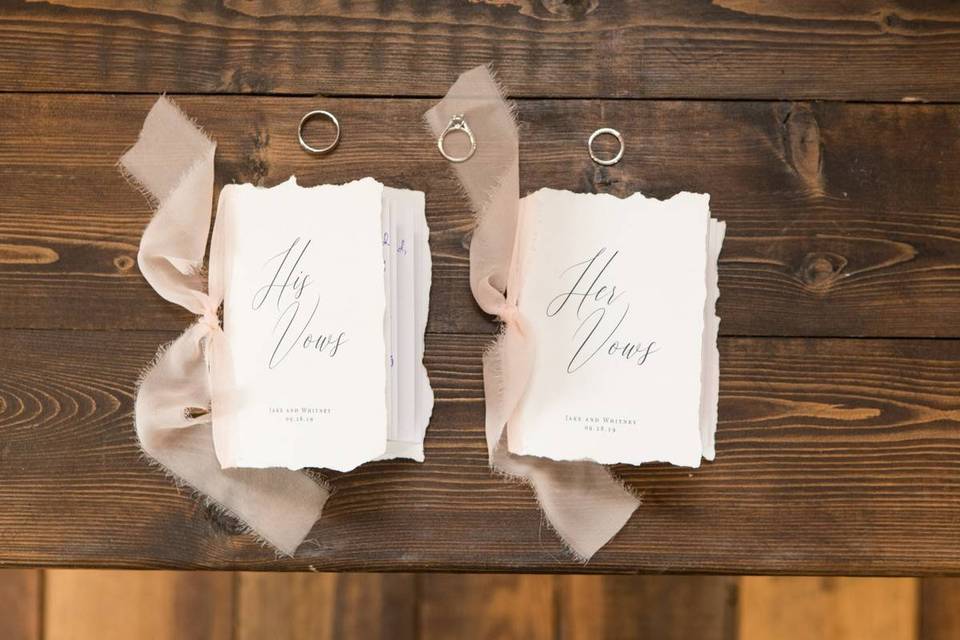 There are plenty of ways to add personalized touches to your wedding day, and one of the most popular and meaningful ones is by writing your own vows. Many couples choose to do this for a myriad of reasons. "People want their vows to be personal, real, touching and honest," says Jenny Block, author, writer, and speaker from Houston, Texas.
The issue, however, is that not everyone is good at putting into words what they're feeling inside. That's certainly no reason to forgo personalized vows in favor of something stale and scripted. Enter: professional vow writers, writing experts who work alongside you to help create powerful vows that are your own. "A vow writer will ask you questions about you and your partner and then use that information to write vows that ring true for you both," says Block. "The best vow writers make the vows sound like something you would say and not like a script."
Professional vow writer Karen Davis of Rhymes by Design explains that hiring someone to write your vows is now commonplace, and akin to hiring a cake baker or photographer. "Crafting custom vows retains the spirit of the person or couple, while reaching and touching everyone beyond the basic message," she says. "It's a bit like gift-wrapping: adding a sparkle and flair that has a lasting impact well beyond the moment."
So how do you go about hiring a vow writer—and what should you know about the process? Keep reading for some informative answers!
Where can you find a professional vow writer?
Just like you'd find any other wedding vendor, you can find vow writer pretty much anywhere—at wedding shows or online (there are some listed in WeddingWire's vendor directory, too). Oftentimes people stumble upon a wedding vow writer. "They Google 'Wedding Vow ideas' and a vow writing website pops up," says Geoff Woliner, founder of Winning Wit. "Then they take a look and realize, 'Wait...I can hire someone to do this for me while I open another bottle of wine and binge something on Netflix? Sweet. Where do I sign up?'" If you do go the online route, it's important to vet a vow writer, as you would any other vendor. Block suggests asking to see references and previous work as well as speaking to past clients to get a clearer idea of how well the writer was able to capture someone else's vows.
How does a vow writer work?
Every vow writer works differently, according to Avery Morgan, Senior Editor at EduBirdie, which specializes in wedding speech-writing. "We take a hands-on approach to make sure we have all of the details and insights we need to craft the perfect vows," she says. "Our writers want to get a true feeling for the couple, so we'll usually ask about how the couple met, the moment they fell in love, favorite memories, the silly things they bicker about, where they've traveled together, what they love to do together, and other similar details." These quick facts give a vow writer the tools he or she needs to craft something memorable.
How do vow writers make the vows personal?
Once a vow writer connects with a couple, they typically send a questionnaire that gathers all of the necessary information from them. "This is the secret sauce that separates your vows from something you'd copy and paste off the internet," says Woliner. "We get to learn all about you—your individual backgrounds, how you met, some stories you've shared together, some inside jokes, when you knew the other was 'the one,' the proposal, what you love about each other, what makes your relationship unique, and what wishes and promises you have for the future." After gleaning this information, the average vow writer will get back to the couple with initial thoughts before discussing an appropriate timeline for turning in a first draft. "We then make as many edits as you'd like to make sure it's exactly what you're looking for," says Woliner, whose core principle is "We're not done until you look at every single word and say, 'I love it!'"
When hiring someone to write your vows, Block reminds couples that they can't get inside your head unless you let them in. "It's best to actually talk to them by phone or in person so they can hear your voice and assure that your vows sound like you," she says. "You may need to tweak them, switching out words or adding or subtracting contractions or even deleting sentences." There's nothing wrong with giving them feedback. In fact, it's important that you do so you feel good about your vows.
What can you expect to pay for a vow writer?
You can expect to pay anywhere from a couple of hundred to a couple of thousand dollars, according to Block. "Writing is an art and you are paying for a work of art when you hire someone to write your vows," she says. "Make sure you set timelines and expectations about lengths and content and number of edits that are willing to do without additional fees."