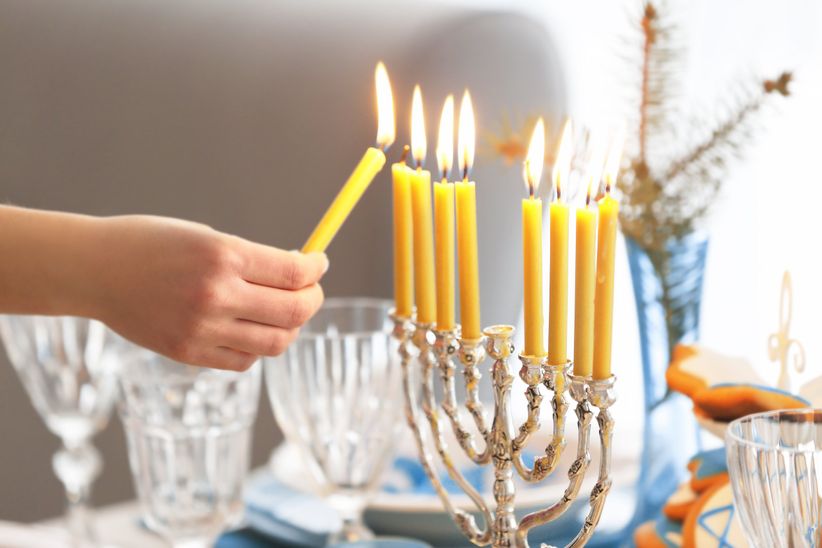 Couples setting up their registry often forget to add holiday-focused items. For those who celebrate Jewish holidays such as Hanukkah, menorahs should definitely be included on their registry list. However, these special candleholders often look, well, kind of the same, and couples with a distinctive design style may prefer more unique menorahs rather than the more old-school classic varieties. Fortunately, there are lots of options to choose from.
We scoured our favorite retailers to find some of the most unique menorahs around, from botanical to colorful and more.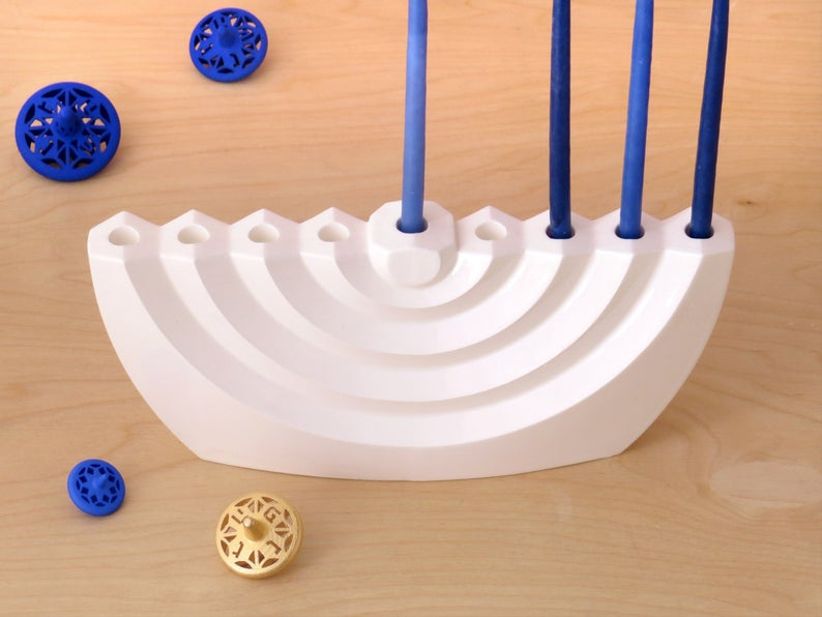 If your taste leans more towards minimalism, this sculptural Hanukkah menorah is worth checking out. The white ceramic piece features a wavy pattern and adds a contemporary touch to your holiday décor.
Studio Armadillo modern menorah, $189, Etsy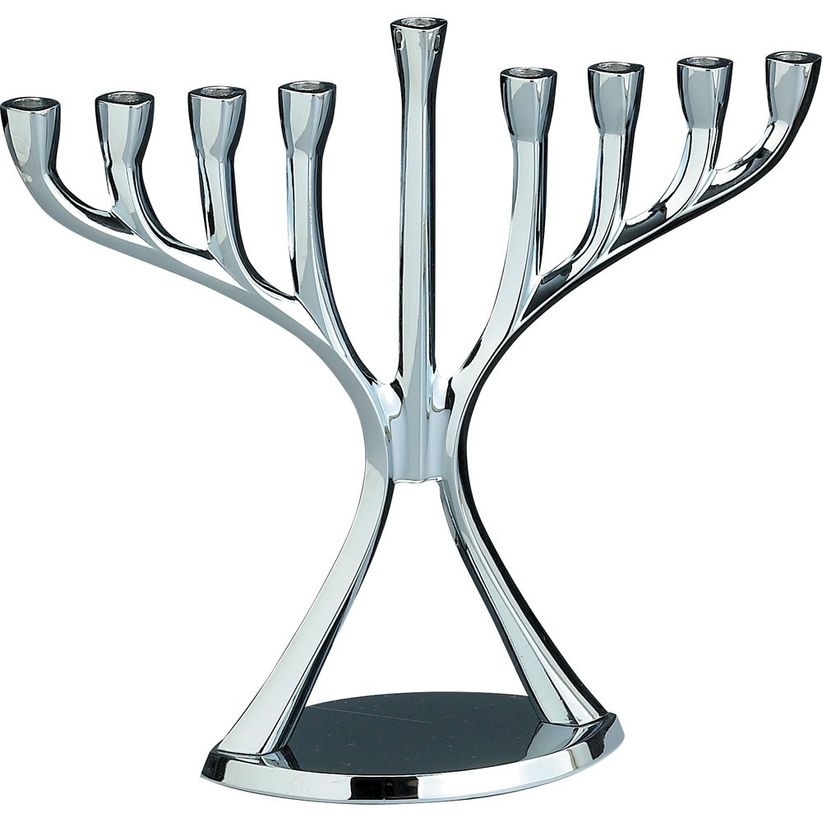 Modern sculptural menorahs really add to your home's décor—but yes, they can often be pretty pricey. We love this expensive-looking aluminum menorah that costs less than $25.
Rite Lite modern aluminum menorah, $24, Amazon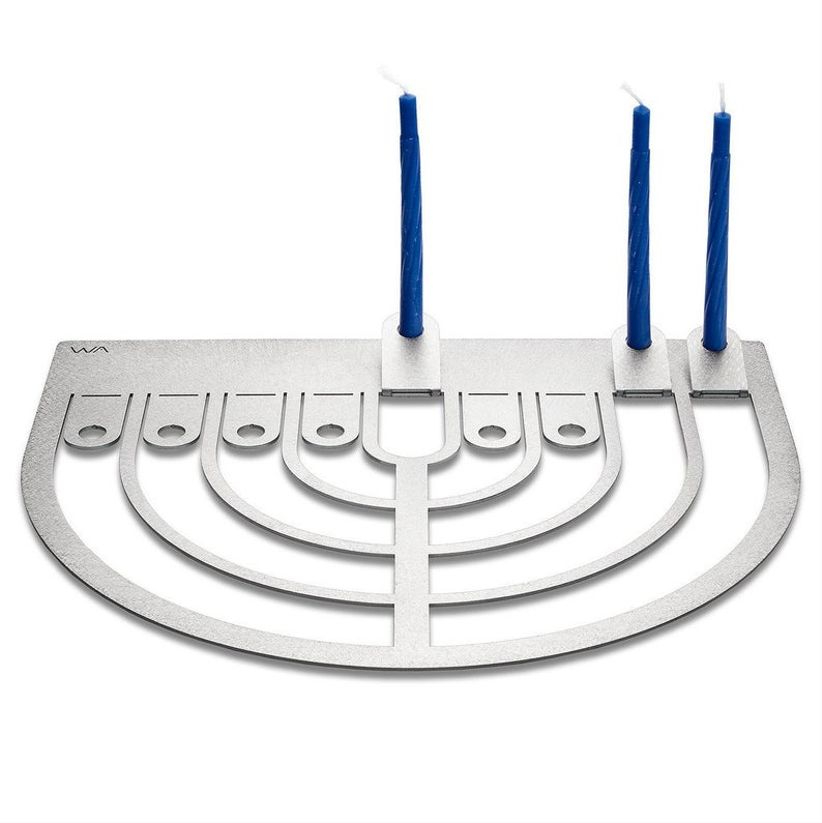 We absolutely adore this unique menorah, which appears flat, but has folding candleholders which can be displayed on each of the eight nights. It's made from stainless steel and is crafted in Israel.
Wallaby by Shelly modern menorah, $59, Etsy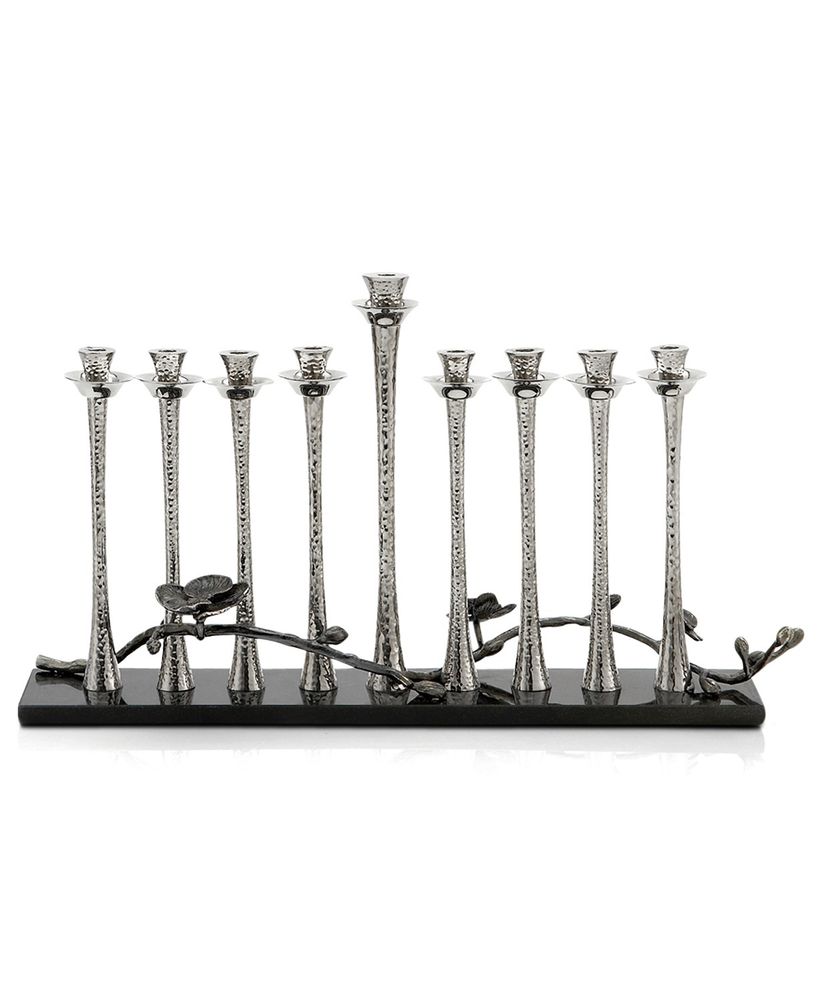 Hanukkah menorahs aren't usually described as edgy but this Michael Aram design made from black granite and nickel, gives off a sophisticated, fashion-forward vibe.
Michael Aram Black Orchid menorah, $295, Macy's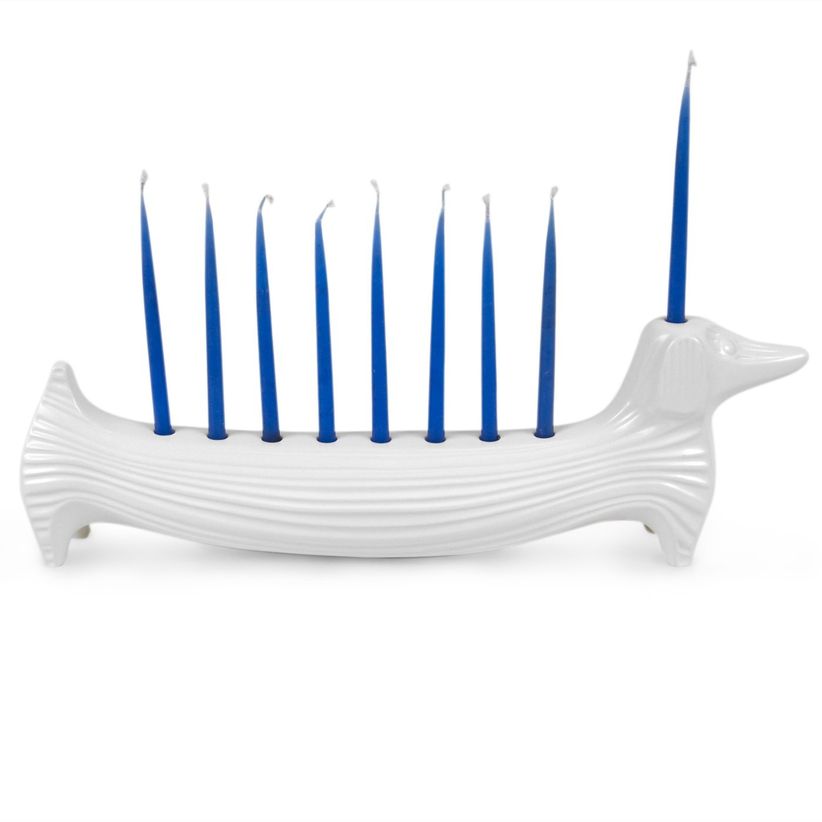 The perfect Hanukkah menorah for dog lovers, this stoneware piece is fashioned in the shape of dachshund. Created by famed designer Jonathan Adler, this unique menorah is sure to be a conversation starter at your next holiday party.
Jonathan Adler dachshund menorah, $128, Amazon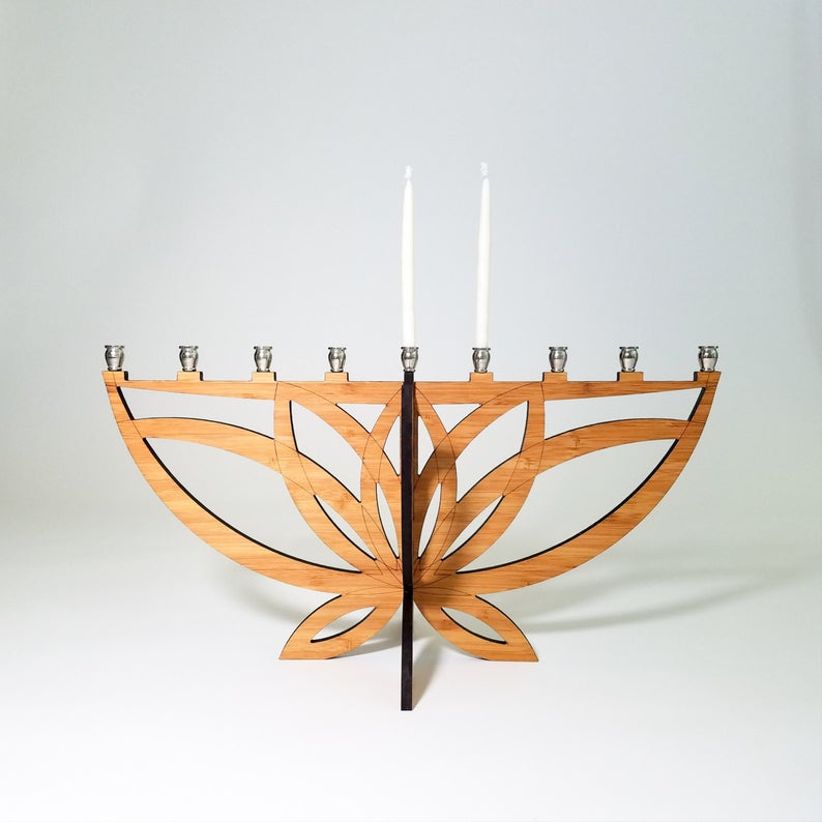 For those who prefer a more boho chic vibe, we love this wooden menorah, designed in the shape of a lotus flower. Made from bamboo, this unique menorah can be easily disassembled and stored flat as a space-saving solution.
Gio Gio Design lotus flower menorah, $165, Etsy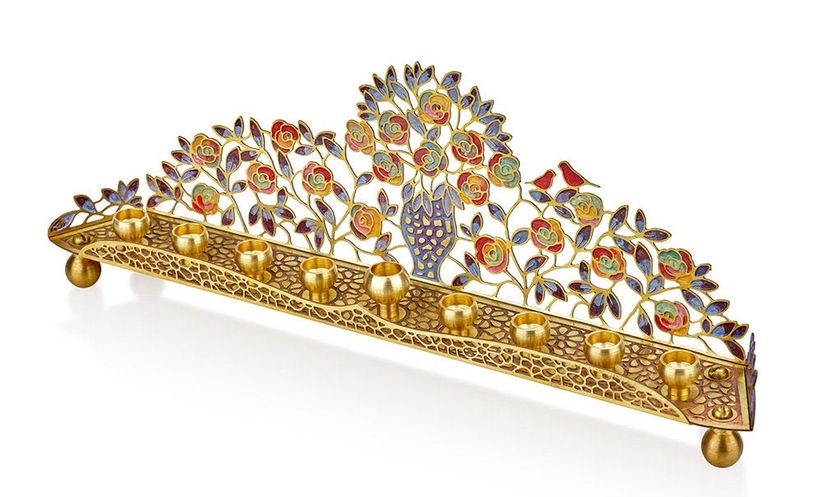 Hanukkah menorahs aren't usually colorful (unless they're the kind handcrafted by little kids), but this one is both stylish and adds a pop of hue to your home. The brass piece features a floral design, with a pair of birds to perhaps represent you and your new spouse.
Grader Designs menorah, $175, Etsy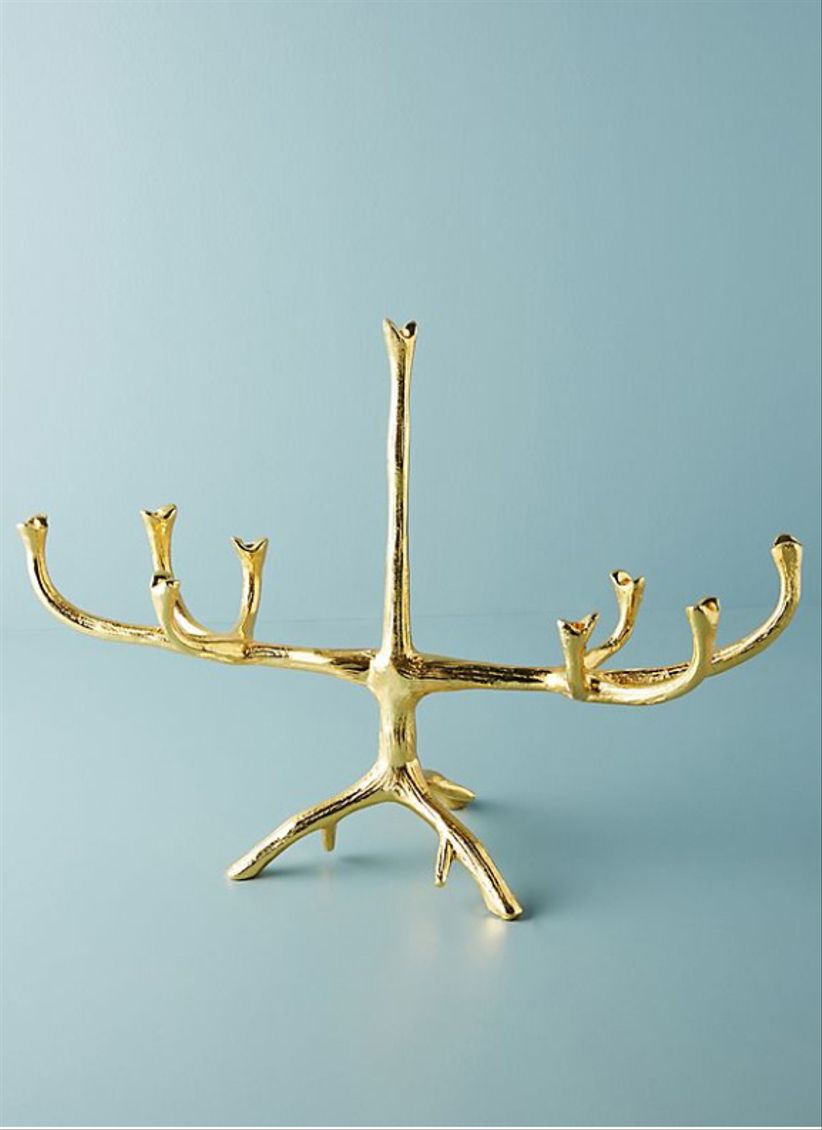 This unique menorah is a minimalist twist on the classic tree-themed candleholder. You'll love displaying it in your home long after Hanukkah is over.
Anthropologie gold tree branch menorah, $198, Anthropologie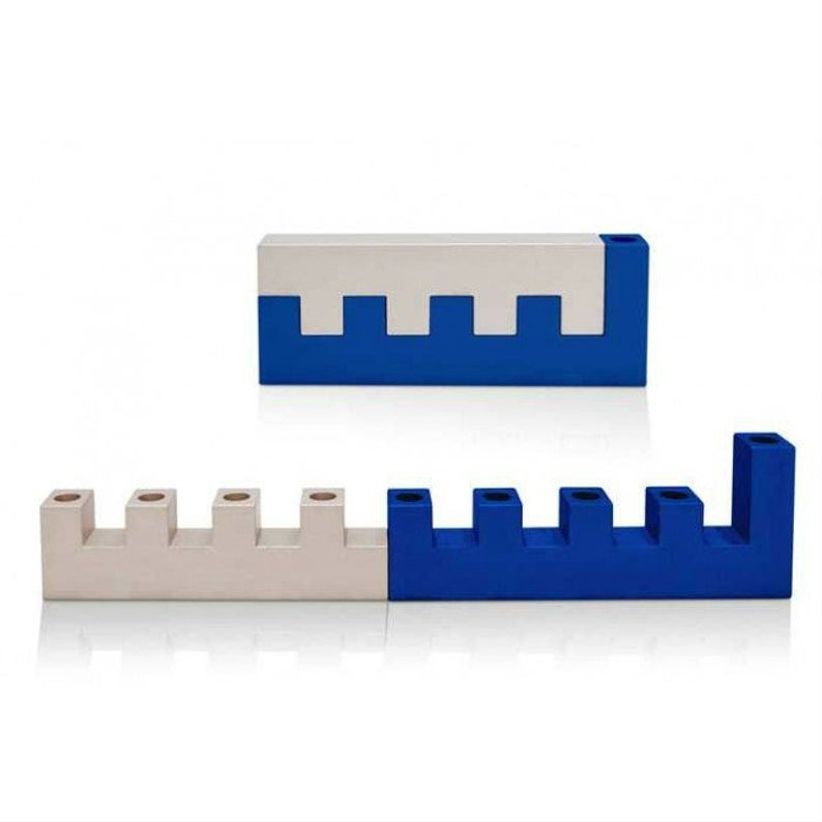 Inspired by Jerusalem's city walls, this unique menorah is ideal for couples who may be traveling during the Hanukkah holiday. It can fold up to easily stow in a suitcase, and comes in 12 colors.
Nadav Art traveling menorah, $120, Etsy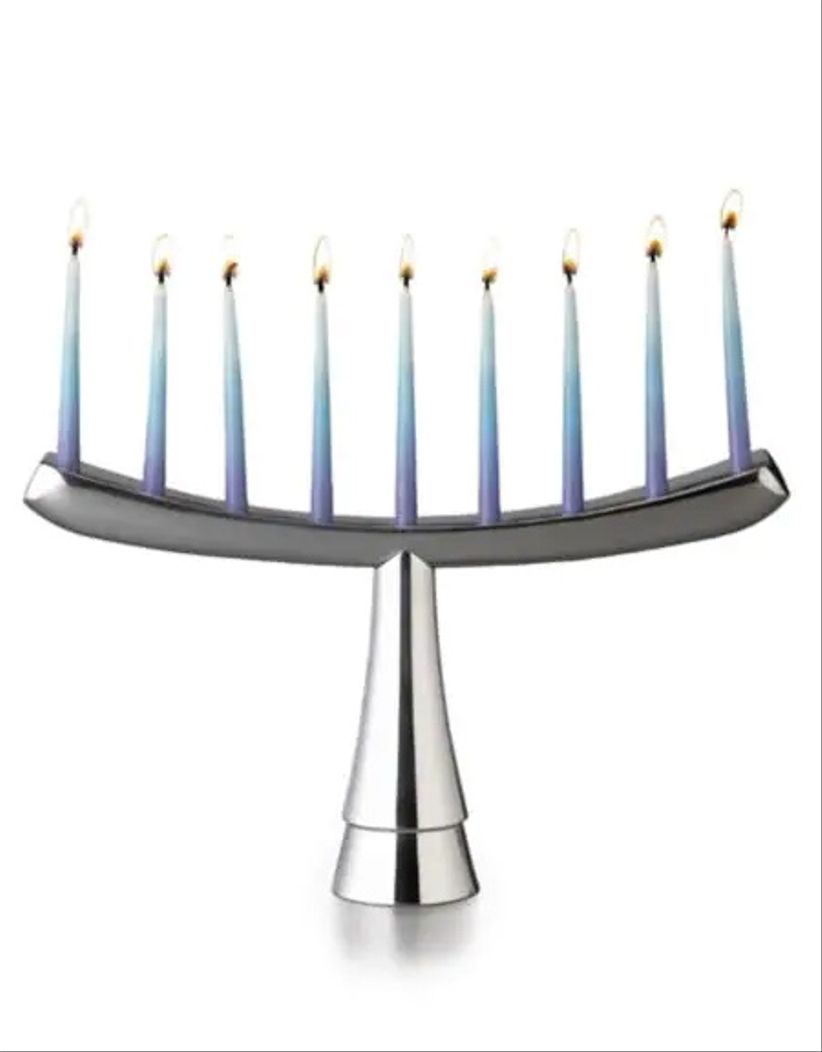 If you're looking for a clean and contemporary menorah, look no further than this Nambe design. The simple metal design is sure to look beautiful in your home.
Nambe menorah, $160, Saks Fifth Avenue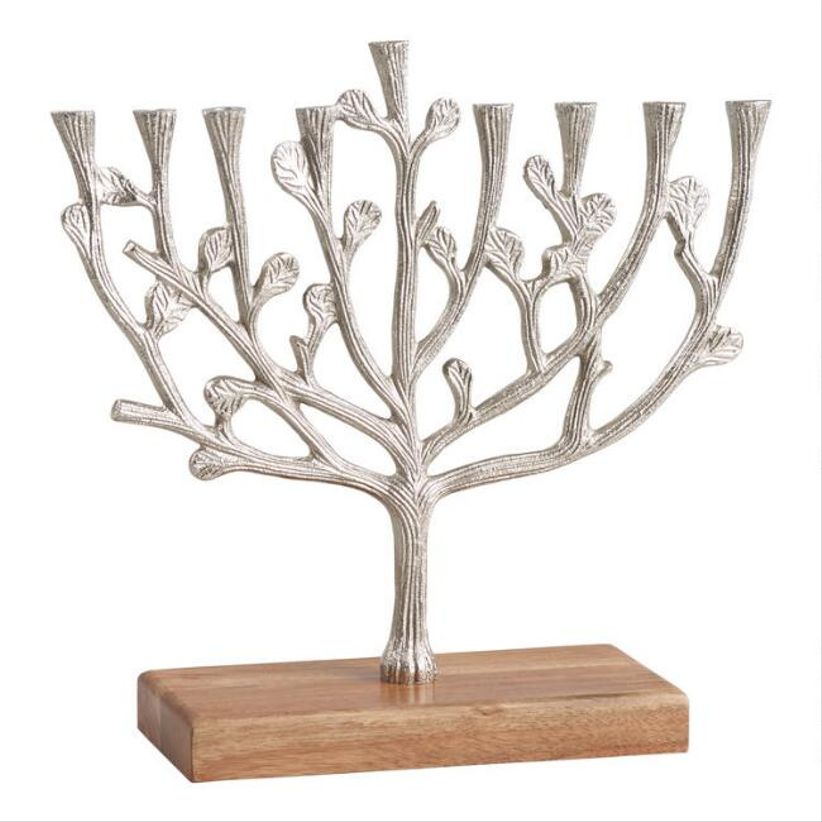 Yes, the tree-of-life-themed menorah is a classic style, but we particularly like how this one combines pewter and acacia wood—and the fact that it's under $30! It's a perfect, affordable wedding gift to add to your registry.
World Market antiqued pewter and acacia wood tree of life menorah, $25, World Market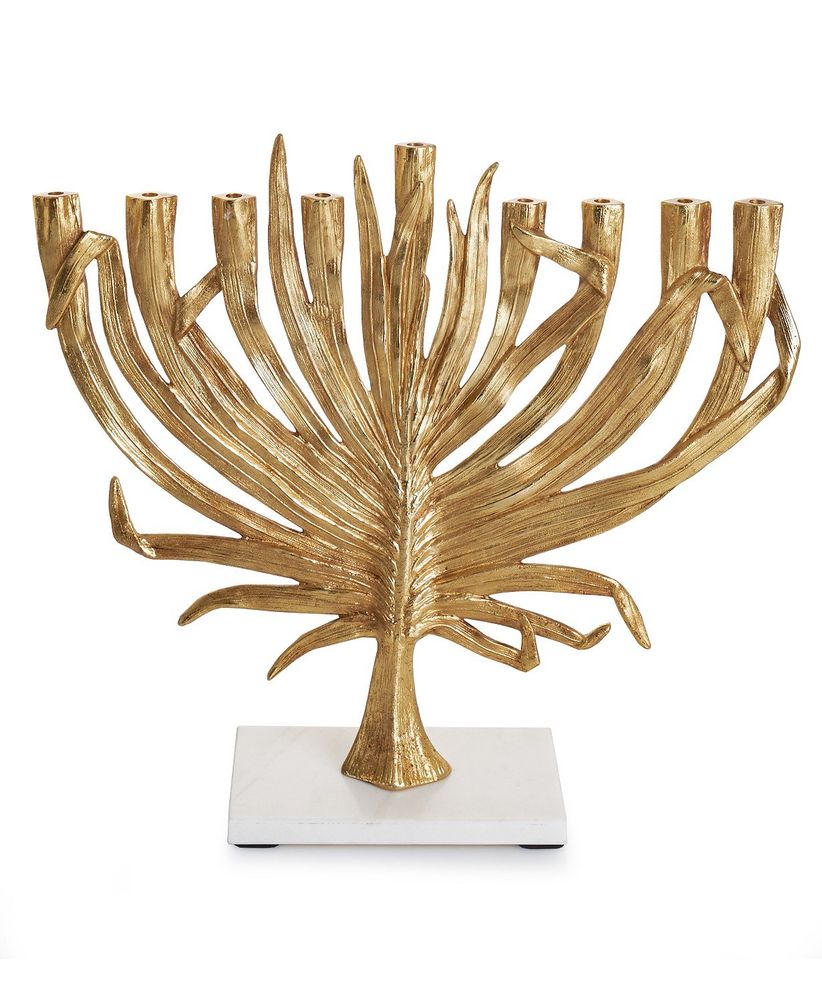 Palm motifs are very popular in home décor right now, and this gold-and-marble menorah is totally on trend. Inspired by a fallen palm frond, this unique menorah is definitely a statement piece.
Michael Aram Palm menorah, $425, Macy's
Midcentury modern décor is all the rage right now, and this handmade wooden menorah totally fits that style. The unique menorah is made from reclaimed walnut, and features nickel candleholders.
Modern and Mint menorah, $115, Etsy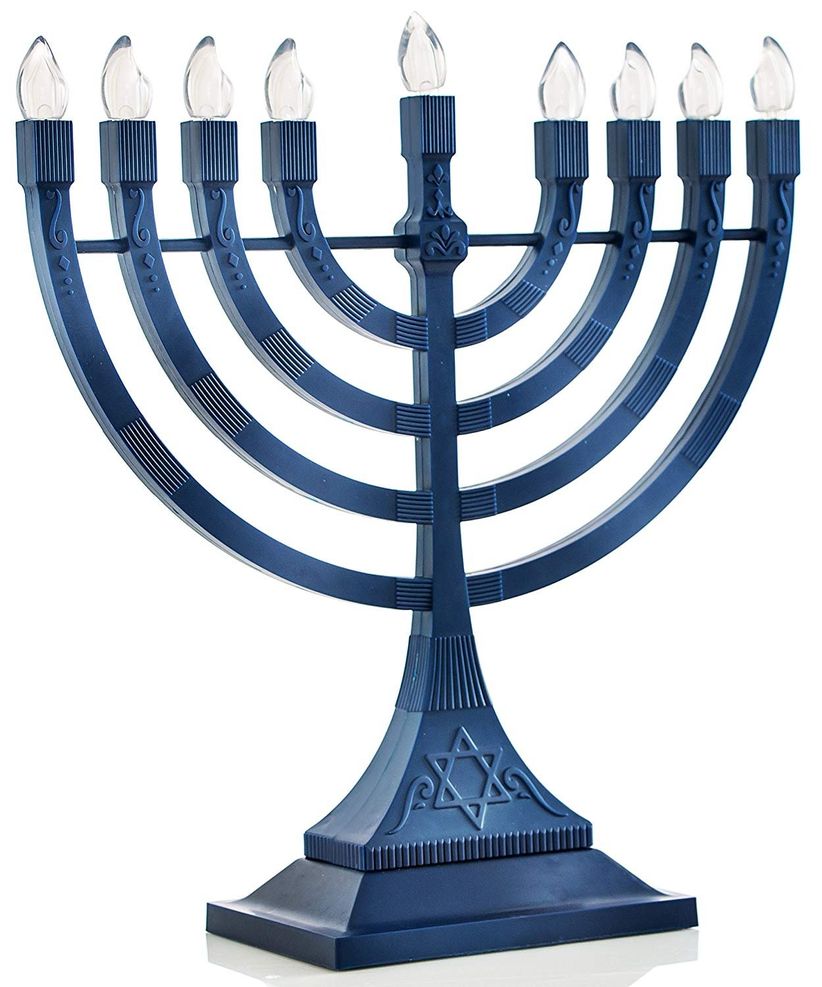 There are lots of reasons why an electric menorah might be preferred—perhaps you can't or don't want to have open flames in your home, or you'd like a unique menorah that will stay lit all night. We like this LED option that comes in four colors.
Zion Judaica LED electric menorah, $50, Amazon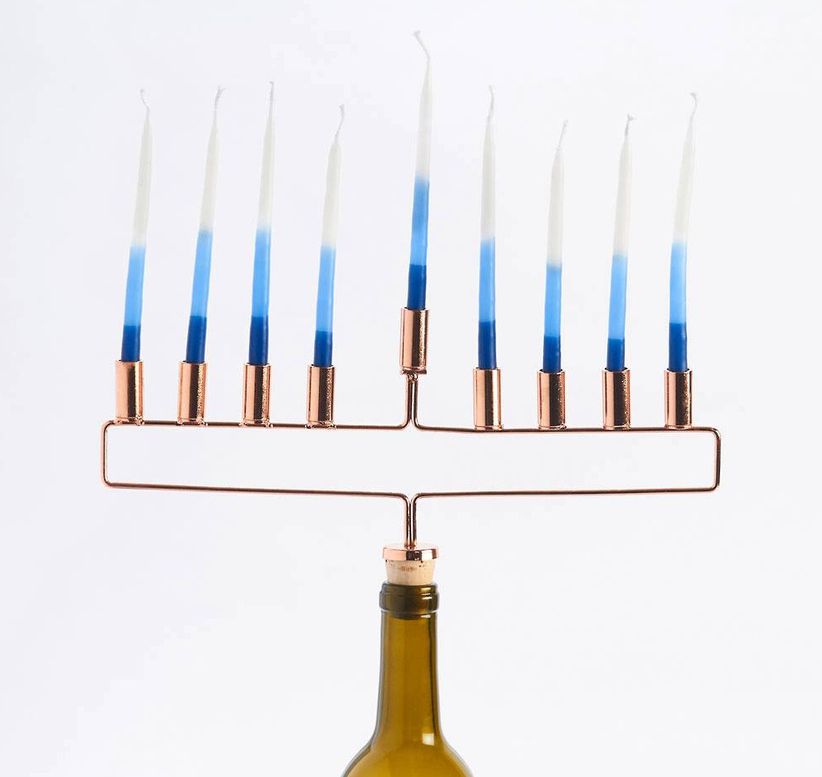 Wine lovers will get a kick out of this unique menorah, which attaches to a bottle's cork. Yes, it's not your typical menorah but it's definitely modern and quite fun.
Paper Source copper menorah cork, $20, Paper Source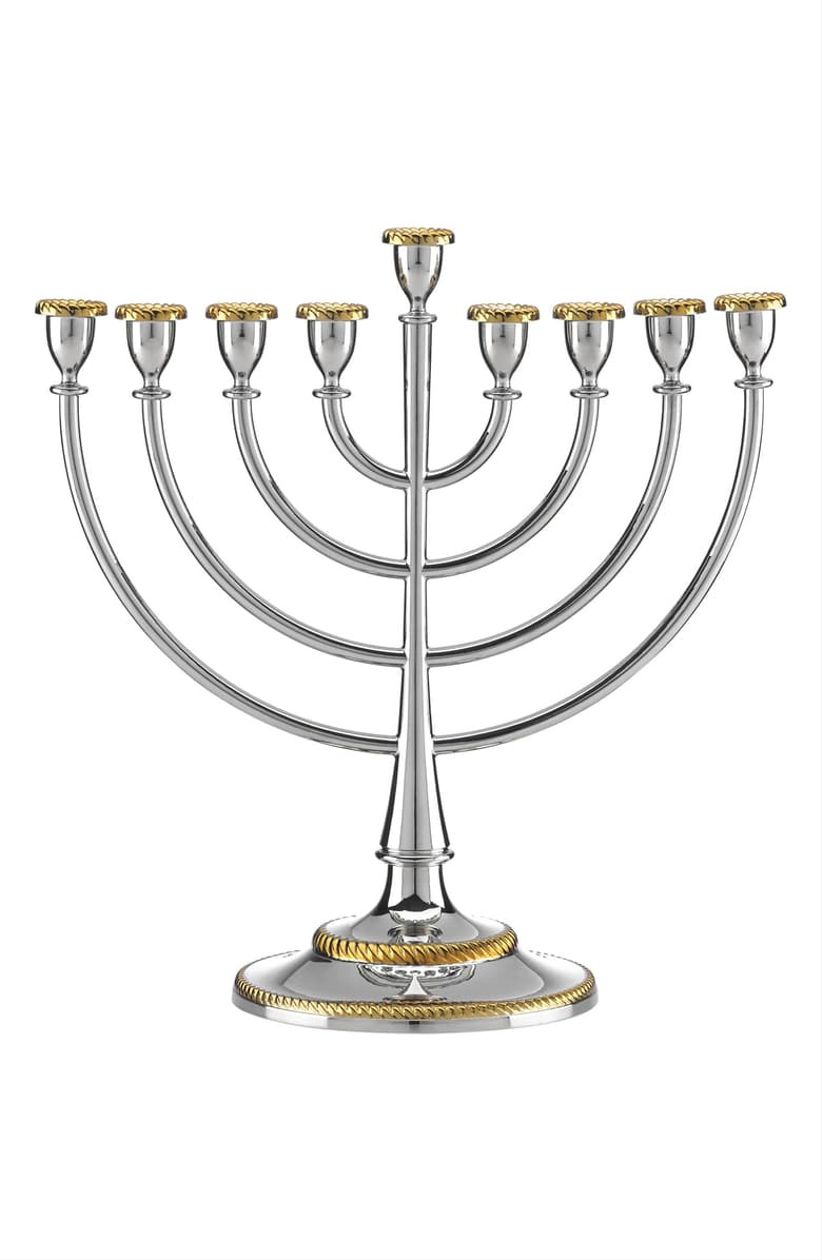 We love the mixed metals on this Reed & Barton Hanukkah menorah—more classic perhaps than the other menorahs on this list, but ideal for the couple who wants a truly elegant candleholder for their home.
Reed & Barton Roseland menorah, $150, Nordstrom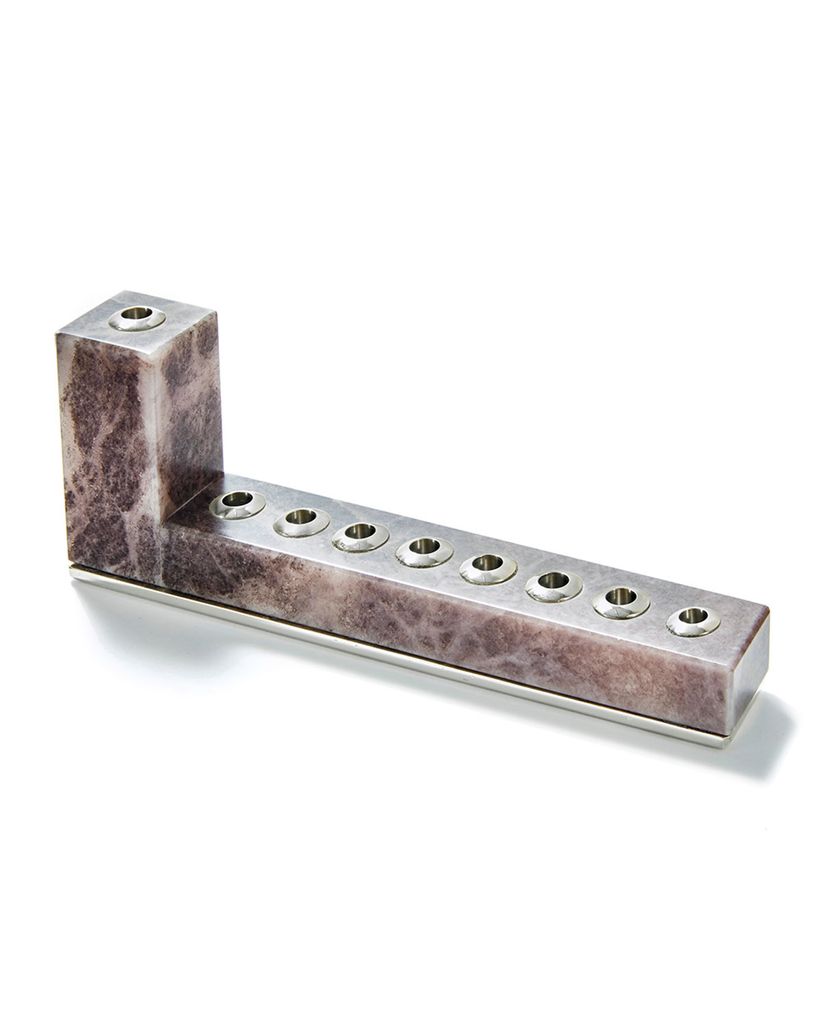 If your home is all about those bohemian, mystical vibes, this unique menorah will fit right in. It's made from alabaster and will add a natural touch to your holiday décor.
ANNA New York Brilliante alabaster menorah, $295, Neiman Marcus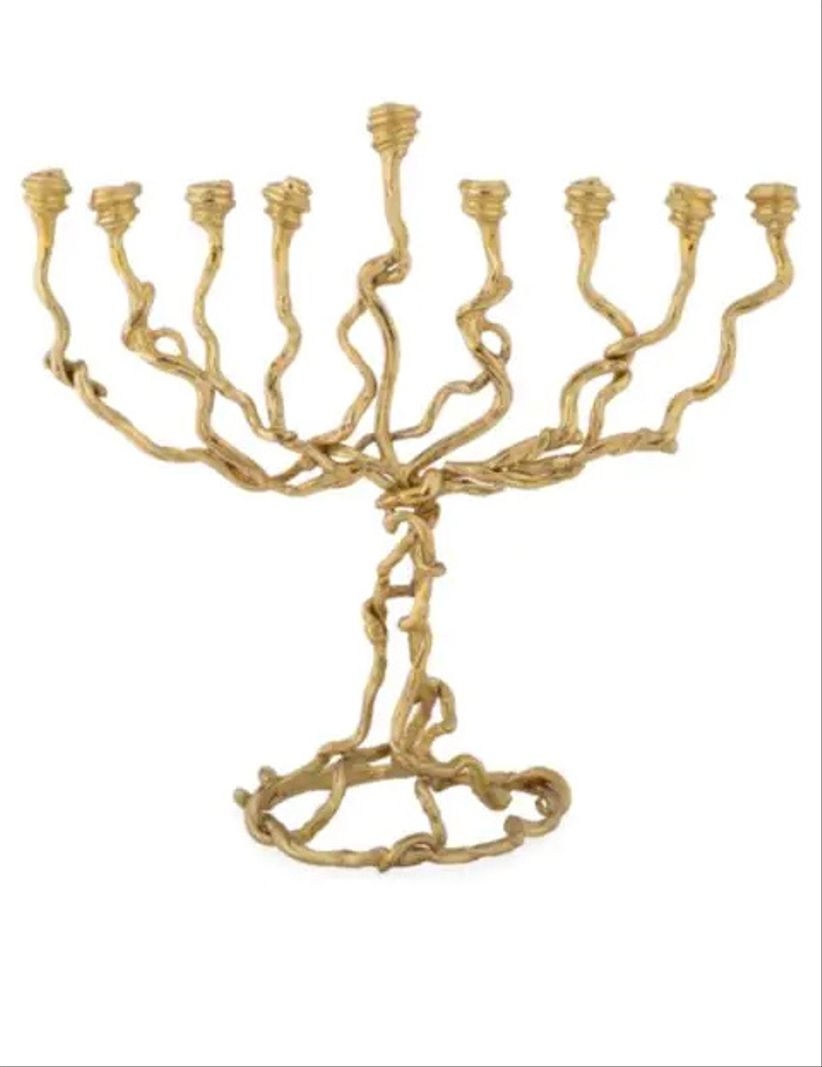 Inspired by intertwining vines, this is one of the most unique menorahs we've seen. The twisting candleholders provide visual interest, and we love that it's made from brass—the gold hue stands out from the more classic, silver-toned menorahs we've seen.
Michael Aram Wisteria gold brass menorah, $200, Saks Fifth Avenue
This unique menorah combines elegance with an industrial vibe. The gold candleholder is reminiscent of nails and can move and bend in a variety of ways.
Kate Spade New York Oak Street menorah, $200, Amazon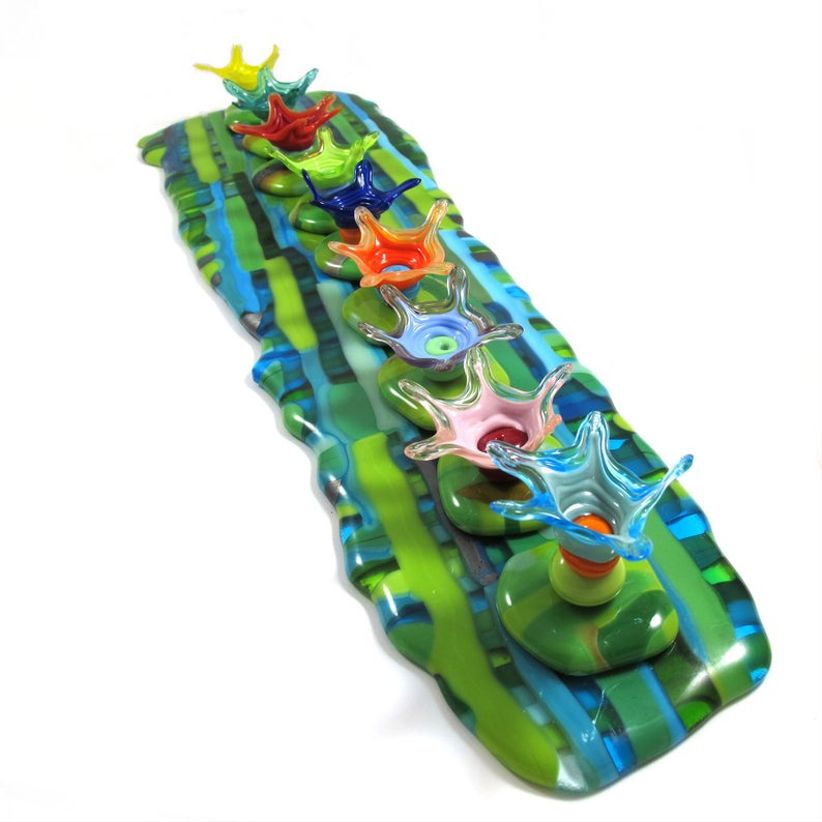 If you're a fan of the artist Dale Chihuly, you'll love this colorful glass menorah. The design resembles splashing water, giving the piece a nature-inspired feel.
Gaialai colorful menorah, $267, Etsy
Disclosure: This post contains affiliate links, some of which may be sponsored by paying vendors.