I'm a Trans Bride—Here's How I Found My Dream Wedding Dress
After a lifetime of wishing for my own Cinderella moment as a transgender woman, I will never forget how it felt to first see myself in my wedding dress.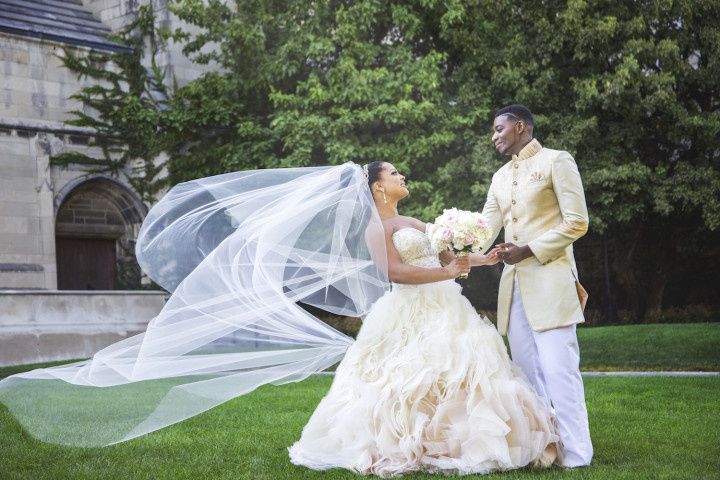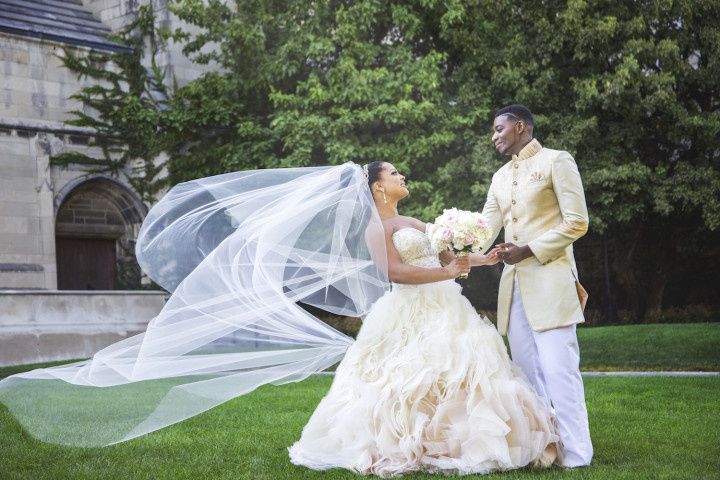 Photo: Korto Photography
Wedding dress shopping is no easy feat for anyone, but can be even more difficult for women who aren't well represented in the fashion industry. Diversity activist Precious Davis, a Trans woman in Chicago, thought she knew exactly what she wanted from the wedding dress she would wear to marry her love, Myles.


Here, Precious recalls how she found her dream wedding dress— with a little help from three fairy fashion godparents.
I can hardly believe it's been almost a year since I walked down the aisle and said "I do" to the love of my life, let alone two years since I became the first ever transgender bride to go on TLC's "Say Yes to the Dress: Atlanta." That experience still feels so powerful and present, and I'm sure it always will. After a lifetime of wishing for my own Cinderella moment, I will never forget how it felt to first see myself in the dress I would wear walking down the aisle.

Growing up in the conservative Midwest, my uniqueness was not always easy to express freely and my dreams were rarely understood or encouraged by those around me. Somehow I still maintained a confident sense of self, but the ways I embodied femininity and theatricality, which often drew scorn from my Christian grandmother who raised me and from the teachers and classmates of my tumultuous childhood. So as a grown woman, with only myself to answer to, I knew that choosing a wedding dress would be the ultimate catharsis for all the displaced longing of my childhood.

Before "Say Yes to the Dress: Atlanta," when I first began the lengthy dress-hunting process, I reflected back on one of the first dates my husband Myles and I had together. He took me to Rockefeller Memorial Chapel on University of Chicago's campus after church one Sunday and told me, "This is where I'm going to marry you." Rockefeller Memorial Chapel is an immaculate masterpiece of Gothic architecture, massive in scale, detailed with molded wood and stone and home to one of the biggest organs in the world, with breathtaking stained glass windows overlooking a wide runway to the altar. I instantly agreed with Myles. Only this grandeur could provide the backdrop we needed for what would be a meticulously curated wedding with every detail crafted to create the ultimate experience: an encounter with the divine for myself, my love and our guests.

I was further inspired by Filipino designer Michael Cinco's holiday collection from 2013 which attracted me with its regal opulence, and presented the perfect balance of celebrating light and darkness. The work of Cuban wedding gown designer Lazaro Perez also consistently took my breath away. The drama and theatricality in his work, crafted through texture, color ombre and not-so-subtle design features evoked a true romanticism that aligned with the image I envisioned for myself. I am a queen by nature, stately in poise and triumphant in spirit. I needed to see those qualities reflected in the cut, fit, style, color and detailing of whichever dress I decided to don.

In the first months of my dress search, I looked everywhere—online, Macy's, Nordstrom, Neiman Marcus, Vera Wang and every bridal magazine I could get my hands on at the grocery store, compiling every idea and whimsy onto my Pinterest board (which proved to be indispensable for pulling the whole vision of the wedding together).

Before I had come to any conclusions, both syndicates of "Say Yes to the Dress" (New York and Atlanta) reached out and invited me on their shows to find my dream wedding gown. The producers had seen my husband and I in Miley Cyrus' Happy Hippie Foundation Instapride campaign with Instagram. It was a gut-wrenching decision of which city to choose. Both had pros and cons, but from what I had seen, New York brides tended to choose dresses that were more provocative in nature and I knew that didn't fit with my vision. In the end, I felt that Atlanta was a better pick for me, evoking glamorous Southern images of Scarlett O'Hara in Gone with the Wind.

Photo: Korto Photography
When I arrived at Bridals by Lori, everyone was so excited, warm and inviting. They made me feel right at home. Being present in that moment and that iconic space brought a rush of feelings, a mixture of joy and anxiety and my mind went blank. All of the research I had done was forgotten, but thankfully as I emerged from the elevator onto the showroom floor, I saw that I had the very best helpers there to guide me. Monte Durham, Lori Burns Allen and — surprise! — my favorite wedding designer himself, Lazaro Perez, standing in a row like three fairy godmothers waiting to grant my wildest wishes.

I'm sure everyone on set knew I was Trans but it did not change how they saw me or treated me in any way. To them, I was just a spirited young woman looking for the perfect dress for a very special moment in my life and I made that clear in our preliminary conversations. My happiness and wishes were their only concern.

I originally went to my SYTTD taping with a very clear and specific image in my mind of the dress I would choose— mermaid gown with an exaggerated train. I thought a ball gown was too much of an expected choice, and wanted something that looked natural and not forced. But when Monte Durham asked what I wanted in a dress I proclaimed, "Royalty, opulence, costume!" He said, "Well sweetie, that says ball gown!" I agreed to try on the ball gown first, and even before I saw myself in the mirror I felt radiant and transformed. The fit wasn't perfect, the bodice detail wasn't exactly what I'd had in mind, but the idea of it, the drama of it, the regality, stirred something in me I could not shake! From the moment I took it off I could not get the image of me in that ball gown out of my head! It was just so perfect.

My friends insisted on seeing me in the mermaid I had been going on about for so long, so I tried on one we had picked out. It fit well, it flattered my shape, but somehow it fell flat. I realized that since I attend galas and formal functions all throughout the year, I essentially already had multiple versions of that dress in different colors in my closet. It wasn't special enough. My friends preferred the look of the mermaid, but no one else could ever understand or critique the way I felt inside when I put on "the one." One thing I advise as a bride is to spend some time in the dress alone with yourself first, so that you can really sense how it makes you feel before you have to start filtering a million other opinions.

In the end, SYTTD Atlanta really was the right choice, because after trying on only a couple dresses and realizing the skirt of the first ball gown altered with the bodice of the mermaid would combine to be the wedding dress of my dreams, Lazaro stepped in and offered to do just that! And not only did he offer to custom make my wedding dress, he also offered to custom make a second dress for the reception! Dream. Come. True.

As I said yes to the dress I would marry my husband in, I felt the same overwhelming joy as I walked down the altar a year later. I had never felt so actualized and triumphant. Wearing that gown, I felt in an instant so many years of sadness and solitude melt away and I will forever cherish my custom ombre Lazaro gown that drew a tear from my husband's eye.

Precious Davis is a diversity and inclusion professional. Find her on Instagram @PreciousBradyDavis.