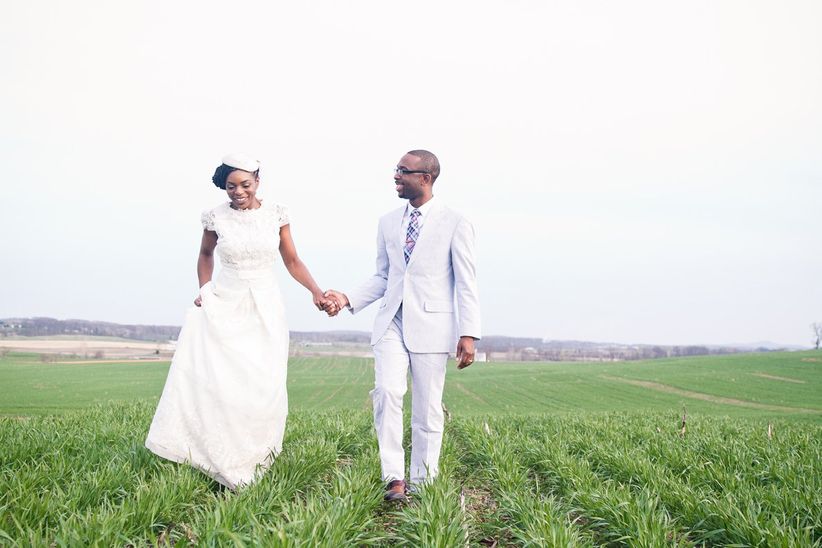 Photo: By Asa Photography
We asked, and they answered: "If you could offer one piece of advice for other couples planning their wedding, what would it be and why?" These couples gave some great advice that's totally worth taking to heart!
"At some weddings, most of the people leave early. I didn't want that to happen at our wedding. I wanted them to have such a wonderful time that they would not want to leave; we didn't want to be dancing by ourselves at the end of the night. My advice: I know the day is about you, but make sure your guests are having a blast.
Don't run out of booze.
"—
Rachelle & Jay
, married in Erwin, Tennessee
"
Keep it simple!
The wedding is about sharing your love with someone in front of your family and friends."—
Alexandria & Steve
, married in San Luis Opispo, California
"We had originally planned a large wedding, but ultimately realized that it just wasn't right for us. We are SO glad we decided instead to elope in Austin and just enjoy the day with no guests, no pressure, and no stress. I would advise all couples to remember that
a wedding is about your union
, not your hostess abilities. Your dream wedding will be whatever wedding you end up with, if you're marrying the person you love."—
Maloree & Sean
, married in Austin, Texas
"
Try not to procrastinate!
Your life will be so much easier if you take care of tasks early on, rather than putting them off until the last minute."—
Caitlin & Zach
, married in Denver, Colorado
"
Pick the three things that are most important
to you and forget about the rest. Spend your money and your time on those three things and you won't go crazy."—
Sandra & Brian
, married in Healdsburg, California
"
Don't worry about hurting feelings
with your guest list. By keeping our guest list to only family and very close friends, we knew that every person who was there came because they love us and want the best for us. Avoiding the 'obligation' invites gave us the peace of mind that no one was there to judge or compare."—
Sarah & Casey
, married in Novato, California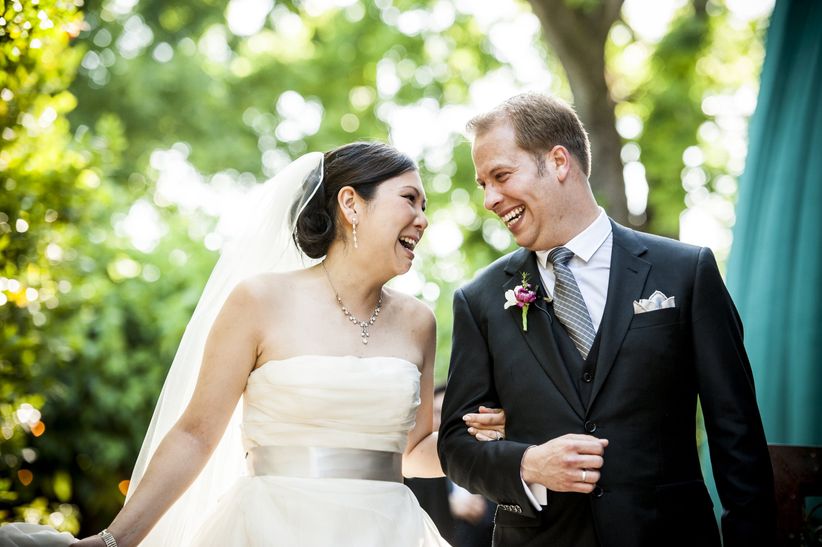 Photo: Viera Photographics
"When you go on date night, don't talk about the wedding! It is hard to think of anything else sometimes, especially as it get's closer, but the best thing you can do is to try and keep it all in perspective and not let it take over your relationship."—Christie & Mark, married in San Francisco, California

"We were thrilled that we were able to save up and not put any of our wedding expenses on credit. It took lots of sacrifice on the front end, but the peace of mind we had afterwards was worth it. Plan within your means and get creative! #teamnodebt."—Crystal & Jay, married in Walkersville, Maryland

"Be done planning one week before the wedding. We finished every planning detail the week before our wedding which allowed us to be fully present during the wedding week
they only thing preoccupying us at work, or with our family in town was our excitement for the wedding day, not the stress of last minute wedding plans."—Carolyn & Corey, married in Philadelphia, Pennsylvania
"If you are planning your wedding from afar as we were,
ensure that all of your vendors are comfortable corresponding through email.
This made the entire planning process so much smoother for us, especially due to the time difference."—
Amy & Scott
, married in Bathurst, New Brunswick, Canada
"I would tell them that if they have an idea of what they want for any aspect of their wedding day make sure they
communicate
, otherwise they may get something they were not expecting, there will always be surprises but not all surprises are good surprises."—
Jennifer & Ryan
, married in Sedona, Arizona
"My advice would be to
follow your heart
in what you feel you need to do to make that day all you ever wanted it to be. They say don't sweat the little details, but for me, it was those little details that made it OUR wedding, that made it more than just a day but more a reflection of who we were as a couple and how we viewed our love. Don't compromise on the things that really mean something to you, no matter how small they are. All your effort will pay off."—
Andrea & Daniel
, married in Woodville, Mississippi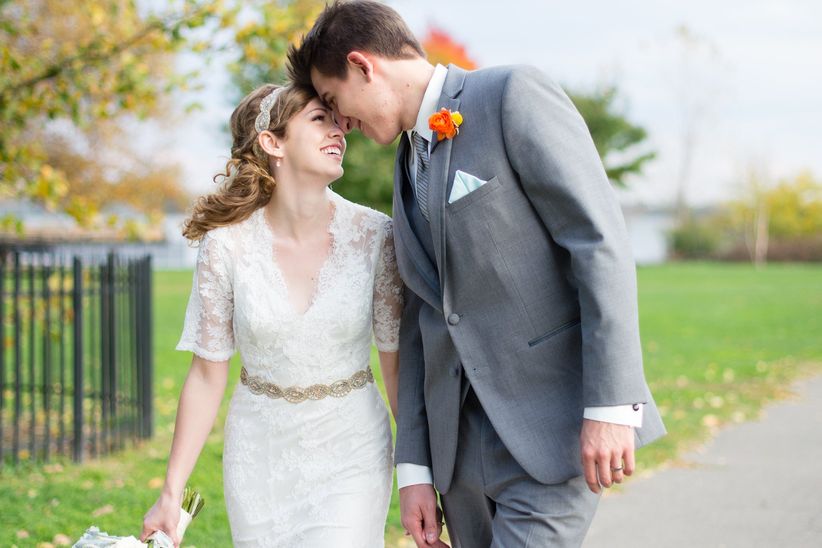 Photo: Alison Dunn Photography
"Take a 15-minute breather in the middle of your reception
together and alone - soak in the day as a newlywed couple."—Aldrin & Mike, married in New York, New York
"
Don't stress
over things that are out of your control like the weather!"—
Jessica & Brian
, married in Guilford, Connecticut
"Prepare for your marriage more than your wedding for your wedding is but one fleeting day and your marriage is eternal. DON'T SEPARATE!
Hold hands
from the second you say, 'I do' until you get in your getaway car. It's so easy to get separated. Ensure that you don't as this is your day together, and a blessing for this invited to simply witness."—
Samantha & Gibson
, married in Raleigh, North Carolina
"
Make it your own!
It's so easy to get caught up in all the Pinterest possibilities, but without a question my favorite things, and the things that made our day really special were the things that we so uniquely us. Our favorite things, and the things our guests loved the most were the things that our part of our daily lives: the beer, the hops, and our getaway on our tandem bike, which we ride together every weekend!"—
Stephanie & Derek
, married in New Orleans, Louisiana
"Absolutely
hire a wedding planner
(or at minimum, a day-of coordinator) to work behind the scenes and make sure things go smoothly."—
Jenny & Christian,
married in Toronto, Ontario, Canada
"I suggest to a couple that before they start planning such a big event that they
make a relationship vision
, that is, what are their goals as a couple...concrete things that are going to help these two humans with different likes and dislikes to be grounded in discussing how to plan their big day."—
Deborah & Laurence
, married in Cancun, Mexico
"Make sure you
pay close attention to the music selection
it matters!"—Karen & Joohno, married in Hartford, Connecticut
"Only
surround yourself with people who make this a fun experience
for you and your spouse. It's the one day it can be your way or the highway, you want to look back and have only positive feelings about the day."—
Tory & Kyle
, married in Palm Springs, California