"What If I'm Having Second Thoughts About Marriage?"
Starting to get cold feet? It's totally normal. Here, experts share how to handle any second thoughts about marriage that you may be experiencing.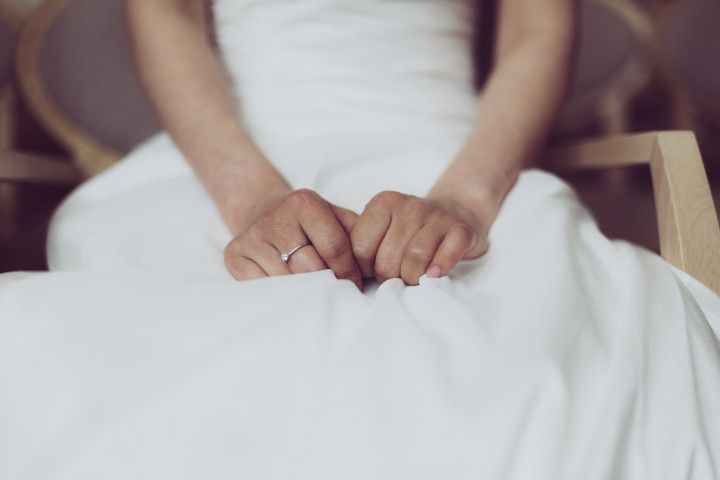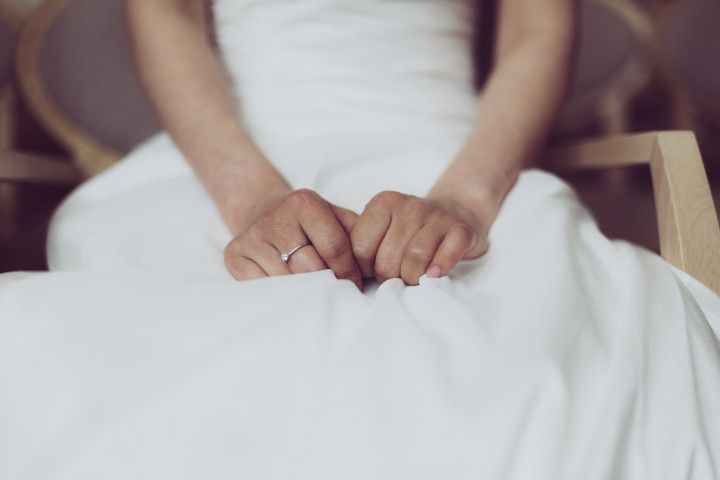 If you've spent any amount of time browsing wedding boards on Pinterest, you've undoubtedly come across a sign telling the groom it's the "Last Chance To Run!" Others, like "Game Over" signs and images of bolting grooms being held back by their brides are close seconds. Funny or not, they point to a specific cultural message that having anxieties about giving up your single life and embarking on the beginning of a huge milestone is totally normal… if you're a guy. Jokes about a woman having second thoughts about marriage? Not a chance.
If you're having second thoughts about marriage, know that it's totally normal. Here's what to do.
Let yourself feel the feels.
Engaged women often feel like they're expected to be full-time, 24/7 glee machines of effortless chill. It's almost okay to show anger except of course it's not because then you are a capital-B bridezilla and a camera crew shows up at your house while you scream at your mom. But the real stuff, like ambivalence, sadness, even regret? Forget about it. So what's a bride to do?
Licensed therapist Susan Pease Gadoua, author of The New I Do: Reshaping Marriage for Skeptic, Realists and Rebels, says, "Wondering whether it's the right thing to do, with the right person, at the right time, doesn't mean that you're marrying the wrong person." You're entitled to your own emotions and feeling them doesn't mean there's anything wrong with you or the relationship.
Second thoughts about marriage can mean you're taking it seriously.
"Once you find the one, you'll know" is a sweet sentiment, but adult relationships can look a lot more complicated than that. Imagine if we took the same "doubt means don't" stance to virtually anything else in our lives— it would be crippling to be expected to enter a new job, a move, a career change, or even make a big purchase feeling 100 percent about it all the time. So these second thoughts about marriage can be totally normal.
Your feelings can mean you really know your partner.
Ambivalence isn't a bug of a long-term relationship, it's a feature. An all-encompassing joyful excitement is the stuff of a great first date… not when you've been huffing the aftermath of your long-term partner's bad Chinese food on a Friday night in sweatpants.
You know your partner really well and that means knowing the gross and annoying stuff too. This doesn't mean you don't have the right mindset or that they're not "The One."
Ask your married friends to chime in.
A trusted friend or family member in a healthy marriage might be able to offer perspective into your second thoughts about marriage, even if just to reassure you that it's normal. And while the #BrideTribe circle of trust that forms in friendship groups in a beautiful thing, having a one-on-one confidante who won't go blabbing to the rest of your crew can create a more open, trusting space where fears won't be made public or used as any fodder for drama.
Remember that marriage stress will be different from wedding stress.
In all the wedding lead-up kerfuffle, it can be easy to lose the distinction between the wedding and the marriage. It's easy to lose sight of whether you're ambivalent about your soon-to-be spouse or you're frustrated by endless nights debating the merits of passed apps versus self-serve hors d'oeuvres stations. In the homestretch of my own wedding planning, my even-keeled fiancé who drank wine out of coffee mugs was suddenly replaced by a Chiavari chairs obsessed maniac who sided with my stepmother on expensive glassware that our bartender didn't even use.
Use these growing pains to your advantage. Take the time with each other to practice being mindful and respectful with your disagreements-- you're setting the groundwork for a healthy marriage later on.
Take time to figure out the source of the anxieties.
Not all anxieties are created equal! Try writing down the feelings as they come, either on paper or in your phone. Once they're written out, it should be easier to differentiate between things that are bothering you about your partner, things that are bothering you about wedding planning, and any real potential issues to address. Any big stuff, like "he undermines my achievements," should stand out as a red flag, alongside any day-to-day annoyances like "he doesn't put his shoes away."
Give yourself permission to postpone the wedding.
This isn't to say that you can't call it off (and if you need to, you should!), but it can be easier to process the idea of postponing the wedding. Look at it this way — your wedding should be a special time that you remember with happiness. If you need a little more time to get yourself there, you owe it to yourself, your family and your friends to take it.
Consider getting a therapist's help, even short term.
If you aren't ready to commit to an ongoing schedule with a therapist, consider reaching out and asking for a limited number of premarital sessions. These can be solo or with your partner. You can negotiate with a therapist ahead of time that you only want a couple of sessions to work through your second thoughts about marriage and any other issues you might be facing. That way, they'll structure the sessions accordingly and you can decide later if you'd like to continue.
Make peace with your own wedding feelings.
My own wedding day was a far cry from the happiest day of my marriage. The hotel lost my prepaid suite reservation and double-charged me to get it back. My mom decided she didn't want to sit with my mother-in-law at the family table and rearranged the seating chart. The DJ introduced me by the wrong name. All the stuff my gut was telling me to stress about was wedding-related and, it turned out, for good reason. Accepting the stresses of it and freeing yourself from unrealistic expectations will give you the space to have a real, honest deep dive into your feelings.