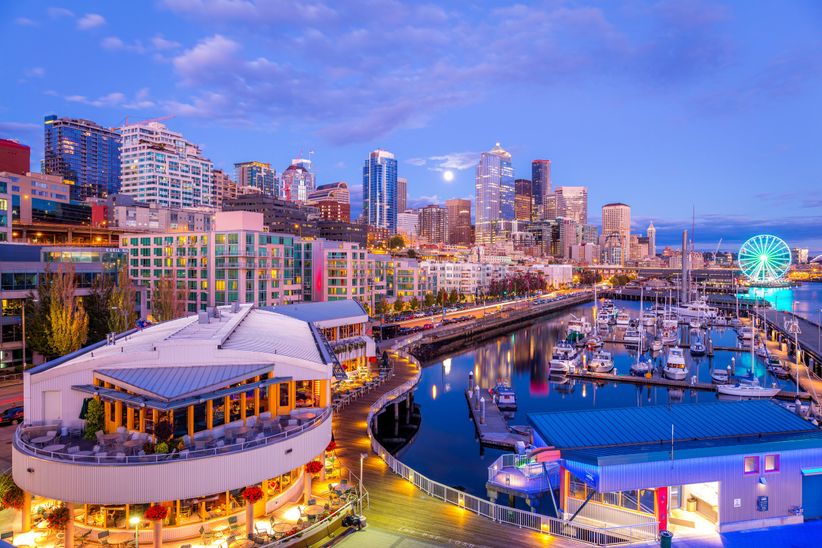 California might get much of the West Coast limelight, but don't overlook a Seattle bachelor party for your last hoorah as a single guy. This Pacific Northwest gem has the ultimate mix of outdoor activities and urban exploration, not to mention the dozens of noteworthy breweries, bars, and pubs that make up the city's nightlife scene.
Planning an entire mancation can be understandably overwhelming, but we've taken out the legwork with a Seattle bachelor party guide that checks all the right boxes for sites, eats, and accommodations.
What to Do
For any Seattle bachelor party group made up of Seattle newcomers, make sure to spend a little time playing tourist with visits to the city's most iconic sites. Take a trip up the Space Needle for a panoramic view of Seattle and surrounding mountain ranges. Or, swing by Pike Place Market to explore specialty food and drinks served by local vendors.
If your crew loves a good trivia night, you might enjoy a visit to the Museum of Pop Culture set next door to the Space Needle. This museum features rotating exhibits like Star Trek, Nirvana, and Marvel so you can fully geek out amongst other pop culture enthusiasts. For those more interested in aviation, The Museum of Flight is a must-visit as the largest independent air and space museum in the world.
A Seattle bachelor party is an especially great option for the outdoorsy crew with three national parks set in the surrounding area. Mount Rainier National Park makes a solid day trip from the city, where your group can hike, climb, or even backcountry camp if you're feeling more adventurous.
Whether you're into the brewery, distillery, or coffee scene, Road Dog Tours has an experience tailored just for you. Check out their three unique tours and let them lead the way the city's best libations.
When you're looking for a spot to chill, Fremont Brewing's Urban Beer Garden is just the place for a laid-back experience. Or, hit the Vidiot Arcade Bar for free arcade games, PC games, and board games while you sample their 13 beers on tap. If you prefer live music with your brews, check out The Crocodile which features both local and national bands on their nightly lineup.
Where to Eat
You won't have to look far to find good seafood in Seattle, and Elliott's Oyster House is ranked as one of the very best. Named "America's #1 Oyster House" by Food + Wine, it's no wonder this waterfront restaurant has been in business since 1975. If that's not enough to settle your seafood appetite, swing by Pike Place Chowder set in Pike Place Market for eight daily varieties of West Coast chowder done right.
Radiator Whiskey is known for its extensive whiskey selection, but they've also got a hearty meat-centric menu to feed your crew. Looking to take your Seattle bachelor party to the next level? Call ahead to pre-order their famous "beast feast" which includes a whole smoked pig head, whole smoked pig shoulder, and whole porchetta roast, plus salads and sides.
Indulge in another local favorite with dinner, and drinks at Some Random Bar. Whether you're craving steak, seafood, or just a classic burger, this place has you covered for a guys' night out.
Where to Stay
Downtown accommodations meet contemporary style at the Loews Hotel 1000. This recently renovated hotel set near the waterfront district will put you within walking distance to all the action at both day and night. The best part? The hotel also features Seattle's only virtual golf simulator so you can hit the links without even leaving the property—so ideal for a Seattle bachelor party.
Just a 10-minute walk from the Space Needle, The Maxwell Hotel isn't your run-of-the-mill hotel experience. This quirky boutique property features a bar, coffee shop, and pizzeria on-site, along with a local shuttle to the city's most popular attractions.