10 Beauty Tasks You Should Actually Do Before Your Wedding (and Which Ones to Skip)
There's a long list of beauty treatments you could try before their wedding day—but which ones are actually worth it? Here, experts give you the inside scoop on the best in pre-wedding beauty!
We have included third party products to help you navigate and enjoy life's biggest moments. Purchases made through links on this page may earn us a commission.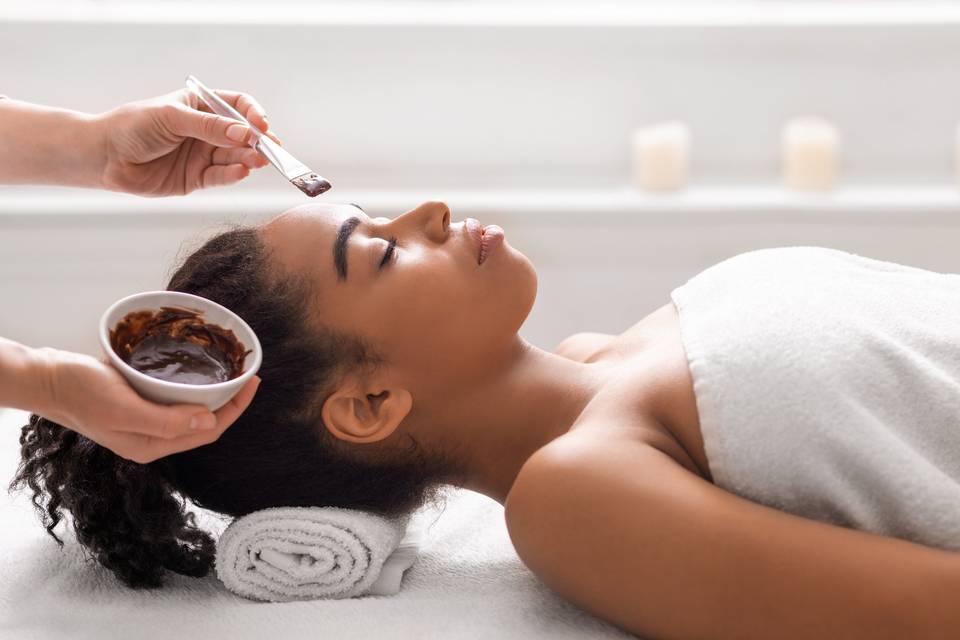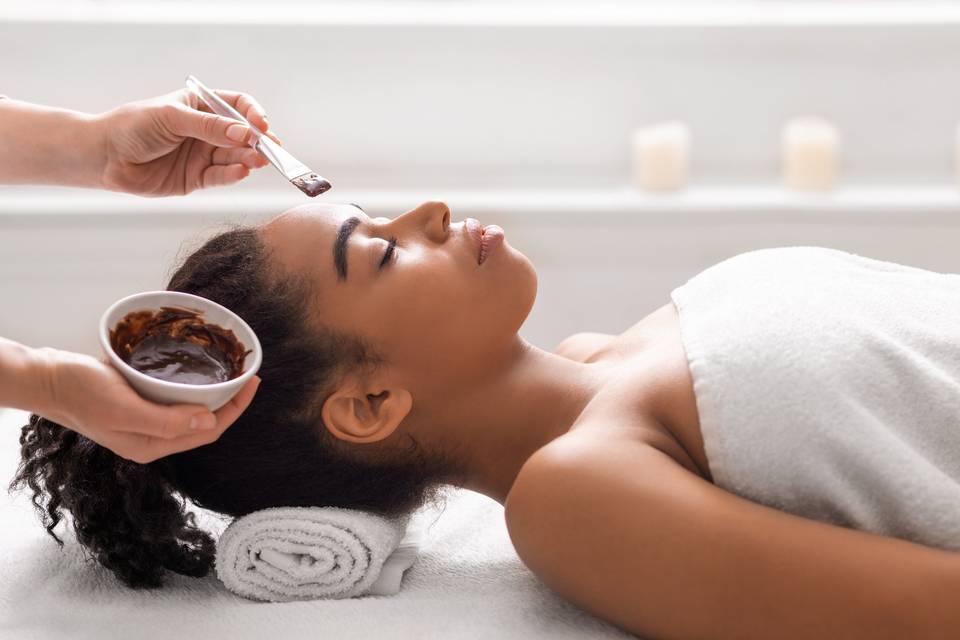 Fun fact: Weddings can be pretty stressful and complicated (especially nowadays!). Getting married and actually being married is the absolute cat's pajamas, but you also don't want the stress of the day to show on your face, right? Of course not—but with new treatments and procedures coming out every single day, it can be hard to know which ones to actually move forward with and which ones aren't suitable. Well, we've done the work for you. We consulted some of the industry's best estheticians, dermatologists, and plastic surgeons to find out which treatments they recommend for your wedding day and which ones you can skip for later.
Estheticians say…
Keep: Working on your skin at home.
For Rachel Liverman, esthetician and co-founder of Glowbar, it's not about necessarily going in for treatments with a professional, but rather what you're doing at home. Because the better the skin looks on the day of the wedding, the better the makeup will look, and that requires you to put in a little effort, too. But start early: Homecare can take up to 2-3 months to REALLY begin working on your skin. Incorporating active enzymes, and AHA's (Alpha-Hydroxy Acids) are going to be really important—things like light lactic peels and glycolic peels at home are great. "AHA's go to work on the desmosomes which want to keep our skin cells attached to the stratum corneum," Liverman shared. "AHA's will begin to break these down in a good way, so new fresh skin can be revealed. Also, AHA's are water-loving, so they really provide a nice glowing effect to the skin, and really help to reduce fine lines and wrinkles."
Keep: Lactic Acid & Retinol
Celebrity esthetician Shani Darden agrees with using lactic acid, because It's gentle enough even for the most sensitive of skin and doesn't cause any dryness or flaking, and can even add a little hydration back into the skin, making it great for before a wedding. She also recommends introducing a retinol into your skincare routine if you haven't already: "Retinol is my absolute favorite ingredient for flawless, youthful skin. It's amazing for its anti-aging benefits and it also does so much to just keep skin looking its best overall. It's not strictly an anti-aging product because it can also help minimize blemishes as well."
Good, but not necessary: Technology
If you're into gadgets and technology, consider one of the many new facial tools on the market. Darden loves vibration therapy, and her Facial Sculpting Wand transmits acoustic sound waves up to 6cm (2.4in) below the skin's surface. "t provides deep muscle stimulation to target crow's feet, eyebrow furrows and nasolabial lines under the surface at the source, rather than on a superficial level, helping to achieve long term as well as immediate benefits," she explained. The vibrations also boost circulation to increase the skin's oxygen uptake, resulting in more glowing, youthful skin. Overall, it helps skin to appear firmer, more contoured, and radiant with regular use.
Good, but not necessary: LED Light Therapy
Both Darden and Liverman encourage the use of LED light therapy as something everyone should be using, for the benefits of an increase in ATP production, and as well as the positive effect it has on cellular metabolism. Liverman also encourages at-home application of microcurrents like with a NuFace device. "Gravity, and years of repeated facial movements, make the facial muscles lazy over time. Certain parts of the face become elongated, and stretched, while others start showing a lot of expression lines," she explained, continuing "Microcurrent really trains the skin to be more efficient, and the lifting and firming effect is awesome."
Trash: Trying anything new right before the big day.
Liverman doesn't recommend getting deep, intense chemical peels right before your wedding, as they require a lot of downtime, unless they are done early on. "'Fluff-and-buff' facials are also not what we are going for—we want effective treatments that use actives to really get the skin going in the right direction." Of course, she knows that that's really up to you and your skin, as each client's wedding prep will be a little different (as it should be.)
The main thing both estheticians recommend skipping before your wedding is trying anything new ahead of your wedding. Want to start new products? Play guinea pig on your face months in advance or wait until after the wedding! If you need anything that can irritate your skin, such as microneedling or extractions, right before your wedding, consult with your esthetician on when you should have them done so you have time to properly heal.
Dermatologists say…
Keep: Skin consultations with a dermatologist.
Dr. Azza Halim, a board-certified physician specializing in aesthetic medicine and anti-aging treatments recommends getting a skin consultation with a dermatologist to develop a good skincare regimen 9-12 months in advance of the wedding, depending on how far in advance one is planning their wedding. "Everyone's skin reacts differently to stress/anxiety therefore no need to take chances, even if you have always had monthly facials without a problem—so do not risk it."
Keep: Chemical Peels & Microneedling
"Any bride will benefit from starting a pre-wedding beauty regimen. Brides should consider enhancing their natural glow, which means exfoliating, plumping, and brightening their skin," says board-certified dermatologist Dr. Jessie Cheung. She recommends starting a regimen of monthly chemical peels, micro needling, or gentle laser resurfacing at least six months prior to the wedding can help to improve texture, remove dull skin, to reverse sun damage. Of course, not everyone can or wants to do all of that, so even a single treatment a month prior will help.
Keep: Body care and sunscreen.
And we can't forget the body—if you're worried about body acne, Dr. Halim recommends getting a back and chest facial or peel in order to prep your skin, especially if you're wearing an outfit with an exposed neckline. Oh, and make sure your skincare routine isn't just on your face—it should go on your face, neck, hands, and decolletage. And don't forget the sunscreen. Please, don't forget the sunscreen!
Good, but not necessary: Injections
Both dermatologists recommend but don't see injectables, like Botox or lip fillers as essential, but nice to have. If you're new to injections, start small and early. "Botox usually lasts about 3-4 months, so if you have wrinkles in your forehead or around your eyes, start with Botox injections six months before the wedding to see if you like the results, and then get another round of Botox the month before the wedding," says Dr. Cheung. Jawline slimming with Botox and the Botox lip flip are also popular treatments, and should be performed along the same time line. Meanwhile, filler injections for lip plumping and profile enhancement should be performed at least a few months before the wedding—never within two weeks, in case of residual swelling or bruising. If you're interested in threads—a noninvasive alternative to a facelift that works to tighten and lift skin—, thread lifting should be performed at least 6 months before the wedding, to take advantage of the collagen stimulation effects.
Keep: Body care and sunscreen.
And we can't forget the body—if you're worried about body acne, Dr. Halim recommends getting a back and chest facial or peel in order to prep your skin, especially if you're wearing an outfit with an exposed neckline. Oh, and make sure your skincare routine isn't just on your face—it should go on your face, neck, hands, and décolletage. And don't forget the sunscreen. Please, don't forget the sunscreen!
Plastic Surgeons Say…
Keep: Good timing
Timing is the most important thing when determining which treatments and procedures one should get before their wedding. "It's not unusual for a bride to come in a few weeks before her wedding asking about breast implants or a mother of the bride asking about a facelift," Dr. David Shafer, MD, FACS of the Shafer Clinic Fifth Avenue in New York City, said. A few weeks ahead of your event? That's not gonna happen, but there are plenty of less invasive procedures to try.
"For surgical procedures, I recommend consulting at least 6-12 months before the wedding and having the actual surgery at a minimum of 3-6 months prior to it," explains Dr. Shafer.
Keep: Medical-grade facials
He highly recommends getting medical-grade facials like DiamondGlow or Hydrafacial in the weeks leading up to a wedding, as well as Mild laser facias such as Clear & Brilliant. "V Beam is a great laser for rosacea and redness of the skin, which can be very helpful before a wedding," he shares, while "Botox is fantastic for reducing dynamic wrinkles and giving the skin a nice glow, and Juvederm Voluma and Vollure are both great at naturally enhancing the cheeks and neckline—helping the couple look even more photogenic."
The general timeline of treatments, of course, depends on what type of treatment being considered as well as the amount of recovery needed for the final desired effect. Here are his general timing guidelines for treatments and procedures prior to a wedding or special event:
Treatments
Botox: 2-3 weeks before
Dermal Filler (Juvederm): 2-3 weeks before
LASER: 4-12 weeks before
Ultherapy: 6-12 weeks before
CoolSculpting: 6-12 weeks before
Medical-grade Facials: 1-2 weeks before
"Which procedures to choose depends on the patient, their anatomy, their goals and of course the timeline," he explains. He recommends skipping highly invasive treatments right before a wedding, simply because there is not enough time for recovery, and would also recommend steering clear of at-home chemical peels and other intense at-home treatments in the weeks leading up to the big event if you're inexperienced in using them as there is risk of causing irreversible harm or skin issues which may not heal in time for the wedding.
Whatever you do or don't do to take care of your skin before your big day, just make sure it works for you, and you're not doing too much too soon—but a beautiful skincare routine can lead to beautiful makeup, which means beautiful pictures from a beautiful person, too.