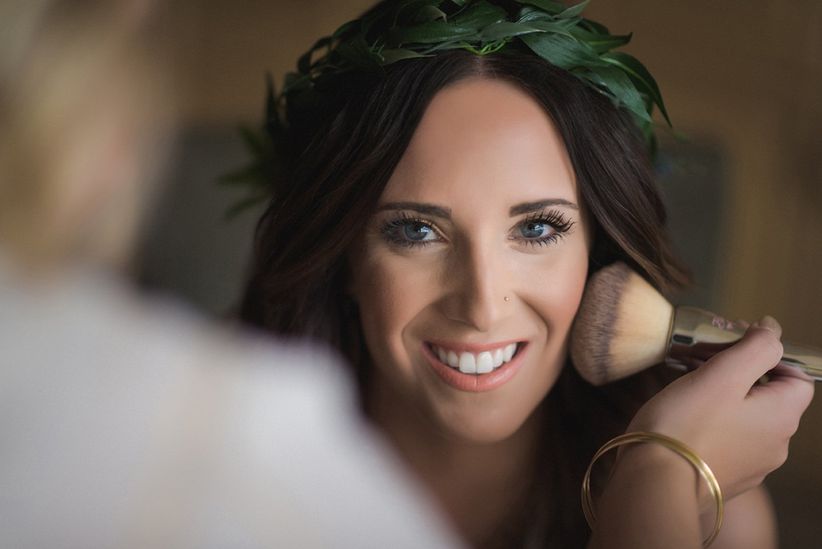 Photo: Tony Gambino Photography
Wanting to look your absolute best on your wedding day is only natural, and it's perfectly normal to think about switching up your pre-wedding beauty treatments to achieve the results you want. After all, when you look good, you feel good too! Focusing on your beauty routine is a great way to #treatyoself before the wedding and amp up your arsenal with new products, but the not-so-fun truth is that a good routine takes effort and, yes, cash flow. When you're already budgeting for a wedding, it can be tempting to handle your beauty routine at home to save money and/or time. While we completely agree that it's important to stay within your spending limits, there are a handful of pre-wedding beauty treatments that are too risky to be done on your own and should be left to the pros at all costs.


Here are seven professional pre-wedding beauty treatments that are worth the investment:
Skin care
Compared to a pricey spa visit, at-home skin care treatments might seem like a bargain, but they're not worth the gamble. You might have relied on your own trial and error up until now, but with complex issues like acne, hyperpigmentation or rosacea, you run the risk of doing more damage than good. If you have problematic skin, it's time to start meeting regularly with a skin care professional or double-down on your existing appointments. It will be worth it in the end—good skin leads to beautiful
wedding day makeup
. If you're naturally blessed with a clear complexion, lucky you! Focus on maintaining your current routine with minimal adjustments. For any pre-wedding beauty treatments that you absolutely want to try, like a brightening peel or anti-wrinkle treatment, proceed with caution and only at the hands of an expert.
Hair treatments
Unless you're a
professional hair stylist
yourself, it's best to leave any major treatments to the hands of a trusted pro. This includes coloring, cutting, straightening/relaxing, perms, and even extensions. The last thing you want is for your hair to be damaged before the big day. It's worth the extra splurge to take care of your locks properly with the right products and professional input.
Lash extensions
When done correctly, lash extensions (which are different than lash strips) look amazing and will instantly
upgrade your bridal look
. They make your eyes look bigger and bring an overall youthfulness to your appearance. But if you're considering DIY-ing the extensions, think twice. The application process involves gluing tiny individual hairs to your natural lashes while essentially keeping your eyes shut the entire time. Not only does this sound
way
too complicated, but you run the risk of irritating your eyes or damaging your existing lashes if the adhesive is applied wrong. Plus, it's important that the lashes are placed in exactly the right spots. If they're crooked or patchy, they'll be really noticeable, and not in a good way.
See More:
2017 Bridal Hair and Makeup Trends You Can't Miss
Waxing
At-home waxing is messy and usually painful. Whether you're waxing your eyebrows, legs or taking a more ambitious route by attempting to do your own bikini wax (eek), our verdict is that it's always a job best left
to the experts
. A professional waxer will ensure that you walk out of their salon with the smoothest skin possible—read: no patchy or missed areas—and will minimize the overall time and discomfort of your wax session. This is especially important if you're new to waxing and are feeling a little nervous. Be sure to schedule the wax at least a week before your wedding in case you have a negative reaction such as bumps or redness.
Brows
Eyebrows are one of the trickiest things to handle on your own. One wrong move and you've suddenly plucked or waxed too many hairs, which take forever to grow back (that's if they grow back at all). Eyebrows that are too thin, short or misshapen aren't flattering on anyone, so
the first rule of brow beauty
is to put the tweezers down ASAP and let your brows fill in according to their natural shape. Let them grow untouched for a few weeks and then make an appointment with a pro who specializes in eyebrow shaping. He or she will groom your brows and shape them to flatter your face. For brows that grow in sparsely or are light-colored, consider having them professionally tinted. This is a low-maintenance option if you want the look of thicker brows without having to fill them in daily. A brow pro can help you find the right color dye to complement your skin tone.
Self tanning
A sun-kissed wedding glow is always in, long as you stay out of the sun (but if you accidentally get burnt,
here's what you need to do
). Self tanning is the best option, but sprays and lotions can look sloppy and downright embarrassing if they aren't applied perfectly. On top of that, most at-home formulas tend to be unnaturally dark or orange in color—a dead giveaway that you're faking it. If you want a
beautiful glow
for the big day, a professional airbrush tan is your best bet. We recommend an airbrush tan applied by a technician rather than a spray booth, as long as you don't mind getting a little up close and personal. The technician applying your tan can customize the perfect color for you and will ensure that the end result looks flawless. If you've never had a professional airbrush tan before, consider trying it at least once before your wedding to decide if it's for you.
Teeth whitening
From taking
wedding photos
to greeting guests, you'll be smiling
a lot
on the big day, so it's only natural to want pearly white teeth. You can find dozens of at-home whitening treatments in the toothpaste aisle, but there are a few reasons why we don't recommend these. Most over-the-counter products will require repeated applications and might not give you the end result you want, especially if you're hoping for a drastic change. More importantly, the formulas can permanently damage your enamel if they're overused or applied incorrectly. They can also cause major discomfort if you have sensitive teeth or gums. The safest investment is a whitening treatment done by your dentist. It's the only way to ensure that you're left with long-lasting results and a
healthy smile
.