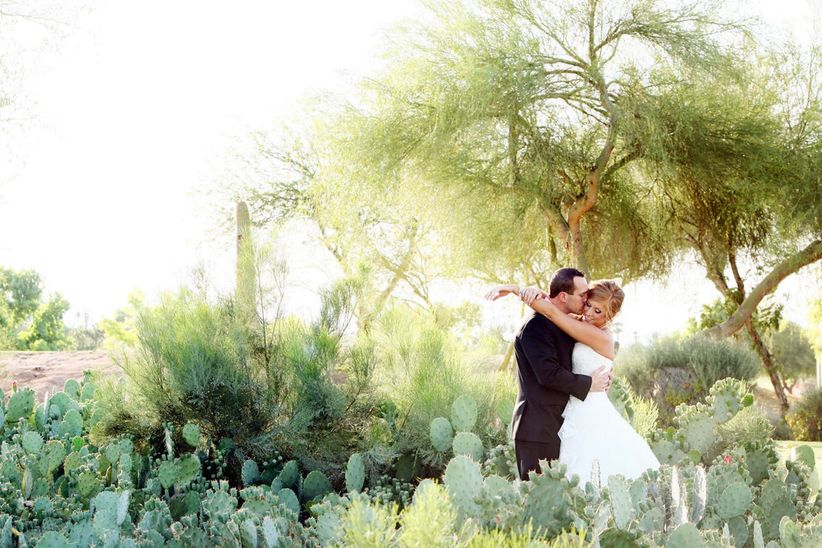 Photo: Wedgewood Palm Valley
When you think Arizona, you think gorgeous desert utopia, so it's super-fitting that so many outdoor wedding venues in Arizona feature the sickest of sick desert and mountain views. With lots of wedding venues in Phoenix just a stone's throw from South Mountain Park, couples searching for dazzling views of all of Arizona's natural wonders are in major luck. Whether you're planning an intimate fête with just 50 guests or getting ready to go all out with dozens of your family and friends, you'll fall in love with these amazing properties that are hands down the best outdoor wedding venues Phoenix, AZ has to offer.


See the most gorgeous outdoor wedding venues in Arizona with breathtaking views!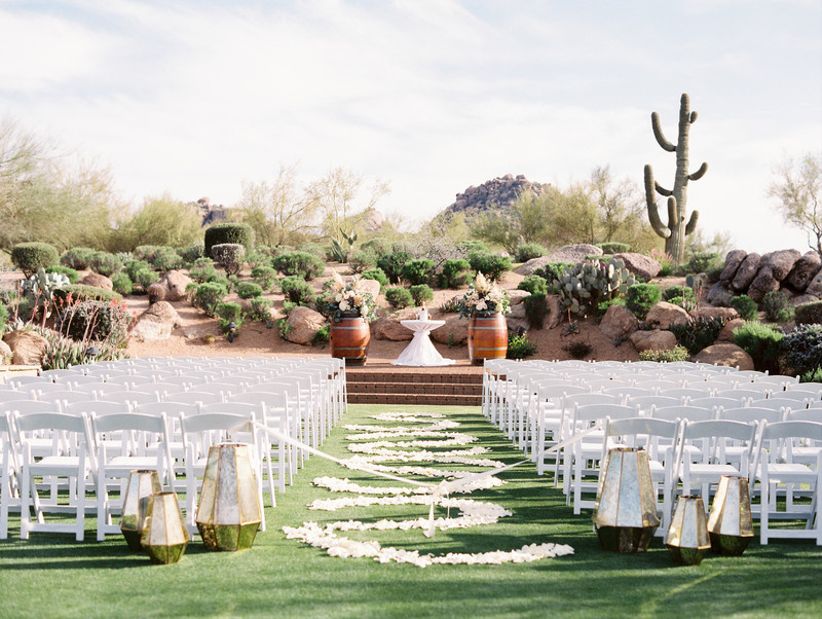 Photo: Troon Country Club
Troon Country Club
Even in a town full of beautiful places to tie the knot, Troon Country Club is one of the most luxurious Scottsdale wedding venues. Whether your wedding plans involve treating your guests to a poolside party or a traditional, sun-filled wedding ceremony with the desert and mountains looming in the background, this gem among outdoor wedding venues in Arizona has got you covered. With eight event spaces, indoor and outdoor options and the ability to host up to 175 wedding guests, Troon Country Club is a desert wedding venue with lots of versatility. For that desert botanical gardens feel, Troon's lush, landscaped fields are the perfect wedding location. Couples wed among cacti, sand, desert rocks, brush and distant mountains — the only thing that would complete the desert feel would be a few thirsty camels roaming in the background.
Learn more about Troon Country Club »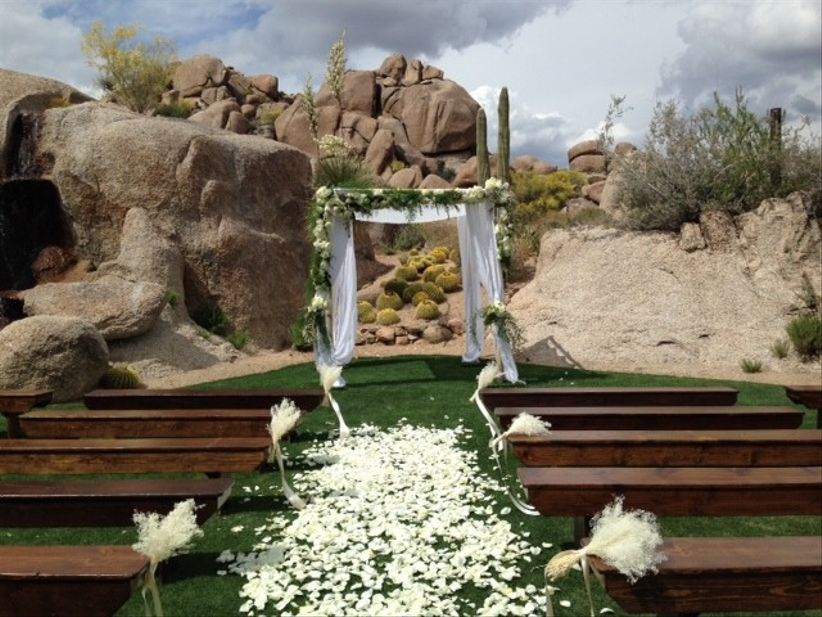 Photo: Boulders Resort & Spa
Boulders Resort & Spa
Heading away from Phoenix toward northern Arizona is Boulders Resort & Spa, a luxury resort with enviable views of the desert for Phoenix weddings. Who needs a
ceremony structure
when couples who choose outdoor ceremonies at Boulders Resort & Spa enjoy a valley of boulders (hence, the name), cacti and other desert flowers as the ideal wedding backdrop.
Outdoor receptions
are just as perfect for desert lovers with elegant tables, string lights, decorative shrubs and succulents setting the scene amid an adobe style patio. Beyond the outdoor spaces, Boulders offers a total of 16 event spaces including various casitas, villas and haciendas for every wedding size and style.
Learn more about Boulders Resort & Spa »
Photo: Tubac Golf Resort & Spa
Tubac Golf Resort & Spa
Located in Southern Arizona's Tubac region, perfectly situated between canyons, valley, deserts and mountains, Tubac Golf Resort & Spa is the desert venue for the wedding of your dreams. Couples choose from a variety of venues on the 7,000-square foot golf club property including a brand-new
wedding chapel
made in the white adobe style Arizona weddings love. Other indoor spaces in the private club include a modern ballroom with theater-style seating for up to 400 guests. For an outdoor wedding, Tubac Golf Resort & Spa is both verdant and surrounded by beautiful desert with views of the region's mountain ranges. For scenery, enjoy the property's lakes, water fountains and Spanish-style design.
Learn more about Tubac Golf Resort & Spa »
Photo: Bella Rose Estate
Bella Rose Estate
Bella Rose Estate is no misnomer — it's a gorgeous wedding venue decked out in red roses. South of Phoenix in Chandler, Arizona, this estate has great views of South Mountain and the San Tan Mountains in addition to making great use of being smack dab in the middle of the beautiful desert. Couples who choose the outdoor venue at Bella Rose will find lots of shade trees and tended flowers, plus two waterfalls, stone water fountains, adobe arches and a beautiful gazebo. If you prefer to move indoors for your
reception dancing
, the estate's ballroom is 5,000 square feet of tiled walls with a 475-square-foot dance floor
Learn more about Bella Rose Estate »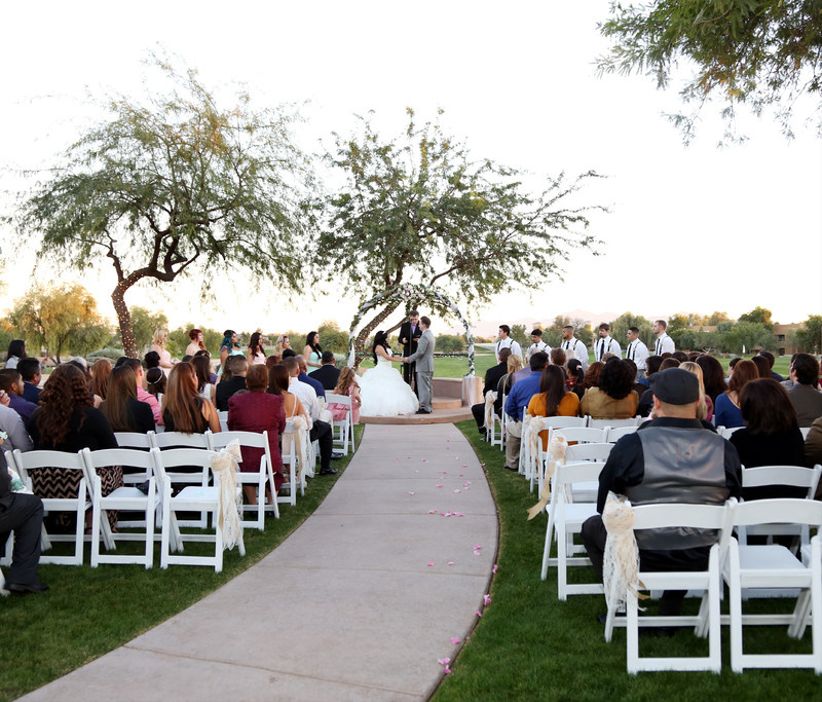 Photo: Wedgewood Palm Valley
Wedgewood Palm Valley
Less than 20 miles from downtown Phoenix, but what feels like a world away, sits the desert oasis that is Wedgewood Palm Valley. An intimate and luxurious golf course property, couples who want desert realness for their
wedding day snaps
won't be disappointed by the plethora of cacti, adobe architecture and palm trees this wedding venue offers.
Learn more about Wedgewood Palm Valley »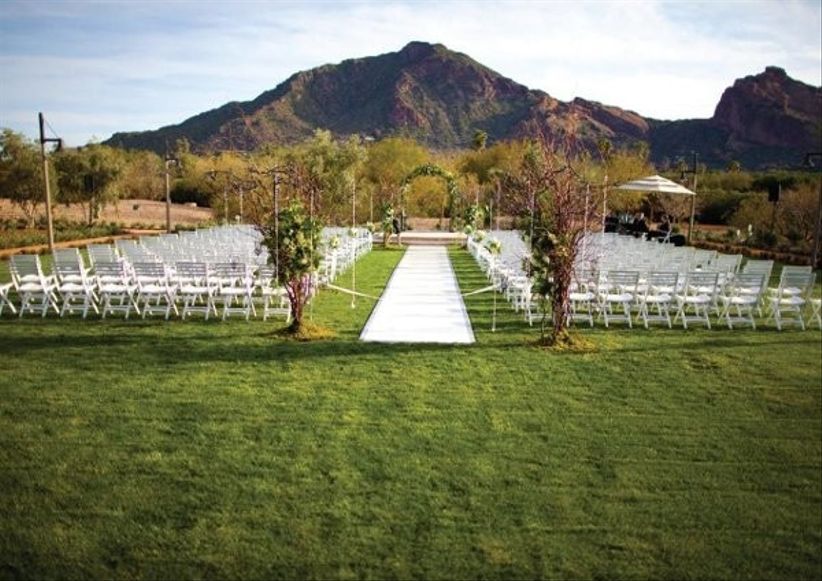 Photo: El Chorro
El Chorro
Head to Paradise Valley for one of the most stunning Arizona wedding venues. El Chorro is a collection of nine venues in one, making it pretty much the ultimate event center for Arizona weddings. With views of both Camelback and Mummy Mountains, the event lawns at El Chorro are real showstoppers for an outdoor wedding. The largest lawn, Casa Pavilion Wedding Lawn, boasts 6,500 square feet of manicured landscape and can accommodate up to 300 wedding guests. For a more intimate wedding ceremony there's the South Lawn (ideal for guests lists up to 120 guests) or the Classroom Event Lawn, which is smaller but enjoys being in the shadow of Mummy Mountain. While El Chorro is one of the best outdoor wedding venues Arizona offers, there are also options at this wedding venue for couples who want to wed indoors. The Casa Paloma Pavilion is a banquet hall for up to 300 guests; The Classroom Bar is a beautifully restored historic space while the Gallery and Landmark Rooms are the best of both worlds — indoor and outdoor — since they open up to gorgeous patios with views of the desert.
Learn more about El Chorro »