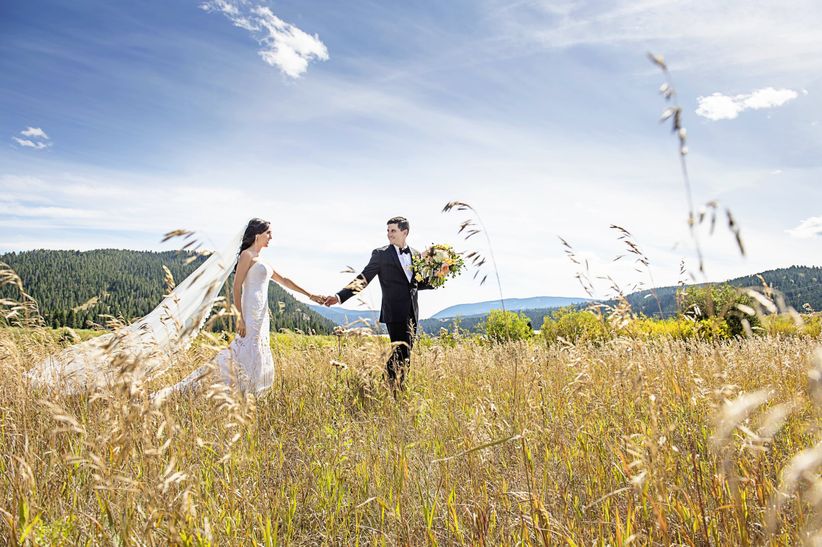 Photo: Lauren Brown Photography
Ranch wedding venues are among some of the most popular places to get married in Montana, especially for brides and grooms who love rustic and farm elements. Montana is home to some of the country's most incredible scenery, so it's no surprise that couples are traveling from near and far to get married with the state's natural beauty as their backdrop. One of the best things about having a ranch wedding is that this type of venue can work for any time of the year, depending on your style and decor.

Whether you're planning a rustic outdoor summer ceremony or having an elegant winter wonderland theme, these Montana wedding venues are sure to wow you.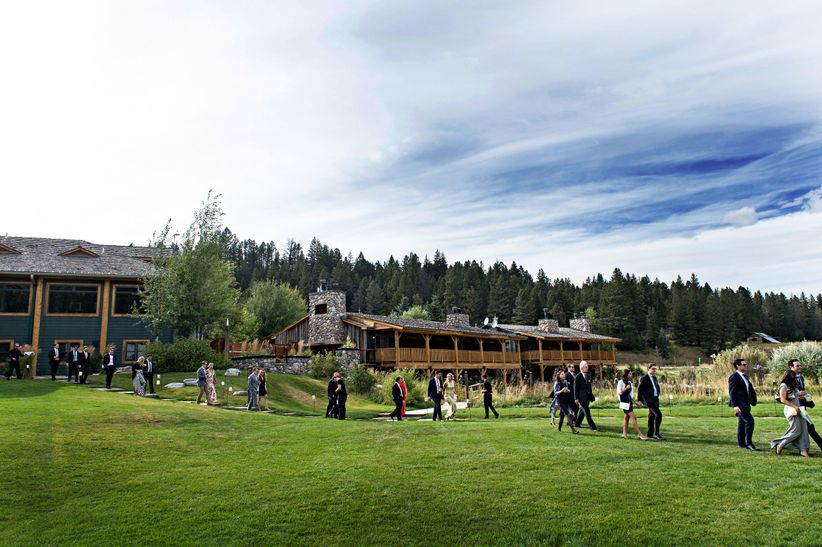 Photo: Lauren Brown Photography
Rainbow Ranch Lodge
If the word "rainbow" doesn't already make this ranch sound magical, then one look at the property's scenery will have you convinced that this venue is
"the one" for you
. The venue is located alongside the Gallatin River in Big Sky, which is known for its wide open skies (hence the name) and picture-perfect views of the surrounding mountains. There are several event spaces on the property to choose from, including the lodge itself, a barn, a covered deck, and an outdoor stone gazebo. Rainbow Ranch Lodge also offers luxurious on-site accommodations if you're having a destination wedding—
American Pie
actor Chris Klein and his wife Laina Rose Thyfault traveled all the way from California to get married here in 2015.
Learn more about Rainbow Ranch Lodge »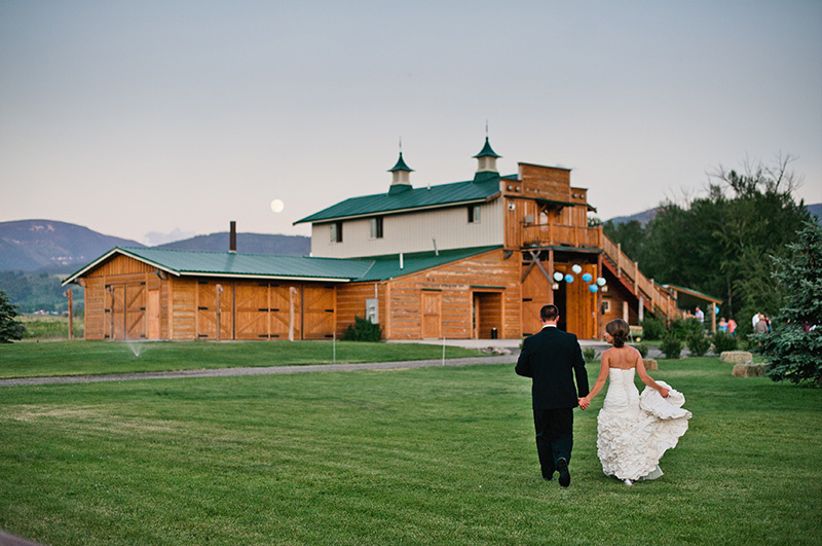 Photo: Hart Ranch Weddings and Events
Hart Ranch Weddings and Events
Our favorite thing about this venue has to be the charming open-air chapel that overlooks Little Bear Creek and the mountains beyond. Hart Ranch, which is situated south of Bozeman in Gallatin County, has a handful of different spaces througout the property that you can utilize during your wedding day. The venue's barn offers a full bar, along with cozy stone fireplaces and room for more than 300 people. Host your cocktail hour on the adjoining patio, and treat your guests to s'mores at the outdoor fire ring for dessert.
Learn more about Hart Ranch Weddings and Events »
Photo: Summer Star Ranch
Summer Star Ranch
One of our favorite ranch wedding venues in central Montana is the Summer Star Ranch in Helena. Picture an outdoor ceremony in the middle of a green pasture that is surrounded by unobstructed, 360-degree views of the Helena National Forest and Rocky Mountains. The rustic ranch venue, which can accommodate up to 250 guests, describes itself as "city chic meets the Wild West," making it a perfect choice for couples who want a venue that puts a spin on traditional
rustic wedding style
. Sit back and enjoy the scenery while Summer Star Ranch takes care of the hard work for you. In addition to event planning services, the venue provides chairs, tables, linens, tents, lighting, audio equipment, and even decor.
Learn more about Summer Star Ranch »
Photo: Sky Ridge Ranch
Sky Ridge Ranch
This venue's renovated barn is a dream for couples who want true rustic charm without having to forego upgraded amenities. The property features a spacious 4,800 square-foot barn with gorgeous reclaimed wood beams, while white swags and a twinkling chandelier give the structure a
romantic, vintage vibe
. In addition to the barn, Sky Ridge Ranch has plenty to offer for your big day, including a bridal suite, unlimited parking, and a full-sized kitchen for caterers. After you say "I do," take advantage of the ranch's numerous spots for photos, from a serene pond with two "islands" to Crow Creek and the Mission Mountains in the distance.
Learn more about Sky Ridge Ranch »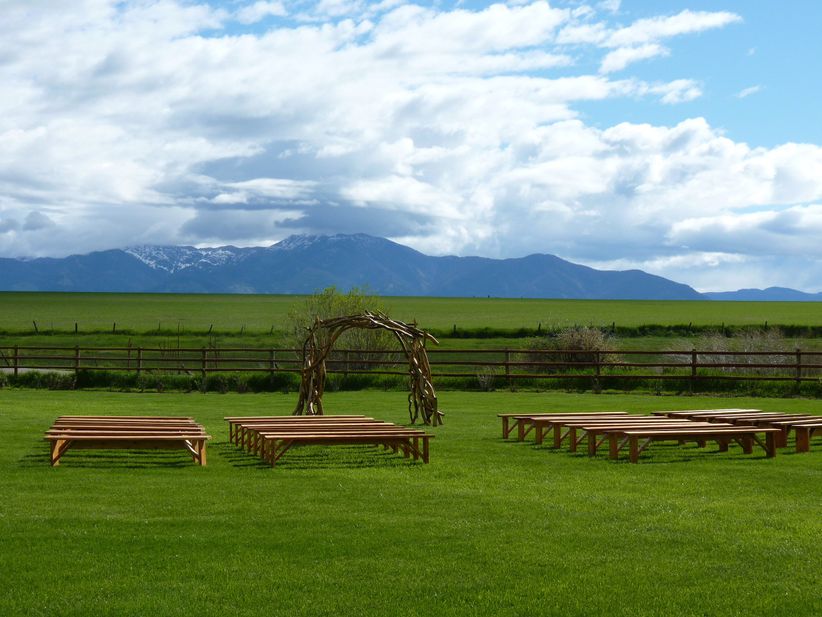 Photo: Rockin' TJ Ranch
Rockin' TJ Ranch
Located less than four miles outside of downtown Bozeman, the Rockin' TJ Ranch is a secluded and stunning property that's perfect for couples who want an "elegant rustic" setting. Instead of a barn, a 4,800 square-foot grand hall with 24-foot ceilings serves as the main event space. The interior is decorated with romantic string lights and chandeliers around the entire room, while large picture windows let in plenty of natural light and provide a view of the mountains in the distance. The polished concrete tile floor also gives the hall an upscale feel in contrast to more rugged venues. Rockin' TJ Ranch offers several wedding packages, including in-house catering, rentals, floral design, and event coordination.
Learn more about Rockin' TJ Ranch »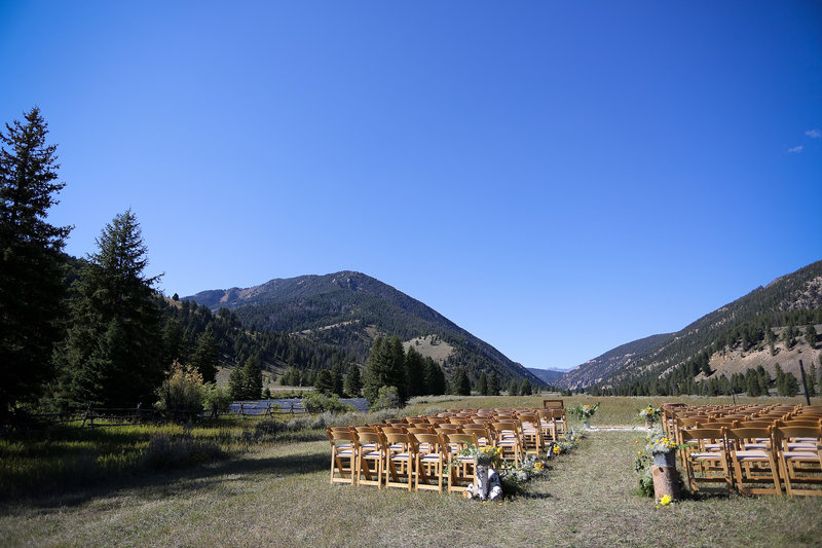 Photo: 320 Guest Ranch
320 Guest Ranch
Couples searching for all-inclusive ranch wedding venues should look no further than the 320 Guest Ranch. Make yourselves at home on the property, since you won't want to leave once you arrive! The ranch has dozens of log cabins and cozy chalets that can accommodate more than 200 people throughout the wedding. During your stay, you and your guests can dine at the 320 Steakhouse, go for a hike, ride horses, or even get a lesson in fly fishing. When the big day arrives, the venue has everything you need to host the ultimate ranch wedding. Exchange your vows with the Gallatin River and
the mountains
as your backdrop, and then choose from either the venue's banquet hall, conference center, or tent for your reception. If you're getting married during the
winter months
, 320 Guest Ranch offers sleigh rides through the forest during cocktail hour. Sign us up!
Learn more about 320 Guest Ranch »