Wedding Vendor Reviews: What to Say, When to Write 'Em, and More
Reviewing your wedding vendors on WeddingWire is an easy way to give love to your vendor team. Here's how.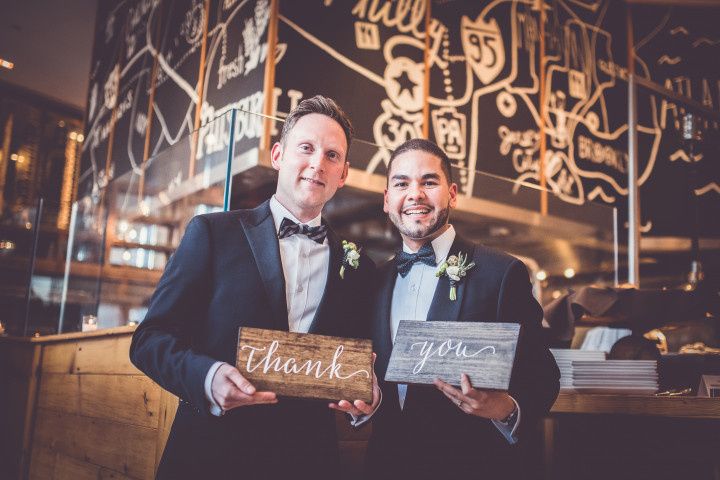 Writing wedding vendor reviews on a site like WeddingWire is an easy way to give love to your vendor team and help future engaged couples select their wedding pros. But you might find yourself with an acute case of writer's block as you sit down to write these wedding vendor reviews. Don't despair! It turns out that reviewing your wedding vendors is actually pretty easy, if you follow a few simple steps.
Now, where to begin? Here are our top seven tips for writing wedding vendor reviews.
Write 'em before (or after!) the wedding.
You don't have to wait until after your wedding to write reviews, particularly for your dress/attire, invitations, favors, and jewelry vendors. Write your wedding vendor reviews whenever your experience with a particular pro is fresh in your mind to help avoid that pesky writer's block. So if you have a great experience with one of your wedding vendors, go ahead and write them a glowing review, even if your wedding hasn't occurred yet—you can always edit or add to your review later on. And of course, you can also write reviews post-wedding if you'd prefer.
Think about the stars.
You'll be asked to rate your vendors in several categories - Quality of Service, Responsiveness, Professionalism, Value, and Flexibility. Think about each category individually rather than giving vendors the exact same rating for each. Some vendors, for example, may provide great service and were affordable, but were difficult to get in touch with. Or perhaps a vendor you loved working with was way pricier than other vendors you looked at. If you're having trouble writing a detailed review, thinking about these categories might inspire you.
Be honest.
When writing wedding vendor reviews, praise what the pro did well and how they went above and beyond the call of duty, but also provide constructive feedback and note improvements that could have been made. Remember that your vendor will likely see what you've written, so if your experience wasn't perfect, giving them specific ways to improve will help them grow their business for the future—and allow future couples to have an even better experience. Also know that pros can respond to your wedding vendor reviews, so be prepared to hear back from your vendors, whether you've provided positive or negative feedback.
Try to work out issues before writing the review.
If you have specific complaints or concerns about your experience with a pro, try to work it out with them before writing your wedding vendor review. They may genuinely not be aware of your concerns, and your negative review will come as a surprise. Try to discuss any problems with your vendor as they occur to see if they can be resolved—and if there are still issues, spell them out in your review. For example, if you're finding a vendor difficult to reach, tell them: "I'm noticing that it's difficult to reach you via email. Is there a better way for us to communicate?" Or if there's a charge on your bill you don't recognize, ask your vendor about it before mentioning it in your review.
Be specific.
Talk about the actual services the pro provided in your wedding vendor review, and tell a story to illustrate your points. Did your wedding planner totally save the day when a freak rainstorm threatened your outdoor ceremony? Did your caterer create a special kid-friendly meal just for your picky niece? Share the details about what made your vendor so special and unique. These anecdotes will really help a particular vendor stand out from the crowd as future engaged couples plan their weddings.
Add photos.
If your wedding vendor provided tangible work, such as a florist or a cake baker, you can include photos with your review so that other couples can see what an incredible job your vendor team did—and so you can brag about your big day just a little bit more. Make sure the photos are clearly shot and professional, if possible.
Give a shout-out.
If you worked with a larger company with many employees, be sure to name the person or people who assisted you—and thank them. They'll appreciate getting credit for their hard work, and your kind wedding vendor review may even help with their career growth.