How to Help a Friend Through a Divorce
If you're helping a friend through a divorce, it might be tough to know what he or she needs. Here, experts share their top tips for navigating this difficult time.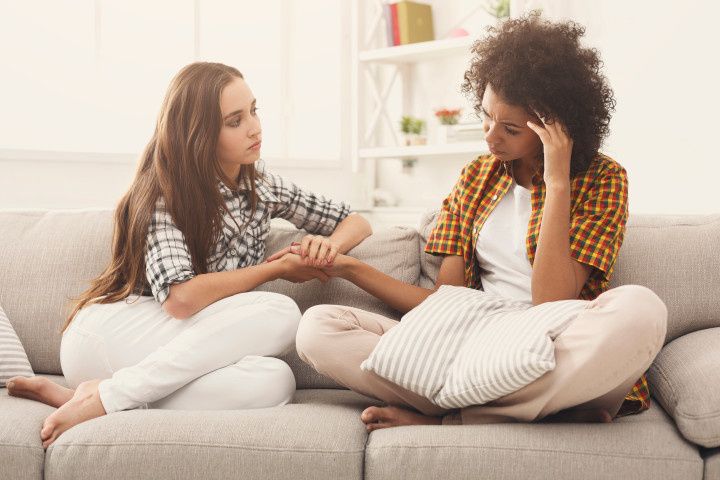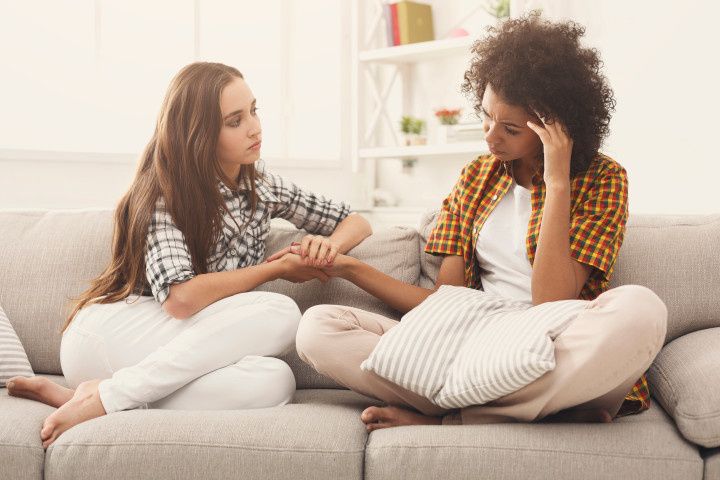 If your friend is going through a divorce, you too might feel saddened and helpless but the unraveling of her marriage. Divorce is almost always shocking, even when there have long been signs that it might happen. No one enters a marriage with the intention of getting divorced, which is why it can be so paralyzing to cope with. Luckily, your pal has support in the form of you, though helping a friend through a divorce may be difficult, it will certainly be appreciated.
"Moving beyond divorce requires dealing with not only the loss of that person, but the loss of your hopes, dreams and expectations of how your life would be going," says Jane Greer, New York-based relationship expert and author of What About Me? Stop Selfishness from Ruining Your Relationship. For this reason, she explains that it's so important to rely on friends—not only because being alone can be sad and overwhelming, but because the amount you have to deal with can be beyond exhausting to deal with.
Here are expert tips for helping a friend through a divorce so that he or she will come out even stronger than before.
Be willing to listen.
While your initial gut instinct might be to dole out advice, in these situations it's often much better to play the role of the listener. "Oftentimes people in pain just want a non-judgmental ear," says Paulette Sherman, Psy.D., psychologist, director of My Dating & Relationship School and author of Dating from the Inside Out. "They don't often need advice, just someone who is really present to be a witness to their truth as it evolves."
Be empathic.
Even if you can't fully relate to what your friend is going through, validating their feelings and letting them know that they make sense to you can make all the difference when it comes to helping a friend through a divorce. "When people are in pain they often wish for someone to simply understand how they are feeling so that they feel less alone or crazy," says Dr. Sherman. "Never try to show them the opposite view when they are so upset because they may feel defensive and judged and are probably not ready to consider it anyway." In other words, this isn't the time to play devil's advocate.
Encourage them to get out of the house.
It's hard not to think about the sad aspects of their life, such as their divorce, when they're sitting at home all alone. That's why, as their friend, it's your job to help make sure they're busy. Encourage them to get out, be it to the gym or park, to get a relaxing massage, to the movies, anything that will help them get their mind off of things. "Very often, people going through a divorce feel low self-esteem and/or depression," says Dr. Greer. "Being positive and being available to your friend gives him or her a companion."
Offer to help with the kids or chores.
If your friend has children, remember that she just went from a two-parent household to a one-parent household, which means twice the work. One thing she will need, but might not ask for, is help picking up the slack. "It can be especially hard to get things done when you are distraught," says Dr. Sherman.
"You can offer to mow the lawn, make dinner, babysit, anything will go a long way in giving your friend a break and helping your friend through a divorce."
Invite them over for the holidays.
The holidays can be an especially difficult time for newly divorced folks since they're most likely used to spending the seasonal celebrations with a significant other. If possible, invite your friend to join you in your family's celebrations, which is a nice way to help a friend through their divorce. Not only can this help distract them and get their mind off things, but it can help them feel like they have a place that they belong.
Avoid being judgmental of the people they may start to date.
You never know how soon your friend might be ready to start dating—even for a mere rebound. That's why it's best to just offer support instead of passing judgements. Of course, if you feel strongly that someone they started dating is a bad influence on them, it's worth mentioning in a caring and concerning way, but avoid judging how soon they want to get back out on the playing field.