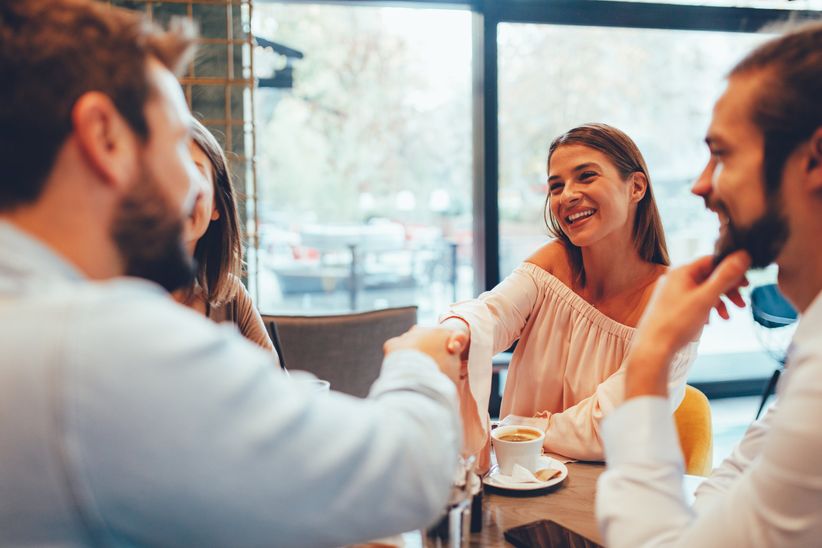 Think your bestie is hearing wedding bells with her significant other? Or do you just get the feeling they are the real deal? It may be time to get to know this person that's about to be a huge part of his or her life—because they're probably going to be a huge part of your life, too. It will mean a lot to your friend if you take the time to get to know their significant other, but figuring out how to do that can be hard—and no, just stopping by for drinks once in a while isn't going to cut it.
Here are some tips for getting to know your friend's partner for real.
Hang out—just the two of you.
The best kind of relationship to have with your friend's partner isn't just knowing them as your friend's partner. It's a friendship! If your friendship with your pal is that important to you, take the time to create a friendship with their significant other by bonding with them one-on-one over interests that you both share, like a sports game or book reading with an author you both love. You'll get to know your friend's partner as a person (rather than just a plus-one) and they'll get to know you as a person (rather than just The Friend).
Find out what they love about your friend.
You probably hear a lot about what your friend loves about their partner, but do you ever hear it from the other side? A great way to get to know your friend's significant other is to pick their brain about why they're with your friend in the first place, and all the reasons they're in it for the long haul. You'll probably find you and your friend's partner have a ton of reasons in common why you both love your friend—which can be the basis of a beautiful friendship of your own. It might even show you new insights into your own friend and help you get to know them better, too!
Go on a double date.
If you're in a relationship, bring your partner along to get to know your friend's partner. If you're not in a relationship, you can plan a group outing where you and the rest of your squad get to spend time together. Your friend's sig other will appreciate not feeling like they're under the spotlight and will be grateful to not be the only significant other in tow, which will help them open up a little and let their true self shine through to you. You can suggest regular double dates, say, once a month, to keep building that relationship—as a group—and make it feel less like an audition for your friend's partner.
Share interests with them.
Hobbies are a good way to get to know someone, passions are a great way to get to know someone. If you really want to develop a relationship with your friend and their one-and-only, get to know the passions and causes they really care about as a couple and offer to join in. If they care about politics, go to a town hall with them. If they care about the environment, sign the three of you up for a day of beach trash removal. Your friend already likely shares a lot of these passions with their significant other, but for you to take an interest (and share yours, too!) shows that you're seriously making an effort to get to know their partner on a deep, personal level.
Get to know their friends.
You're your friend's friend. Your friend's partner has their own friends. Why not bring everyone together? After all, the best way to get to know someone is through their friends (and through who they're dating, obvs). Your friend's sig other's crew will likely have no problem bragging about their pal and filling you in on everything there is to know about him or her, and who knows, you'll see their true colors shine more brightly when they're around their own besties (and your friend—their partner and ultimate bestie). Let them pick the hangout and take the lead—all you have to do is show up with your friend and let the getting-to-know you flow! It'll be almost impossible not to. Plus, you might get a new friend group out of it, which is a win all around.