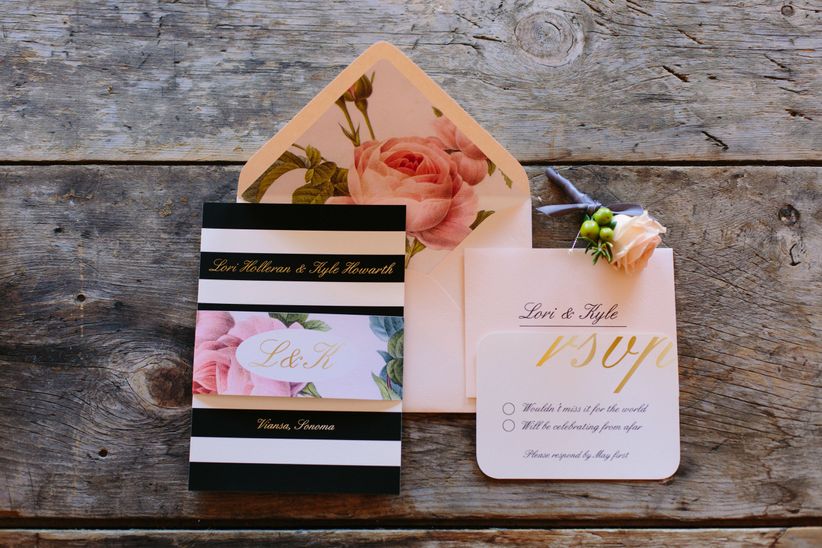 Photo: Megan Clouse Photography
The printing possibilities!

Your invitations are the perfect opportunity to give your guests a glimpse into the style of your wedding. But don't stress about the details until you've made decisions about the basics. You should mail your invitations about 6-8 weeks before the wedding. Since it can take up to 4 months to print them, it's best to start the invitation process 6 months ahead of time. This also leaves time for reviewing a proof, so you don't accidentally invite your guests to the wedding on the wrong day.


Here's a quick look at the decisions you'll be making when it comes to finalizing your wedding stationery.
Paper Weight
Paper ranges from three ply (onion thin) to nine ply (hefty).
Format
The traditional formats to follow are a standard card, a fold-over card, a gatefold card, or an elaborate boxed invitation.
Printing
Your choices for printing method are typically engraving, letterpress, thermography, and offset or flat printing. Consider your paper and colors when deciding on the printing but, in general, just think about the overall look you're going for.
Etiquette
Wedding invitation etiquette is very specific and detailed, so take the time to research wording in order to save time dealing with angry guests!
Enclosures
Be sure to include any separate information your guests might need such as a map, transportation, accommodations, or wedding website cards.
Details
Now it's time for the fun part! Think about clever ways to tie your invitation, a border theme, or even adding a monogram of your initials.