Hosting a Dry Wedding? 6 Things You Need to Know
We're here to help ensure your alcohol-free celebration is totally amazing. Check out our best advice for dry weddings.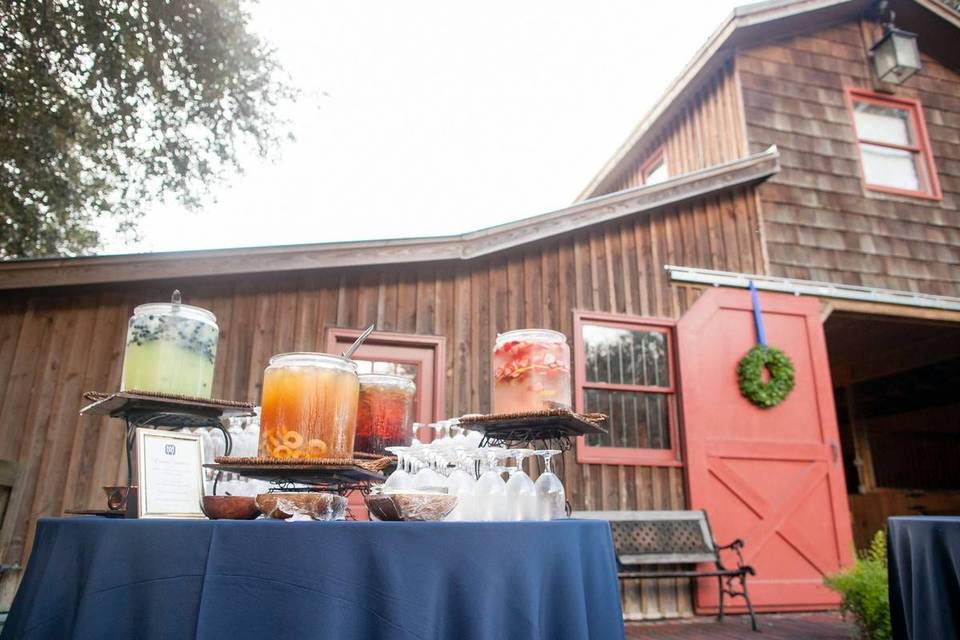 There are many reasons why couples are choosing to host a dry wedding (read: no alcohol), whether because of religious or cultural restrictions, or for personal reasons. Yes, alcohol can be a big part of a wedding celebration, but it's definitely possible to host a fun big day without it. If you're going the dry wedding route, there are a few additional steps you'll need to take to ensure that all your guests have a good time—drinkers and non-drinkers alike.
Planning a dry wedding? Here's how to make your alcohol-free celebration memorable, for all the right reasons.
Consider hosting your wedding earlier in the day.
Your imbibing guests will likely miss alcohol the most during an evening reception, but they probably won't mind going alcohol-free at a brunch or lunchtime event. If you're in the early stages of planning and are flexible about the timing of your wedding, consider hosting your event earlier in the day. Brunch weddings are a fun twist on the traditional, and really who doesn't love brunch food?
Be upfront with your guests.
Think about who you're inviting to your wedding. If many of your guests will be expecting alcohol, it's a good idea to let them know well in advance that you're hosting a dry wedding. There's no need to make some grand announcement—and you certainly don't need to include this information on your wedding invitations—but if possible, include a short note on your wedding website indicating that you won't be serving alcohol You could say something as simple as, "Non-alcoholic beverages will be served" or "We're so excited to see you! Please note that no alcohol will be served during the reception." Make sure that your nearest and dearest are aware of your decision so they can spread the word to family members and friends.
Hold firm if there's disappointment.
Prepare yourselves, because there you may receive some pushback. Some of your guests may be miffed at the lack of alcohol and complain to you, your parents, or your wedding party members before the wedding or on the day of. Be polite but firm with your response, and simply say: "We put a lot of thought into our decision, and we really hope you'll still celebrate with us." Very few people will skip the wedding of a close family member or friend because it's dry. You also may need to deal with guests who drink before the event, and show up drunk. Have your wedding party members keep an eye out for such guests during the reception, and be prepared to pull anyone who's causing a scene aside.
Be creative with the beverage selection.
Just because you're not serving alcohol doesn't mean you can't have fun with the drink menu. From Italian sodas to fruity agua frescas, lemonade and sweet tea stations to trendy bubble tea, there are lots of ways to be creative with non-alcoholic beverages. You can even get creative with water, offering up waters infused with fresh fruit and vegetables in self-serve dispensers—and don't forget fresh juices for brunch weddings! We've all heard of signature wedding cocktails, but why not work with your caterer to come up with a unique signature mocktail, complete with cute moniker? You can also serve up some fun drinks with dessert. We love a hot cocoa or coffee station in the wintertime and refreshing popsicles and snow-cones in the summer. Your guests will hardly miss the booze with these delicious drink ideas.
Focus on the food.
Not only can you have fun with non-alcoholic beverages, but providing your guests with unique food selections will provide an enjoyable alternative to booze. An interactive food station not only serves up delicious food, but also adds an extra bit of entertainment to your reception. Think tacos, mac & cheese, pizza, and more with appropriate toppings and fixings. And for brunch weddings, omelet stations and pancake or waffle bars are always a hit. You can even surprise your guests with a take-home treat at the end of your reception, from burgers to milk and cookies, or even your favorite food truck!
Offer additional activities
True, your dry wedding might not be as raucous as a booze-filled extravaganza, but that just means you can be more creative and provide alternative activities for your guests. A few ideas include karaoke, video or photo booths, games like giant Jenga or ping pong, or even trivia. If your budget allows, a silhouette or caricature artist provides both entertainment and a special take-home favor for your loved ones. And for a super budget-friendly option, printable games such as I Spy or a personalized Mad Libs or crossword puzzle are ideal for guests to enjoy at their tables.