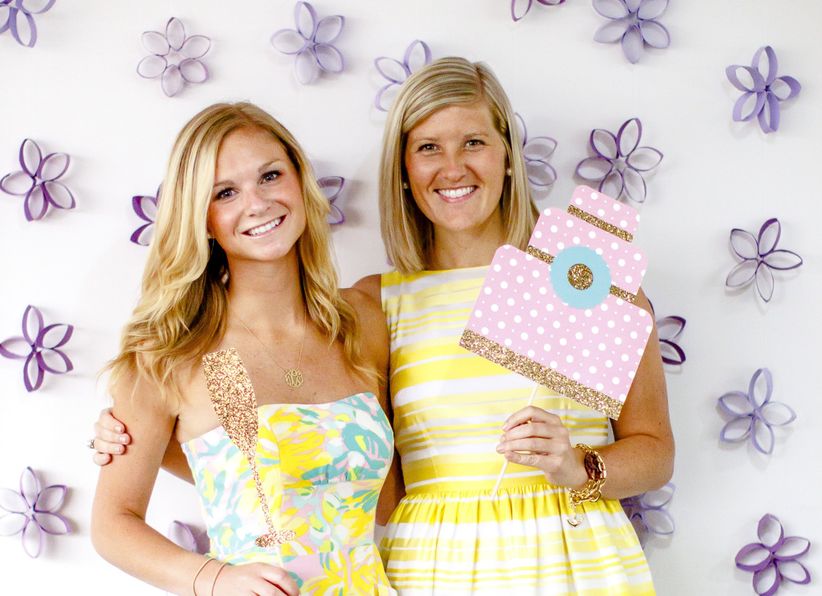 Photo: Crystal Downs
Get crafty with a material you likely already have lying around your house: paper towel tubes! This fun faux flower photo backdrop is perfect for garden and eco-friendly weddings.
Scroll through for step-by-step instructions on how to create it.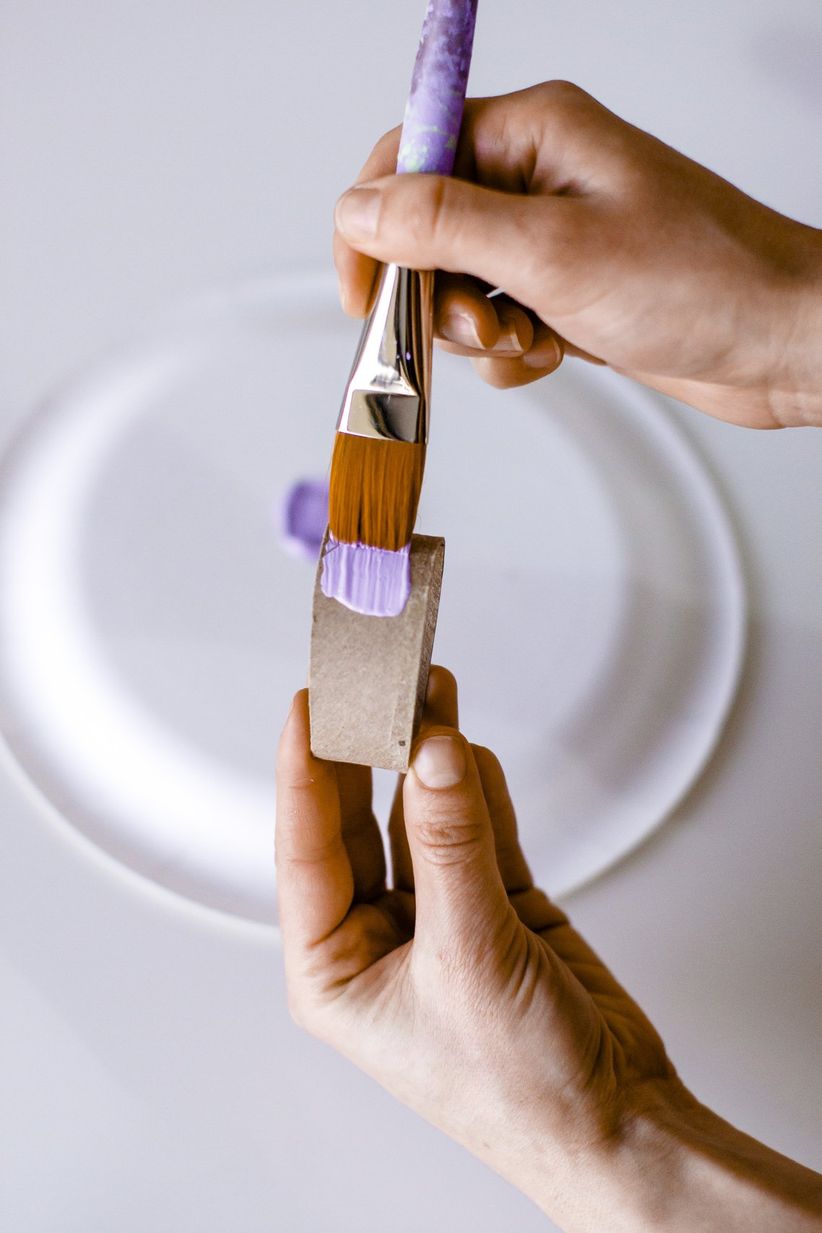 Photo: Crystal Downs
Materials
18 cardboard paper towel roll tubes
12 ounces acrylic paint in any color(s) of your choosing. (we used 3 bottles of this and 3 bottles of this)
1 paintbrush for each person helping with the craft (we used this in size 12)
30 yards fishing line or clear cord (we used this)
Scissors
Glue gun

Props by Llorente Design

Step One
Cut all of your paper towel rolls into sections measuring about 3/4" wide. As you're cutting, the cardboard will naturally bend at two sides to create that petal-like shape.

Step Two
Team up with a friend or two (try your MOH or, better yet, your whole wedding party!) and paint each section with one coat of paint. Make sure to paint both the inside and outside of the tube, so that no cardboard is showing. Allow at least two hours to dry.
Photo: Crystal Downs
Step Three
Once your sections are dried, divide them into groups of five or six (we like using both five - and six-petal flowers for variety). Arrange the groups into a floral pattern, as seen here.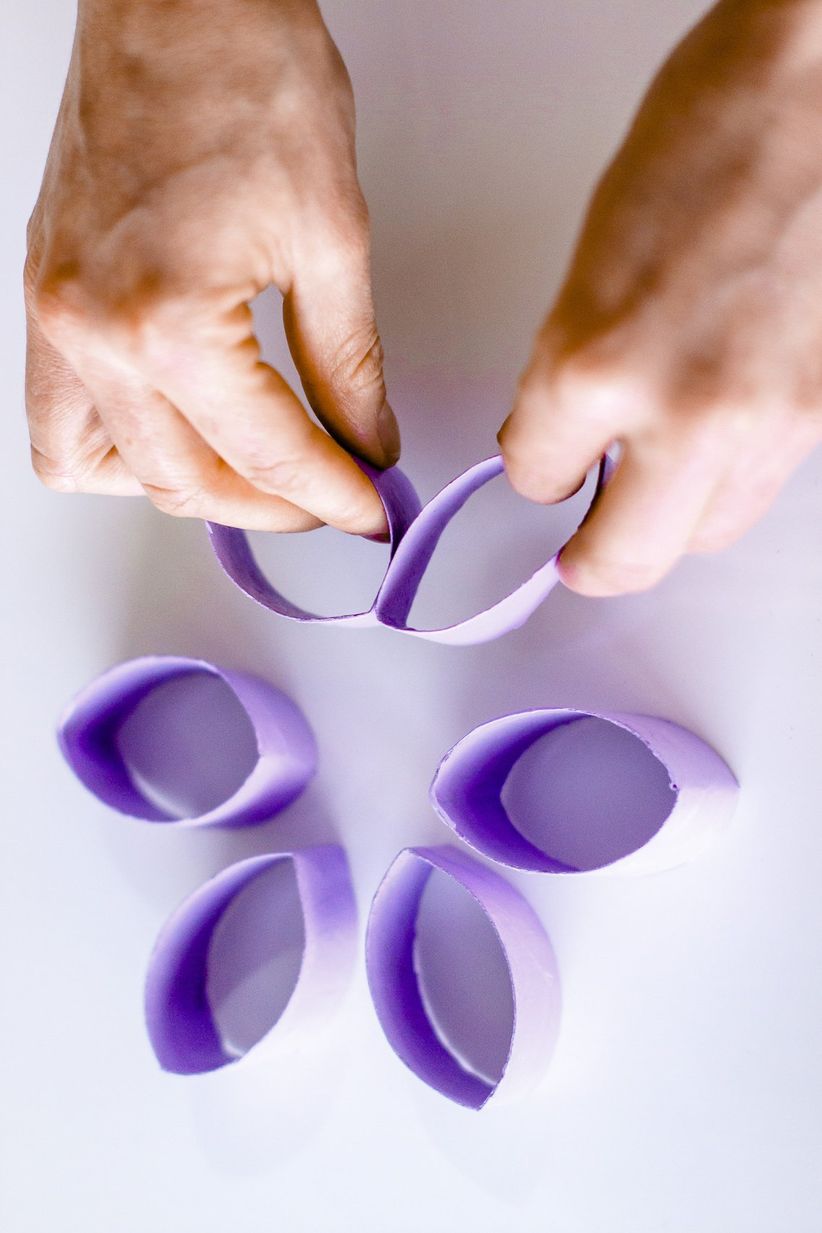 Photo: Crystal Downs
Use a glue gun to adhere the petals to one another by their inner corners, as shown.
Photo: Crystal Downs
Repeat until all the petals are connected. You should end up with about 90 flowers.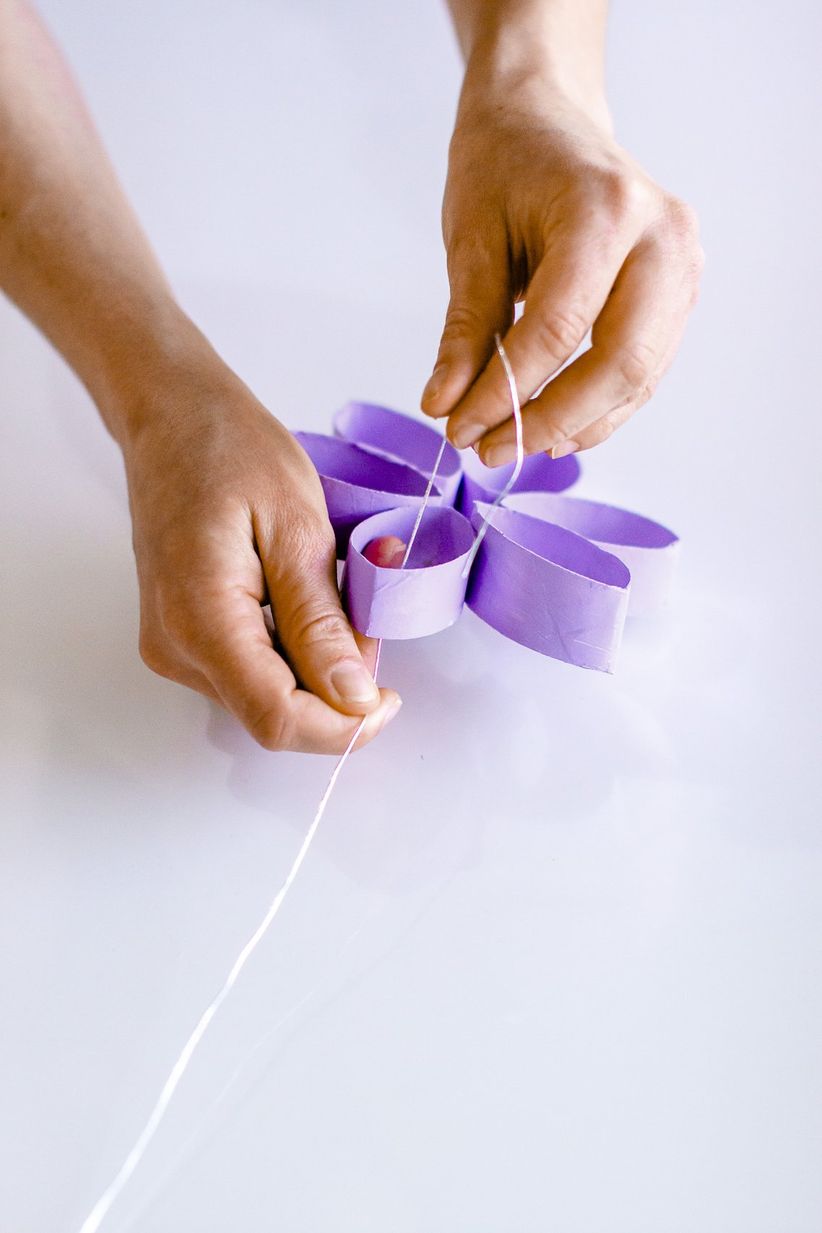 Photo: Crystal Downs
Step Four
Cut your fishing wire or clear cord into sections measuring about 8" each. Take the end of a section and loop it through one of the flower petals.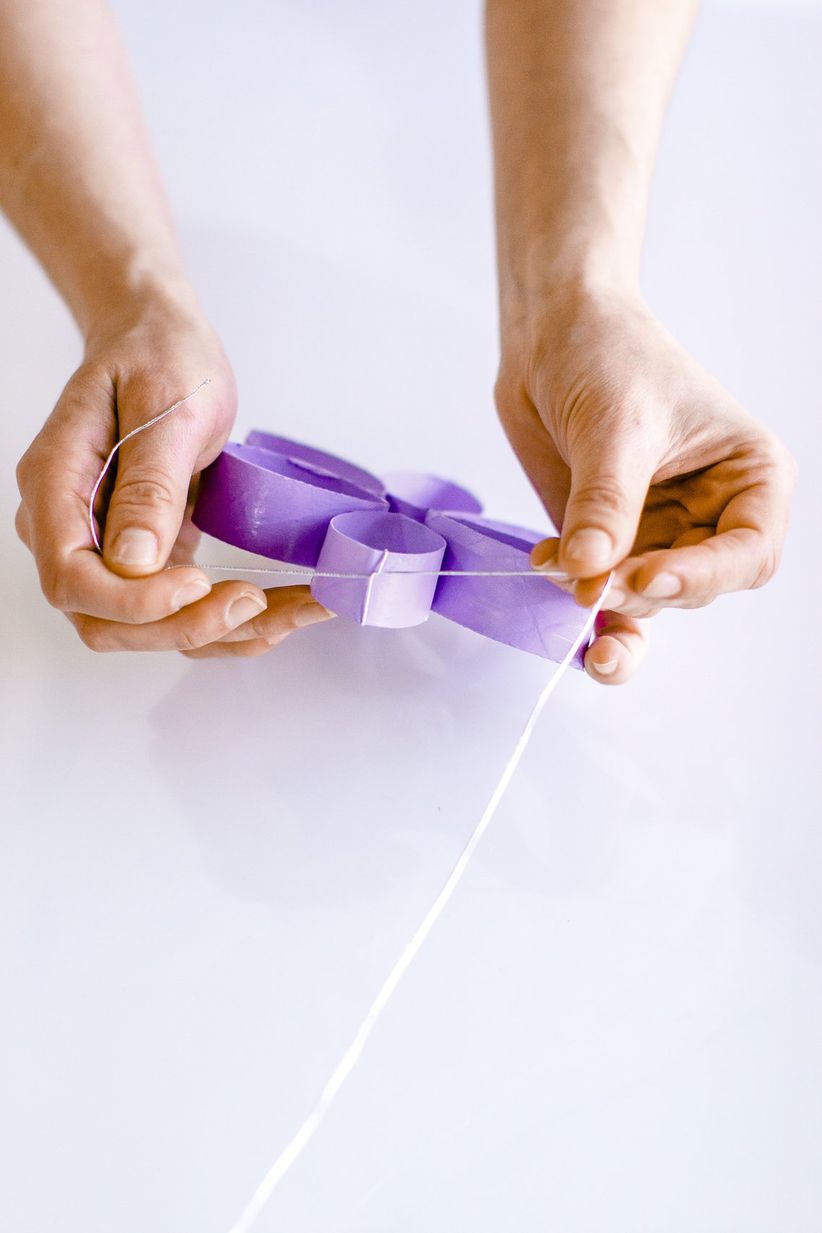 Photo: Crystal Downs
Tie the cord in a small, tight knot around the outer corner of a petal. Then, take the long end of the cord and tie it around the petal of a second flower, connecting the two flowers. The flowers should be about 4" apart. Trim any excess cord left over from your knots.

Repeat this step until you have connected nine flowers. This is a complete chain.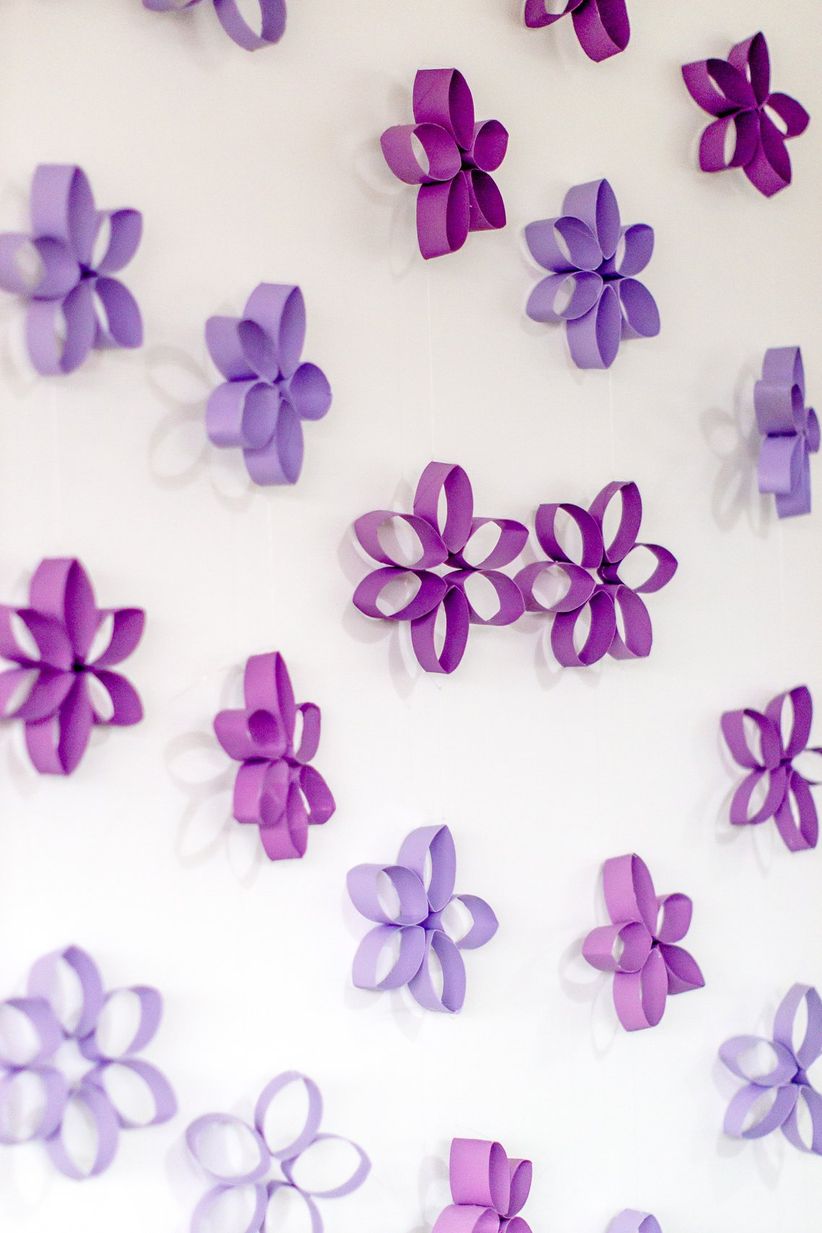 Photo: Crystal Downs
Now, repeat step four until you have a total of 10 chains. Once all of your chains are made, tie them onto your dowel stick using loops of clear cord. Distribute the chains evenly across your dowel so that they form a curtain of flowers.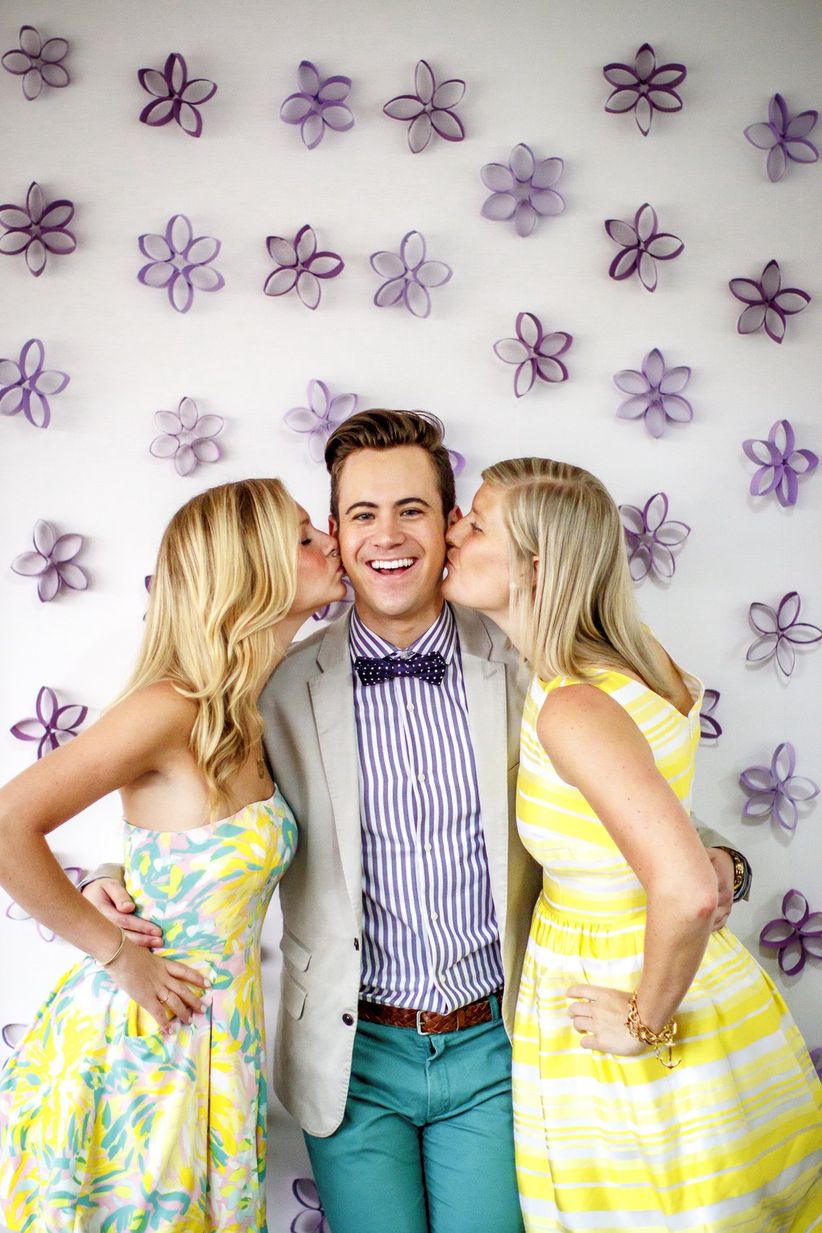 Photo: Crystal Downs
Ta-Da! You're ready to strike a pose!