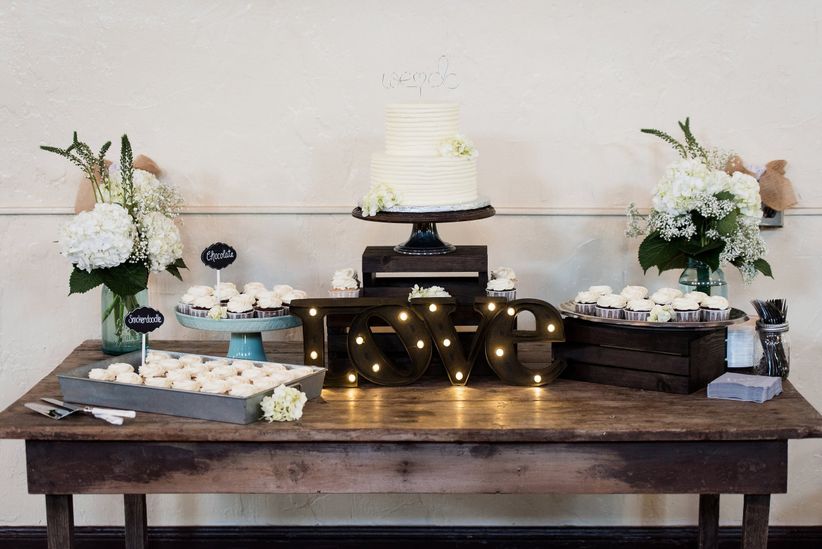 Photo: Julie J. Photography
Dessert displays have been sweetening up weddings ALL THE TIME NOW, and who can't resist them? They're full of eye candy, literally!

Whether you want a dessert display in addition to or in lieu of a cake, here are some basics decorating dos and donts you should know from WeddingWire cake bakers around the country.

Create a Focal Point

"Create a focal point of the table. It's usually a tiered cake on a cake stand in the center of the cake." -- Aspen Charm Cakes & Pastries, Denver, CO

Include Differing Heights

"I like to see lots of high and low stands. I like different shaped containers and vases. You really can't go wrong unless of course your look is modern and clean, that's a different story. Also, it's very important to consider is temperature and having time-sensitive items out such as mousse cups or cookies and milk. Communicate with your coordinator about these items because the company delivering and setting up arrives several hours earlier than they will be eaten!" -- A Sweet Design, Granada Hills, CA

"It is all about the LEVELS! You can fit more desserts on one table if you have different levels or tiers of plates or trays. It also allows couples to add their own personal touch. We offer 'styled' dessert tables which is an option commonly picked!" -- Johnson's Custom Cakes & More, Wellington, FL

Incorporate a Color Scheme

"Try to coordinate a color scheme. Will the table be all neutrals? Do you want a pop of color? We love using the style of the wedding to give us inspiration for not all the way the table looks but also the flavors for the desserts." -- Gia's Cakes, Mountain Brook, AL
Use Fresh Flowers or Petals

"Vary the height of the dessert platters either by using footed stands of different heights or using a styrofoam bloch under the linens. You can then decorate with fresh flowers or petals around the desserts or anything you choose." -- City Sweets & Confections, New York, NY

"Use a variety of serving dishes ( same color or different), and use varying heights to make it interesting visually. Stay away from one tower ( boring) and mix it up with flowers / leaves on the table with fall colors!" -- Buttercream Bakeshop, Wixon, MI

Do Your Research

"Find inspiration online to help your baker and wedding planner what look you are going for. Pictures work wonders in the wedding world!" -- Aspen Charm Cakes & Pastries, Denver, CO
Don't Mix 'n' Match

"Don't mix and match different of desserts or flavors on the same plate." -- Aspen Charm Cakes & Pastries, Denver, CO