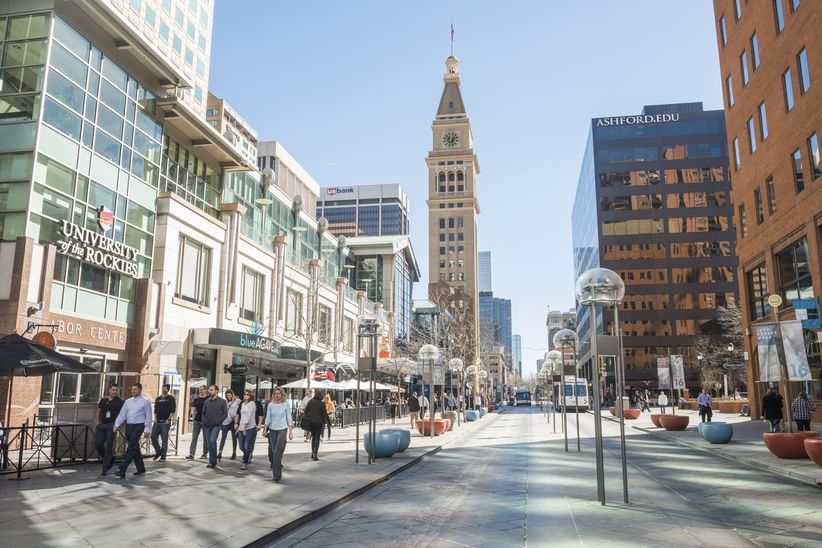 You may think of a beach resort or a fancy city when it comes time to planning a destination bachelorette party, but a Denver bachelorette party may just be the right combination of city, culture, and epic country landscapes to satisfy any bride and her crew. No longer such a secret, this small city has lots to offer as a bachelorette party destination, including mountain scenery, craft brews, and plenty of outdoor activities for a Denver bachelorette party crew.
Get ready for your Denver bachelorette party with our girls getaway itinerary for Mile High City.
What to Do
Let's start with the nature part of this Denver bachelorette party. While the city has plenty to do, the first thing you want to book are your adventures in the red rocks—at least for the adrenaline-junky bride and friends. Just 30 minutes out of the city, you can hit the water and enjoy the sun with paddles in hand—and some guts to take on the rapids—as you raft down Clear Creak in Idaho Springs. If getting wet isn't what you had in mind, you can still get an adrenaline rush with a zip line tour over the creek.
Looking for something a bit more workout, less heart-racing, check out Sweetlife Adventures, where you can customize your own outdoor activity be it rock climbing, sailing, yoga in the mountains, or even a swing on the trapeze.
If you're feeling tired out after your fun, head to Port Side, a local favorite for a cup of joe, when you get back into town—because there is plenty more to do in this exciting and youthful city. Unwind from your day at Infinite Monkey Theorem, an urban winery that offers tastings and a private tour ($35 a person) of five wines and their city operation. Want to go big? You can also do a barrel tasting here ($75 a person).
After you've gathered you energy for the next day of your Denver bachelorette party, consider one of two craft-making possibilities. You can try your artistic talents—and live out your Pinterest dreams—first at Upstairs Circus. This lower downtown spot has more than 25 craft projects—jewelry making, decorating coasters, and custom home crafts—to choose from, and bottomless mimosas to inspire you along the way. Or get a little sassy with Foul-Mouthed Cross-Sticth. This is cross-stitching your Grandma has never tried, but a fun craft party, held at Grandma's House Beer Co., that will have you giggling and a souvenir to remember. (It's Sunday's only.).
And what's a Denver bachelorette party without some craft beers? Home to some of the best, there are more breweries here than you'll have time to hit. But you can make a pretty good dent aboard the Colorado Brewery Bus, with trips to craft beer meccas in Fort Collins, Boulder, and all around Denver. We recommend sticking to the city you came for and trying Renegade Brewing, Factotum Brewhouse, and Rackhouse/C-Squared Pub and Cidery.
Come nighttime, there are plenty of bars and clubs to hit. But if you're looking for something a little different, book your tickets for Lannie's Clocktower Caberet. Beneath the historic D&F Tower, this vintage club offers music, burlesque, comedy, drag, and circus performances depending on what day of the week it is. But if you want to be the performer, go to Voicebox Karaoke where local beers, craft cocktails, and sake will give you all the liquid courage you need to bust out your favorite tune. Private rooms and VIP treatment are available for the more shy party crew.
Where to Eat
With all the drinking and activity on a Denver bachelorette party, you've more than likely worked up an appetite. Sleep in, but don't sleep past brunch, because there are some must-tries here. First, there's Snooze an a.m.-only spot with more than five pancakes on the menu, as well as breakfast tacos, and a B.E.A.T (bacon, egg, arugula and tomato) sandwich.
If the line to Snooze is too long, try your luck at Denver Biscuit Company with a menu full of buttermilk biscuit sandwiches, platters, and the must-have giant biscuit cinnamon rolls. Over at The Hornet, your brunch—whether it's the French Kissed Toast or Gigunda Breakfast Burrito—can be paired with a $2 make-your-own Bloody Mary.
For happy hour, head over to lounge-y Corridor 44 for small bites and $4 champagne cocktails (try the Hawaiian Mimosa with pineapple juice, coconut rum, sugar, and champagne). For a more casual vibe, Lowry Beer Garden has sandwiches, burgers, dogs, small snacks, and local pours on tap, all found in more than 4,000 square feet of downtown garden space.
For a nice dinner out, the Guard and Grace steakhouse will not disappoint. The rustic-meets-modern dining room will impress, as will the raw bar options that you pair with your steak. If Italian is more your style, you can have a nice but casual dinner at Osteria Marco, which is also a lively place or a large party. Standard Italian options are available here, including paninis, pasta, and pizza—but it's the cheese and salumi bar that will really catch your attention and make you want to share a few plates.
For more casual bites, check out Euclid Hall Bar and Kitchen. Located in Larimer Square, this 1883 building is now home to a tavern for nice brews and street food from around the world, be it house-made sausages, po'boys, poutine, or schnitzels. Over in the RiNo district, stop by Finn's Manor, a cocktail bar and food truck pod with 16 rotating taps, more than 400 spirits, and top-of-the-line Denver food trucks.
If you're looking for late night munchies after a busy night out, Cart Driver has you covered. Open till midnight, this shipping container-turned restaurant has fresh wood fired pizzas, fresh oysters, and prosecco on tap—the perfect way to end your night.
Where to Stay
For your Denver bachelorette party, you'll want to plan yourselves in either Larimer Square, a historic spot that's also home to many of the restaurants and bars you'll frequent, or RiNo (River North Art District), a young and fun part of town.
In Larimer, The Curtis Hotel is a boutique spot with plenty of room and a fun aesthetic for those looking to be a little price conscious. The Kimpton Hotel Monaco is a bit more luxe, and definitely trendy—with a spa and restaurant you should check out.
In RiNo, you'll also find plenty of hotels to stay at—but so too will you find historic and artfully decorated townhouse rentals that may provide a cozy retreat for a bigger party. This modern option includes a roof deck with stunning views of the Rocky Mountains.