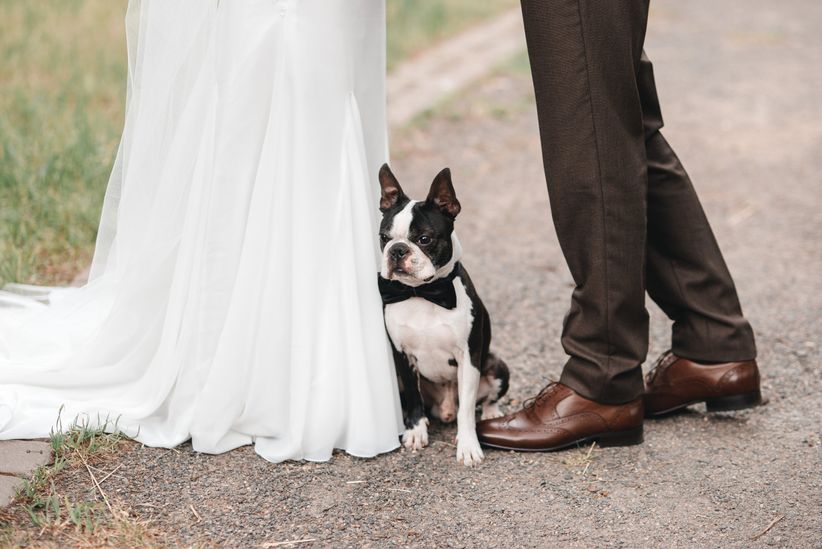 Getting married is all about starting a new family with your significant other, and no family is complete without a fur baby! Researching the best dog breeds and adopting a dog is a huge step into adulthood, because your pup will depend on you to keep it healthy and happy - a far cry from those post-college days when you subsisted on ramen and managed to kill a cactus.
With hundreds of choices, it can be easy to get overwhelmed, so we've rounded up some of the best dog breeds to fit your space and lifestyle and to fill your heart with joy.
For Apartment Dwellers
Small spaces, lots of neighbors, and long work hours are pretty common for couples who live in big cities, so the best dog breed for you will be comfortable (and quiet!). Boston Terriers weigh in between 12 and 25 pounds, have short hair and don't shed too much, and are known for their friendly demeanor. They're active enough for a jaunt around the neighborhood or a trip to the dog park, but small enough that playing in your apartment can count as a day's exercise. They love people (and will adore your neighbor or doorman!) and are quite smart, so you'll be able to train them, and they bark infrequently - which your neighbors will love!
For Homes With a Yard
If you've got space for a dog to run around, the best dog breed will be sweet indoors and lots of fun outside. English Springer Spaniels average 40 pounds for females and 50 pounds for males, making them a manageable size that still says "dog" when you walk through town. Bred as bird dogs, they're great at fetch and sturdy enough for a run. Their longer coat may require some extra vacuuming, but they'll make up for it with a soft feel that's perfect for Sunday morning snuggles.
For an Active Couple
Couples who go on regular runs or love to hike will adore a dog who can keep up, and German Shorthaired Pointers may be the best dog breed. These hunting dogs are bright, friendly, and trainable, and are agile on land and in the water. They'll thrive in an environment where running and swimming can help them burn off some energy, and they especially love doing so with their human by their side. A fenced yard is a good supplement, where they can run and play even on days when you might not be hitting the trails.
For a "Relax at Home" Couple
There's nothing wrong with being a homebody, as long as you find a dog who will love evenings on the couch as much as you do. Basset Hounds have unmistakable long features, floor-grazing ears, and mournful eyes that are irresistibly sweet. They weigh between 40 and 65 pounds, perfect for serious snuggles. Not wildly active, they only need a brisk daily walk to help keep them in shape (and work off the treats their incredible sense of smell helps them find!). Basset hounds have a low-key personality that's ideal for a quiet evening in, but can still be playful in the yard or with other dogs — though they're always ready to come home for a nap!
For Couples Who Work from Home
In the market for a furry companion to keep you company while you type away in your home office? Meet a Bulldog. This mid-sized breed (males are 50 pounds, females are 40) is easygoing and friendly. They're more at home in single-level houses (stairs can be tough on their short legs!) and prefer a dry climate that doesn't get too hot, as they can have trouble breathing in warm and humid weather. Aside from a moderate walk to keep them fit, they're happy to curl up next to your desk - or in your lap, as bulldogs are sweet and loyal cuddlers. Keep a few solid chew toys nearby so they don't get their teeth on your favorite shoes!
For Couples New to Dogs
Getting your first dog - ever! - is a big change, so finding the best dog breed for a new owner is key. Poodles fit the bill. They come in a range of sizes to suit your home: Miniatures weigh 10 to 15 pounds, while standard poodles range from 45-pound females to 60-pound (or more!) males. No matter the size, their hypoallergenic coat is great whether you're allergic or don't know if you are, and minimal shedding means minimal cleaning. They are incredibly smart and eager to please (perfect for novice trainers!), are people-oriented (hello, snuggles!), and are agile and athletic (they're "real dogs" even beneath those sometimes-silly haircuts!). Whether tiny or full-size, it's a prime choice as a first dog.
A Few Tips for Rescue Dogs
Many couples opt to adopt puppies directly from breeders, but there are thousands of dogs across the country looking for their "fur-ever" home at local animal shelters, and the majority of those dogs are as sweet and loving as any you'll find. But that doesn't mean they don't present their own challenges. If you're hoping to head to the shelter to give a dog a new, loving home, keep these tips in mind:
Ask about the dog's history. Why is she or he in the shelter? Were they surrendered? Rescued? Found on the street?
Ask about the dog's health. What was his or her condition upon arrival at the shelter? What care has been given since then? Is further care recommended? (And don't forget to get records!)
Find out what training the dog does (or doesn't) have. Shelter volunteers will be able to tell you if the dog is housebroken, knows basic commands, or is 100% au natural.
Consider your home life. If you have other pets or kids, make sure the dog you're considering will be happy with friends. Do you live in a busy apartment building where your dog will see lots of strangers? A dog who is aggressive or easily threatened might not be the right choice.
Remember that shelters are stressful! Dogs may cower or be anxious in a shelter, but that doesn't mean they'll be the same way at home. Ask if you can take the dog for a walk off-property or consider fostering to get a sense of how he or she will behave in a relaxed and loving environment.
Sign up for training classes. All dogs will benefit from regular training, but shelter dogs do even more. A little routine and stimulation is great for a dog coming from an unstable situation, as is controlled interaction with other dogs. A great trainer will be able to help you deal with any issues that might arise as you and your new dog get comfortable with one another, too.