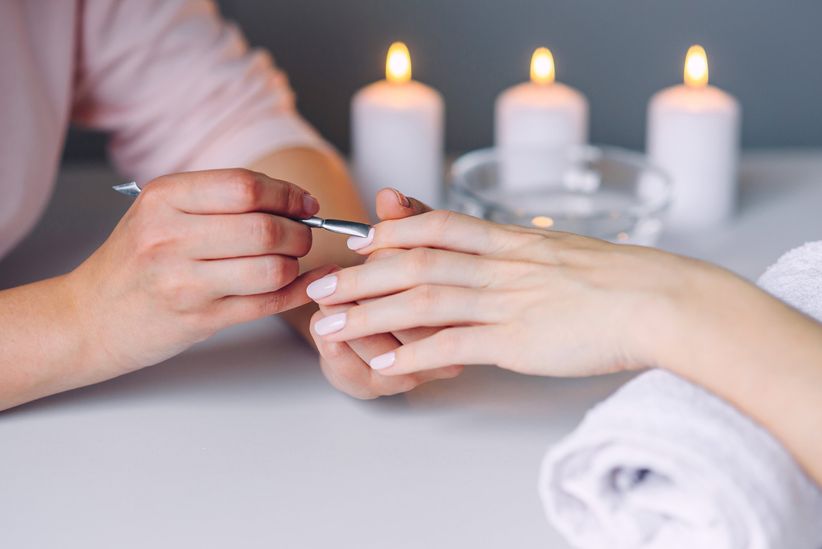 If you sense a proposal is in your future, first of all, congrats in advance! Secondly: Did you know that as a fiancée, you'll be photographed more than ever? Don't freak out, it'll be fun! But you can prepare for that engaged life ahead of time, by splurging on the best beauty treatments before the ring even gets to your finger. That way, once you're officially fiancée-d up, you can spend less time hustling to the manicurist and more time doing what you deserve: Living up that almost-married life!
When it comes to the best beauty treatments before getting engaged, here's your game plan.
Highlights and/or a fresh color
Nothing puts a pep in our step like that fresh-out-of-the-salon look of newly highlighted or colored hair, am I right? So why would you want to go into engaged life with anything less? Plan a touch-up (or full on color overhaul) and a hair trim to go with it to revive your strands, brighten your overall complexion, and make you feel photogenic AF for proposal pics, engagement pics, parties and beyond. Not to mention, you'll feel way more confident going into what could be your proposal if your hair is looking freshly colored rather than grown-out and brassy.
Microblading
You've probably heard of this semi-permanent eyebrow makeup trend, but did you know you can't simply walk out of the aesthetician office with your fabulous newly microbladed brows and head off to your engagement pics the same day? That's because the microblading process is similar to getting a tattoo, and there is a healing period that must take place before your brows look their best. If you're considering adding microblading to your future bridal beauty repertoire, get the process done before you even get engaged so your brows have healed and the ink has faded to the perfect natural color before it's photo and party time. Don't worry about your amazing eyebrows disappearing before your wedding day: results last one to three years!
Manicure
Duh! Even if you don't normally get manis, there's no time like the imminent-proposal present to start—it's certainly one of the best beauty treatments for the pre-engaged gal. Everyone will be looking at your hand the moment you announce your engagement, and you'll be glad your hands and nails are prepared for all the attention. You don't have to go crazy with acrylic tips and glitter, either. A simple shape, buff and neutral polish on the nails, plus a scrub of the rough areas of your hands and a deep moisturizing treatment, will leave you feeling like a million bucks. Once your proposal finally does happen, you'll be more than ready to post that #ringselfie (rather than having to put it off for what feels like forever while you do a rush DIY nail job!).
Eyelash extensions
The easiest way to look party- and photo-ready is with a set of false eyelashes to open up your face's prettiest features: Your eyes! But since we're not all makeup artists, applying a set of falsies every morning before walking out the door probably isn't at the top of your to-do list. That's why eyelash extensions are the best invention ever—they give the falsie-effect, but look way more natural, cut down significantly on your makeup application time (most people with eyelash extensions skip mascara entirely), and, best of all, last weeks! If you've been debating eyelash extensions, there's no time like preceding your proposal to get them. Once your full set is applied, you'll only need to go for fill-ins every couple of weeks, meaning your flirty and lush lashes will be with you all throughout your engagement and beyond.
A Hair Conditioning Treatment
Once you're engaged, your hair will go through a lot. Lots of heat styling and teasing from professional styling for parties, more regular color touch-ups to ensure you look perfect in pics, and the general wear and tear from the higher stress levels that come with planning a wedding. Before the question is popped, treat yourself to a luxe, deep-conditioning treatment to strengthen and repair your hair—it's one of the best beauty treatments to get your locks ready for the roller coaster that lies ahead. And once planning is in full swing, keep up with regular conditioning treatments so your hair is shiny and healthy come your big day!
Teeth Whitening
Remember when I mentioned that once you're engaged, you'll enter what will likely be the most photographed phase of your life? That's why it's best to get your teeth in shape prior. If you're someone who always smiles with your mouth closed, or Facetunes your selfies for a whiter smile, a teeth whitening session is the best beauty treatment for permanent whiteness you don't even have to think about! Whiter teeth won't just make you more confident at all of your upcoming photo sessions and wedding events, they'll also give you the illusion of a better complexion and will help make your makeup pop.
Microdermabrasion
Maybe your favorite drugstore scrub has worked okay for you in the past, but you're about to enter fiancée-status, so it's time to bring in the big guns when it comes to getting your glow on! Microdermabrasion is an in-office procedure you get from a derm that employs next-level scrubbing devices (like microscopic diamonds?) to slough away the upper-most layers of your skin, helping to remove dark spots and surface wrinkles and giving you a youthful glow. You may results after your first visit, but the process works best after a series of visits spaced out over many months, so it's best to start your microdermabrasion journey before you even get proposed to. By the time you're a microdermabrasion veteran, your wedding day will be just around the corner, and your skin will be magazine cover-amazing.