There's something so chic about the rooftop wedding venues in Atlanta, Georgia. These event spaces offer incredible views that will wow your guests, and allow them to get a unique perspective on the city. Whether you're looking for a modern event center, a grand hotel, or a historic venue with rustic charm, you'll find that many of the best wedding venues in Atlanta offer rooftop space.
Check out some of our favorite rooftop wedding venues in Atlanta.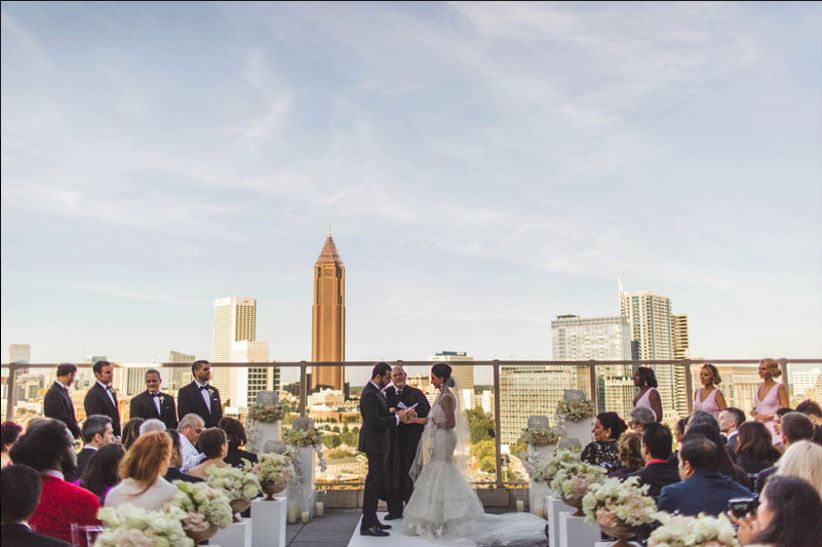 Ventanas
Located in the Park Pavilion building in Downtown Atlanta, this event venue offers breathtaking views of Downtown and Midtown Atlanta, as well as Centennial Park. You'll love the floor-to-ceiling windows, and the 2,500 square foot outdoor patio. This is an all-inclusive venue that will make planning an absolute breeze, and couples rave about the food and service. With a capacity of 550 guests, it's big enough to fit large weddings. And if you're looking to make a truly grand entrance, Ventanas even has a helipad so you can arrive to your special day via helicopter—seriously!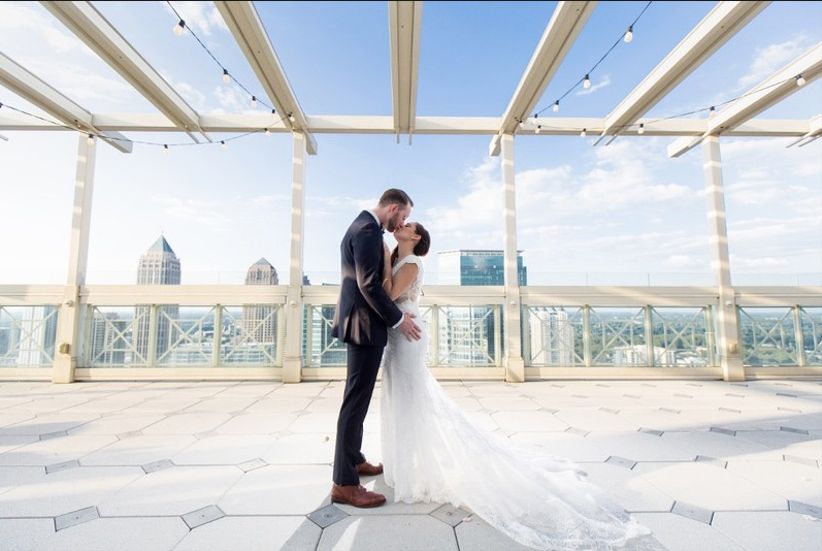 The Peachtree Club
One of our favorite rooftop wedding venues in Atlanta, this city club is a more intimate venue with space for 170 guests. Located In Midtown Atlanta, this venue offers some of the best views of the city from the 1.700 square foot Skyline Terrace, which is available for ceremonies and receptions. This modern venue is ideal for those with lots of out-of-town guests as it's located within walking distance to public transportation. The Peachtree Club has won several Couples' Choice Awards and includes onsite catering for your convenience.
Learn more about The Peachtree Club »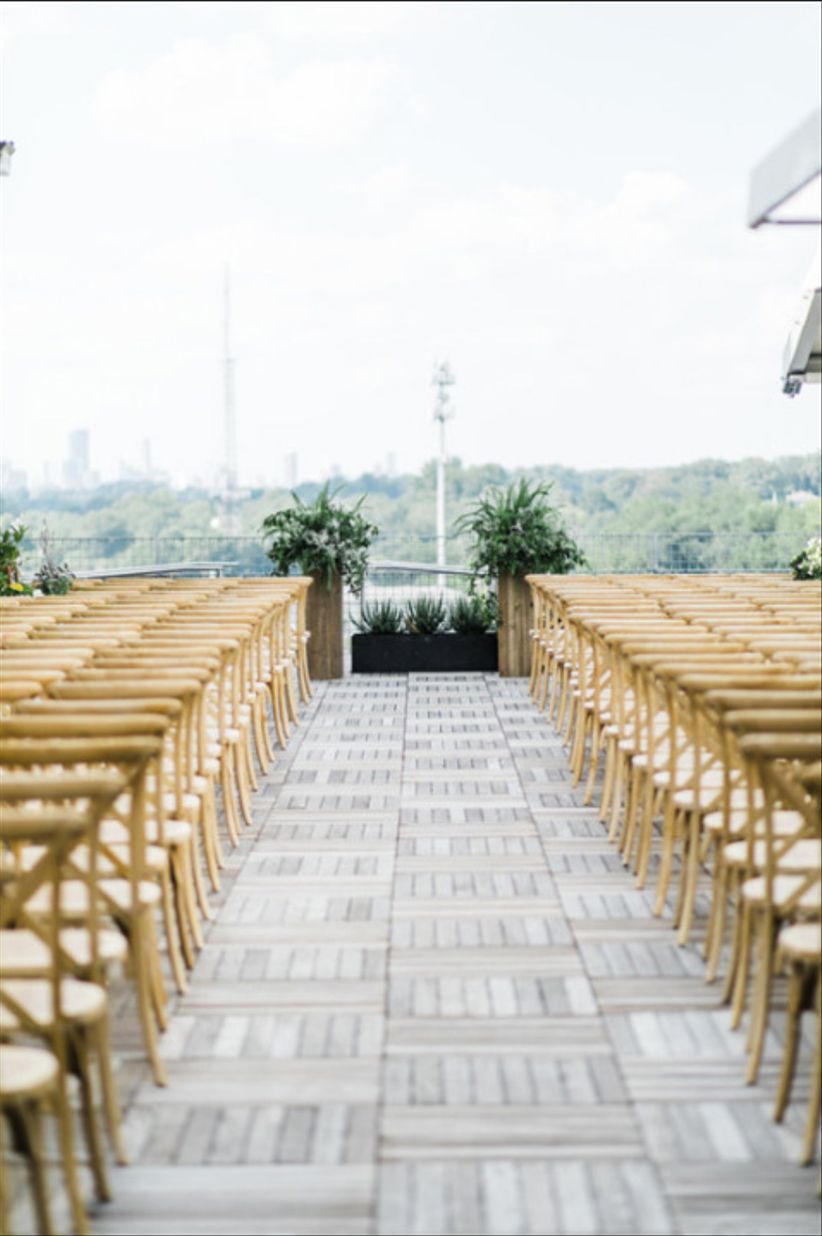 Rooftop Terrace
Aptly named, this Atlanta wedding venue is located on the roof at Ponce City Market and features breathtaking views of the Atlanta skyline. The wood deck is sheltered by a semi-permanent tent for weddings in any weather, and the space has an industrial-whimsical feel. You'll be able to take photos in Skyline Park—the rides and amusements make incredibly unique backdrops for fun wedding photos. The event space can host up to 220 guests. Says one couple, "It was an especially cool way for our out-of-town guests to see Atlanta."
Learn more about Rooftop Terrace »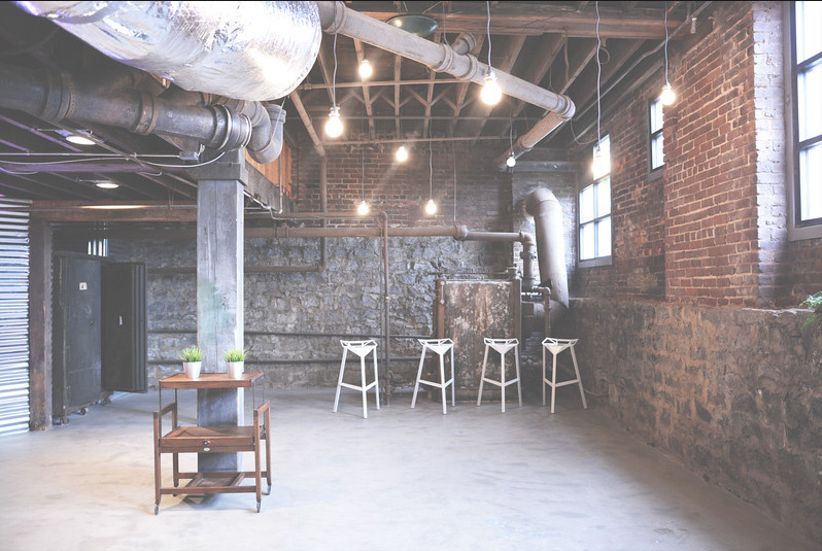 Terminus 330
We love the history behind this rooftop wedding venue in Atlanta. Built in 1912, this Downtown Atlanta venue was originally built for the Maddox Coffee Company and then became an important part of Georgia's railroad system, but now has an industrial-rustic vibe that's ideal for weddings and other celebrations. The main event space, known as Central Station, features exposed brick, original hardwood floor, and lots of natural light. There's also a cellar space that has a more vintage, speakeasy vibe. While the event space itself isn't located on the roof, rooftop space is available for portraits with the city as your backdrop. Terminus 330 can hold up to 150 guests for special events.
Learn more about Terminus 330 »
Renaissance Atlanta Midtown Hotel
There's so much to love about a hotel wedding in Atlanta—from convenience of an all-inclusive location to the fact that your guests can stay on premises. The Garden at Community Smith at this Midtown Atlanta wedding venue is located on the roof, and is available from March to November. Offering gorgeous views of the Atlanta skyline, the rooftop garden can accommodate up to 250 guests and exudes Southern charm. If you're looking for indoor space, the High Ballroom is totally glamorous and elegant, offering space for 272 guests—plus there are also smaller rooms for more intimate private events, like rehearsal dinners and post-wedding brunches.
Learn more about the Renaissance Atlanta Midtown Hotel »
Solis Hotel Two Porsche Drive
A brand-new hotel with rooftop event space? Count us in! Solis Two Porsche Drive overlooks the Porsche Experience Center, as well as the runway at the Atlanta Airport (hello, aviation lovers!). There's a 3,500 square foot ballroom which can host 280 guests, a smaller junior ballroom for 80 guests, and a super-chic rooftop lounge that can accommodate up to 120 people. With onsite catering, you can choose between plated or buffet menus for your guests, and there are 214 guest rooms so your family and friends can all stay on premises for your Atlanta wedding.
Learn more about Solis Hotel Two Porsche Drive »