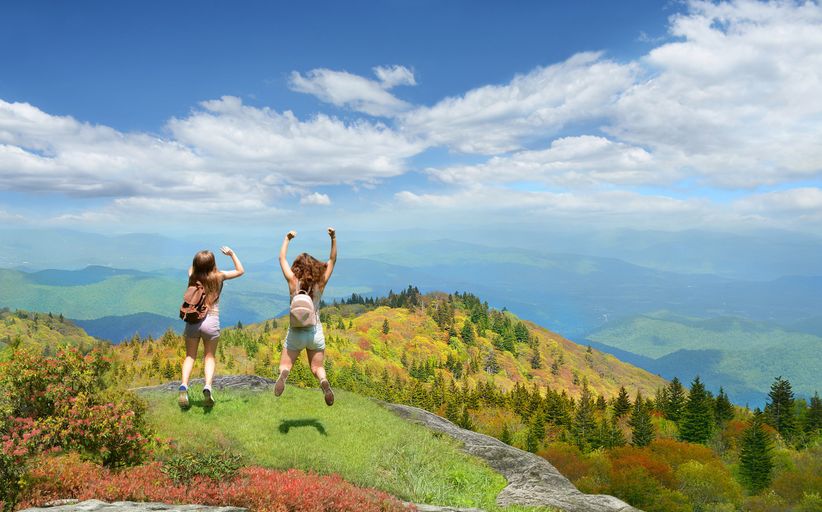 Tucked away in North Carolina's Blue Ridge Mountains, Asheville is a vibrant city full of Southern cooking, bustling breweries, and top-notch spas. All of which make it the perfect destination for a bachelorette party. Whether you're looking for a change of pace or simply want to get a breath of fresh air, consider these restaurants, activities, and hotels for your girls getaway.
Keep your itinerary – and stomach — full with these fun ideas, no matter what kind of Asheville bachelorette party you're looking to host.
What to Do
The entire city and its surrounding area is an activity in itself: There's tons of hiking, biking, and walking trails to accommodate varying skill levels. Zen tubing, however, is a low-key way to take in the sights — with a beer in hand. Speaking of beer, hit up the Asheville Brews Cruise to get a taste of the city's local breweries including Catawba, Twin Leaf, Hi-Wire and French Broad River Brewery. And if you want a quintessential Asheville bachelorette party experience, bike through downtown with Asheville Amazing Pubcycle to get moving … and drinking.
Even though the city is known for their outdoor activities, it really comes to life once the sun sets with nightclubs, breweries, and wine bars. Wicked Weed Brewing's Funkatorium, the east coast's first sour and funky beer dedicated taproom, has 34 different beers on tap. For a night of va-va-voom, catch a drag show at Scandals Nightclub.
Nurse your hangover with a chill day at the Asheville Salt Cave, which has 20 tons of pure pink salt. Relax and recharge by meditating and breathing in the air's negative ions. Just 15 minutes away is The North Carolina Arboretum, which is equally as zen. Stroll through the arboretum's many gardens and trails, or seize the Instagram opportunities by snapping cute pictures in the Carolina sunshine.
Where to Eat
Brunch is a must during your Asheville bachelorette party. Situated inside historic Biltmore Village, The Corner Kitchen redefines cottage chic with its picture-worthy setting and delicious Southern cooking. Plus, it's minutes away from Asheville's pride and joy, the Biltmore Estate. Farther downtown, indulge in classic comfort food at Sunny Point Cafe or a fresh farm-to-table meal at Early Girl Eatery. (TBH they're both worth a try!)
If there's one restaurant you have to visit, it's Tupelo Honey Cafe. Whether you're looking for quintessential southern brunch or a hearty dinner before drinks, the popular downtown spot has something to offer. And whatever you do, make sure you get your fair share of biscuits. You'll can't leave without 'em.
Get your sweet fix at French Broad Chocolate Lounge, a restaurant in the heart of downtown that serves every decadent chocolate treat you can imagine from homemade ice cream to artisan truffles. If you'd rather indulge on a couple glasses of vino — we get it — sample local vineyard picks and gourmet cheese at 5 Walnut Wine Bar.
Where to Stay
Since Asheville isn't as pedestrian friendly as major cities, it pays to stay closer to the action at spots like AC Hotel Downtown Asheville and Cambria Hotel Downtown Asheville. Both offer a sleek modern vibe and walking distance to the area's best restaurants, bars, and shops.
If you want to take over an entire house for yourself during your Asheville bachelorette party, check out The Bunn House. This unique property has no staff (that's right!) — you merely check in with a code given to you on the day of your arrival and you can pick between a handful of rooms. For a big party, it's easy to rent the home, and walk into downtown every night.
Known for its stunning views and unique history, a stay at The Omni Grove Park Inn will make you feel like a queen — or better yet, a Vanderbilt. Get everything you need without even stepping outside the hotel's doors by visiting the world-class spas, pools, golf courses, and more.
If you really want a weekend to remember, spend a night glamping in one of Asheville Glamping's decked-out airstreams, domes, or deluxe tents. You're already brainstorming your Instagram posts, aren't you...