A Day In the Life of a Calligrapher
Get the inside scoop on this talented Virginia based Calligrapher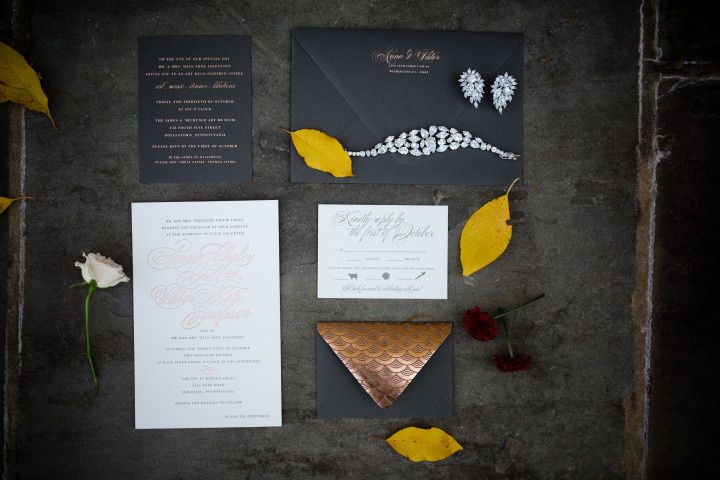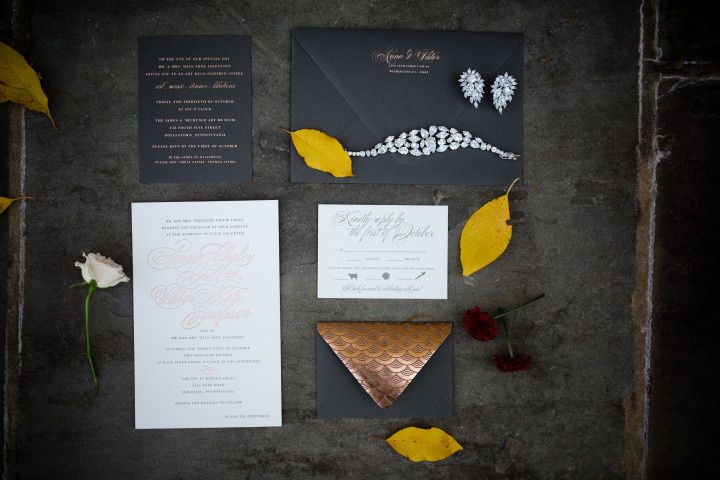 Photo: Asya Photography
Take one look at Laura Hooper's beautifully-curated Instagram feed, flourishing Etsy shop, and sold-out workshops, and you'd never guess that her calligraphy business is run by 5 part-time employees and two that work full time. Needless to say, when I showed up to Laura's in-home studio in northern Virginia, I was anxious to hear all about how the artistically-inclined calligrapher and her sister-turned-business-manager, Alyssa, made Laura Hooper Calligraphy such a booming business.

10:00 a.m.
Laura greets me at the door with a friendly smile. I'm barely two steps into her home and I already find myself admiring the interior design. It's not surprised that such a creative talent also has a stunning home. She introduces me to her sister Alyssa, who is based in L.A. but flew into town for the calligraphy workshops Laura taught in Washington, D.C. over the weekend.
10:10 a.m.
Laura shows me her studio, which is just as eye-catching as you'd imagine an artist's workspace to be. From hand-lettered quotes and scripted envelopes to sample invitations and marble place holders, a quick glance around her office and I know the woman's got talent. (Not that I ever doubted it before). She explains they just signed a lease on a space in Old Town Alexandria for her new studio, so she no longer has to work out of her home. They plan to move and host workshops at the new space ASAP.
10:15 a.m.
Dozens of boxes arrive at Laura's house every day from stationers, wedding planners and brides. Once Laura receives the materials she needs for each order, including the guest list of names and addresses, she gets to work. She gives her clients a deadline of two weeks after receiving the materials to complete the order, which is impressive since addressing 100 invitations takes her a full day. Laura handwrites everything herself, with an assistant coming in during the afternoon to help keep things organized.
10:30 a.m.
Alyssa explains that all of the orders are placed online by couples. Laura follows a schedule that Alyssa helps create to ensure that there's never an overwhelming amount of orders in a short period of time. They used to get one order per day, but with the workshops, starter kits, and online shop becoming the major sources of revenue for the company, they can limit the number of individual orders.
10:45 a.m.
Alyssa tells me she came on as the director of operations at the end of 2013, when answering emails and managing the schedule became too much for Laura to handle on her own. Her duties include managing Laura's workflow, organizing and teaching workshops, posting to her social media accounts, planning photo shoots, and a thousand other tasks that help keep things running smoothly.
11:00 a.m.
They show me a sample starter kit that anyone can purchase from her website to learn the art of calligraphy. The $80 kit comes with pots of white and black ink, an oblique pen holder, a journal with calligraphy paper, tracing paper, gridline practice sheets and instructional tips and techniques. You can also buy add-ons, such as a video tutorial or a rose gold ink pot. If you're left-handed, don't worry! They'll ask you that when you place your order online.
11:10 a.m.
I follow the pair downstairs to get a glimpse of Laura's storage room, which is filled with napkins, coasters, drink stirrers, and other assorted decor items featuring Laura's work. They excitedly tell me that a few of their products got picked up by BHLDN. I open one of the cabinets that's twice the size of me and it's chock-full of napkins featuring celebratory phrases, like "Pop Fizz Clink" and "Let's Party". They tell me to take whatever I want from the storage room, so I grab a few hot pink napkins and coasters with cheeky phrases.
11:20 a.m.
We head outside to a picnic table in the backyard, where Laura and Alyssa shoot their product photos and videos, since it has the best natural light. They lay down a flat white poster board and Laura begins writing phrases such as, "Let's Celebrate" and "Happy Wedding Year" onto black envelopes. Alyssa stands on the bench hovered over her in an attempt to get the perfect shot of Laura in action. We spend the next 30 minutes or so perfecting different videos and pictures to use in future Instagram posts, which isn't surprising considering they've got 251,000 followers. The duo only does photo shoots like this when they're together, so they try to squeeze in a few at once. Her posts always showcase her calligraphy, as well as beautiful flowers.
11:50 a.m.
With so many followers, there are bound to be a few naysayers. How can anyone be cruel about such beautiful work, you might ask. Alyssa and Laura recall a time when some followers left nasty comments on a post critiquing Laura's nails, which were featured in a picture. The sisters stayed strong among the criticism and came back with a post letting their followers know that despite the rude backlash, they were going to continue to work hard on their craft for their couples. Many of their followers applauded them for standing up for themselves, although they always have nail polish remover wipes on hand now, just in case.
12:00 p.m.
Calligraphy isn't the only thing Laura loves — she's also passionate about gardening. She takes floral arranging classes and keeps a garden in her backyard as a way to relax and make time for herself. A lot of her Instagram posts contain her two favorite things: calligraphy and blooms.
12:15 p.m.
How did this whole thing start, I wonder? Laura tells me that at age 22, she offered to do calligraphy for a friend's wedding. Her father and sister also referred her to engaged couples and before she knew it, she was doing calligraphy full-time.
12:30 p.m.
Alyssa explains that she usually wakes up around 5:30 a.m. on the west coast and Laura is up between 7 a.m. and 8 a.m. on the east coast so they can stay on a similar schedule throughout the day, despite being on opposite coasts. Laura says when she's focused on a task, she'll get up from her desk to let her dogs out or grab lunch, but for the most part she'll write all day until her task is complete.
12:45 p.m.
They tell me that their business requires a good amount of traveling as well. The sisters travel across North America teaching hopeful calligraphers the art that Laura has mastered. In April, she'll teach classes in Toronto, Los Angeles and Seattle. Other workshop destinations in 2016 include Austin, Atlanta, and Honolulu. Each class involves three hours of instruction with Laura and other items to help jump-start a hobby in calligraphy.
1:00 p.m.
With so much writing on a daily basis, Laura has to take good care of her hands. She has exercises she does each day and braces for both arms that she wears at night to keep them strong. The exercises prove their worth when Laura tells me her plan for the remainder of the day is to finish an order addressing envelopes. Alyssa heads for the airport to return to Los Angeles, but the sisters will reunite in Toronto in just a matter of weeks for a workshop. Later that night, Laura posts on Snapchat that she's finally finished for the day, and I wonder if she even got up from her chair when I left. After seeing her dedication first-hand to creating beautiful work for couples all across the nation, I highly doubt it.