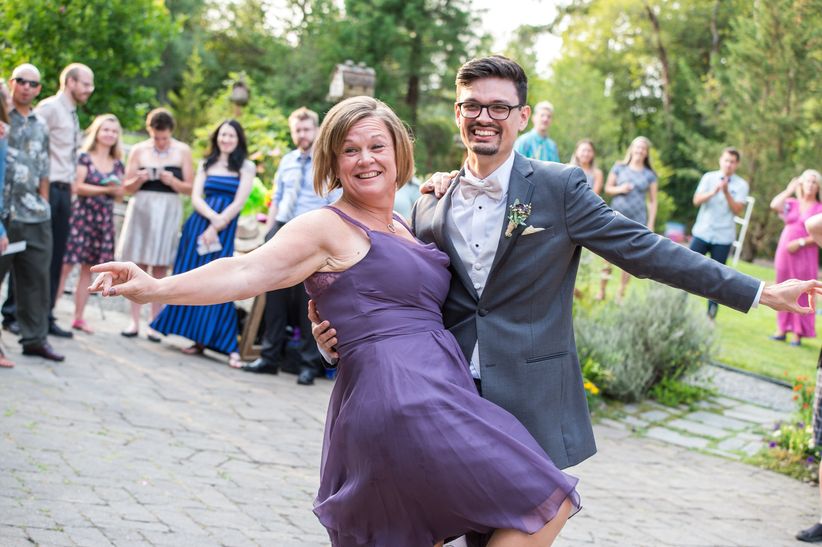 Photo: Red Letter Days Photography & Events
Your son is getting married, congrats! Being the mother of the groom is an amazing experience, but knowing exactly what your mother of the groom duties are and navigating the dos and don'ts can be a little tricky. Avoid the following faux pas and you're sure to rock it as the MOG!


Here are the seven things a mother of the groom should never do.
Wear white
Same goes for ivory, cream, or any other light neutral. The mother of the groom donning one of these hues is a surefire way to make the bride (and guests) feel awkward.
Dress like a bridesmaid
Find out
what the bridesmaids will be wearing
and opt for a dress in a different color and silhouette.
Coordinating is great
, but blending in completely? Not so much.
Overly criticize
Your son and his fiance may choose to do something differently than you would have done it, and that's OK. They really need your love and support during the planning process, so reserve judgment and
resist the urge to make passive-aggressive comments
or push your own expectations on them.
Insist on upping the guest list
Traditionally, the bride's family and groom's family are each allotted a certain number of guests to invite. It can be hard to narrow the guest list down, particularly with a more intimate wedding, but that doesn't mean the mother of the groom should consider her designated portion up for negotiation. Just remember that the bride's family is whittling their list down, too.
Skip the bridal shower
Showing up to celebrate your future daughter-in-law will likely mean more to her than you might think. If you really can't make it to the
bridal shower
, a gift and a heartfelt card from the mother of the groom is the way to go.
Make empty offers
The bride and groom will undoubtedly appreciate the mother of the groom's help on even small tasks, but don't offer unless you mean it. Volunteer to lend a hand with a few specific things you know you can follow through with.
Upstage with the rehearsal dinner
Planning a nice rehearsal dinner is a generous gesture, but don't go so overboard that it's actually nicer than the wedding itself. Keep the budget, venue, details, and overall tone of the big day in mind and throw a simpler, more laid-back affair.