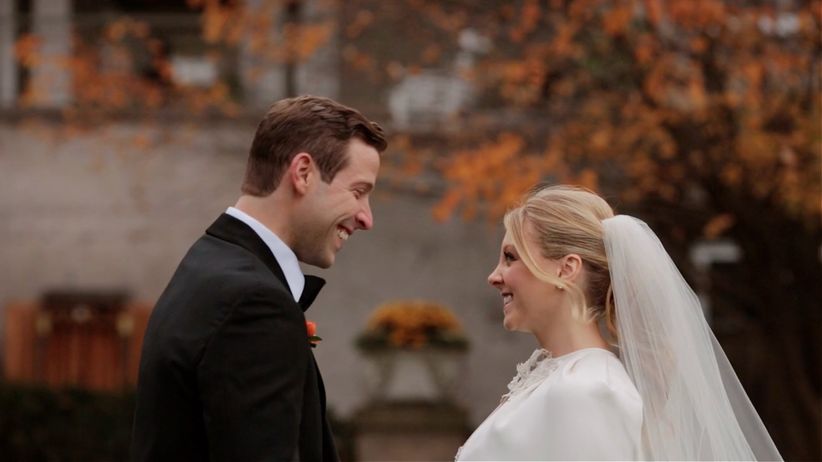 Photo: Outside In Studio
We love when a magical moment gets caught on camera. Whether it is an emotional first look or an adorable surprise from the bride's sister, they truly add a special touch to a wedding video. So, we decided to share some of our favorite moments we've seen with you! Check out these 7 videos that have some pretty awesome moments (including a zip line send-off)!
Amy and Rob's Ontario Wedding
Not only do the groom and his best man play a game of croquet before heading to the altar, but Amy and Rob's first look is one of our favorite moments! Watch these two fight back tears as they see each other for the first time on their wedding day.


Fast-forward to 2:40 and see how Alyson's bridesmaids surprised her for her birthday! Then keep watching for this couple's killer firework send-off.

Casey and Nick have one of the coolest ring bearers! Check out their DRONE dropping off the rings during the ceremony!
Christina and Gordon's Oregon Wedding
Hearing these two retell how they met is definitely one of our moments. Fast forward to 0:24 to hear their story!
Caitlin and Brian's Maryland Wedding
Caitlin's father-daughter dance was not only her favorite moment from her wedding day, but we loved it too. See how Caitlin's little sister surprised her by singing "Butterfly Kisses" by Bob Carlisle at 6:06.
Jessica and Aaron's Minnesota Wedding
Aaron and Jessica had an awesome send-off at their Trout Lake Camps wedding. Speed up to 3:08 and watch them zip line through the woods!
Juliana and Jordan's California Wedding
We loved Juliana and Jordan's love letters to one another. Juliana even calls him her Mr. Cruise! Fast forward to 1:23 and hear the rest of their love story!