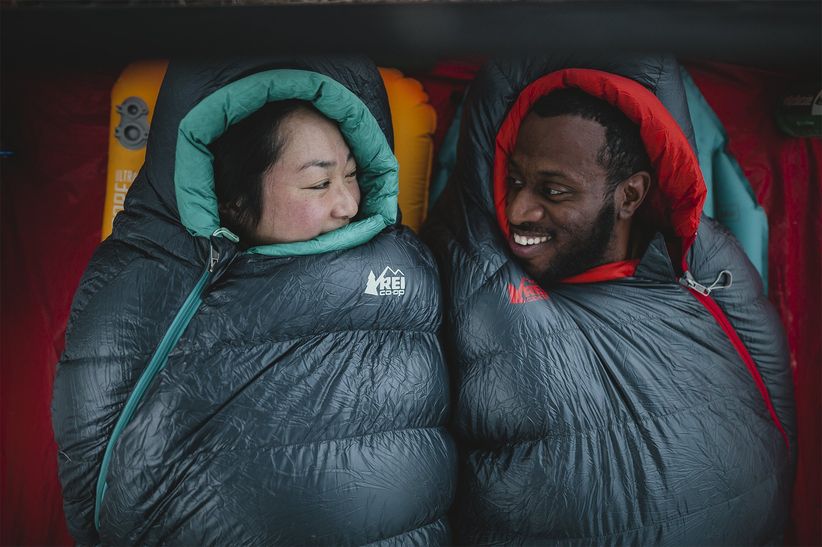 A wedding registry is all about filling your new home with items that are both useful and fit your personal style. But what if you feel more "at home" in the great outdoors? Creating a wedding registry for an outdoor couple may not include traditional items like crystal vases and silver picture frames, but it does feature items that a nature-loving couple will actually enjoy and use. Whether you and your partner love camping, hiking, or other outdoor sports, there are several items from REI that should definitely be on your wedding registry.
Here are the items you must include on a wedding registry for an outdoor couple.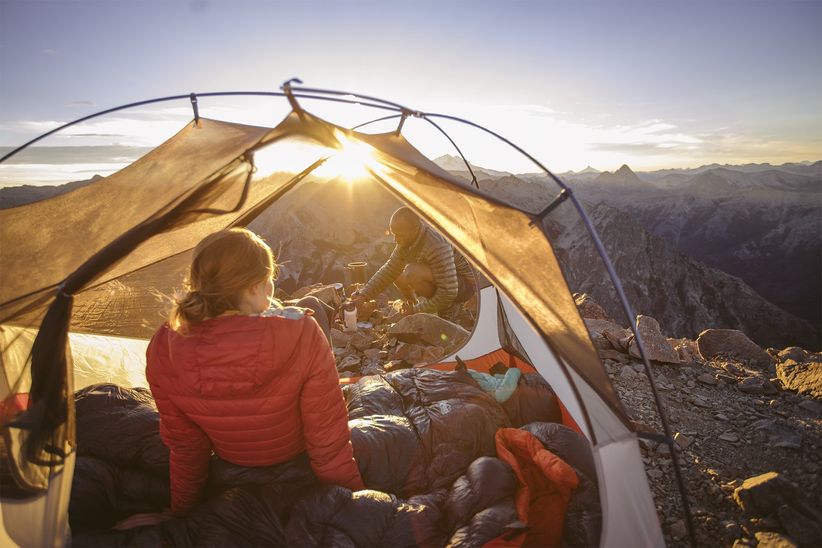 Tent
For a couple who would rather sleep surrounded by nature than stay in a hotel, a high-quality tent is an absolute must to protect you and your partner from the elements. And truly, there may be nothing more romantic than snuggling with your sweetie in a two-person tent. A tent does tend to be a bigger ticket item on a wedding registry for an outdoor couple, so it may be a great group gift idea.
Register for: Marmot Tungsten Two-Person Tent with Footprint, REI
Sleeping Bag
A good quality sleeping bag can make all of the difference when it comes to staying warm and comfortable—and getting a good night's sleep—whether you're on a camping trip on rugged terrain or just sleeping under the stars in your backyard. Be sure to register for sleeping bags that are water-resistant and can keep you warm in colder temps.
Register for: REI Co-op Magma 17 Sleeping Bag, REI
Sleeping Pad
Anyone who's ever slept on the ground knows that it's not always the comfiest—so a sleeping pad is essential for couples who plan on spending many a night sleeping outdoors (your back will thank you!). A self-inflating pad is not only easy to use, but easy to pack and store. It comes in various sizes depending on your size, so be sure to register accordingly.
Register for: REI Co-op AirRail Self-Inflating Sleeping Pad, REI
Outdoor Cookware and Dinnerware
There's nothing quite like cooking over a fire, whether you're making s'mores or a complete breakfast. However, the tools you use in your regular kitchen may not work well for outdoor cooking, so there are a few cooking-related items that should be added to any wedding registry for an outdoor couple. These include an enamelware coffee pot, a vacuum-insulated growler (to make sure those beers are kept fresh, of course!), and a cast-iron skillet, which can also be useful in your home kitchen.
Register for: GSI Outdoors Enamelware Coffee Pot, DrinkTanks Vacuum Insulated Growler, and Lodge Logic Cast-Iron Skillet, all from REI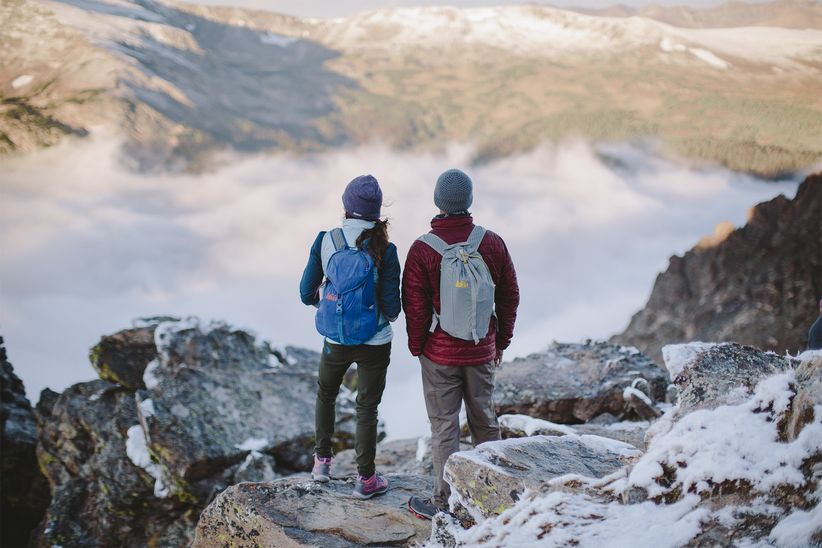 Daypack
If you and your sweetie are into hiking, you probably know that a sturdy yet comfortable daypack is a must to carry all of your essentials. Register for a pair of high-quality daypacks to ensure that all of your necessities are kept safe—and you and your partner aren't bogged down by heavy, old-school and cumbersome packs.
Register for: REI Co-op Stuff Travel Daypack and REI Co-op Flash 18 Pack, both REI