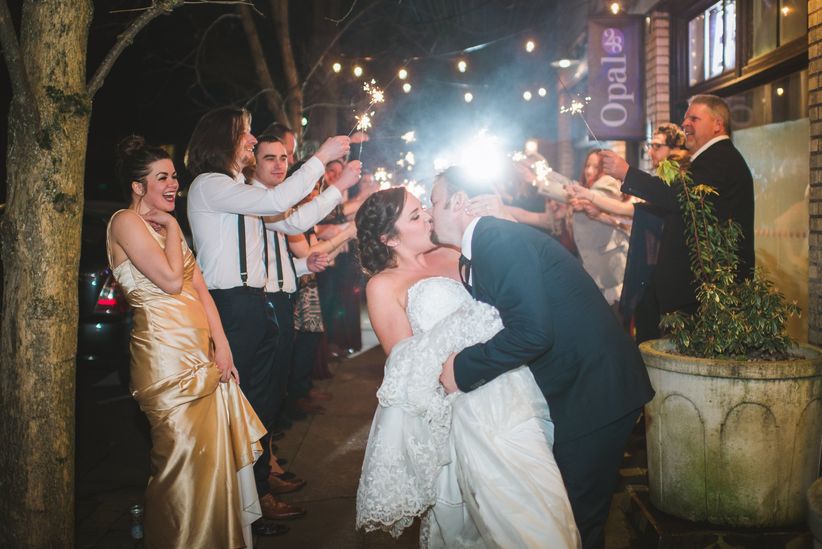 Photo: Patrick Nied Photography
The planning process takes days, weeks, months, even years to perfect. With all the time in the world to make your wedding a reflection of your relationship, it better be ON FLEEK! Check out these 35 sure-fire ways to succeed:
1. Your bridesmaids totally nailed the mix-and-match look.
2. Your groomsmen tied their ties correctly without the help of a YouTube video.
3. You pulled off wearing a non-traditional colored wedding gown. (See:
What's Your Wedding Dress IQ?
)
4. Guests did not have to pick a side, just a seat.
5. Ceremony chairs were arranged in a circle.
6. Your grandmothers were your flower girls.
7. You wrote your own vows.
8. Your groom dipped you during the first kiss. (See:
10 Awesome Groom Reactions
)
9. You provided valet parking for guests at your venue.
10. And trendy transportation—like a yellow school bus!
11. A marching band led the way to cocktail hour.
12. Cocktail hour had so many hors d'oeuvres that people struggled to save room in their stomachs for dinner.
13. There were giant-sized lawn games.
14. Including a bounce house.
15. The reception was an OPEN BAR. We repeat an OPEN BAR!
16. Dinner was a five-course meal.
17. Your #hashtag was used over 100 times.
18. The maid of honor and best man's speeches mentioned NO awkward moments. (See:
20 Things NOT To Say During A Toast
)
19. OMG, there was a flash mob performance.
20. With your college mascot!
21. Shots, shots, shots.
22. Guests traded in their high heels for flip flops.
23. The dj/band's killer playlist kept the dance floor jam-packed.
24. Not to mention the dance floor was on top of an infinity pool.
25. With twinkling lights hanging above.
26. The father-daughter dance song was a surprise.
27. Tears were shed.
28. For dessert: an upside-down chandelier cake hanging from the ceiling.
29. In lieu of favors, a donation was made to a charity.
30. A late-night food truck showed up for those that were "hangry." (See:
10 Ways Not To Be "Hangry" On Your Wedding Day
)
31. At the end of the night, there were fireworks. BOOM.
32. Plus, an after party.
33. And an after after party.
34. Zero Zzz's.
34. That were then relieved with an emergency hangover kit.
35. Found in the hotel welcome bags.