Photo: Megan Vaughan Photography
Give you and your S.O.'s rings a little extra attention before saying 'I Do' with some of these unique shots!
Whether they are placed on pretty rose petals or nestled in a bowl of sweet candies, these displays will give anyone ring-envy! Just check out these 13 ways to show off your rings in a romantic and wow-worthy way.
Wine Corks
Pop that cork and place your rock on top just like this swoon-worthy oval-cut diamond ring!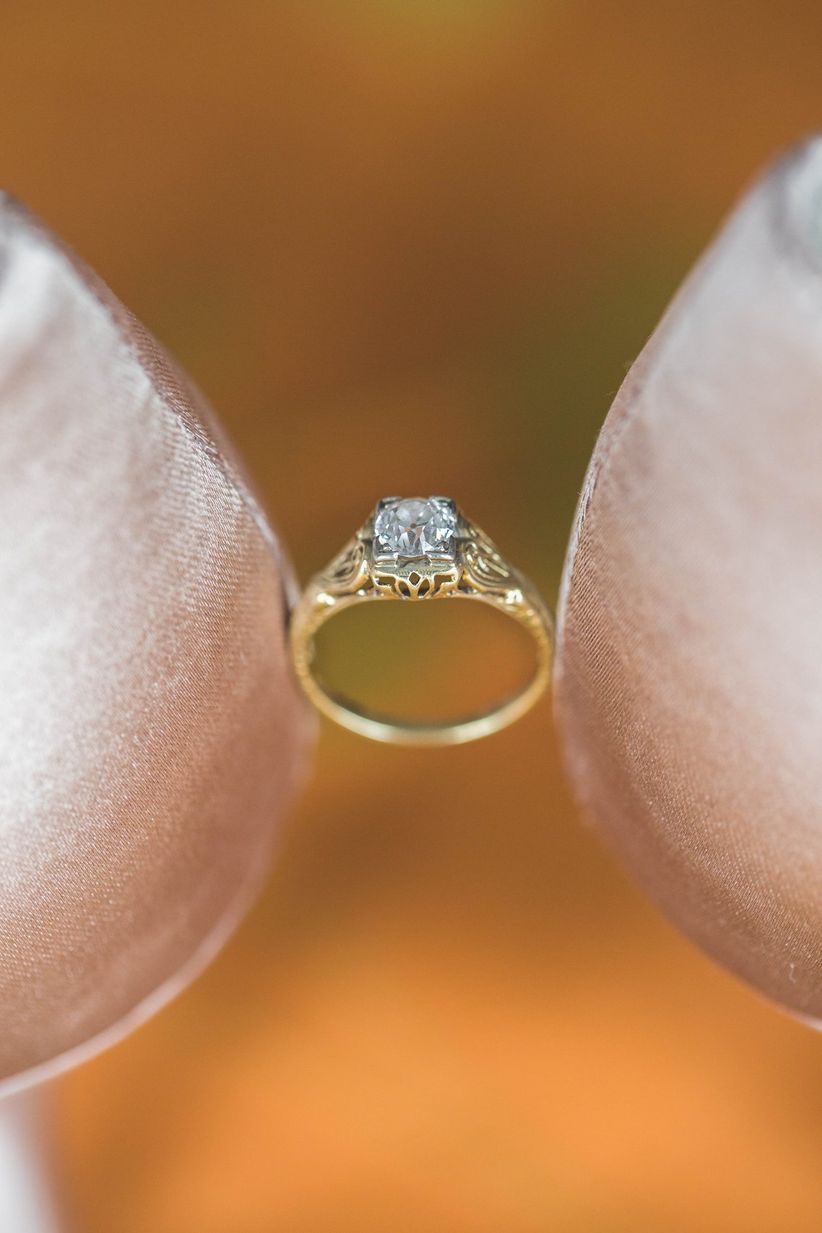 Photo: Lovely Valentine Photo + Film
Bridal Shoes

Satin blush heels display this round-cut engagement ring featuring a unique, vintage-style setting perfectly!

Photo: Saleina Marie Photography
Mint Dish

A crystal dish filled with bright green mints also dubs as a perfect ring display!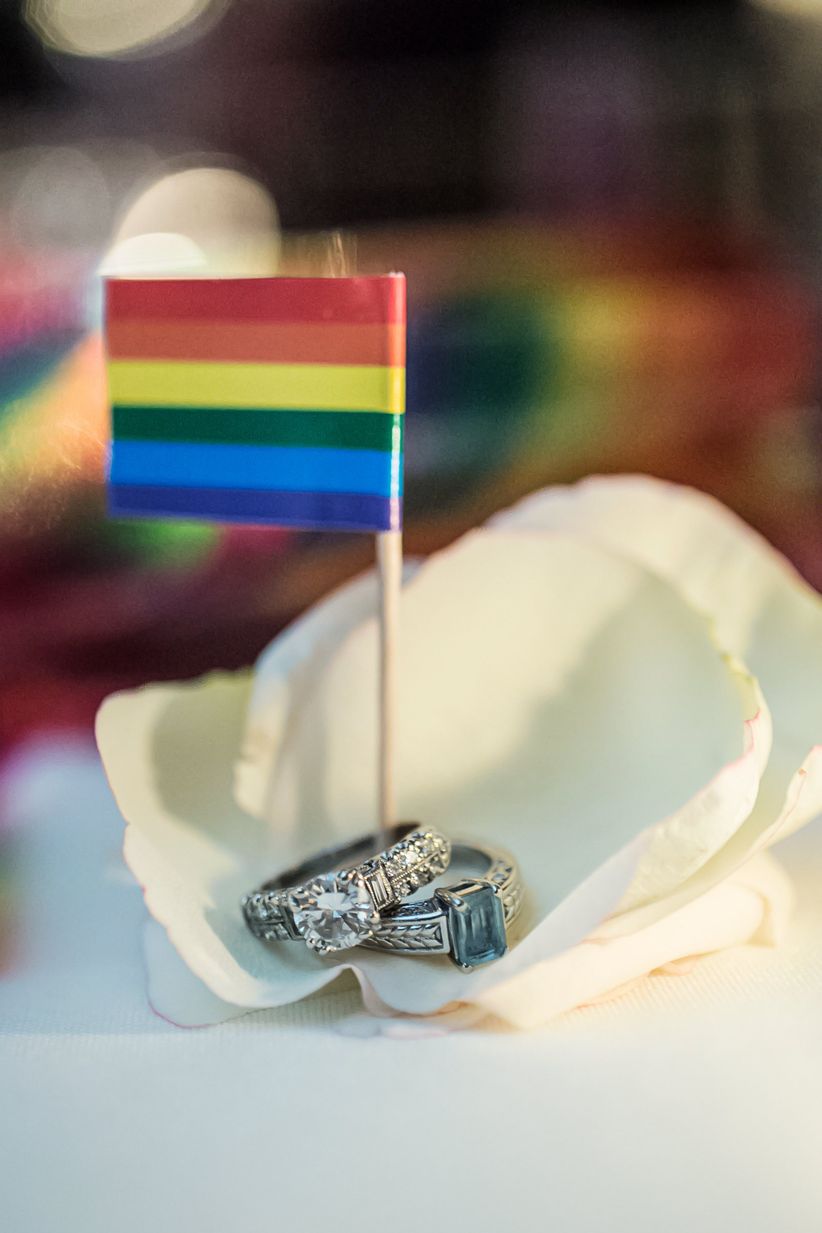 Photo: Jayd Jackson (Gardina) Photography
Miniature Flags

We are obsessed with these two engagement rings! Not only are they displayed with a miniature rainbow pride flag, but check out their unique bands! They are equally stunning.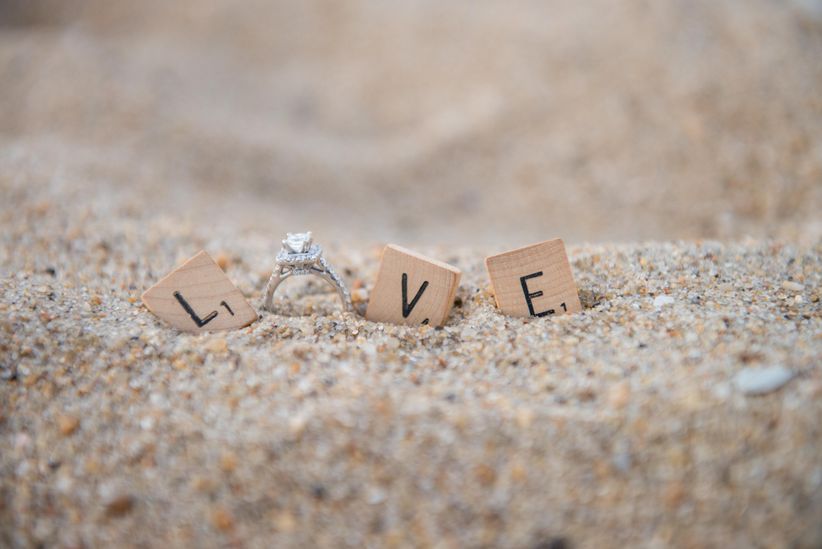 Photo: Kristi Midgette Photography
Stuck In The Sand

Whether you are a board game lover, beach bum or perhaps both, this ring snug in the sand is perfect for you!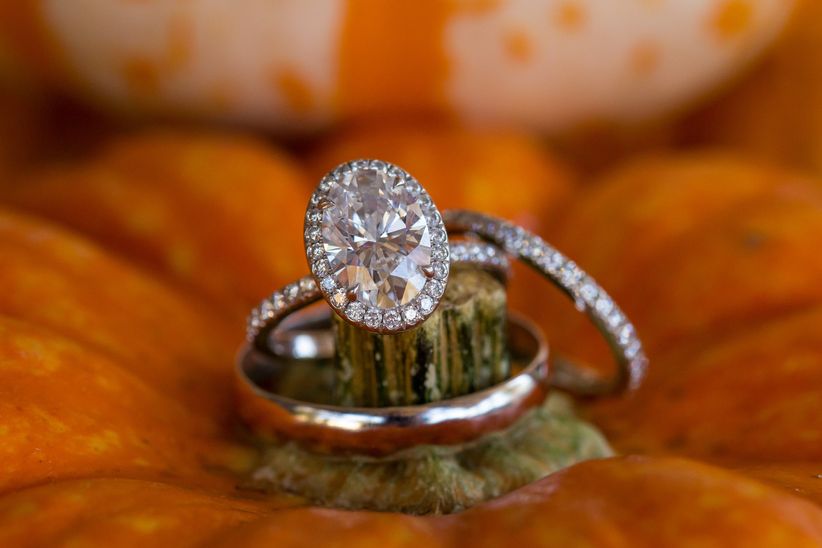 Photo: Jennifer Weems Photography
Pumpkin Stems

An oval-cut diamond accessorized with a halo setting and band is absolutely gorgeous placed on the stem of a bright orange pumpkin. Perfect for any fall wedding!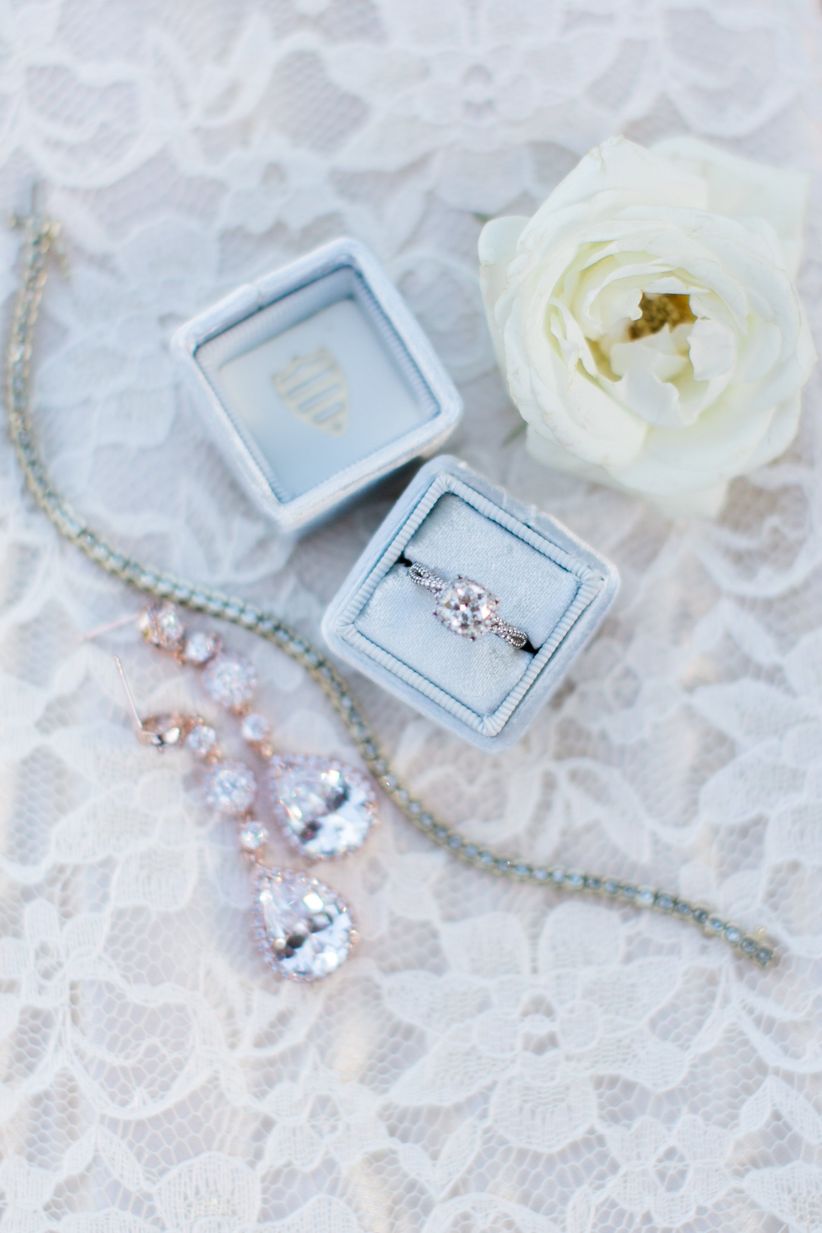 Photo: Charla Storey Photography
Ring Box

A cushion-cut engagement ring with a twisted band fits perfectly in a powder blue ring box.

Photo: Suzy Goodrick Photography
Cactus Needles

The blue and green needles from this cactus is a fun and unique resting place for a trio princess-cut diamond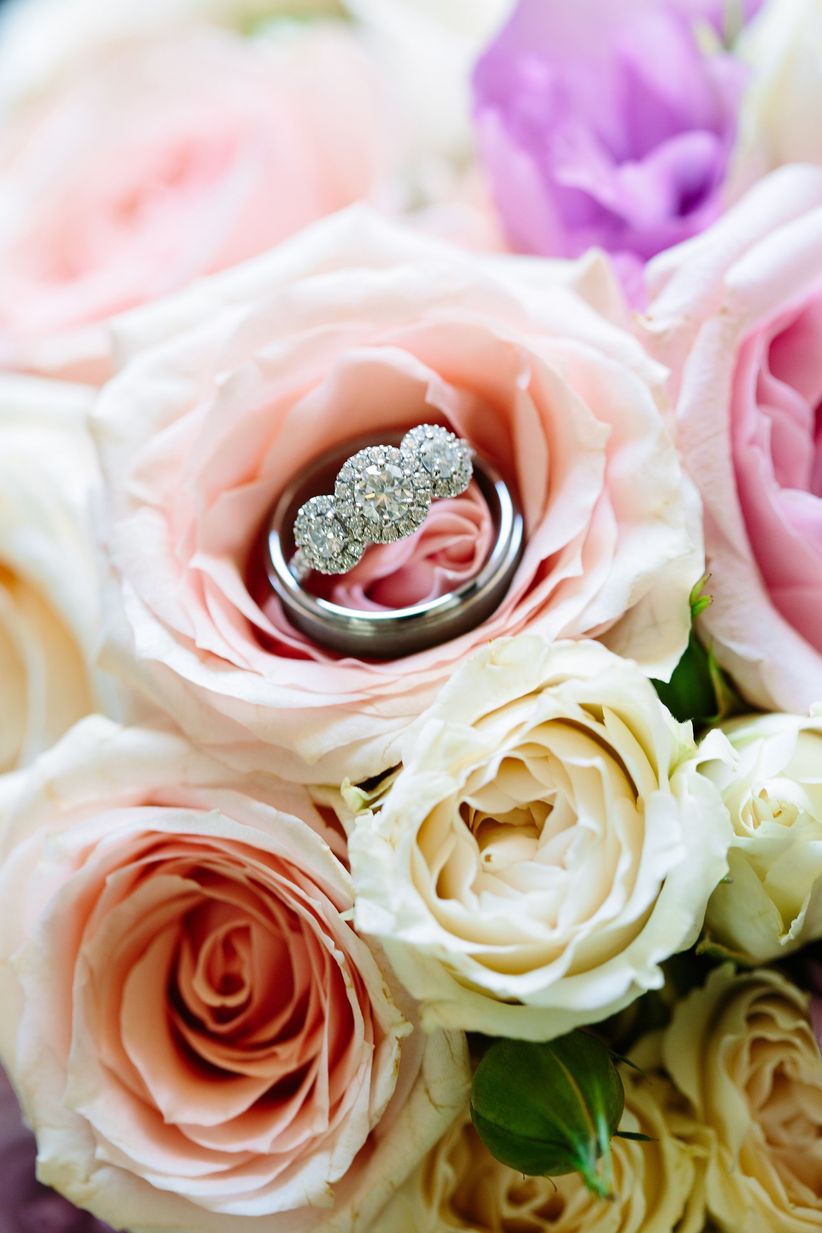 Photo: Suzy Goodrick Photography
Three Budding Roses

Placed in lush rose petals, this three-stone engagement ring accessorized with a halo setting gives us major ring-envy.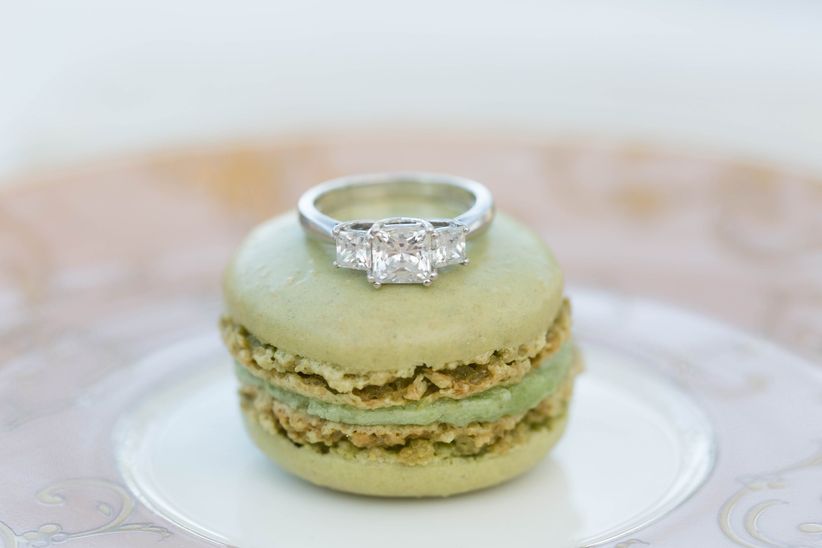 Photo: Candice Adelle Photography
Pistachio Macaron

This bling looks extra sweet with the help of a pistachio macaron display!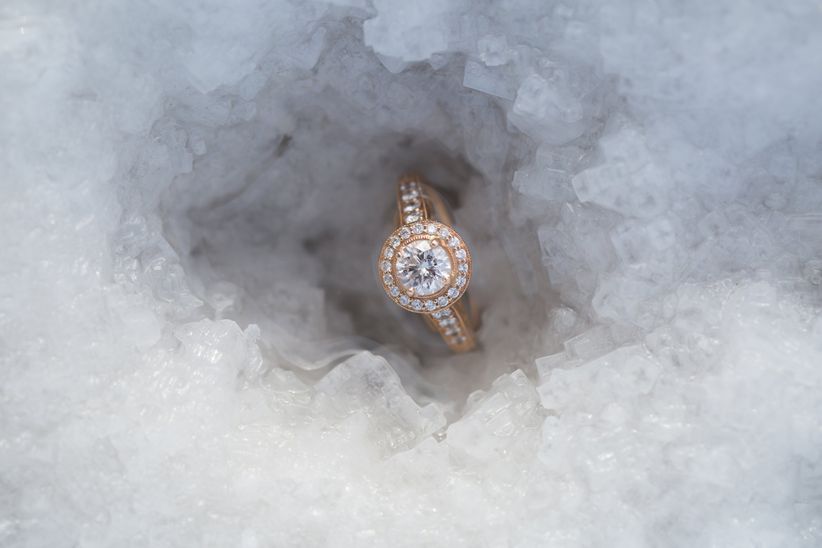 Photo: Tony Gambino Photography
Fresh Ice

Snow on your wedding day allows for some extra fun for detail shots. Just check out this icy ring display.

Photo: Tony Gambino Photography
Pinecone

If you are planning a fall wedding then this pinecone display is perfect!

Photo: Photography by Verdi
Stripped Paper Straws

For a preppy nautical look, display your bling on coral and white stripped paper straws!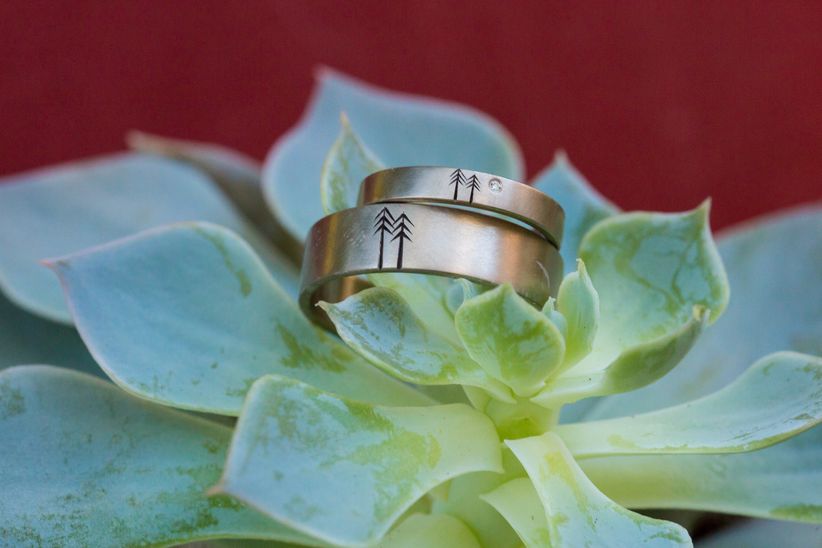 Photo: Jennifer Weems Photography
Succulent Bouquet

This glamorous engagement ring pops as it is displayed on a fresh succulent!