45 Reviews
Recommended by 100% of couples
Quality of service

5 out of 5 rating

Average response time

5 out of 5 rating

Professionalism

5 out of 5 rating

Value

5 out of 5 rating

Flexibility

5 out of 5 rating
4 User photos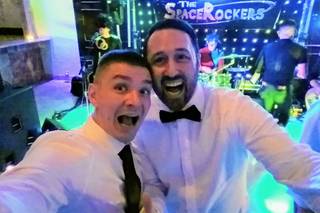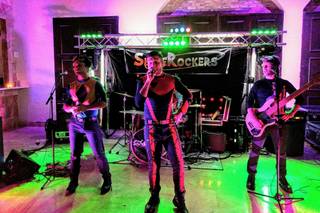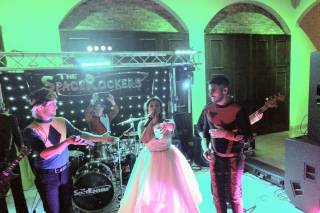 Elijah B.

Married on 02/22/2020

The After Party Band was incredible!

We hired The After Party Band after seeing them perform at a couple venues. They were amazing from start to finish! So glad we decided to do live band instead of a DJ. These guys and girls are the real deal! Cord was professional and organized throughout the entire process. Highly recommend this company!

Madeleine M.

Married on 05/26/2019

The after party made my wedding!

We reached out to Stargazer Productions/Intensity Group based on a recommendation from a family member. They worked with up to find the right band for our venue/event/budget, and I am SO GLAD we hired them. So many people at our wedding made a point to come up to my husband and I to tell us how amazing the band was. They had family members out having the time of their lives who I have never seen even near a dance floor! They were amazing, interactive, really read the crowd and had everyone dancing all night long! I cannot say enough good things about how professional they were in the planning process and at the event. 10/10 would recomend to a friend and would hire for another event!

Natalie

Married on 03/23/2019

*The After Party!!*

My husband and I LOVE music! That being said, it was really hard to pick out a wedding band. We stumbled upon Stazgazer Productions and The After Party after searching through and listening to what felt like 100's of local talent. They were by far the best! They sounded awesome on their posted videos and even better in person! So many people came up to me after the wedding and said the only thing they didn't like about the wedding was that the band didn't get to play for longer! My dad is not a fan of popular or current music and even he was out on the dance floor dancing to Bruno Mars because this band really knows how to jam! If you want a wedding where your guests dance the night away and to avoid the dreaded wedding with an empty dance floor - these guys are for you! Could not have asked for a better setlist or energy! There wasn't a single song that didn't have the dance floor so packed you could barely move! Thank you so much to The After Party for keeping our group grooving the whole night! You were AWESOME!

Are you interested?

Send a message

James

Married on 12/31/2018

The After Party

First off, Stargazer Productions has multiple bands for you to choose from. We chose The After Party, and if we had to some it up in one word, Awesome. I highly recommend The After Party because of their energy, music diversity, price, and overall presence. They made our wedding a wedding that will have our guest wishing for a NYE party like our wedding every year.

Jeffrey

Event on: 05/31/2018

Electric Circus came to our home on June 1, 2018 to help us celebrate our son's high school graduation. We had high expectations given other reviews we had read about the band and Stargazer Productions, but even those high expectations were exceeded by the band's attitude, professionalism, and outstanding performance. Cord at Stargazer was a pleasure to deal with in booking the band, and then I spoke with the guitar player Julian days before the performance to finalize the details on sets lists and timing, etc. The band arrived several hours before the performance to ensure they had sufficient time to setup their equipment and lights, and it was evident right away that each member would be great to deal with. During the performance, I really appreciated them taking the time to call out each of my son's friends to congratulate them on their graduation and state which university they are planning to attend. The music was great with a wide variety of pop and rock songs from the 70s through today, and we loved how often the lead singers Corey and Susy got down from the stage and directly danced and sang with our guests. The celebration was one we will always remember, and we are eternally grateful to Electric Circus for being a big part of that. Thanks again to Cord and all the band members I previously named along with the awesome bass player Rachel , great drummer Troy, and cool sound engineer Brook. We can't wait to see the band perform again when they come to Houston!

Sara

Married on 02/23/2018

We used Stargazer Productions and specifically, Electric Circus, for our wedding February. I am absolutely thrilled with my experience. Cord from Stargazer was so helpful and really great at responding to my emails and settling any of my worries. Electric Circus made my wedding a success. Every single guest at my wedding was on the dance floor. The next day, the most compliments i got was on my band. They truly made our wedding the best day ever. The greatest range of music. They are fantastic performers and make sure everyone is dancing and enjoying themselves. I would recommend Stargazer and especially Electric Circus to everyone.

Dakota

Event on: 02/03/2018

Super Fleek rocked our faces off with 4+ decades of jams and contagious energy. Great dudes and excellent music! 10 out of 10.

Jeff

Married on 11/18/2017

The After Party (5 piece band) was INCREDIBLE. There wasn't a single moment when the dancefloor wasn't PACKED and they performed for over 2 hours. Not only were they very talented musicians and singers, they were a lot of fun and kept a HIGH ENERGY level the entire time. They did everything we asked them to do and so much more. You get what you pay for and they were worth every penny. Would recommend them to anyone!

Javier

Married on 11/18/2017

My wife and I had booked Electric Circus for our wedding last month. One word could describe our experience with the band...AMAZING! Every member of the band was super professional and great to work with. They we able to get the party started and kept it going to the last song. The dance floor was never empty and guests are still talking about how great the band was. For anyone looking to book a band for a wedding or event, I highly recommend working with Stargazer and booking Electric Circus.

Morgan

Event on: 10/28/2017

WE LOVED THE SPACE ROCKERS!!! We hired The Space Rockers for a private event for college students and they were a hit! People walked into the event and headed straight to the dance floor. The band was interactive and even allowed guests to get on stage. We asked them to play more recent hits as opposed to the classics and they were able to accommodate! I would for sure hire The Space Rockers again and would recommend others to do the same!

Sandra

Married on 10/14/2017

If I could give 6 stars I would! We hired The Spacerockers for our wedding and we have been the talk of friends and family since. I had seen them perform back in 2013 at a local bar here in Houston and followed them around since. No matter where they play they always get the crowd going, full of energy and 100% out of this world! I knew hiring them for our wedding was a MUST it was just getting my husband onboard with the space outfits and are we HAPPY we did. Our dance floor was never empty the entire night. My aunt called me when she got back to NY and was raving about the wedding and said, "I felt like I should have brought my lighter. It felt like a concert, it was so fun." My Dad danced all night and said, "Those guys really know how to rock! The dance floor was full the entire night...they brought the party!" And my friend also said that if she got married her and her bf would NEED The Spacerockers at their wedding. We also had Wedding crashers stop by... they told me they heard the party and had to come over cause the wedding they were at was boring. Hahaha that was perfect! So if you're looking for a band to liven up your night and keep everyone on their feet The Spacerockers are where it's at!!!!

A.z.

Married on 10/13/2017

Electric Circus rocked our freaking world!!!! I knew it would be a great idea hiring a band. They were worth every single penny plus some. We have heard the phrase "best wedding ever" so many times I can't even count, and 90% of that is because of Electric Circus. They Mc'd the whole thing (even though I don't think we told them before hand that they would) and did an amazing job. We will be attending their shows when they come through Dallas next. A MUST HAVE for your wedding. Believe me! Don't cheap out with a DJ. This band, and the entire Stargazer Productions team, knows how to bring the house down!!

Shoneel

Event on: 09/30/2017

The Space Rockers absolutely rocked the event. All guests loved the band, and most were on their feet dancing throughout the night!. The band is very professional, have amazing voices & can sing the top hits - you may think its the original song - they are that good! Even the stage setup , lighting effects & sound quality was phenomenal!!!
Also, very easy to work with. Cord Stone - the owner at StarGazer Live - was very flexible, & easy to work with.

Would highly recommend the band - Guests commented that this was probably the best party they have been to , and it wouldnt have been the same without the Space rockers.

User2981378

Event on: 02/02/2017

Electric Circus provided us with great entertainment for our event.

Patricia

Event on: 12/10/2016

We hired Electric Circus for our corporate holiday party this year and are so glad we did! They were high energy and awesome performers with a great set list that had our guests on the dance floor all night! I look forward to seeing them at other venues in the future and hope to have the chance to work with them again.

Shanna

Event on: 10/15/2016

This year was our 6th or 7th year to have the Space Rockers perform at our fundraising event. They are ALWAYS a hit and our party wouldn't be the same without them! Our guests continue to request The Space Rockers. They play an excellent variety of music that everyone knows and can dance to. The band is very professional on and off the stage and SO much fun! We will definitely be booking them again.

The Space Rockers performed at my son's 1st birthday party (yes I went overboard) and can't say enough great things about my experience. Cord who assisted me in booking them was beyond helpful and accommodating. The band members were super friendly and easy going. They totally geared the performance for the audience changing the song words to be kid friendly and incorporating my son's name when possible! I had everyone at the party asking where I found them and wanting their information. They made my son's birthday party an afternoon to be remembered forever! Thank you!!!

The Electric Circus was an amazing band. They were energizing and got the crowd moving. I had a lot of positive feedback from our employees after the event. I would definitely recommend them! Great show!!

Ernest

Event on: 10/01/2016

The Band was great. Showed up, set up and started Jamming. Great song selections and within no time had the crowd on the dance floor.
We look forward to booking them again and again!!!



Such an awesome company/band to work with. Ive worked with a dozen or more bands and a handful of agents and I can confidently say we've been happy each time!

Will

Married on 08/27/2016

We met the space rockers during a night out in Austin, Texas and they were unreal. We saw them again a few years later in the same city and they killed it once again. When we decided to get married we thought let's call them and see if they do weddings. Absolutely!!

I will tell you that we both come from relaxed, conservative families that weren't too hot on the band at a wedding idea but after the wedding, both families LOVED the band. They were respectful and worked with our DJ as well. They played great music and were flexible when we needed to break for speeches or other events. They even got grandma up and dancing. I would highly recommended these guys for any event, especially a wedding. They dressed up nicely as well and were on time. Love the Space Rockers.

Will and Leslie.

Karla

Event on: 07/14/2016

There are not enough descriptive words on how wonderful Electric Circus was. They got the crowd super pumped, people were on the dance floor in less than 15 minutes (food first). The band was engaging, the music selection was on point, and overall, Stargazer was great to work with. One of my attendees said, the Buckhorn was a cool/interesting place, but that band, that band was phenomenal." I could agree more. Not sure there are enough words to talk about how fantastic the Electric Circus was."
I had attendees find Electric Circus on social media right after the event was over to comment on how great they were. A MUST hire for any event.

Debbie

Event on: 07/02/2016

The Go Go Dolls did a great performance at the Jasper's Independence Day Celebration in Jasper, Texas!
The audience thoroughly enjoyed them and their participation with the crowd! I would book them again for future events!
I have booked many bands in the past 15 years, and none of them had the high energy and quality like this band had.
Thanks Go Go Dolls for a great successful show!

Ray

Married on 06/18/2016

The band was excellent. Very high energy and interactive with the guests. They got everyone into a dancing mood and all had a great time. After the wedding I got many compliments on what a great band we had for the wedding. Thanks On The DanceFloor!!!

Mickey

Event on: 05/28/2016

Awesome band... Great performance and great to work with!
Are you interested?
Send a message