46 Reviews
Recommended by 96% of couples
Quality of service

4.8 out of 5 rating

Average response time

4.8 out of 5 rating

Professionalism

4.8 out of 5 rating

Value

4.8 out of 5 rating

Flexibility

4.9 out of 5 rating
5 User photos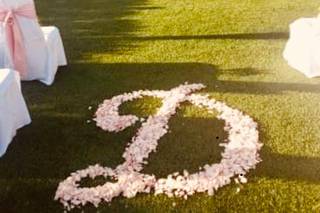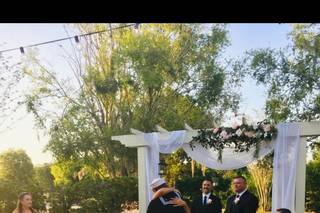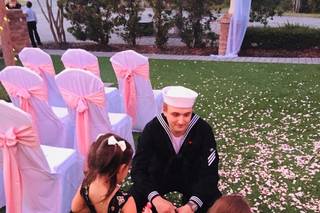 Yvette I.

Married on 11/12/2022

Outstanding

Harmony Preserve is an amazing peaceful venue! We celebrated our daughter's wedding at this exquisite venue, and I can just say that Courtney and Jim made sure the ceremony, reception, and food met our expectations. Well, they exceeded our expectations. Initially, our booked venue was canceled because it was going to be used as a shelter. In less than four days, Courtney and Jim made the wedding possible! The cocktail hour was outdoors under a panoramic view of the big blue skies and nature. The reception has natural light with chandeliers to enchant the eyes of your guests. Jim's service from the restaurant Phyre was absolutely delicious. Jim is notorious for providing top-notch service with delectable hors d'oeuvres and entrée. Under Courtney's leadership the culinary staff, bartender, waiters, and waitress were very professional and flexible. Thank you!

Brittany H.

Married on 10/24/2020

The BEST day!

Planning a wedding during a pandemic is not an easy task. Jennifer is AMAZING at what she does and made this process so easy! We had the most perfect day, we didn't have to worry about anything!

Paige

Married on 10/05/2019

The only word that I can use to describe my experience with Harmony Golf Preserve and Michelle is Perfect! From the moment I laid eyes on Cat lake I was in love with the beauty of Harmony Golf Preserve. Michelle was Incredible!!! She did everything in her power to make sure that my wedding day was a dream come true! She was always available to answer questions or to help give me ideas or just to calm me down before the wedding day. She went above and beyond to execute every little detail of the entire day and was a pleasure to work with! She made planning a wedding by myself in 3 months a piece of cake. She kept me stress free and confident that she would make my dream wedding a reality, wich she did. The setup of the ceremony and room was executed perfectly to my designs and the bridal suite is enormous! I was in there with 4 bridesmaids, 2 photographers and 2 hair and makeup ladies with all of their equipment and there was still room for everyone to lounge out on the couches. The property is breath taking and the food is delicious! All of my guest are still coming up to me and telling me how beautiful everything was and how good the food tasted. I had my perfect wedding and its all thanks to Michelle and Harmony Golf Preserve!!! I cannot thank them enough for all that they did for me and my husband. I highly recommend that you give Michelle a call for any of your event needs!!! She will go above and beyond to make all of your dreams come true, and your event perfect!! :)

Are you interested?

Send a message

Erica S.

Married on 06/12/2019

5-star venue

WE HELD A COMPANY CHRISTMAS PARTY AT HARMONY LAST YEAR. JENNIFER AND STAFF WERE ALL EXTREMELY ACCOMMODATING AND PROFESSIONAL. WE LOVE THIS VENUE.

Mr. A.

Married on 05/30/2019

Perfection

Jennifer created the wedding of our dreams!
On our year anniversary today, I can honestly say, we continue to reminisce .. we wouldn't change a thing. Jennifer did things for us that we didn't even know we wanted. Everyone says it was the best wedding they ever went to, a celebration and party of laughter and love.

We planned on shopping around and we were just looking at the venue... we ended up dropping the credit card after speaking with Jennifer, meeting the chef and seeing the venue.

+ 2

photos

Kira

Married on 11/03/2018

Jennifer Abrahamson

Jennifer brought our small wedding affair to new heights. What easily could have looked like a small dinner party, was everything but that. From the romantic & elegant table decor to the well managed staff & excellent food our day was amazing. Thank you!

Jessica

Married on 03/24/2018

Amazing venue

I really can not say enough about this venue. Grace was like a fairy god mother honestly and my wedding was perfect. In the middle of this pandemic everything was so stressful but Harmony was really best choice I made. Staff was great and the food was wonderful. I highly recommend!

Allison

Married on 07/02/2016

We planned our wedding in 2 months, yes 2! The beautiful views are what made us fall in love with Harmony. Then we were introduced to Jennifer who is amazing! She helped me every step of the way. From picking out linen colors to table centerpieces, to picking out the menu and helping me find other vendors. Jennifer exceed my highest expectations all while keeping us within our tight budget. Our wedding was breathtaking. All of our guests were raving over our entire wedding. I can send you pictures. If I had the chance to do it all over again I wouldn't change a thing. The food was amazing and the staff was incredibly. I am so thankful for Jennifer and the staff at Harmony Golf Preserve. They made our wedding a night no one will ever forget. Jennifer is one special person, not many people can do what she does. She has an extraordinary eye for detail, and always went above and beyond for us. She made sure all of our needs were met. She even had a special meal made for my one year old and then helped feed him for us.
They truly gave me my dream wedding! I can't thank you enough!

Allison Miller

Glenn

Married on 06/05/2016

Speak with Jennifer A., the Food and Beverage Manager, if you need assistance with anything. As a guy getting married for the first time, I was pretty clueless. But she helped me navigate all aspects of the wedding ceremony and reception planning so that our events were successful. She gave us ideas to consider when we were selecting cultural and religious aspects to include, and she let us choose from a multitude of settings they have on the property for the location of the ceremony. She even let me customize the menu to my tastes! I can't imagine there being a more helpful staff or more idyllic venue that could have made my wedding better.

Diana

Married on 05/21/2016

If you are looking for the fairytale wedding spot with excellent service and a lifetime full of memories, then Harmony Golf Preserve is your ideal wedding Venue. Jennifer, who is the main point of contact for Harmony weddings was a blessing to me when dealing with all of my crazy wedding planning and coordinating. She has an eye for detail and she brought my ideas for my wedding to life. No detail was spared and she made sure everything was taken care of for me. I honestly can say I HAVE NO regrets and that everything went according to plan and I had my DREAM wedding thanks to Harmony Golf Preserve!!!!

Patricia

Married on 10/23/2015

This place was everything and then some. Thank you so much to Michelle & Jennifer for making our day the most beautiful days of our lives.

This place is breath taking! Michelle is wonderful and makes everything easy. She always answered any questions and concerns with 24 hours.

Leslie

Married on 11/09/2014

Harmony was an exceptionally beautiful venue. Cat Lake provided a gorgeous backdrop for our ceremony. The food at the cocktail hour & reception was ALL delicious. Michelle, Jennifer and their staff made certain that the entire day and night were perfectly coordinated. Attention was paid to every detail.

Karla

Married on 10/11/2014

We got married on October 2014. My wedding was absolutely stunning. I got married in a church and my cocktail hour and reception was at Harmony. The ballroom was breathtaking and my candy bar was awesome. We had an open bar for 5 hours and my guest were very happy. For food we server fillet mignon and chicken parmesan all my guest loved the food. Michelle and Jennifer were very helpful. I sent Michelle over 500 emails since I signed the contract and she answered each one of them in a timely matter. When I first went to see the linens the first time I did not like any of the colors Michelle schedule me a second time with different colors to make sure I was picking what I wanted. Great venue, professional staff, I would definitively recommend this venue to anyone. By the way my wedding pictures at Harmony are absolutely gorgeous.

Amy

Married on 08/30/2014

I'm so happy we had our wedding here! We had to plan long distance, and Michelle was so helpful with the whole planning process. We dropped off our decorations prior to the wedding, and they took care of everything! They provide day-of planners that assist with everything from decorating to driving you and your photographer around to the best photo spots. They coordinate with your DJ to make sure timing is perfect, greet your guests and hand out programs, and make sure everyone is in the right place at the right time.
The food is absolutely delicious! Our guests kept telling is how much they loved the food. Everything is made fresh and from scratch.
I was able to fully enjoy my wedding day because I didn't have to worry about the little details, because they worry about the details for you!

Candie

Married on 06/22/2014

I could not have picked a more beautiful venue! The service was excellent! Michelle was great to work with and she went above and beyond to make our big day that more special! Our guest were amazed of how beautiful and wonderful everything turned out!

The venue was amazing and had what seems like an infinite amount of beautiful photo opportunities. Harmony's planner, Michelle, was absolutely great. She was very professional, personable, and was responsible for making our wedding the success it was. The value we received was incredible; it was definitely worth every cent (and wasn't that expensive to begin with). The food was amazing and the guests loved the look and feel of the place.

We had an absolutely amazing experience with Harmony. The wedding package they provide is wonderful and eliminates a lot of stress. Michelle and Jennifer did a fantastic job; they made the wedding day more beautiful than we could have imagined. Although it rained during the reception, none of our guests even knew until they left at night. The food was incredible and induced compliments from our guests. There are also so many beautiful sites for pictures. The day-of organization was amazing and we would definitely recommend this venue for any occasion.

I can't imagine a better place to have held my daughters wedding. Michelle is fantastic and made the whole process of planning & hosting a wedding so easy! The Preserve is gorgeous - the wedding photos speak volumes for that. Michelle and her team worked so hard with us and some nasty Florida summertime weather to let my daughter have the beautiful lakeside wedding ceremony she so dreamed of. The food was absolutely delicious and the cook designed a unique menu that suited the tastes of the bride & groom perfectly. And the "icing on the cake" of this beautiful wedding venue is the value! Everything they offered and did for us was worth so much more than what we actually had to pay.

Katie

Married on 02/08/2014

This venue was so beautiful. The second I saw it I knew I wanted to walk down the pine needle path. Michelle and Jen were so very helpful on the day of. And a month later, everyone is still talking about how great the food was!!! Harmony is an amazing venue right outside of Orlando. We are so glad we chose this spot!

Michelle and Jennifer are amazing! As a bride, I did not have to worry about the details coming together on my wedding day. They made everything look beautiful and flow smoothly! The food was amazing, the ceremony and reception were set up beautifully. I could not have asked for a better venue or service. They provide quality, professionalism, and make your vision for ceremony and reception happen. Very professional, great customer service. My wedding day was perfect.

Amber

Married on 12/28/2013

Harmony Golf Preserve was everything I wanted and more for my wedding! From the natural beauty of Cat Lake (where we had our ceremony) to our wedding coordinators Michelle and Jennifer, I was very pleased with my venue choice! Michelle was always there when I needed her even though sometimes I'd forget a question and have to send her another couple emails after another! She was so accommodating and knowledgable! There was plenty of room for all the girls to get ready, especially since I had 5 nieces I had to get ready too! Both Jennifer and Michelle would come in every now and then to check and make sure we had everything we needed! The reception was amazingly fun and I never had an empty drink!!! Someone was always there for my husband and I when ever we needed something!! The food was outstanding and all our guests raved about it! loved Harmony! It was beautiful and what I always dreamed of for my wedding! I highly recommend it to any bride who wants a wedding of pure natural beauty!!!

Michelle

Married on 10/26/2013

I had my wedding on October 26 at Harmony Golf Preserve. Michelle and her staff could not have been more professional and helpful! The entire day there was always somebody checking in on my bridal party and myself to make sure we had everything we needed. The venue itself was beautiful; we got married on Cat Lake and it was picturesque.

Leading up to the wedding, Michelle was always available to answer any questions and very helpful with decorating tips and information about wedding details (I was pretty clueless about a lot of things wedding related). All of my friends raved about the food, and I would like to give credit to Chef Kim for the amazing dessert!!

I cannot imagine a better place with more amazing people to help me make my dream wedding come true. Thank you to all of the staff at Harmony Golf Preserve! If you are looking for a place to get married, be sure to check out Harmony Golf Preserve. It is well worth the drive!

Rene

Married on 10/12/2013

I feel in love with Harmony the moment I saw it. My fiancé feel in love the moment he tried the food lol. Everything about this venue, the people the views the options was AMAZING. Yes it was a bit out of the way but isn't that where u always find the biggest brightest jewels. Michelle and Jennifer were so accommodating I'm almost sad it's over. We cannot say or show enough thanks to even come close to the gratitude and love we have for these two women. And the FOOD omg was OUTSTANDING! The cook will be catering for us again and again. My stomach is still smiling 5 days later. Just amazing. I would recommend this venue and this staff again and again. :)

Cari

Married on 10/11/2013

Book Harmony NOW- not tomorrow or next week. I do not know where to begin with all the wonderful things I have to say about Harmony. The property is stunning! I was married at Cat Lake, and that was a tough choice because everywhere you look is breath taking.
We worked very closely from start to end with Michelle. She is very helpful and loves her job. I booked my wedding 1.5 years in advance, and the entire time Michelle was there for me with anything I needed. I once sent in an email with some questions, nothing major, and I received a phone call that evening from her. She told me that it was her day off and she could not easily reply to my email so she called to talk to me about it. We were talking for over an hour and I was so grateful for that.
Two weeks before the wedding I was sending emails almost daily, I ALWAYS received a reply within hours. Michelle never seemed irritated or annoyed with any of my questions/comments. She was always there to happily help.
During the Rehearsal, Michelle allowed me to bring EVERYTHING that I needed for the wedding day. I mean everything, down to shoes and dresses. On the wedding day the only thing I had to bring was myself and bridesmaids. It was so relaxing and nice to know everything was there. I had nothing to worry about after the rehearsal- that night I slept like a baby.
Wedding day, we arrived on time. Michelle was there to greet us, and informed us the bridal room would be a little cold but would shortly warm up from all the hot hair accessories. She was 100% correct. 30 minutes later we were very comfortable in the room. The ceremony and reception went perfectly. I am fortunate to say that not one single thing went "Wrong" or was different than what I planned for, and I owe this to Michelle & Jennifer.
Like I said, BOOK NOW, you will not regret it and your wedding will be amazing. Michelle does everything in her power to make YOUR dreams come true, and she was successful in doing just that for me.
Are you interested?
Send a message