Reviews
5.0 out of 5 rating
Quality of service

5 out of 5 rating

Average response time

5 out of 5 rating

Professionalism

5 out of 5 rating

Value

4.9 out of 5 rating

Flexibility

5 out of 5 rating
99%
Recommended by couples
23 User photos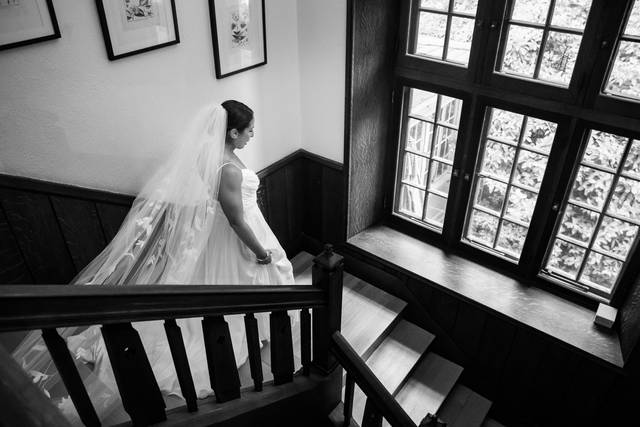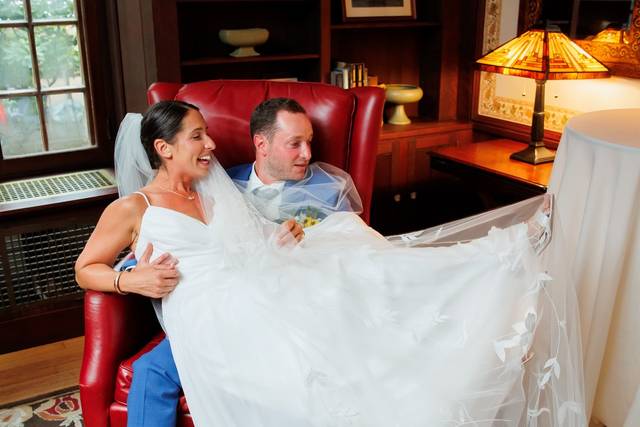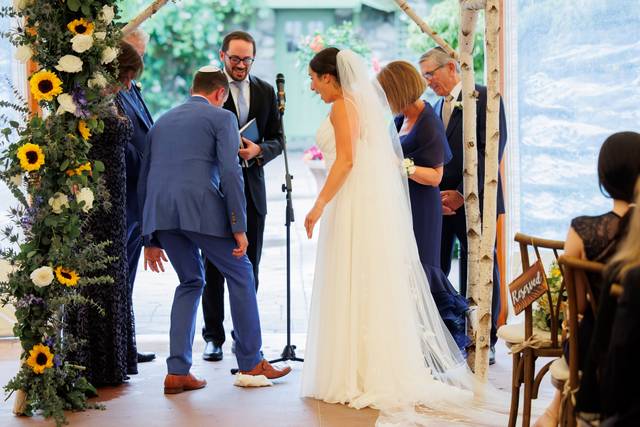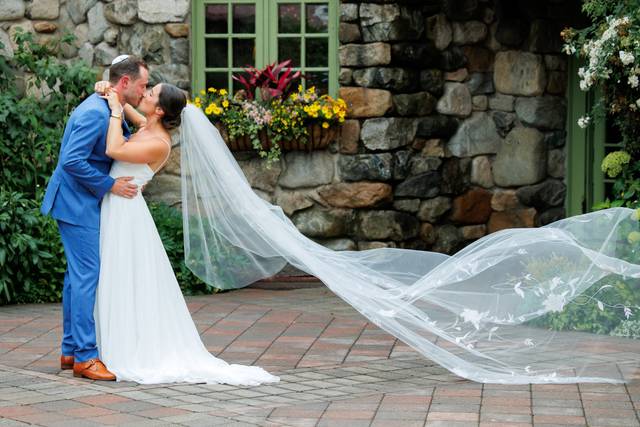 + 19

photos
Amy W.

Married on 07/02/2023

Erica is the best!

From my first conversation with Erica, I knew I wanted her to be a part of our wedding - and it was the BEST decision. We loved doing our engagement session with her - she made my husband and I feel comfortable in front of the camera, made us laugh, and took the most beautiful photos of us and our pup. Then for our wedding she knocked it out of the park - she brought Eric and together they captured every moment in the most gorgeous way - the candids and the posed photos show the joy we felt and the fun that we and our guests had all day and night! I felt so comfortable having her there when I was getting ready - and even needed her help getting my veil on, and thank goodness she was there - she's a true pro! She was always there yet never in the way - honestly it felt like she was a part of our bridal party in the best way! We got our photos less than a month after our wedding and cannot stop looking through them - almost 1,000 photos, literally! Thank you Erica, for capturing our wedding so magnificently - we are already excited to do family shoots with you once our family grows!

+ 5

photos

Colleen P.

Married on 12/03/2022

Absolute perfection!!

Erica Ferrone is truly an incredible photographer and human being! She has the X factor. She is heartfelt and passionate and insanely talented and professional. She was the first vendor we hired and it was the best decision ever. From the first point of contact to post wedding she is absolutely wonderful, communicative, timely, and reliable! She has made us feel like friends of hers rather than clients. The entire process with her felt exciting and fun! She photographed our engagement shoot as well as our wedding day and we could not be happier with our experience with Erica and what she produced for us. Not to mention, she had the fastest turnaround time ever! On our wedding day she kept things running smoothly and on time! She did what we wanted yet was not afraid to make some suggestions (i.e. stepping outside in the rain!) which turned out to be our most favorite pics! Her photos are STUNNING! We are so blown away by every shot. Big shout out to her colleague / friend Andrea who crushed it as our second shooter! Erica is truly the best of the best, do not miss a chance to work with her if you can. She captured our emotions and candid moments so beautifully so we will be able to relive our most special days for years to come. Through Erica's lens, you will truly see how happy and beautiful you feel on your wedding day. We are eternally grateful. Thank you Erica!!

Alexandra G.

Married on 10/21/2022

Erica is a must hire!

I cannot express how thankful I am for Erica throughout the entire wedding process, but especially the day of the wedding. Erica is more than just a photographer- she is helpful with the timeline and takes the stress completely away from the bride the day of the wedding. She was timely and the best type of perfectionist. Best of all, she is a friend- she shares the same excitement for the wedding day and she is so kind. Now on to the pictures- the engagement pictures were incredible and the wedding pictures were everything I could have dreamed about plus more!!!! Everything that you want to be captured from the day- Erica and her 2nd shooter will have it done! I have been looking through all my pictures and get so excited every single time. They are absolutely beautiful. You walk away with pictures as the biggest memory from your wedding day and Erica is perfect for the job!

Are you interested?

Send a message

Ashley K.

Married on 09/24/2022

Erica is a must for your wedding!

Words cannot express how happy I am that we hired Erica for our wedding. Not only is she the sweetest and easiest person to work with but our pictures came out beyond incredible and she would not stop until she got the perfect photos for us. Her pictures are pieces of art and many of them will be blown up and framed in our house. I cannot recommend Erica more!!

+ 4

photos

Kelly F.

Married on 09/17/2022

Best Photographer Ever!!!

There is no one better than Erica to photograph your wedding!! After our initial phone call, I felt like I had just caught up with a close friend and knew that we had to book Erica immediately. From the start, Erica was a pleasure to work with. She was extremely organized and helpful throughout the entire process and was basically like a second wedding coordinator keeping everyone in place and on schedule the day of the wedding. The day before the wedding, Erica called to check in and see how we were doing. Her kindness and compassion meant the world to me and completely put me at ease. Not only was Erica the easiest person to work with, but her pictures turned out amazing!!! Erica somehow captured every little detail throughout the entire day and her turn around time of sending the 1,000+ pictures to us was incredible. She even sent a few teasers by the time we were finishing up our wedding brunch the next day!! I couldn't recommend Erica any more and can't wait to work with her again in the future!

Lauren K.

Married on 08/07/2021

Wedding Photographer

Erica is absolutely incredible. Leading up to our wedding she was responsive and incredibly helpful. Day of, I really do not think I could have had a better person by my side. It felt like I had known her for years. I felt so comfortable and supported by her. I was raving about her before we even got our photos back and once we did we were speechless. Absolutely beautiful. She captured the most amazing moments of our wedding day. Erica is incredibly talented and so great at what she does. She is someone everyone should have by their side on their wedding day. Erica, I can't thank you enough!!!

Sydney C.

Married on 09/22/2019

Beyond exceptional!

Erica is the BEST photographer you can possibly choose for your wedding. From the very first phone call with her I knew she would not only deliver incredible photos (as exhibited by her extensive portfolio) but also be extremely fun to work with. In the planning stages she was always responsive, organized, and knowledgeable, and she always brought so much joy and energy to our conversations. Even when I had a ton of questions the weeks before our wedding, she patiently reassured me that she was on top of it. And on the wedding day, she blew me away. She had all but memorized our timeline and had visions for what photos she wanted. Even though we started photos late, we got everything we wanted done right on time. She gave excellent directions, and she and her assistant Emily helped everybody be exactly where they needed to be so we can get everything done. During the ceremony and reception she took photos of all the little details and our guests, and she even accommodated our requests to have more group photos added on last-minute. And what's more - she delivered almost ONE THOUSAND photos... TWO WEEKS AFTER OUR WEDDING. If you don't know what goes into photo editing, let me tell you how impressive that is. It's amazing, and I don't know how she did it, but the photos came out so beautiful that I want to share with everybody I see on the street. She captured emotion, candid moments, tender moments, joy, everything. They're perfect. Seriously, you can't find a better photographer who both delivers excellent photos and is also a joy to be with. Go with Erica, you won't be disappointed.

Mariah

Married on 09/20/2019

Stop what you're doing and HIRE HER

It says it all in the title. If you are looking to have the best wedding photos of anyone around and to actually fall in love with your photographer - you need to hire Erica. We were blessed enough to have two of our best friends (also in the wedding) recommend their wedding photographer. Little did we know we were getting someone who not only is insanely talented (you wont believe the quality of her work) but someone who would make planning and our day so much fun. I'm type A, I worry about absolutely everything, and I've planned events most of my life. Erica helped make it so easy and put together that I could breath, drink champagne, and just feel so beautiful all day. She is a lifelong friend, not just a vendor. She is worth every.single.penny. Don't forget - after the guests go home and the gown has been dry cleaned and everyone forgets the catering - your photos are what you have. Erica will make sure you have photos you are proud to show for generations to come.

Thank you Erica!!!! Thank you for EVERYTHING.

Christine

Married on 08/18/2018

Hiring Erica for our engagement and wedding photos was one of the best decisions we made! She's friendly, professional, and amazing at what she does. We loved the photos as much as we loved working with her. Even our very opinionated mothers loved working with Erica and thought the photos were outstanding. Your search for a wedding photographer stops here! :)

Chelsey

Married on 10/14/2017

If you are looking for a wedding photographer in and around the Boston area, stop your search. Erica is your girl (if she is free). We had the pleasure of having Erica shoot our wedding. She was a professional start to finish. It is hard to know what you are getting but hiring her was one of the best choices we made throughout our wedding process. She was on point but not over bearing. Added things Erica has over other photographers; her camera (Nikon d4) and other equipment that is top of line as far as camera's go, 2. she is tall therefor gets good angles, hate to say it but the height of your photog makes a difference, 3. her eye - she got all the shots and them some that you are longing for on your big day. 4. her editing skills- this is also an underestimated positive quality for photographers, she does an amazing job.

Aileen

Married on 05/06/2017

Erica was one of the best decisions that we had made for our wedding! She had been so accommodating, open to my requests (bringing my friend to hold the flash at the engagement shoot), and she made my dream wedding picture come true! She came earlier than scheduled to the hotel, had so much energy the whole day, and she was so organized! She made me calm on our wedding day. She also made us comfortable in front of the camera. Pictures came out great and fast! No one will ever regret having her photograph a wedding :)

Paymon

Married on 09/03/2016

Erica was a joy to work with as a photographer. When we were evaluating photographers, it was very clear that Erica had an eye for a great photo op. When we interacted with Erica (leading up to the wedding, which was going to host ~ 250 guests), she was extremely organized and adjusted to our insane schedules. During the wedding weekend, Erica and her second photographer (Joe) were extremely professional and made the photography experience enjoyable, even for the groom. This level of organization was most evident during the family photos at the Boston Common, which could have easily gone much longer. After the wedding, Erica – despite a crazy wedding schedule of her own – delivered the wedding photos and album earlier than the agreed-upon delivery date, which brought a lot of joy to everyone! We absolutely recommend Erica to be your photographer for any meaningful life events.

Lauren

Married on 08/27/2016

I can't say enough about how wonderful Erica was not only on our wedding day but throughout the whole wedding planning process. She was warm and inviting from the moment we met and she offered her assistance and advice for the whole wedding planning process. She captured every moment from our wedding perfectly and efficiently. I'm still in awe of her photographs and to top it off she had them all ready for us before we were even back from our honeymoon! It is easy to tell that she loves what she does and she seriously has the talent to back it up.

Leila

Married on 05/28/2016

Long overdue review for my boudoir photo shoot with Erica. I wanted to give my now husband something special and sexy for our wedding day gift, but was kind of nervous about doing that type of photo shoot with a stranger. Cue a friend suggesting Erica, and all my trepidation went out the window the second I met her. Erica's personality is amazing.. she's the type of person you feel like you've been friends with your whole life after meeting her for the first time. She made me feel comfortable and beautiful, and it shows in the final results. She has multiple sets in her house, so you don't have to rent a hotel or anything.. she even made me mimosas to calm my nerves. She is INCREDIBLY talented, sweet, and if you're looking for a boudoir shoot, I could not recommend Erica more highly..I honestly wish that I used her for my wedding.

Yün-Ke A.

Married on 05/21/2016

Just married a week ago; bride writing for the both of us: We *adore* Erica! Her amazing work speaks for itself so I'm going to comment on the experience of having her at the wedding. I wouldn't describe myself as an enthusiastic bride (I use phrases like "wedding industrial complex") but Erica was great at building up excitement for the wedding and was instrumental in helping the day go seamlessly. She was just so upbeat and supportive! By the end of the day, she was practically a member of the wedding party. Everybody loved her. Thanks for helping make the day go so well! Can't wait to look at the photos!

Kayla

Married on 02/14/2016

We flew in Erica from Boston to Norfolk for our Valentine's Day wedding, and we couldn't have been more pleased with the results! Erica is so much fun, and the quality of her pictures is second to none. She has a gift, and is worth every penny!

I was referred to Erica from a good friend of mine who got married 6 years ago. She had told me that not only was Erica's work beautiful, but that she was a wonderful person to work with. I took a look at her website and was sold!

I first spoke with Erica over the phone in August. She contacted me within a day of an online inquiry and her communication ever since has been prompt and clear. She asks loads of thoughtful questions to get a sense of what you like about her photography, the ideas/image you have for your wedding day and what you want to have happen come the big day.

Several weeks before our wedding she contacted me and requested to meet me in person to review specifics--groups of people to be photographed, timeline of her arrival to my home and the course of the evening. During this final meeting, she gathered all necessary specific information from me to help make a seamless day--and it was.

Erica arrived 45 minutes early to my home and she was with us every step of the way so as to not miss anything (i.e. she rode in the front seat of the limo in the event we saw something on the way to the reception that we wanted to shoot!).
I was beyond pleased with the photographs. I wanted her to capture the candid moments and get some great shots of me and my husband in the city and she did just that.

Our wedding was small- 67 guests and she captured everything without even making her presence known. I believe she has the option of bringing an assistant should you discuss with her your concerns about capturing your large group. She would be very upfront with you if she thought an assistant was necessary.

Aside from her stunning photographs, the BEST part about Erica is her personality--bubbly, positive, energetic, excited---she's so committed to making the day of her clients special. She listened to all requests I made and was flexible whenever asked to change the plan.
I could not recommend Erica Ferrone more highly!

Heather

Married on 12/05/2015

When we started researching photographers, we decided right away that photography was an investment for the future; so that we had beautifully captured memories to share with family, friends, and future generations. We spoke to half a dozen other potentials before I found one of Erica's pictures on Pinterest. They way she composes her photos not only employs elements that make a good photo, but takes advantage of every opportunity to catch the emotion of the moment. I called her immediately and she got back to me faster than any vendor we employed for our event. After a few minutes on the phone, I could tell that she was just as excited as I was for my wedding. Planning the details with her was very easy. She knew our venue intimately having shot there before and was straightforward regarding the best plan of action while being mindful of my wishes and concerns.
At the event, she was everywhere! Not a moment was missed! Since photos were a priority to us, and the sunsets early in December, we decided to plan our timeline around Erica and the daylight that was available to us. This could not have been a better choice!
After the wedding, I received three things very quickly. The first was a sneak peak photo posted to her blog the morning after the wedding. Soon after I started to receive messages from family members about how great it was to work with Erica! She was friendly, passionate, and knowledgable and my family said she was wonderful the whole day. Not long after the wedding, and far earlier than I expected, we received our full gallery and I spent and afternoon tearing up. They were amazing and everything I could have asked for.
Erica is passionate about her craft and it shows in her final product. If photos are a priority to you like they were for us, don't think: book her!

Erica made my day perfect. She arrived at the site early and made sure to spend time with my husband and I prior to our big day to get to know us better. She even made it a point to note the photos we absolutely wanted. Not only is Erica a great photographer, but she is also a great assistant to your Wedding Planner.

Jillian

Married on 08/15/2015

Erica was my favorite vendor that I hired! She was completely professional and very informative on everything that was going to happen that day before it happened! She is very easy to talk to which helped the day of. Not only did she take amazing pictures, she was there to help me through every step of the process day of. She is more than just a photographer and I would recommend her to anyone that is looking for a great product and a great person to work with!!! Not to mention the pictures came back after the wedding in no time!! I know she works really hard for every client and it does not go unnoticed!

Jillian

Married on 08/15/2015

Erica was by far the best decision I made at my wedding! Not only did her pictures come out absolutely beautiful, they were done and ready for me to view in no time! She was extremely helpful throughout the whole day whether it was making me feel comfortable to helping the groomsmen put their boutonniere's on! Her personality is something that I loved, she was so professional and fun all at the same time. You cant put a price on beautiful moments captured at your wedding and Erica knows what to shoot and when to shoot it. She literally got every detail of our day!

Thank you so much Erica!!!!!

CJ & Jill :)

Eric

Married on 07/11/2015

Cannot emphasize enough how much you need to book Erica for your wedding. She is the most amazing photographer to work with! We were recommended to her by our venue and she was the only photographer we met with in person. As soon as we left the meeting we knew it was meant to be! She was so incredibly fun to get to know and took a genuine interest in our story and our vision for the wedding. By the time the wedding came, it was like we were old friends! I even had bridesmaids asking how I had a friend who was such a good photographer! Not only was she fun to work with, she took the most incredible photos. We are still in awe of how perfectly our special moments were captured. From the formal photos with family to the candids on the dance floor, she (and Matt!) got it all. Without a doubt, book Erica if you want to have the best time taking photos on the best day of your life!

Kristin

Married on 06/20/2015

Erica is HANDS DOWN the best photographer I could have ever hoped to shoot my wedding! She is the sweetest, most professional vendor and her talent is unmatched! I could not believe all of the gorgeous photos she got to truly capture the most important moments of our night. We received our photos in such a short time and before we are even married for 2 months we will have all of our photos AND our album! I cannot say enough great things about her!

Pauline

Married on 06/13/2015

My husband and I really wanted a great photographer to capture the most special day of our lives. We cherish our memories together and love to look back at photos from all of the special moments in our lives. After searching through many photographers' wedding portfolios, we quickly saw that Erica's style and creativity stood out among the rest, so we gave her a call and set up a time to meet with her and discuss our options. After meeting Erica, we felt like we just had to have her. Her personality is as lively and fun as her pictures are! She was so genuinely excited to learn more about us and even helped us come up with some ideas for our wedding. Erica was more than just a wedding photographer for us. She felt like part of the party, which made everyone more relaxed. She also in many instances throughout the big day, was the one making sure everything happened on time for us! She was basically taking on wedding coordinator responsibilities and she was definitely not expected to, but did it happily! At one point, we were in the limo on our way to the church when I realized that I forgot my veil! Before I or anyone could panic, Erica was on it! she jumped out of the limo and ran back to grab it for me! We had guests approach us several times to ask us where we got her :) With or without Erica's extra efforts to make sure my husband and I had a perfect day, I would recommend her to anyone because her photographs came out beautifully! We had the traditional shots and some really creative and unique shots. Erica completed editing everything in a timely manner too, but while we were waiting she released some great sneak peaks along the way which was really exciting :). For someone who is going to be following you around on your special day with a camera, I think an easy going, fun person like Erica is a must.

Cara

Married on 05/30/2015

If I could rate Erica higher than a 5 I would! We had such a wonderful expierence with her. She was amazing at every step of the process. We had such a wonderful experience with her on our wedding day and were immensely happy with the collection of photos she took. I would highly recommend her to anyone!
Are you interested?
Send a message