9 Wedding Shoe Ideas for Super-Cute Soles
Your wedding day look should be personalized from head to toe. These personalized wedding shoe ideas will ensure your look is uniquely you.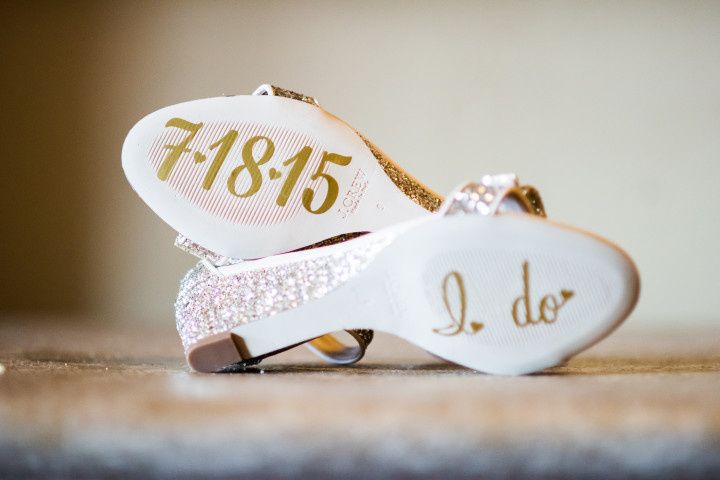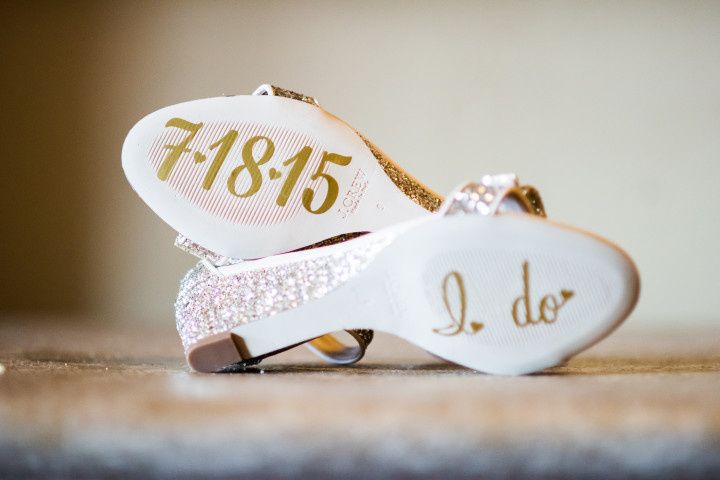 Photo: Marianne Wiest Photography
Your wedding shoes will play a major role in your big day ensemble—and they provide an opportunity to add some creativity to your look. A major trend when it comes to wedding shoe ideas is personalizing the soles of a bride's (or groom's) shoes. While your wedding shoe soles likely won't be visible to your guests, they're a great way to add something meaningful to your look—and can be your little secret (until you start kicking up your heels at the reception, of course!).
Check out these personalized wedding shoe ideas.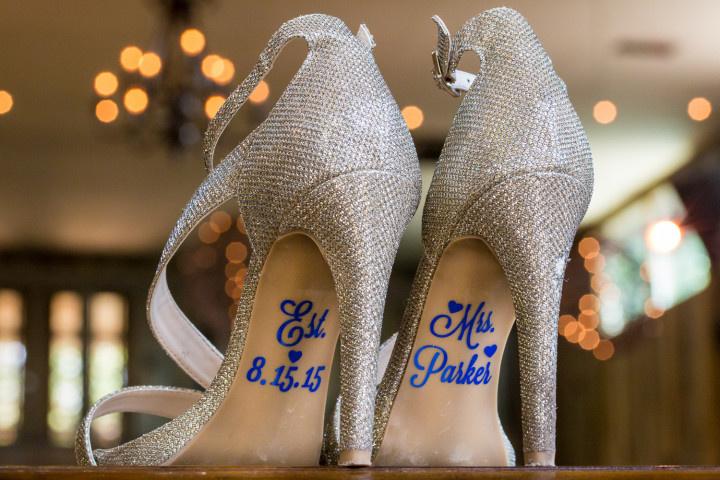 Photo: Jennifer Weems Photography
Make 'Em Your Something Blue
The old adage "something old, something new, something borrowed and something blue" refers to items that the bride is supposed to carry on her wedding day—but many times this tradition gets forgotten until the very last minute. Adding some blue wedding shoe decals to your soles is an easy way to personalize your footwear—and adhere to this long standing tradition in the process.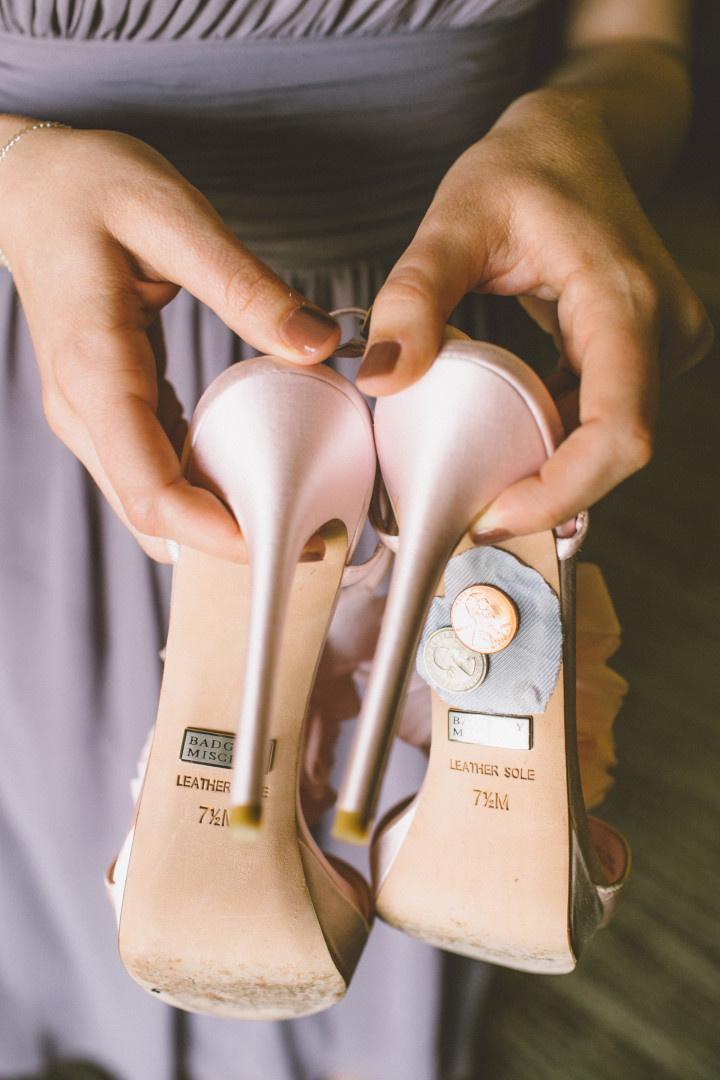 Photo: Anna Delores Photography
Add a Little Bit of Luck
If you're following the "something old, something new" tradition, you might not be aware that the last line of the adage is "…and a sixpence in your shoe." Yup, brides have been placing a sixpence in their shoe for generations, as it is thought to bring prosperity for a marriage. If you're actually able to get your hands on a sixpence, it might not be the most comfortable to walk around with a coin in your shoe all day. However, a nice alternative to this is to affix the sixpence to the sole of your shoe—perhaps along with a lucky penny and blue heart as this bride did.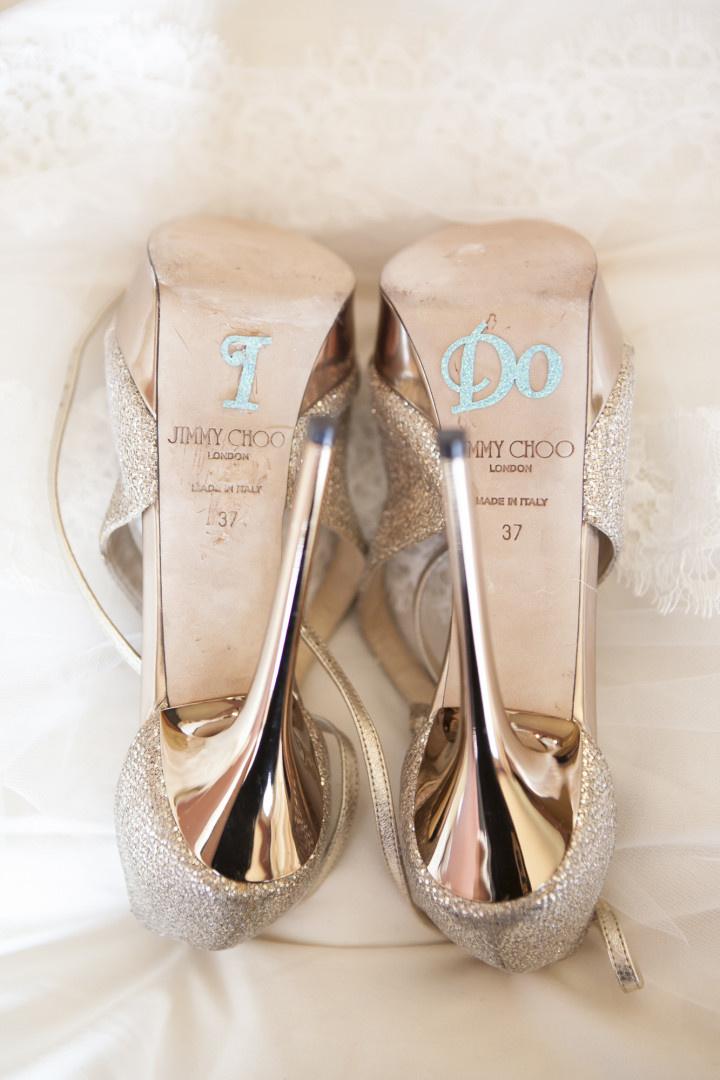 Photo: UP Studios
Keep the Message Simple
There's no need to overthink the message you'll write on the bottom of your wedding shoes. A simple "I do" is one of our favorite short and sweet DIY wedding shoe ideas.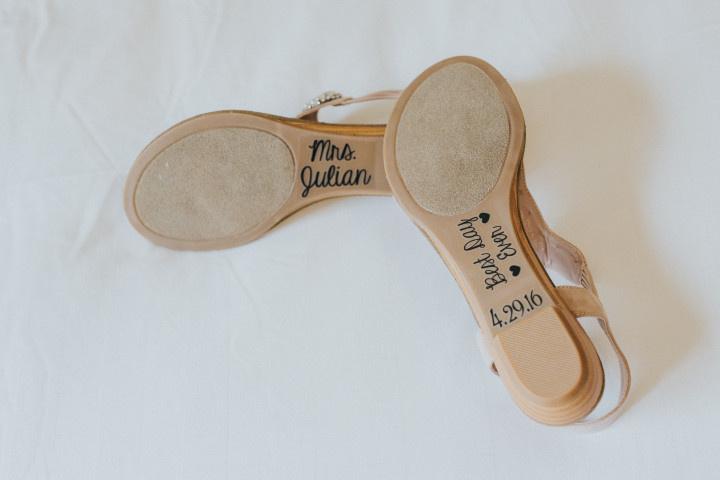 Photo: Michael Stephens Photography
Flats Work, Too!
Flats are an ideal "canvas" to work on if you're planning on writing a message on the soles of your wedding shoes. You'll have more surface area to work with, and can include your new name, the wedding date, and a cute message. If flats will keep you and your feet happy on your wedding day, we say go for it!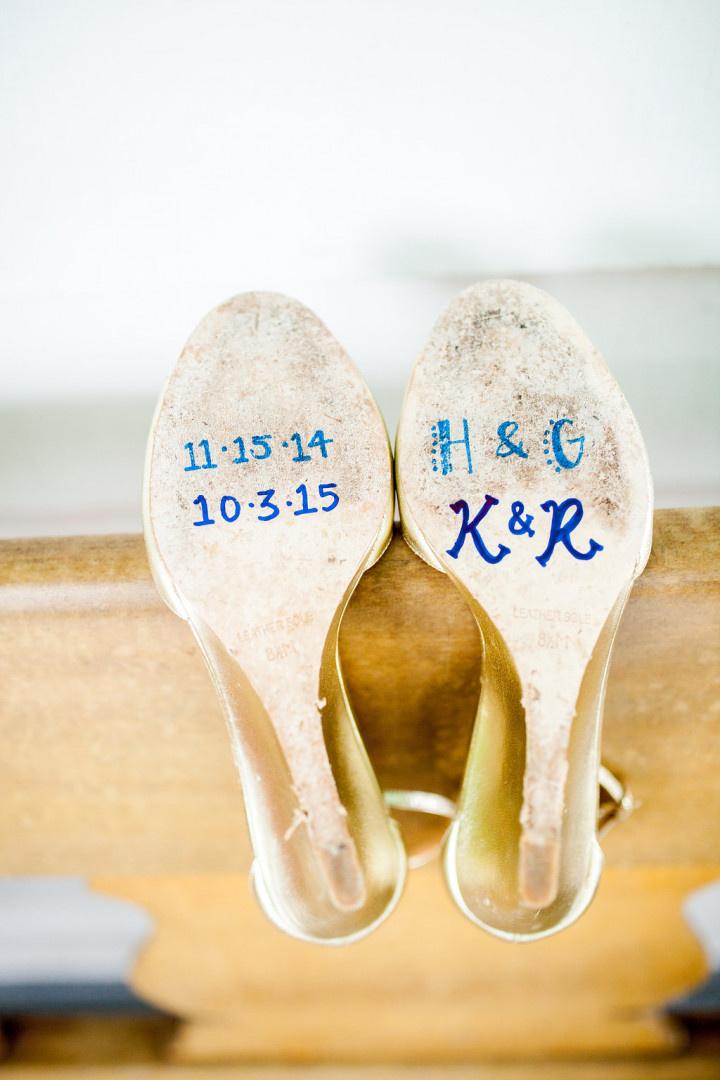 Photo: Sam Stroud Photography
Sisterhood of the Traveling Shoes
One of our favorite wedding shoe ideas is when a bride's "something borrowed" is a pair of shoes. If you're borrowing shoes from a bridesmaid, relative, or friend, have your loved one write her name or initials and wedding date on the sole and then you can do the same. It will be fun to look back years from now to see how far one pair of shoes has "traveled."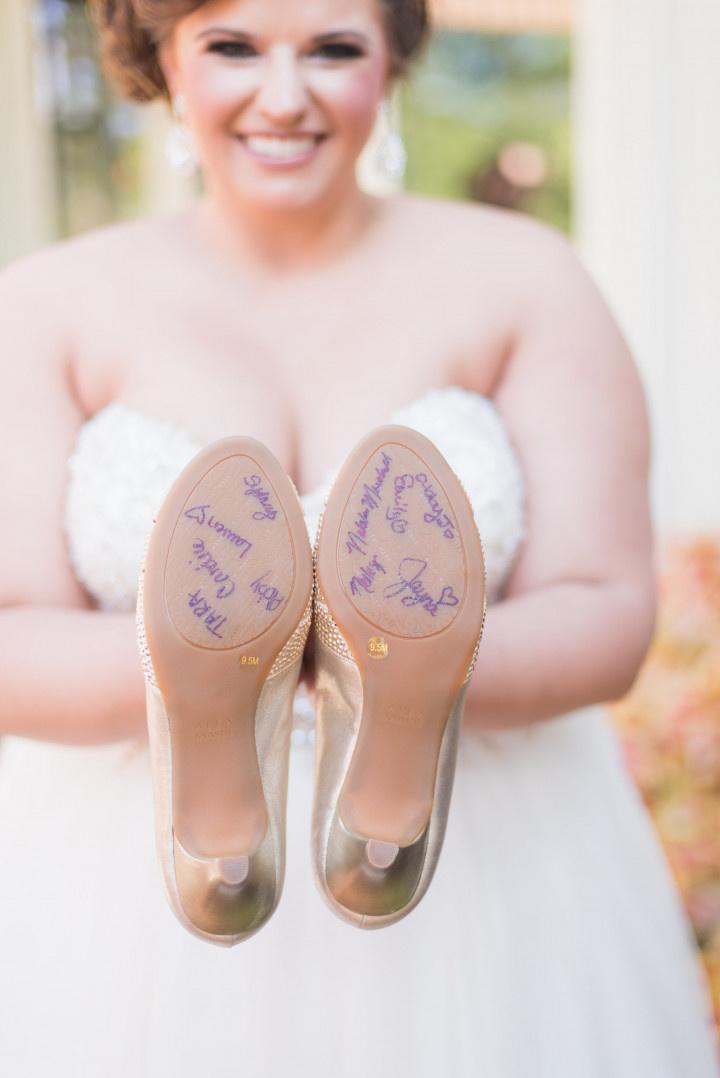 Photo: Meysenburg Photography
Get Your Bridesmaids Involved
You'll always want to remember getting ready for your wedding day with your bridesmaids. Use your wedding shoes as a "guestbook" of sorts, having all of your gals sign their names on the soles. You'll love looking back and remembering all the good times with your ladies before you walked down the aisle.
Photo: B. Jones Photography
Your "Something Old" Can Be Your Shoes
Are you wearing your mom's wedding shoes? If your mom was kind enough to save her wedding shoes for you (and they actually fit comfortably!), wearing a pair of heirloom shoes can help tie you to your family's history—and make Mom super-happy. If your mom didn't sign and date her wedding shoes on her actual wedding day, she can simply do it now—and then you can follow suit.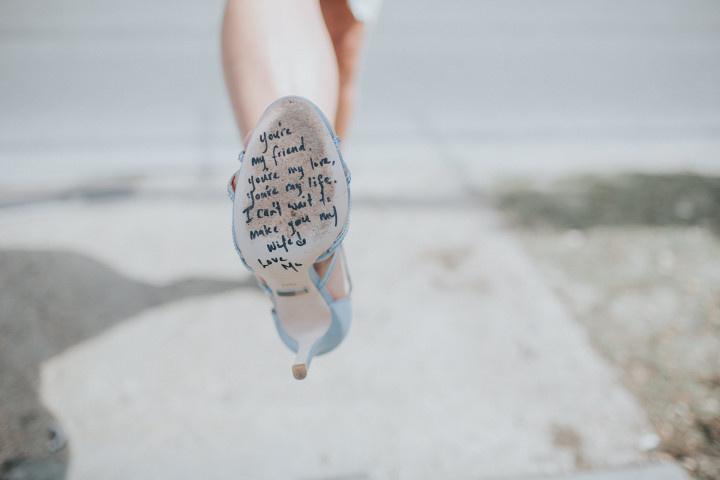 Photo: Love is Rad
Write a Love Note
We all know that writing a wedding-day love note is a popular tradition. Instead of searching for the perfect card or finding nice stationery, your partner can use your wedding shoes as the note's vessel. The note will have to be relatively short, but we do love this sweet wedding shoe idea.
Photo: Anna Kim Photography
It's Not Just for Brides
Grooms can customize their shoes, too! We love when the shoes' messages are tied together, such as this bejeweled "I do" and "me too" pairing.