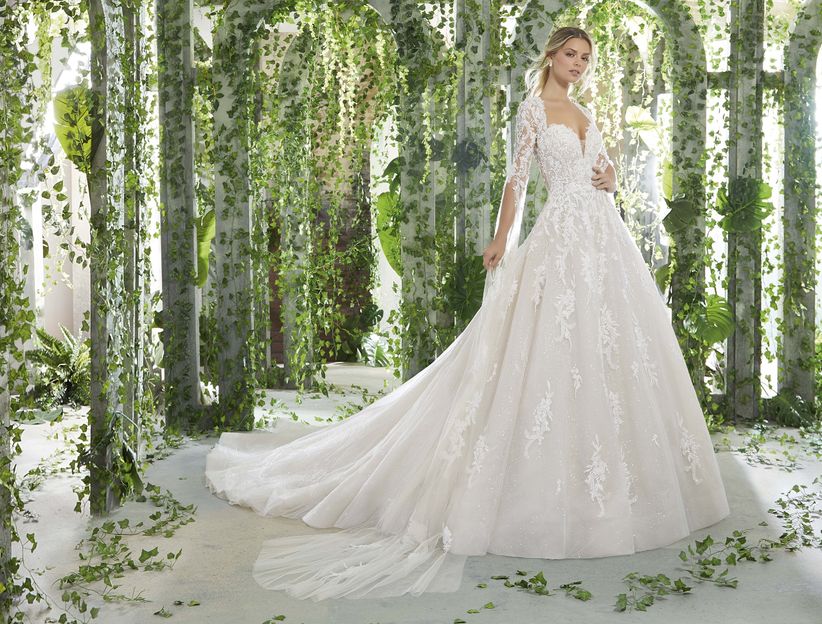 What's the first thing every bride wants to do once she's engaged? Go dress shopping! But you'll want to find a wedding dress silhouette that matches your wedding style - which means you'll need to figure that out before you make an appointment at the salon. Fortunately, Morilee by Madeline Gardner features a variety of dress silhouettes to suit any personality.
To help make the process even easier, these are the wedding dress silhouettes you'll love, based on your wedding style.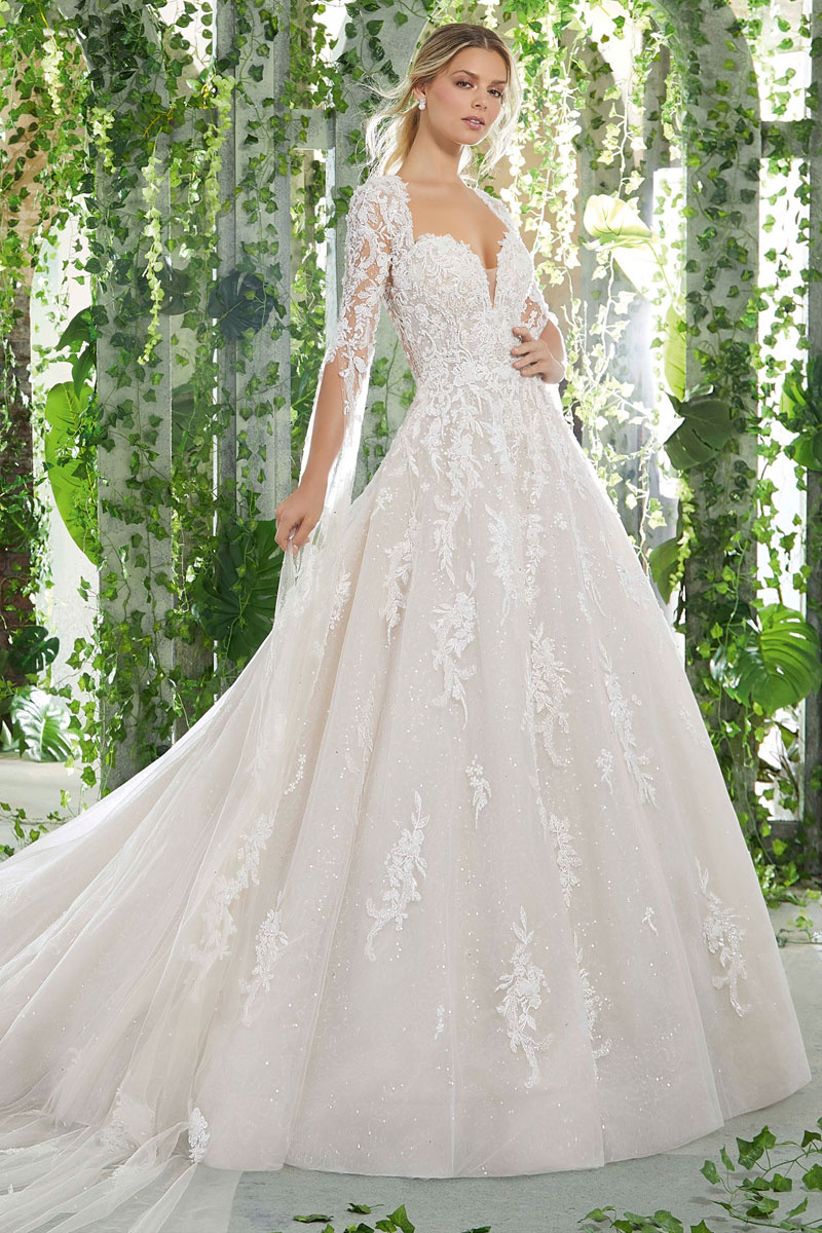 Black Tie Brides: Put on a Ball Gown
No wedding style calls for the drama of a ball gown quite like a black tie affair. Whether you're wedding in a ballroom or hosting a formal evening al fresco, the Persephone ball gown by Morilee by Madeline Gardner will set the tone for an evening straight out of a fairytale. Pairing flowing tulle sleeves with feminine lace appliques and lots of sparkle, this ball gown will top any black tie bride's list.
Persephone, Morilee by Madeline Gardner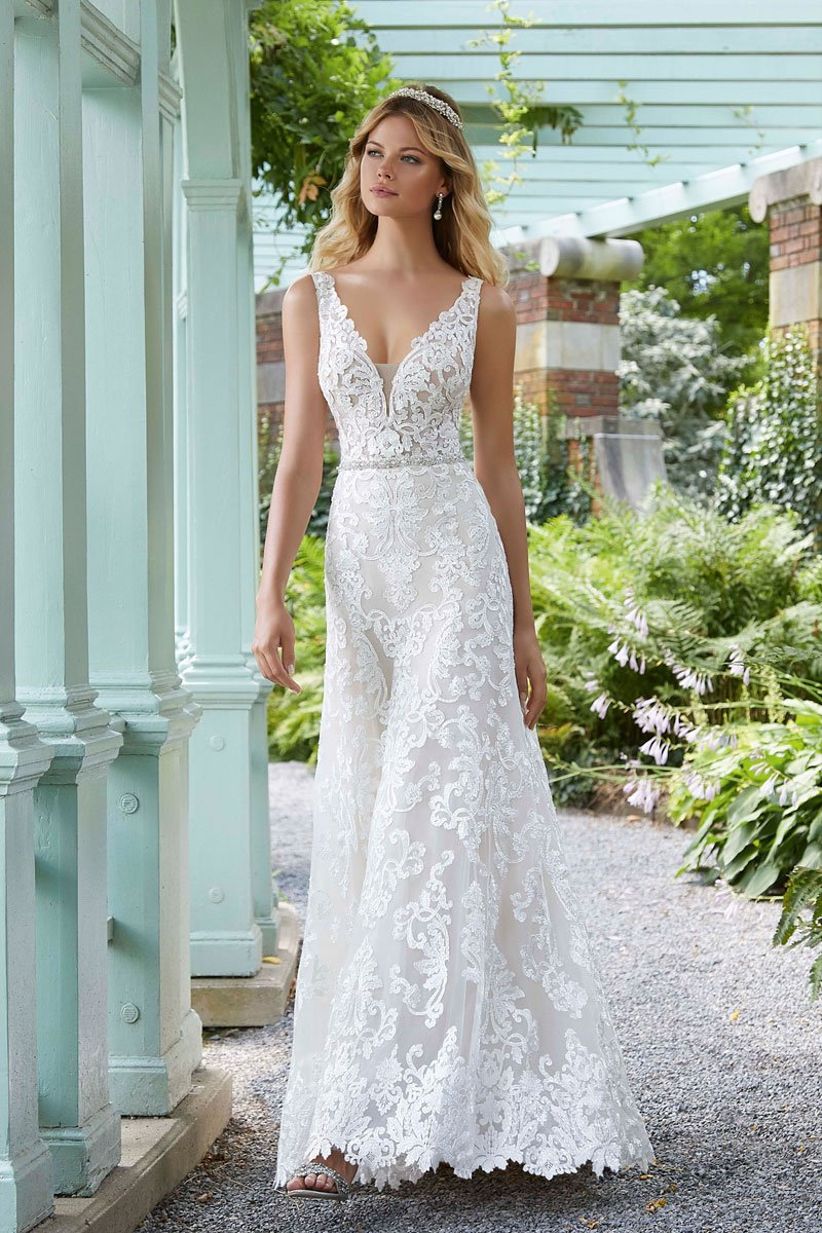 Romantic Brides: Look for an A-Line
Planning a wedding full of romance? You'll adore a lace-covered A-line silhouette. Pauline features a plunging v-neck with a sparkling belt, a soft skirt that flares gently from the hips, and head-to-toe sparkling lace appliques. The swirling pattern is finished with a swoon-worthy textured hem and buttons at the back.
Pauline, Morilee by Madeline Gardner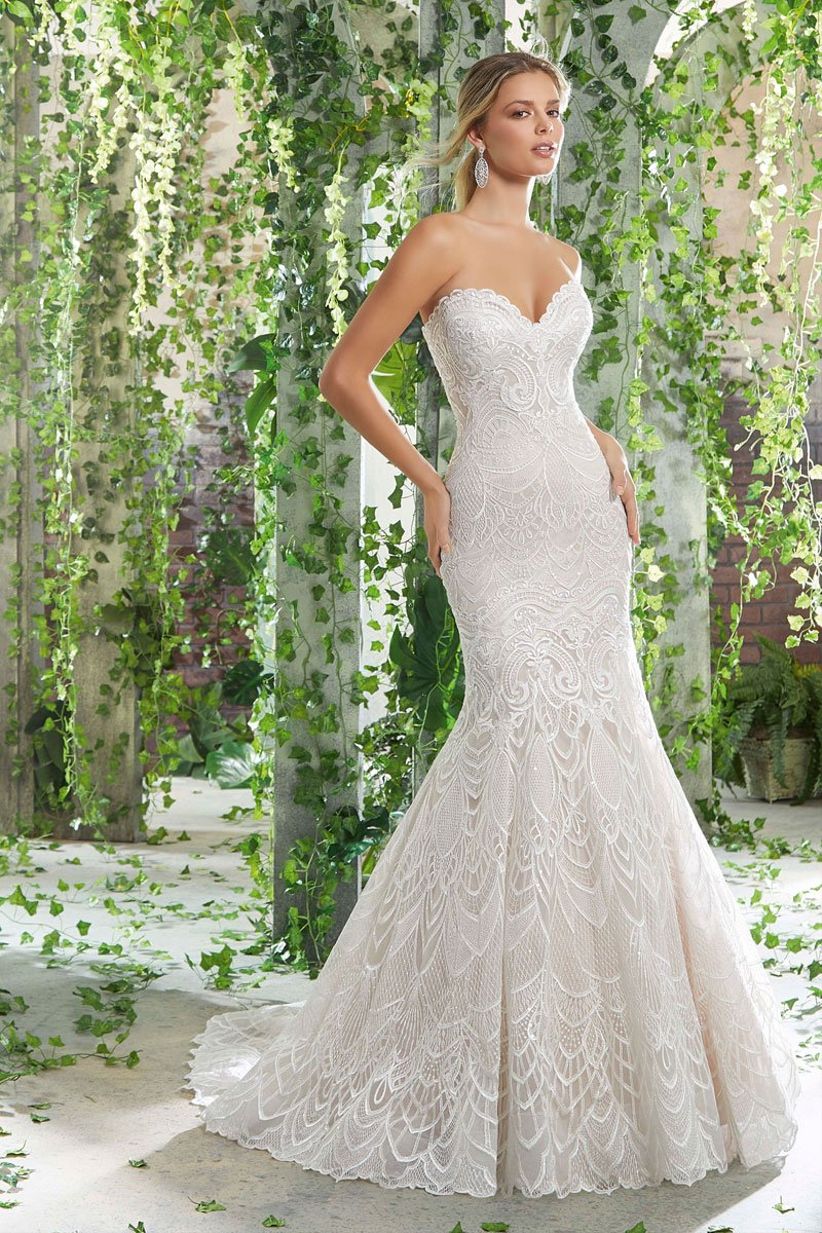 Art Deco Brides: Seek Out a Fit-n-Flare
Does your affinity for all things vintage land squarely in the Art Deco era? Look no further than the graphic fit-n-flare Pandora gown by Morilee by Madeline Gardner. Reminiscent of 1930s architecture and stately peacock feathers, this is the perfect curve-hugging gown for a Gatsby-loving bride. A strapless neckline sits above a skirt that's fitted around the hips, elegantly flaring so you can dance the night away in style.
Pandora, Morilee by Madeline Gardner
Modern Brides: Zip Up a Mermaid
Modern brides will love wedding dresses with sleek silhouettes and pared-down details, like the Pepper mermaid gown. A sculpted bodice adds the perfect amount of visual interest, while a slim satin skirt adds a touch of crisp shine as it flares out just above the knee. The modern shape lets a few simple details really stand out.
Pepper, Morilee by Madeline Gardner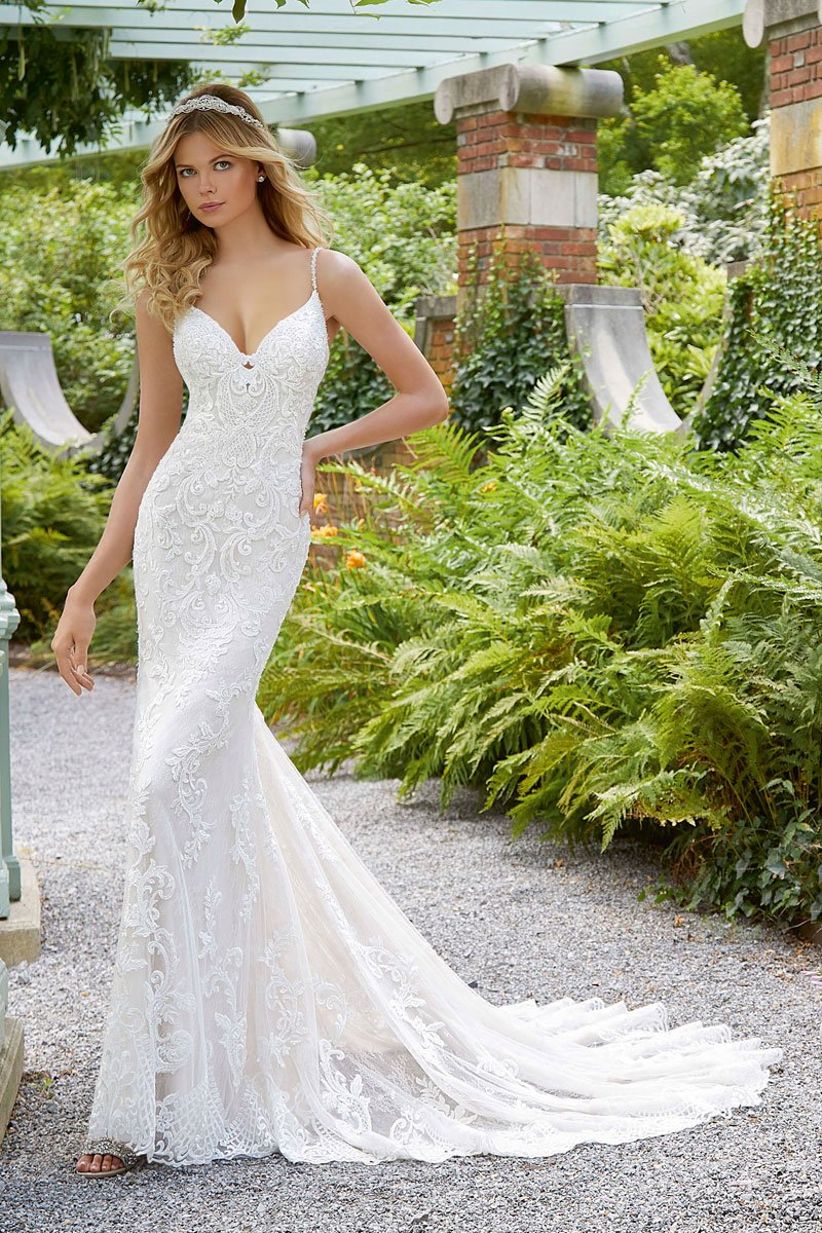 Beachy Brides: Slip on a Sheath
Planning to walk barefoot down a sandy aisle? You'll love a relaxed, airy sheath wedding dress silhouette. The Perdita dress by Morilee by Madeline Gardner has a soft skirt that drapes straight from the hip, making moving and dancing a breeze. Layers of lace top the tulle skirt, while the slim spaghetti straps are ideal for showing off your tan.
Perdita, Morilee by Madeline Gardner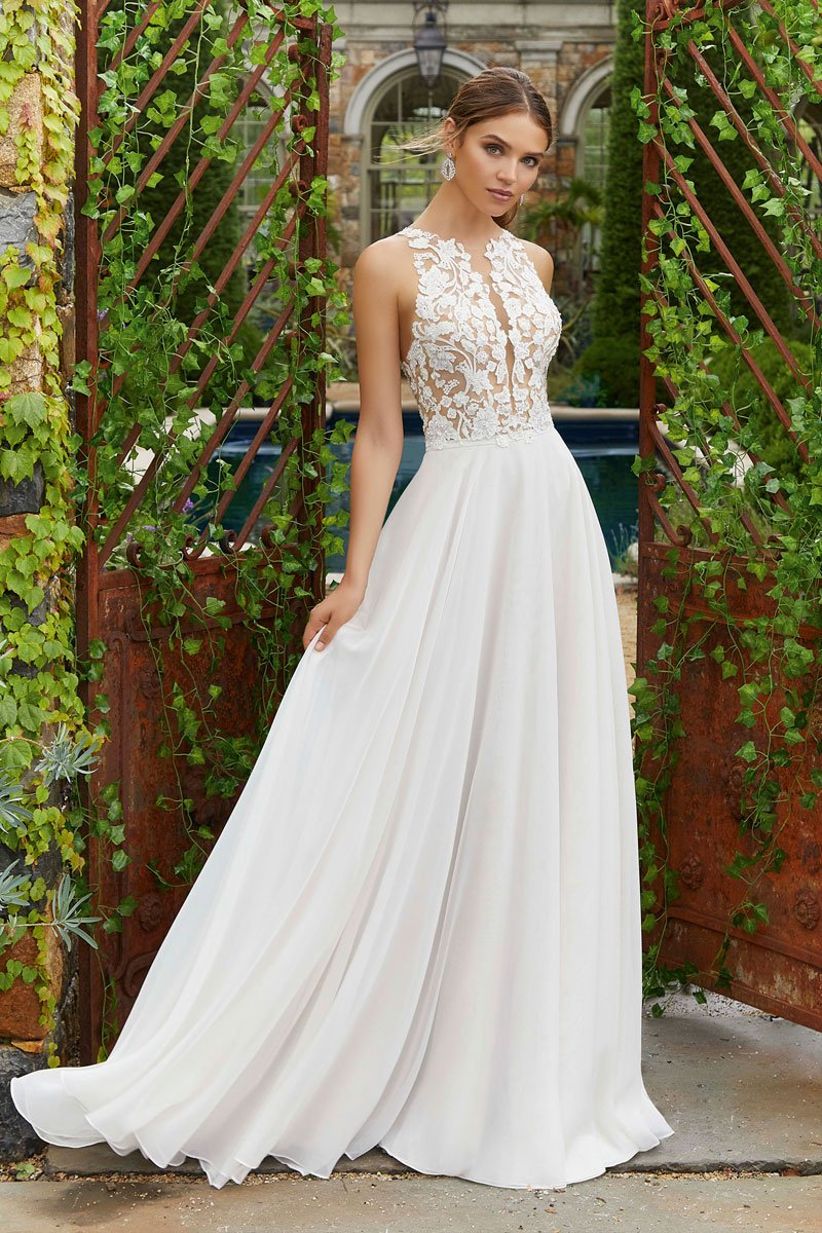 Boho Chic Brides: Opt for an A-Line
If you're a bohemian at heart, look for a soft and flowing wedding dress with floral accents to fit your laid-back aesthetic. The Polina gown pairs an illusion bodice, topped with flowers and vines, with a chiffon skirt that's designed to catch a breeze and flow around you on the dance floor. This gown would fit easily into any boho chic celebration, whether it's on a rustic ranch or the beaches of Tulum.
Polina, Morilee by Madeline Gardner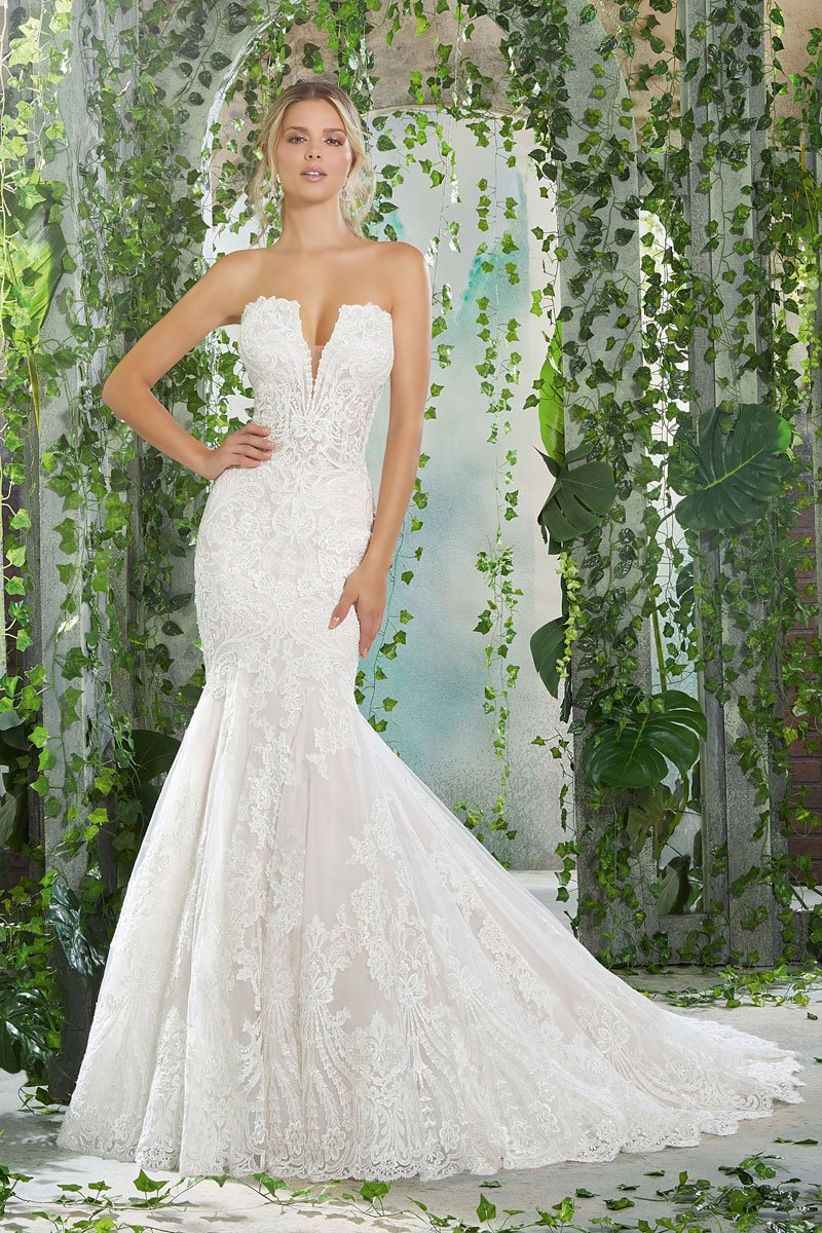 Glam Brides: Try Out a Trumpet
Want to infuse your glam wedding with a bit of va-va-voom? You'll love the trumpet Pellagia gown by Morilee by Madeline Gardner. It combines intricate lace, a sheer sculpted bodice, and a plunging neckline in a statement gown perfect for a detail-loving bride. A smattering of sequins cascades down the train, ready to catch the glow of candlelight.
Pellagia, Morilee by Madeline Gardner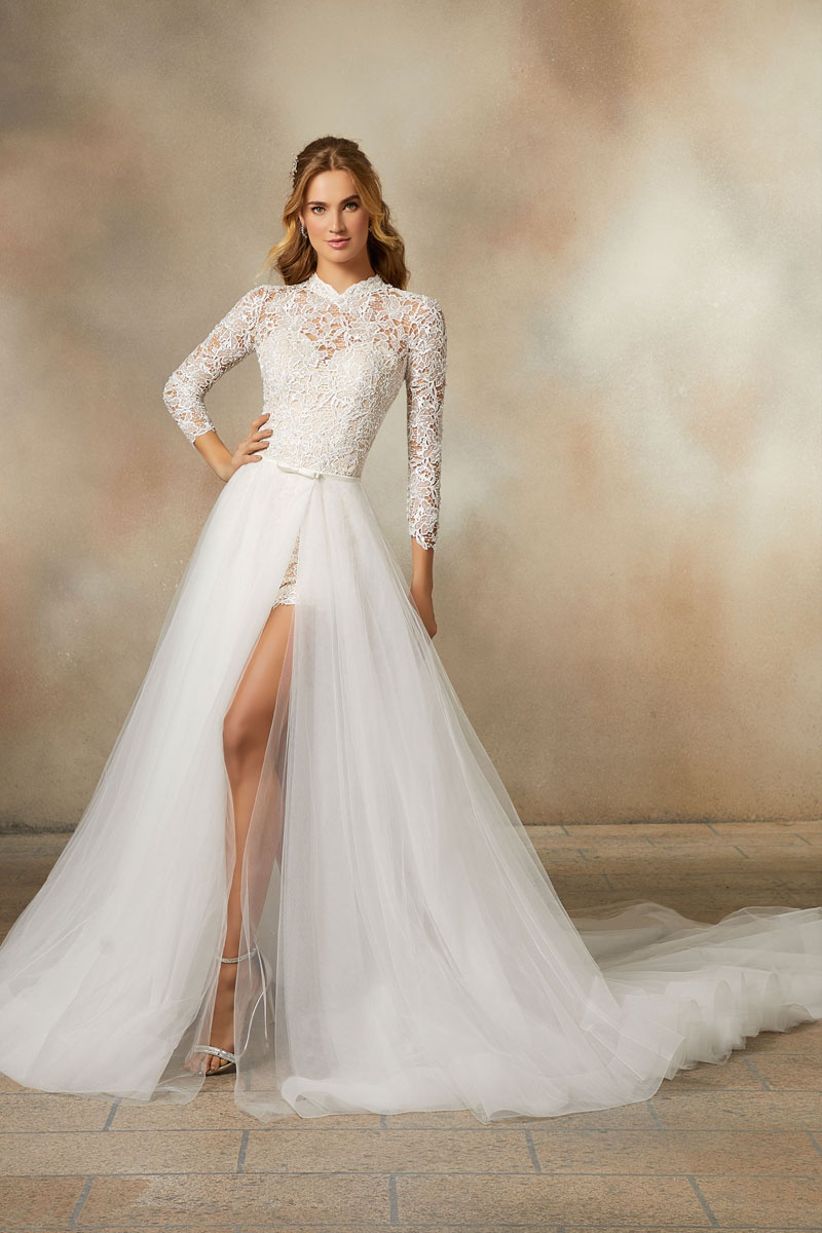 Fashion-Forward Brides: Rock a Romper
Turn your aisle into a runway in a fashion-forward gown that's ready to make a statement. Poesy features a guipure lace romper with wrist-length sleeves and a modern high neckline. For the ceremony, cover the leg-flaunting shorts with a layered tulle overskirt, finished with a high slit. Then when it's time to dance, remove the skirt and you'll be ready to party in the blink of an eye!
Poesy, Morilee by Madeline Gardner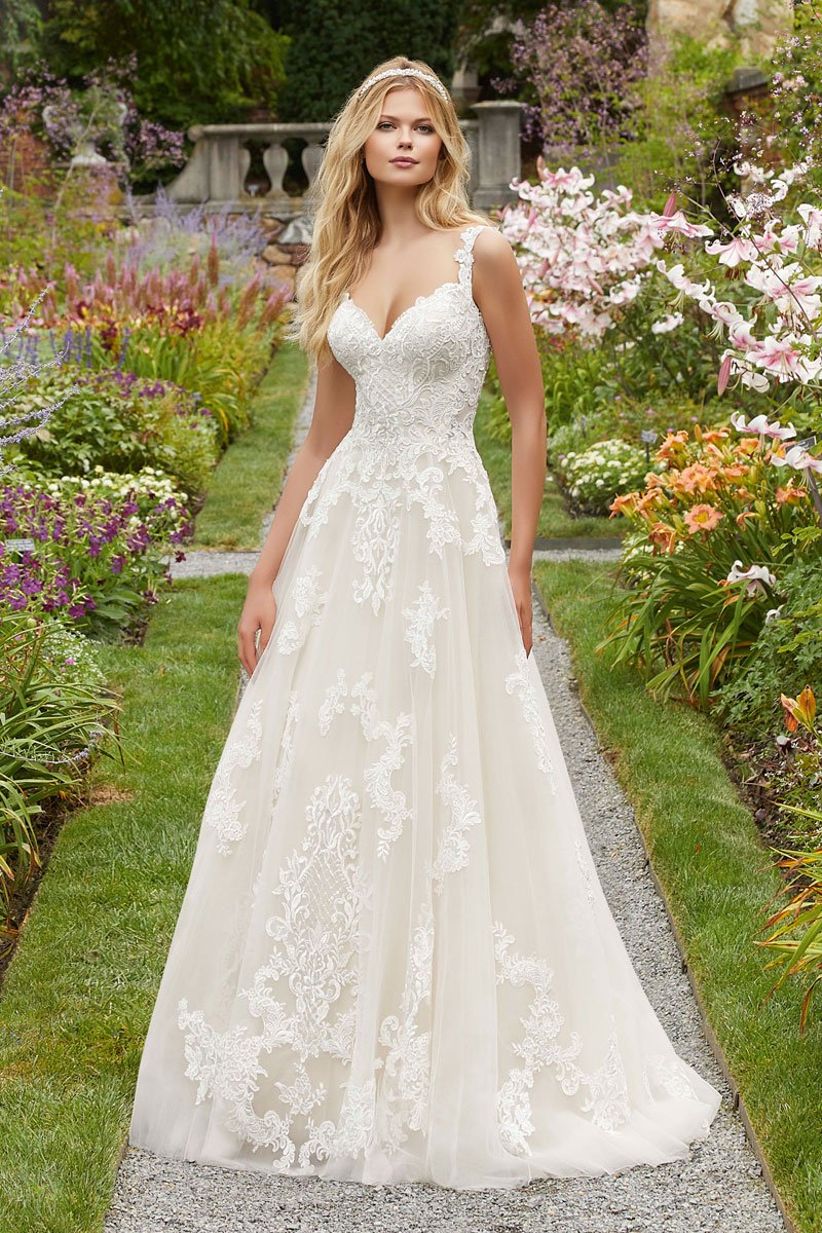 Garden Brides: Glow in a Ball Gown
Surround yourself with lush greenery and blooming flowers at a garden wedding, and don a ball gown silhouette to match. The Paoletta gown by Morilee by Madeline Gardner has a full, voluminous skirt that's accented with ornate lace medallions. The elegant straps look like garlands of ivy growing over the shoulder, while the layers of soft tulle are ready to catch an early summer breeze as you walk down the aisle.
Paoletta, Morilee by Madeline Gardner