If you've always dreamed of getting married surrounded by nature and are planning a wedding in Oklahoma, we definitely recommend checking out the many outdoor wedding venues near Tulsa, OK. And fortunately, there are a wide variety of outdoor wedding locations in and around Tulsa, from rustic farms to historic mansions and more. Most of these venues also have indoor spaces as well, which should definitely ease your mind if you're at all concerned about inclement weather.
Check out these outdoor wedding venues near Tulsa, OK to start planning your ceremony and reception.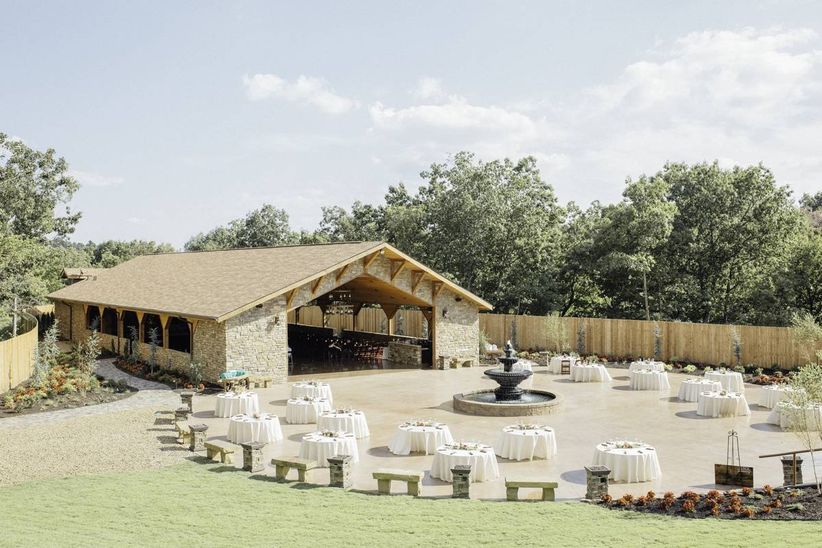 RFC Event Center
There are a lot of rustic wedding venues in the Tulsa, OK area, but this one in Jay is one of our favorites because of its ample outdoor space. Located near the Neosho River and Lake Eucha, the RFC Event Center features a 5,000 square foot outdoor pavilion (available for weddings from April through October) complete with a grand fountain, wagon wheel chandeliers, fireplace, and more. There's also the indoor Event Center with its stone fireplace, two bars, game area, and more. This venue can host special events of up to 300 guests, and on-site accommodations are available for you and your nearest and dearest.
Learn more about the RFC Event Center »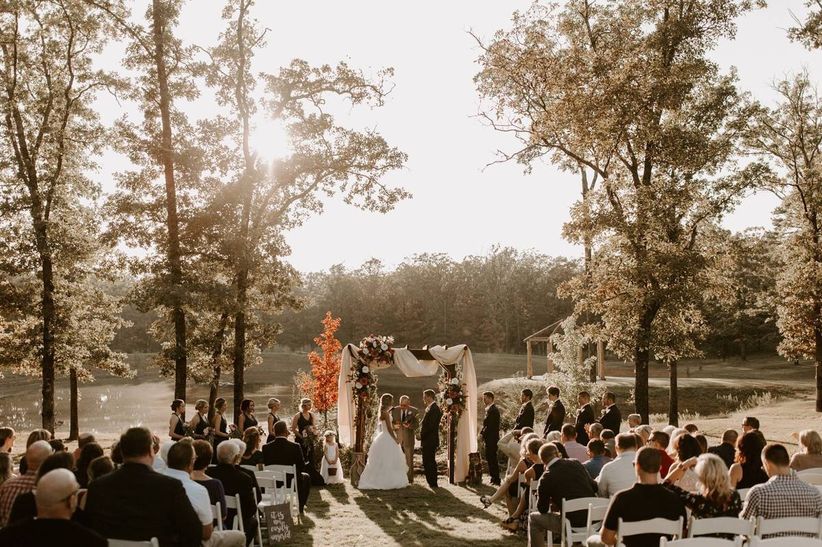 The Pines at Moser Farms
For couples looking for a woodsy setting, this outdoor wedding venue near Tulsa, OK is particularly ideal. Located in Vian, The Pines at Moser Farms has several serene ceremony settings to choose from—near a peaceful pond, inside a rustic wooden gazebo, or in a boho-chic wooded area surrounded by gorgeous pine trees. Receptions are typically held in the ranch barn, which can host up to 275 guests. You can also take advantage of the variety of rental items, from tables to chairs, altars, arches, centerpieces, and more to easily and conveniently decorate your big day.
Learn more about The Pines at Moser Farms »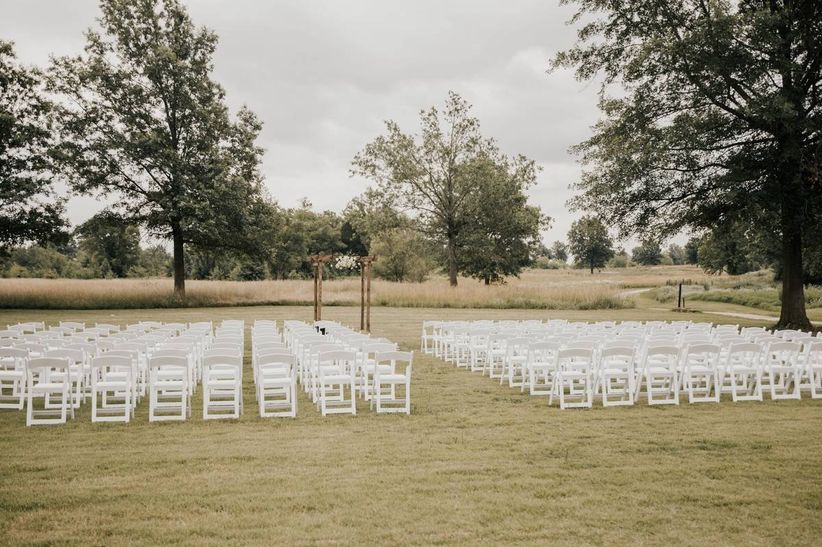 The Reserve at Emerald Falls
This Couples' Choice Award-winning venue in Broken Arrow is one of our top outdoor wedding venues near Tulsa because of its spacious setting. You can host both your ceremony and your reception outside, if desired—plus, there are plenty of gorgeous photo backdrops on the grounds for some truly amazing wedding portraits. We also love the rustic-elegant clubhouse as an indoor option, featuring high ceilings, a marble fireplace, and an all-glass veranda that opens onto an outdoor patio. The Reserve at Emerald Falls can host weddings and events for up to 200 guests.
Learn more about The Reserve at Emerald Falls »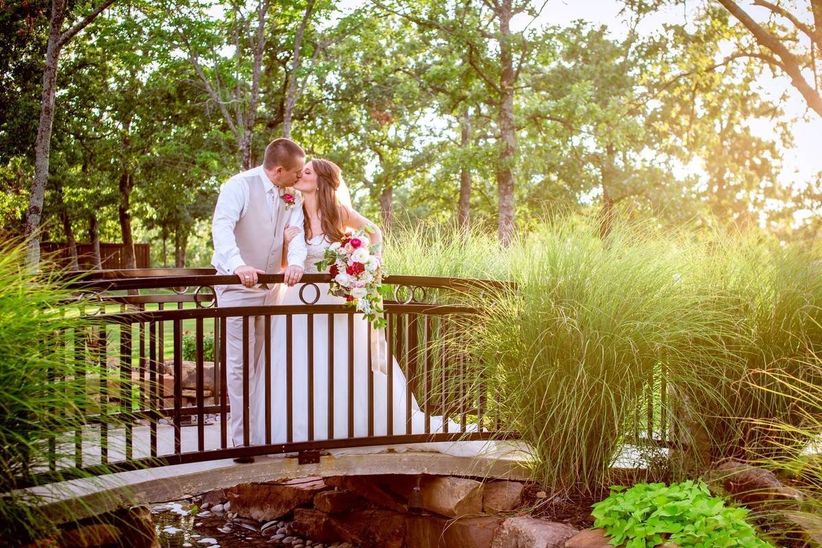 The Springs in Tulsa
This is an outdoor wedding venue near Tulsa that really has it all—a serene lake, gorgeous gardens, rustic and classic event spaces, and much more, just 30 minutes from Downtown Tulsa. We particularly love the outdoor ceremony space underneath the wooden pavilion with the lake shimmering behind you. Receptions may be held inside the hall, with its polished concrete floor for dancing, a majestic staircase, and built-in bar. You'll have the whole beautiful venue to yourself on your wedding day, and you can choose any local vendors you wish to turn your wedding dreams into reality.
Learn more about The Springs in Tulsa »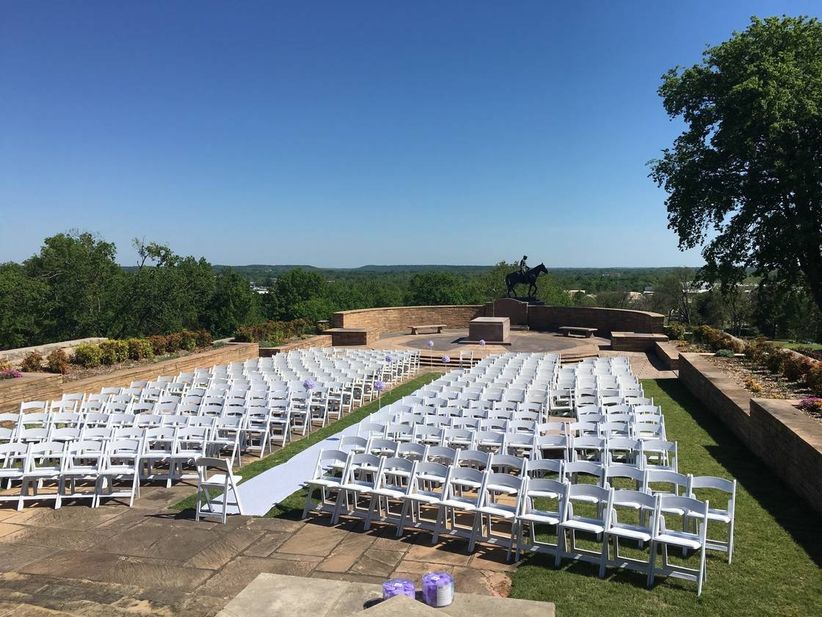 Will Rogers Memorial Museum
Any Oklahoman knows that the famed performer Will Rogers is one of the Sooner State's favorite sons. But did you know that you can actually get married at Will Rogers' birthplace? Yes, the Will Rogers Memorial Museum is a popular outdoor wedding venue, located near Tulsa, featuring expansive grounds for you to host your ceremony and celebration. There are several outdoor ceremony locations, from the back patio overlooking the Oklahoma countryside, to the museum's front steps. Enjoy dinner and dancing inside the museum or on the patio. The museum has a capacity of 300 guests, while the nearby ranch and barn, which are also available for even larger outdoor events, has a capacity of 500 guests.
Learn more about the Will Rogers Memorial Museum »
Rick's Place
There's something so special about getting married on a real Oklahoma cattle ranch, and this outdoor wedding location near Tulsa totally has that country-chic setting. Located on 160 acres of meadows and cattle pastures, this event venue offers beautiful locations for both outdoor and indoor events. Exchange vows overlooking the scenic countryside, with dinner and dancing in the climate-controlled barn reception venue, which features a fully covered back porch, stone fireplace, and more. Rick's Place can accommodate up to 300 guests.
Learn more about Rick's Place »
Restore House
We adore the charming, historic feel at this outdoor wedding venue in Broken Arrow, near Tulsa. It almost feels like getting married in your own backyard—but better. The 1910 Victorian home has lovely grounds where you can host your wedding ceremony, adorned with a rustic wooden open-air pavilion. Receptions may be held both inside the house and outdoors. Restore House has an open-vendor policy, so you can choose the best pros to bring your wedding vision to life. This venue, which has a capacity of 250 guests, can also host showers, rehearsal dinners, and other special events.
Learn more about Restore House »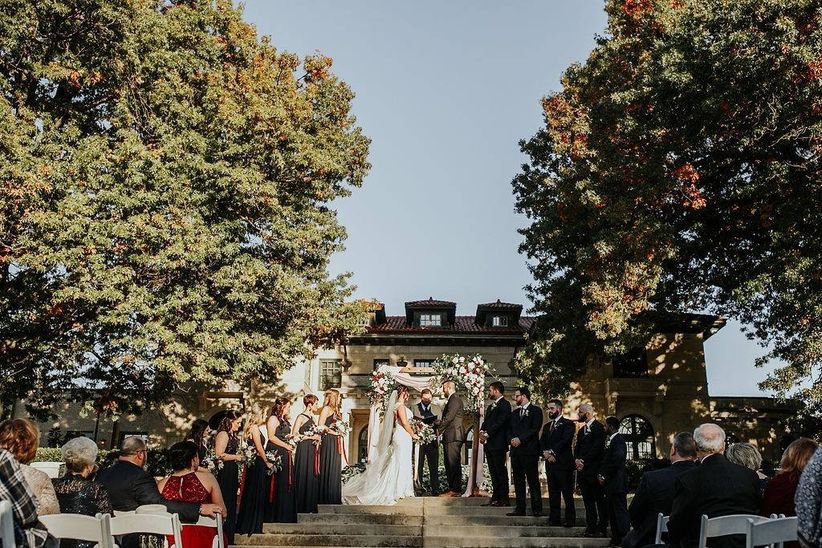 The Mansion at Woodward Park
This Tulsa wedding venue is located inside the Woodward Park complex and is ideal for a romantic, garden wedding. Whether you're hosting an intimate wedding for under 100 guests or a larger event with up to 250, this venue is one of the prettiest in the area for your special day. The venue is surrounded by the Tulsa Garden Center, and features ample outdoor space for ceremonies, with the mansion as your backdrop. Receptions may be held inside the intimate South Room with its ornate ceilings and chandeliers, the Foyer, with its black-and-white checkerboard marble floors and terrazzo staircase, or the 2,800 square foot auditorium. There are also numerous scenic spots for wedding portraits, including a rose garden, an arboretum, and a Victorian conservatory.
Learn more about The Mansion at Woodward Park »