How to Make a Long-Distance Relationship Work
If you and your partner are separated by many miles, there are several things to do in a long-distance relationship to ensure a successful partnership.
We have included third party products to help you navigate and enjoy life's biggest moments. Purchases made through links on this page may earn us a commission.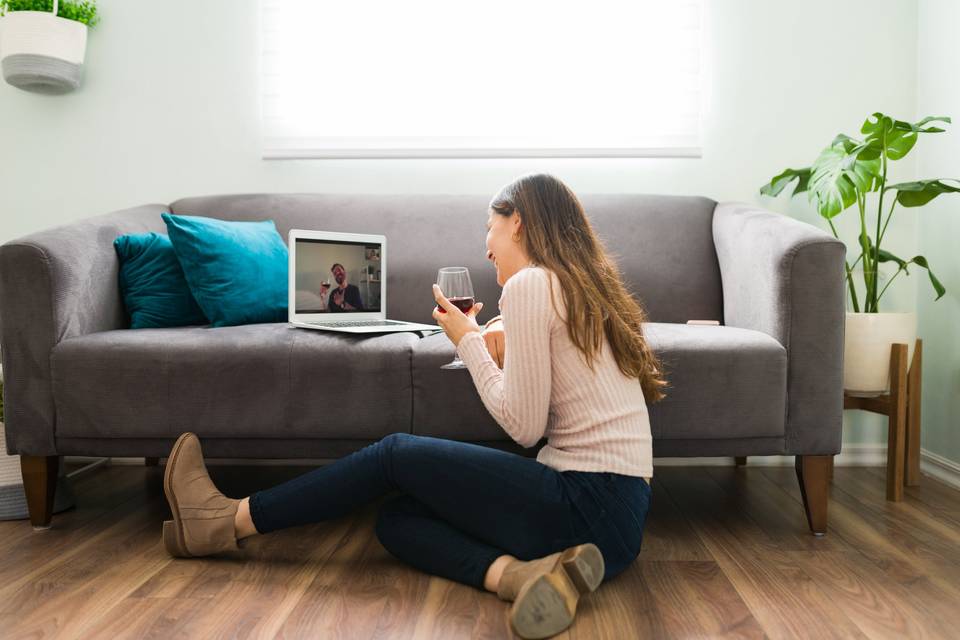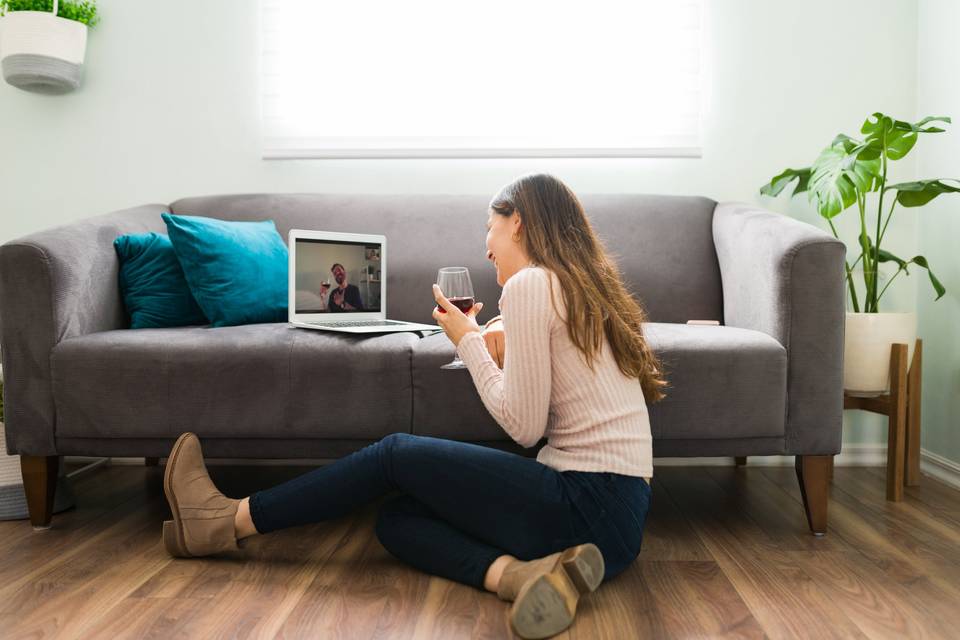 While absence makes the heart grow fonder, it can feel unbearable for those in a love affair that's separated by many miles. Though not impossible, it takes effort, commitment and patience from both partners to make a long-distance relationship work. It also requires planning, constant communication, flexibility and a dash of creativity. If your beloved significant other lives a few states or time zones away, you know the struggle all too well. To keep your romance and connection alive, it's important to prioritize one another, albeit from afar. Here, we talked to relationship experts about fun activities and sweet ideas to strengthen your long-distance love.
Why are long-distance relationships so tough?
In a dream world, our one-and-only would live under the same roof as us, and we'd fall together each night. However, reality and circumstances sometimes force duos to become a long-distance couple. This changes the dynamic of your partnership, and well, it's not always easy. First and foremost, it's very hard to replicate an in-person, local relationship with a long-distance relationship, says Dr. Yvonne Thomas, Ph.D., a Los Angeles-based psychologist. "You can't do things together, from the more mundane activities like running errands to going out for hobbies, activities, events or date nights in person," she continues. "Plus, physical affection and intimacy are an important component in a love relationship, and the inability to touch, hug or kiss can diminish your bond."
And though you may communicate with your partner via text messages, Zoom, Skype, video calls and so on, you may still experience feelings of loneliness. This is especially true if you live on opposites sides of the country — or world — and have to calculate time zones daily. It may be an uphill battle, but there are ways to find common ground that strengthens your long-distance love.
How to make a long-distance relationship work
If you have decided to be part of a long-distance relationship, you have signed up to roll up your sleeves and put in more work than you would with someone who lives a few streets down. Here, some ideas right from the experts:
Be creative and intentional with your significant other.
The things that keep long-distance relationships thriving are, in a way, the same things that keep all relationships thriving, says psychiatrist Dr. Kathryn Ford, M.D. However, they just require a little more work than traditional face-to-face relationships. While this may seem like a downfall, Dr. Ford says it can be an upside. "Many relationships falter because of lack of intentionality and creativity in guiding the relationship," she continues. "When you are in a long-distance relationship, the difficulties that occur due to the lack of this kind of attention show up sooner and larger."
This can improve your love because you have to pay attention to what you need to feel connected and happy. "Become active learners: experiment, learn, and then redesign your ways of connecting," Dr. Ford adds.
Express Love Languages in non-traditional ways.
If you haven't already, order The 5 Love Languages: The Secret to Love that Lasts by Gary Chapman for you and your partner. It's a classic relationship advice book that helps couples (whether long-distance or not) determine how one another likes to give and receive love. By understanding what your partner needs and educating them on what you need, you can better navigate issues as they arise. Plus, just because you can't physically be in the same room, that doesn't mean you can't have FaceTime or Zoom sessions where you can see each other and give each other undivided attention, says Elena Murzello an author and love expert. "If the pandemic taught us anything, it was how to make physical events fun virtually," she says.
Here are some examples of long-distance relationship activities based on love languages, as recommended by Murzello.
Quality time: You can cook a meal together, work out or watch a movie or TV shows all virtually. Or maybe create a playlist and have a dance party or pick some online games and compete against one another.
Words of affirmation: Sending daily text messages or emails can help show how much they are appreciated. Even better? Snail mail love letters they will treasure forever.
Gifts: Gifts are nice; they don't always need to be lavish — but thoughtful. Put together a meaningful care package of their favorite things just because you love them.
Acts of service: When you communicate regularly, try to tune in to what your long-distance partner is struggling with and then figure out how to make it easier for them. This could tie into an act of service, like grocery delivery, a housekeeping service, and so on.
Physical touch: This is the hardest one for a long-distance relationship, but you can prioritize it with some steamy chit-chat and phone calls (there are even sex toys that can help spice up a long-distance partnership). Carve out some time to plan your next in-person visit will help build up the excitement. And psst: if you can pull it off, a surprise visit can make their dreams come true!
Communicate with your loved one.
As Dr. Ford says: all relationships need more communication that we usually make room for. But this is even more important when you're in a long-distance romance since you have to put more effort into staying in touch. "Yes, communication is, at times, difficult and energy-requiring," she shares. "Listening well, especially, is challenging. Make sure that you allocate some of your time and energy for listening well."
To help make communication an everyday ritual, Dr. Thomas suggests blocking your calendars for 30 minutes (or more) where you will only talk to one another. That means no multi-tasking! "It's best to communicate where you can both see and hear each other, such as on WhatsApp, Zoom, Skype, or FaceTime," she says. "This way you can connect not just be hearing each other, but by also seeing each other virtually. During these calls, continue getting to know each other and deepening your relationship by asking questions, listening, laughing together, saying loving or flirty things."
Balance the novelty with the familiarity.
When you're in a long-distance relationship, there is plenty of longing. You miss your person. You wish they were there. This can make your in-person meetings that much more exciting and romantic, but it can also take away some of the everydayness that makes for an enduring relationship. That's why Dr. Ford says to be deliberate and predictable about as many things as possible with your long-distance partner. "Make sure that the little things get shared when you talk," she continues. "You need to know some of the mundane stuff about each other's experience: what you had for breakfast, how annoying it was not to be able to find a parking place."
If your dynamic is solely focused on building up to romantic in-person meetings, you'll never create the foundational building blocks that make for a happy, thriving relationship. By leaning on each other through the in's and out's of lives, you strengthen your trust in one another and improve your partnership. During your phone calls, don't shy away from uncomfortable topics.
As Dr. Ford says, all couples tend to blame each other when things are hard, and you need to become experts at not doing this. "Long-distance relationships contain an extra measure of feeling out of control, performance anxiety, loneliness and insecurity. Talk about your experiences of these. Work together to problem-solve to mitigate these difficulties," she shares. "Then show up with compassion for yourself and each other for these extra miseries."
Invest in self-care while you're apart.
You can't bring your best self to your partner if you aren't taking care of yourself first. Though it may be tempting to wallow in self-pity, looking through a photo album of photos with your LDR significant other, it's better to plan fun activities and experiences that bring you joy. This could be a favorite workout class you attend each week, joining a book club with other likeminded folks, recording your music for Spotify, or simply taking a bath!
As matchmaker Susan Trombetti says, don't let the sadness of being apart make you a couch potato. "Realize when you are apart doing things you are passionate about, it will make your time together that much more interesting," she says.
Always have an in-person date night on the calendar.
In some long-distance relationships, knowing the next time you will be face-to-face is impossible, such as if your partner is in the military or you're apart because of closed borders due to the pandemic. But in most cases, you can go ahead and schedule your next visits — and you should, Dr. Thomas urges. "Knowing when there will be visits coming up can provide comfort, reassurance, and patience to both of you when you aren't together in person and are relying on virtual or remote ways to connect," she adds.
And though you will spend time reconnecting in the privacy of your home, make sure you have fun activities planned, too. There are tons of exciting and romantic date ideas! Your date nights can include watching movies on Netflix, checking something off of your bucket list, going on a trip, exploring the great outdoors, and more.