5 Signs Your Partner is Cheating on You
Got a suspicion your partner is sneaking around? Here are some signs your partner may be cheating on you.
We have included third party products to help you navigate and enjoy life's biggest moments. Purchases made through links on this page may earn us a commission.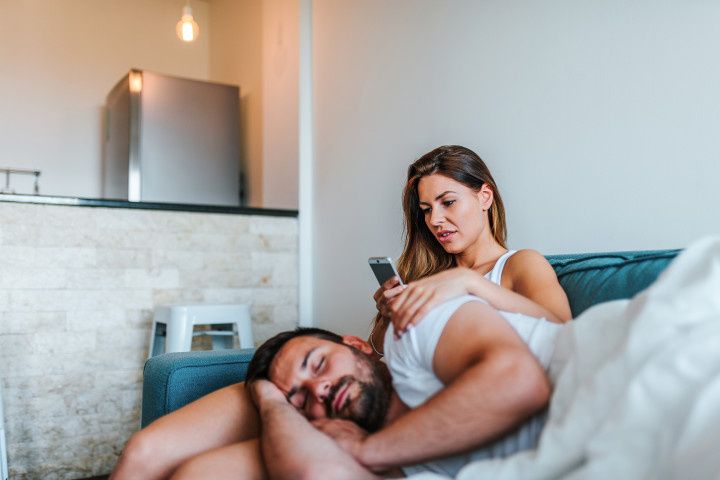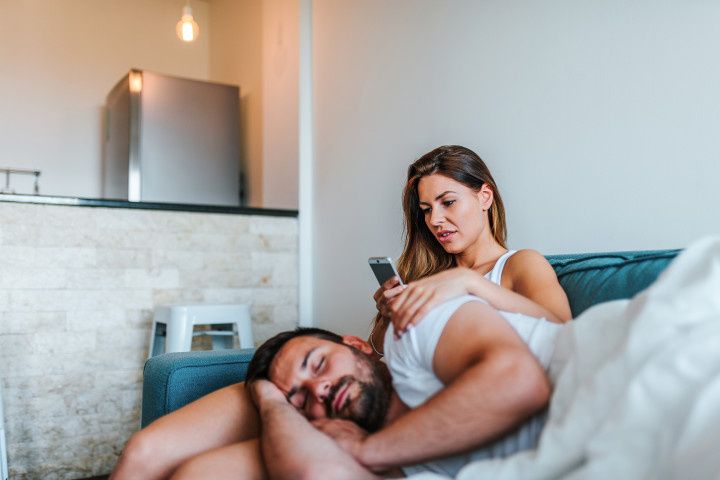 No one wants to even think about the possibility that their partner could be cheating on them; however, it's undeniable that the act happens. Of course, if you're dating someone you consider to be a potential life mate, it's important that you find out sooner rather than later if he or she is being unfaithful to you—ideally before you're rocking matching wedding bands. While there's no way to fully predict whether or not someone might cheat on you, there are some clear signs your partner is cheating.
Here, relationship experts share signs your partner is cheating if you're starting to suspect something is going on.
You had to talk him or her into monogamy.
If committing to one person was a hard sell for your mate, or if you had to make promises and offer rainbows and it was still challenging, then he or she may not have really been ready, according to Dinorah Nieves, Ph.D., a counselor, behavioral scientist, and author of the new book Love YOU: 12 Ways to Be Who You Love & Love Who You Are says. "People will sometimes just acquiesce to a request for monogamy," she says. "If desires and skill sets don't change, that choice may not be sustainable."
They're acting differently.
If you notice a stark change, not only in the way your partner behaves in general, but in the way he or she behaves towards you, this may be a sign your partner is cheating. While it might not necessarily be that he or she is cheating, it most definitely warrants a discussion about his or her withdrawal (relationship apps like Lasting can help with these difficult conversations). "Perhaps in the past when you were upset his baseline was to talk or ask questions and now he is dismissive or disinterested, or when you ask him to do something he may appear lazier or unmotivated," says Paulette Sherman, Psy.D., psychologist, director of My Dating & Relationship School and author of Dating from the Inside Out. "He may be focused on another relationship and is emotionally checked out of yours."
They are constantly accusing you of cheating.
Many cheaters are often insecure about their own partner's commitment to them. Since they're unfaithful, they may assume that their partner is unfaithful as well. "A guilty conscience is a heavy weight to bear and it can make people suspicious and even paranoid," says Dr. D. "If someone is constantly accusing you of cheating, that could be a sign that he or she is keeping a secret of his or her own."
Their habits have changed without context.
If all of a sudden your significant other gets haircuts and dresses nicer for no apparent reason, and it doesn't seem to be done in an effort to impress you, Dr. Sherman warns that it could be for another lover and may be a sign your partner is cheating. "This additional grooming effort could be a sign of trying to look sexy and attractive for someone new," she says. "This is especially true if they aren't spending time with you or trying to elicit attention from you."
They're being secretive.
People have a right to their privacy, but Dr. D, warns that secretive people exploit that. "They hate being asked questions, particularly about details of their stories that don't add up, and they easily become defensive and often resent having to give any explanations," she says. "They also tend to keep their phones, tablets and other devices out of sight and their communications hidden."
Disclosure: This post contains affiliate links, some of which may be sponsored by paying vendors.