10 Romantic Bridesmaid Dresses Your 'Maids Will Love
Want your leading ladies to rock a look that's effortlessly feminine? Check out these romantic bridesmaid dresses.
Sponsored by

Romantic bridesmaid dresses pair well with an elegant or intimate setting because their designs focus on delicate and ethereal details, like lightweight fabrics, soft colors, and relaxed necklines. From loose off-the-shoulder necks, to airy chiffon skirts, to dreamy pink or burgundy colored gowns, romantic bridesmaid dresses offer endless options for creating a swoon-worthy bridal party look. If you want your squad to give off fairytale vibes on the big day, you're in luck. We partnered with David's Bridal to showcase a variety of romantic bridesmaid dresses that will sweep you off your feet.
These romantic bridesmaid dresses are meant for a wedding that's filled with candles, lush florals, and more.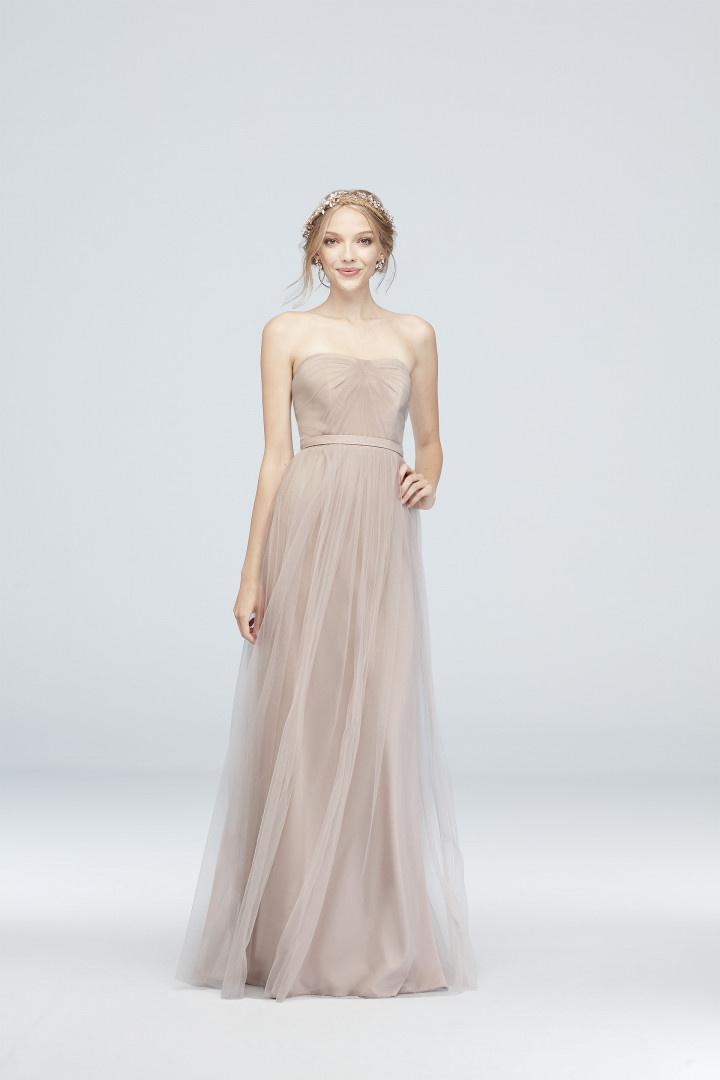 Dress Style: F19958
Not everyone is built the same, which means this convertible tulle gown is perfect for giving your 'maids a variety of romantic neckline options. From halter to tank to one-shoulder, your 'maids can mix and match an array of different styles for an effortlessly gorgeous look. $180, David's Bridal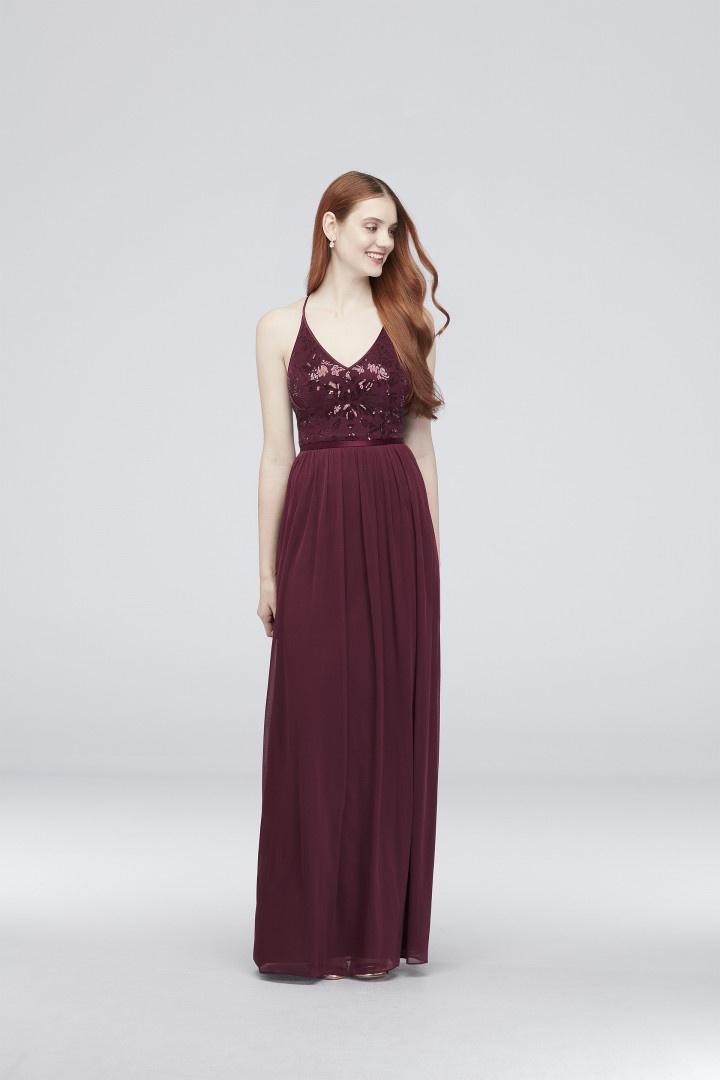 Dress Style: DS270019
Featuring a sequin-embellished bodice atop a flowy mesh skirt, this burgundy-hued A-line is the perfect mix of sultry and sweet. $120, David's Bridal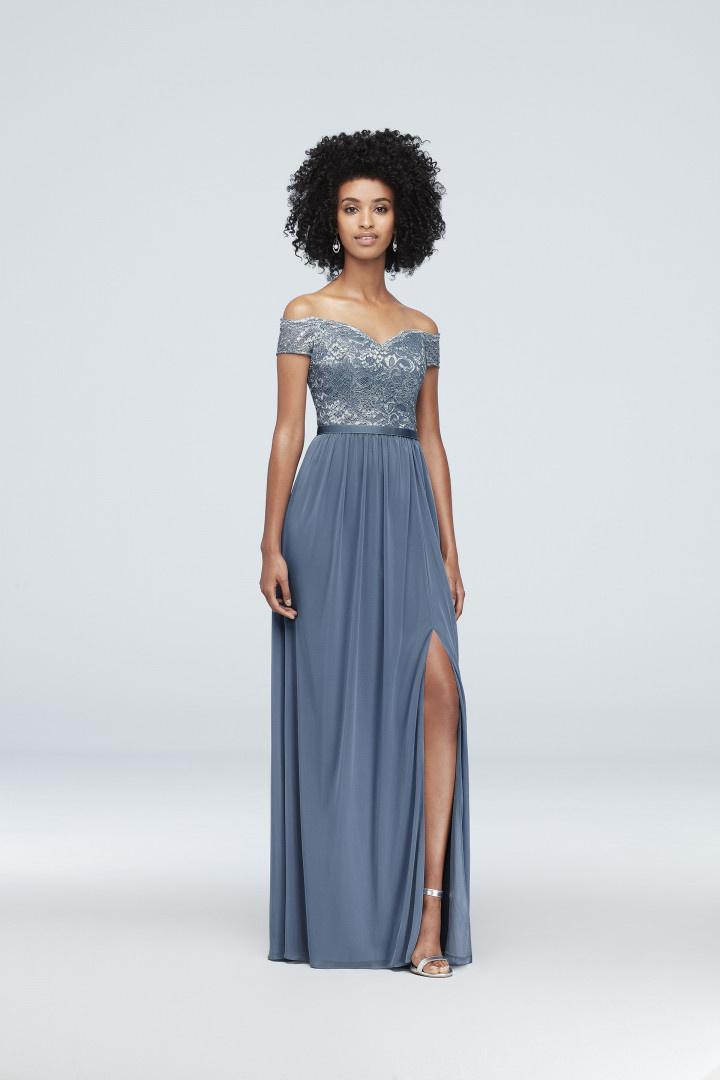 Dress Style: F19950
The romantic off-the-shoulder neckline paired with delicate lace creates a feminine look that's made for an intimate affair. $150, David's Bridal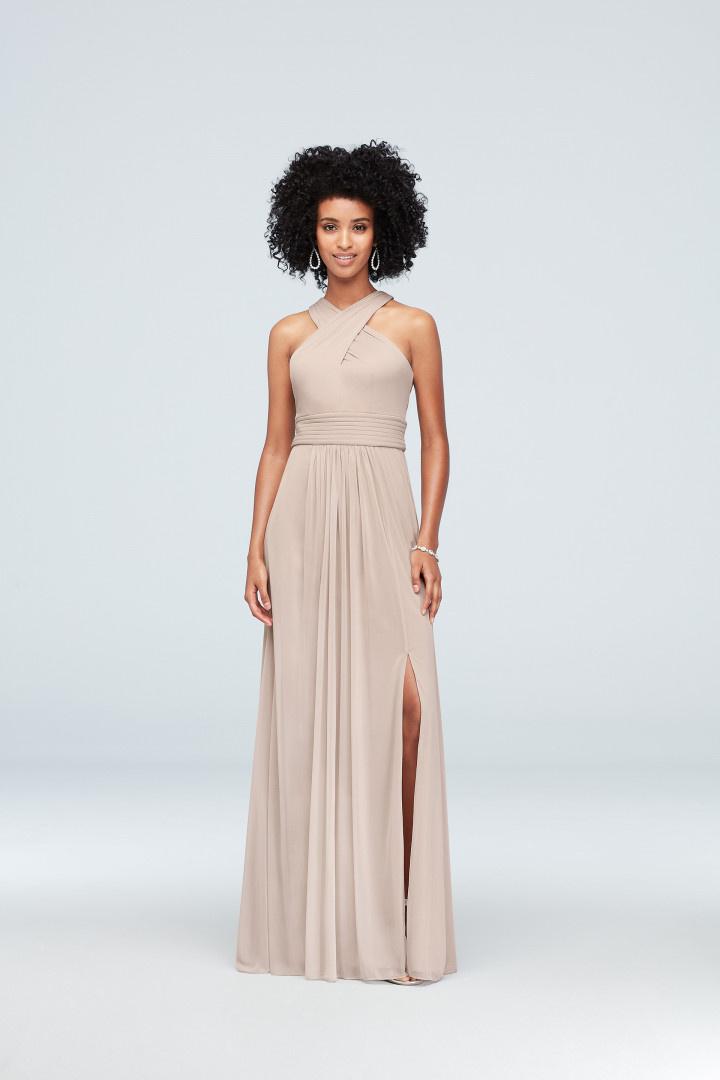 Dress Style: F19952
The crisscross halter neck on this romantic bridesmaid dress gives off major goddess vibes. It's accessorized with a side slit to show off some skin and add some sass. $140, David's Bridal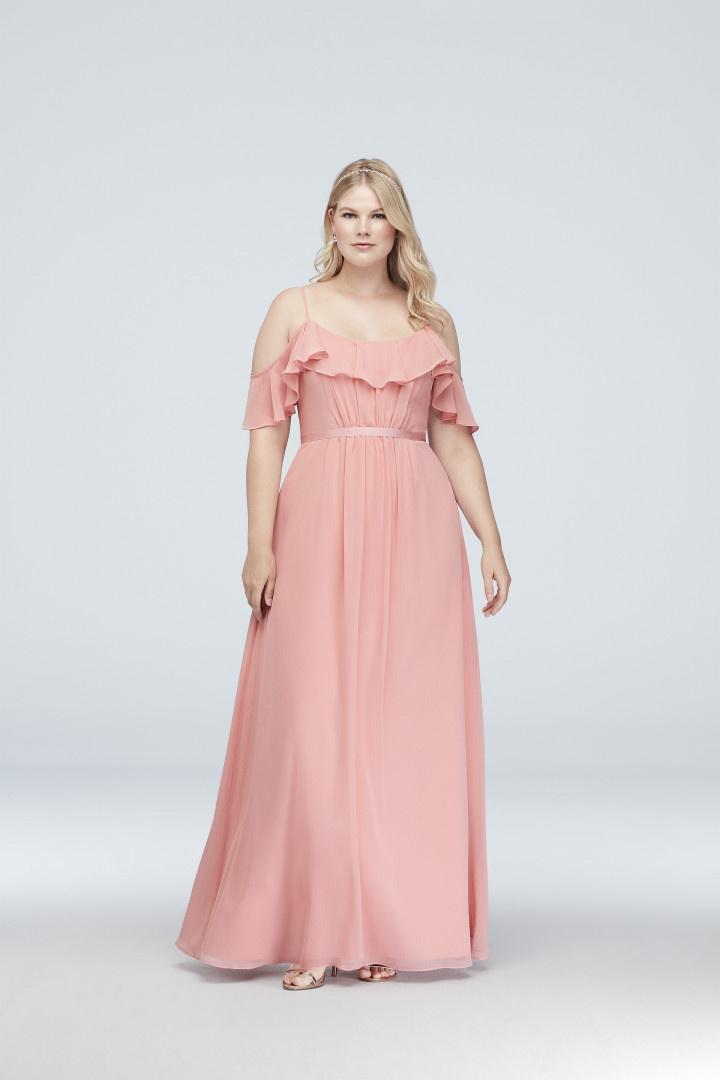 Dress Style: F19508
Accessorized with a ruffled bodice and whimsical cold-shoulder sleeves, this dress is made for a romantic outdoor fête. $160, David's Bridal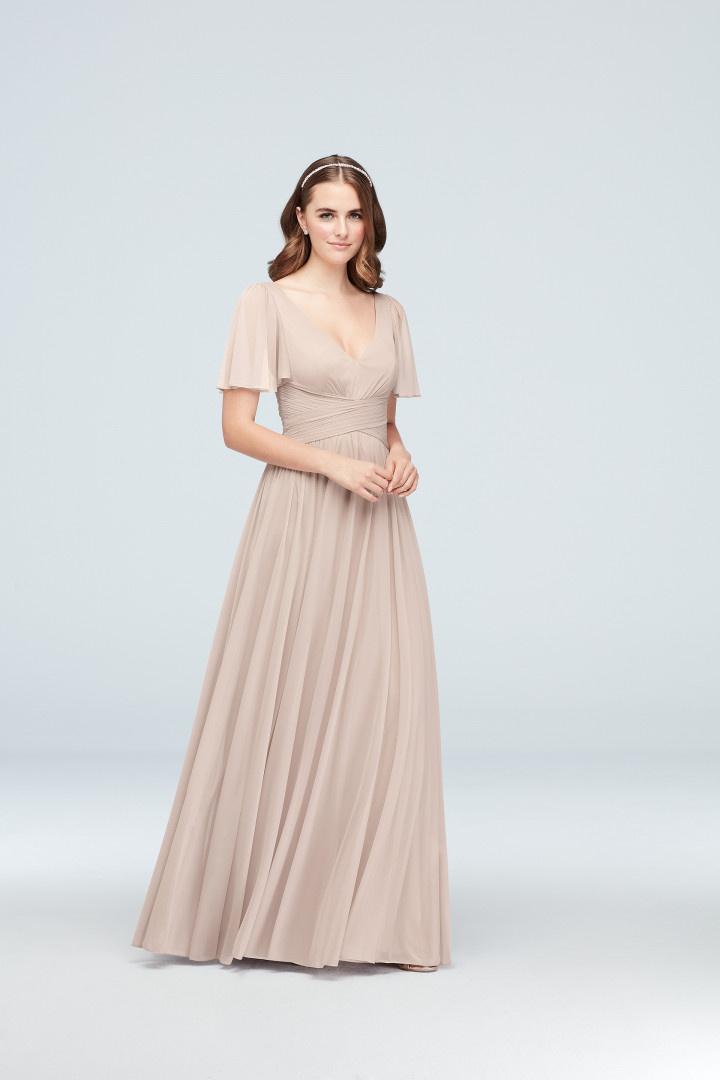 Dress Style: F19933
Flutter sleeves are a great choice for a romantic bridesmaid dress style. Paired with a flattering cross-cross waistband and full skirt your 'maids will definitely look like they are floating down the aisle in this number. $150, David's Bridal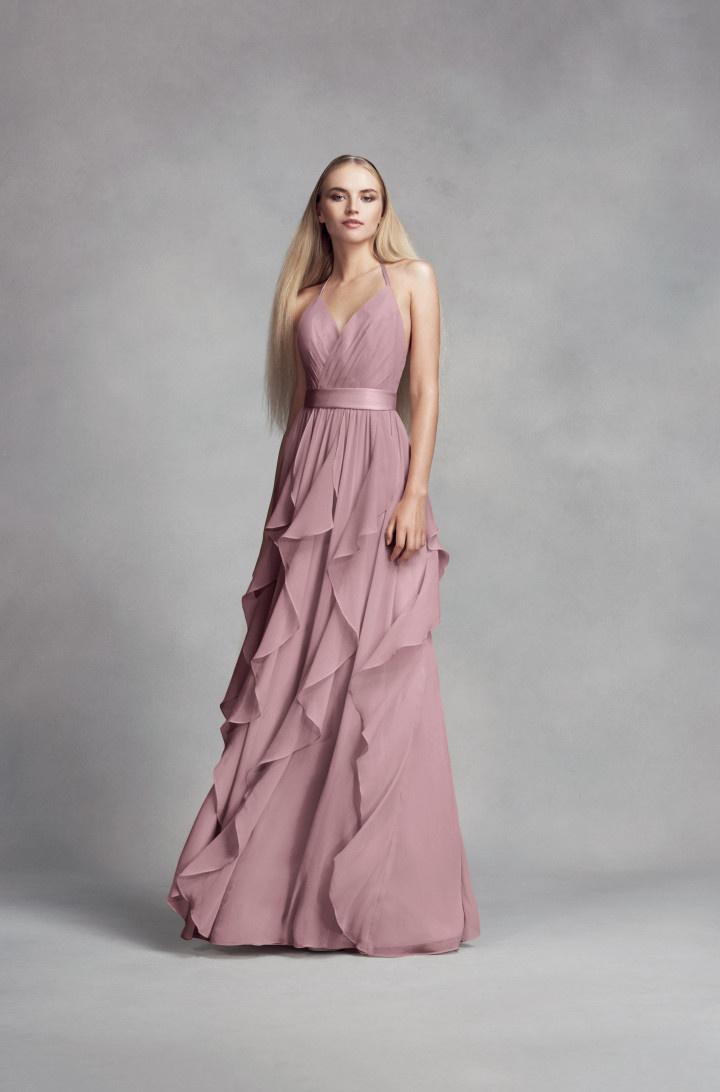 Dress Style: VW360326
Your gals will swoon in this sleek gown featuring cascading ruffles. The lavender quartz color and satin sash also help evoke a flirty and feminine vibe. $200, White by Vera Wang for David's Bridal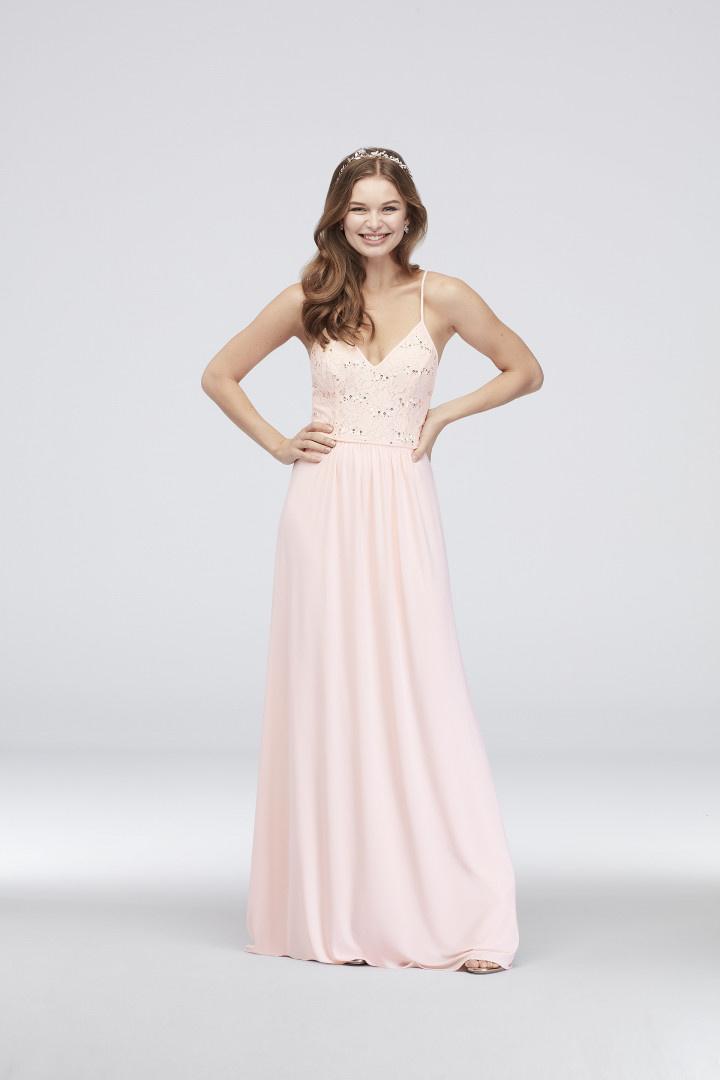 Dress Style: DS270003
If you want your 'maids to shimmer as they walk down the aisle, then you'll love this blush spaghetti-strap gown. The bodice is adorned with eye-catching sequins that provide just the right amount of sparkle for a romantic bridesmaid look. $100, David's Bridal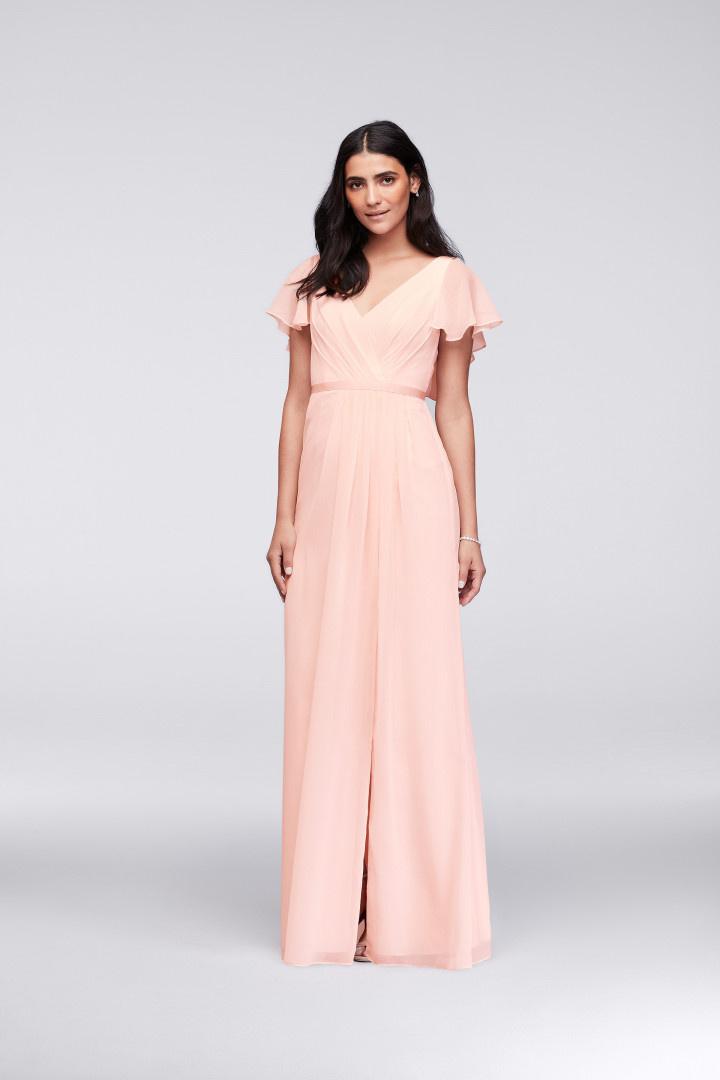 Dress Style: W11446
Looking for a classic bridesmaid dress with a romantic twist? This timeless pink chiffon gown features relaxed flutter sleeves and a darling ribbon waistband to give the whole look a fairytale vibe. $160, David's Bridal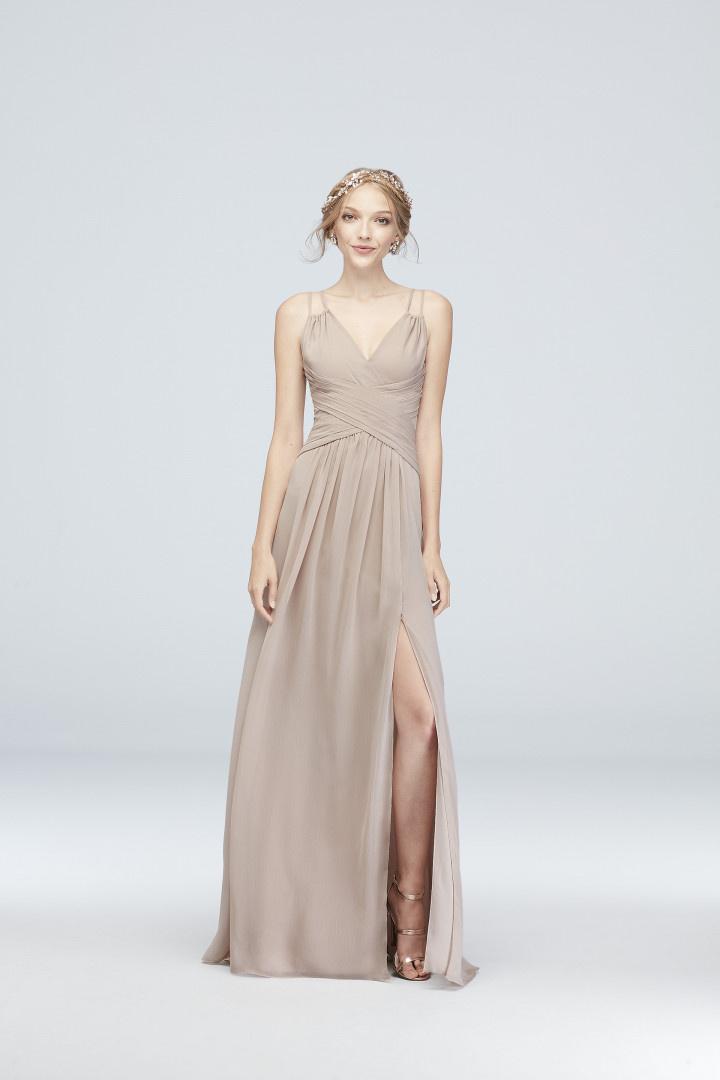 Dress style: F19837
A peek-a-boo side slit skirt and double spaghetti straps are ideal for a romantic beach or garden setting. $140, David's Bridal