Photo: Gideon Photography
Looking for stylish sprawling mansions to host a chic wedding? Look no further than Palm Springs. The desert town long known as Hollywood's playground is full of Palm Springs wedding estates, which make ideal wedding venues. Beginning in the 1940s, when Rat Pack leader Frank Sinatra trekked south from Los Angeles to set up an expansive vacation home for his family, the rich and famous have regarded Palm Springs as a luxurious second home. Lucky for couples who are planning a wedding straight out of a Hollywood movie, many famous homes are available to rent for your Big Day (including Sinatra's former abode, now known as Twin Palms, or, simply, "Sinatra House.) While swanky resorts, hotels or other Palm Springs wedding venues may be more well-known, we've found some hidden private estates that are perfect places to get married in Palm Springs.


Check out 8 of our favorite private Palm Springs wedding estates!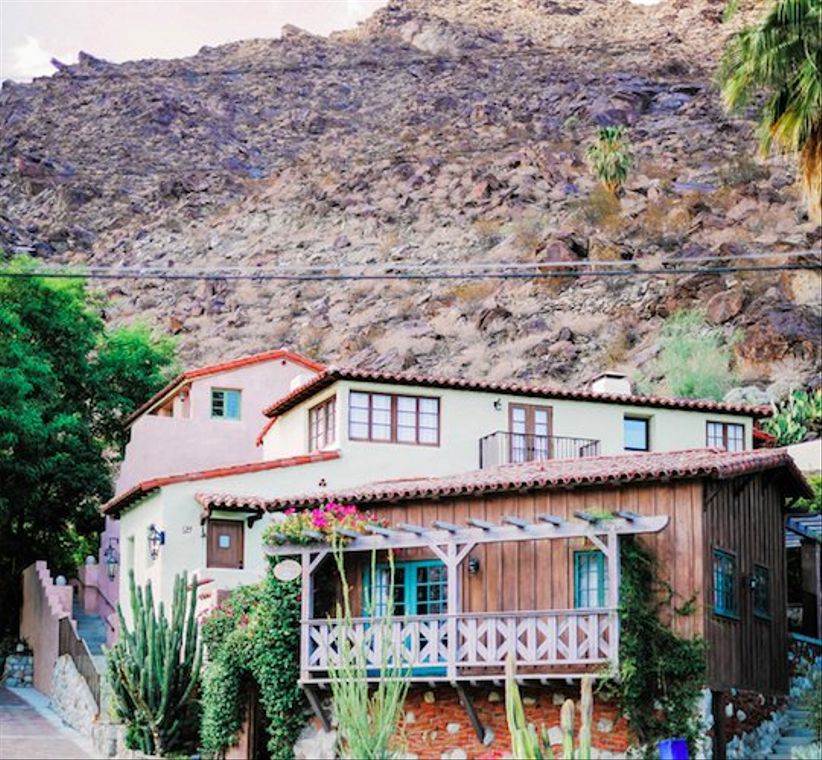 Photo: Gideon Photography
Colony 29
Bright, full of lush vegetation and set high up in the mountainous desert, Colony 29 is a private estate that is not to be missed. The Spanish colonial style manse features classic Stucco roof tiling, manicured grounds with flowering trees and California cacti along with a spacious garden for outdoor ceremonies. With the capacity to host up to 1,000 guests, couples will love to offer up the San Jacinto mountains as the picturesque backdrop to their Palm Springs nuptials. (Like Kate and Brian's colorful
Palm Springs wedding
at Colony 29!)
Learn more about Colony 29 »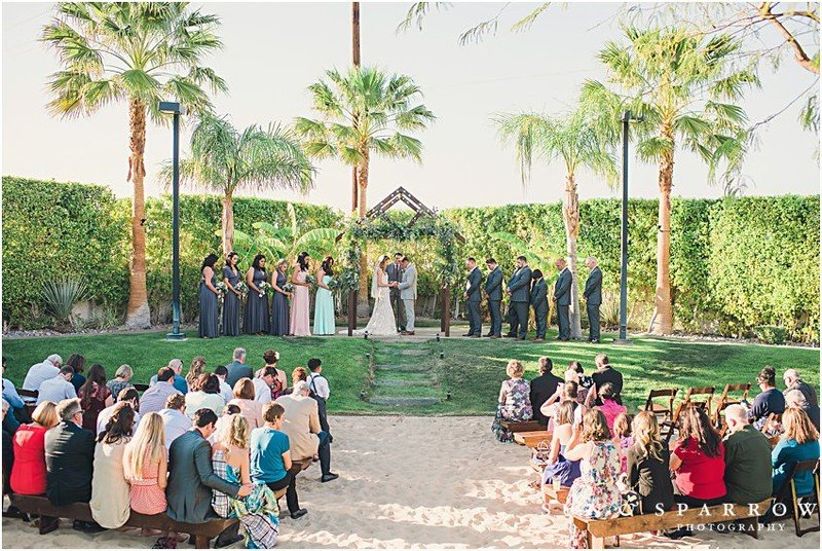 Photo: Sun & Sparrow Photo & Films
The Galvan Estate
This wedding venue is a Palm Springs wedding estate that truly embodies California cool style. Couples who choose this event space for their big day will be fanned by a background of palm trees and rolling green hills at the
wedding altar
while guests are treated to a plot of beach sand in their seating area. Not to be outdone by the homes of Hollywood elite, The Galvan Estate is a 3,000-foot custom built home that sits a stone's throw from the estates of Marilyn Monroe, Joan Crawford and Bette Davis. Besides treating your guests to a lovely ceremony and reception, this private home is a short drive to the attractions and classic hotels of downtown Palm Springs, Palm Desert and the Coachella Valley.
Learn more about The Galvan Estate »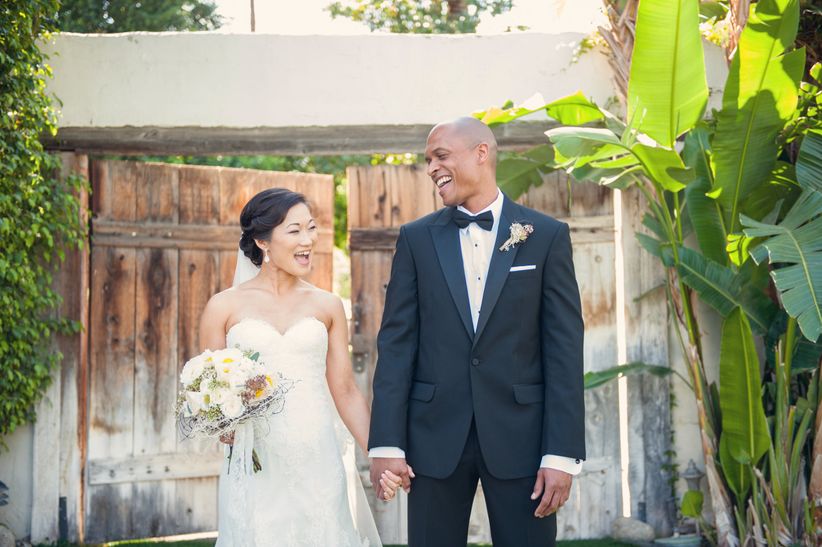 Photo: Sun & Sparrow Photo & Films
Cree Estate
Named for a famed Southern California developer who helped to popularize the Coachella Valley, The Cree Estate is an intricate bungalow set on two-and-a-half acres of beautifully landscaped grounds. Heavily influenced by Spanish colonial style, from the red-tile roof to the antique Spanish fountain that serves as the front grounds centerpiece, Cree Estate offers a classic aesthetic for Palm Springs weddings. Couples will find this wedding venue can easily take them through all the days of the wedding weekend — from rehearsal dinner to Sunday brunch — with six bedrooms, three kitchens and plenty of outdoor space. Meticulously crafted, there aren't many areas of Cree Estate that aren't ready for a photo op, like this breezy entranceway that served as the perfect backdrop to Jennifer and Barry's
Palm Springs wedding
.
Learn more about Cree Estate »
Photo: Randy + Ashley
Desert Ridge Estate
Even among the outstanding Palm Springs wedding venues, Desert Ridge Estate stands out as a private estate that combines the best of man-made beauty and Mother Nature's own gifts. The property features a serene lake flanked by palm trees outside of the stone and brick main house, which offers more than 5,000 square feet of space in addition to a two-bedroom adjacent guest house. The estate has the capacity to host weddings of up to 500 people and guests will love everything about the lush grounds, from the stone waterfall to the outdoor dance floor, which serves as the ideal venue for everything from the first dance to the
wedding after-party
.
Learn more about Desert Ridge Estate »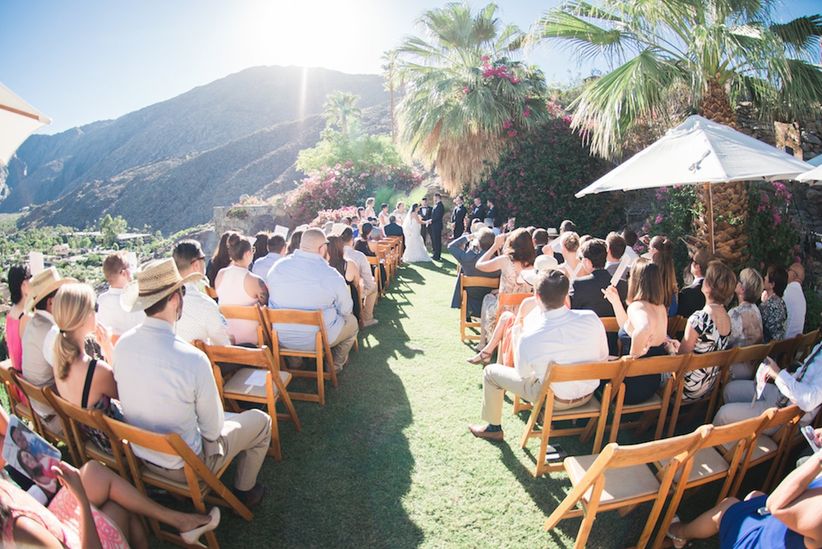 Photo: Randy + Ashley
The O'Donnell House
From the Spanish tile, tall cacti, flowering trees and mountain views, The O'Donnell House is everything you want from a Palm Springs wedding venue. Originally known as Ojo del Desierto, or Eye of the Desert, The O'Donnell House is a Mediterranean Revival-style mansion built in 1925 as the winter home of a wealthy Long Beach couple. Restored by The Willows Historic Palm Springs Inn, this wedding venue now offers 4,200 square foot of home space that sits on 15 acres of expansive land. With so much space, there are lots of options for couples to plan the wedding of their dreams. Situated on elevated terrain, one of the most popular features of The O'Donnell House is a seated dinner that overlooks the city of Palm Springs with equal views of the location's many mansions and the Palm Desert's beautiful mountains.
Learn more about The O'Donnell House »