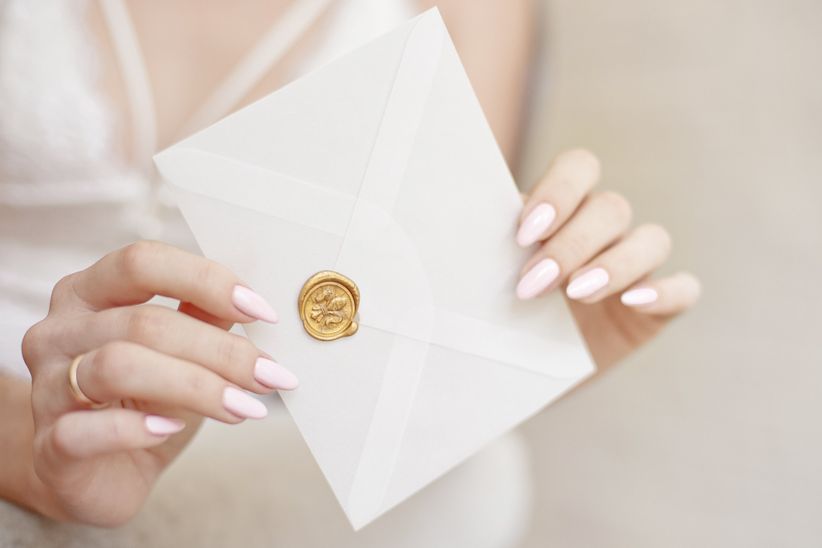 You've created your guest list, checked it twice, but now you're having second thoughts about one (or a few) of your wedding invitees. You may be wondering how to uninvite someone to your wedding and let us tell you, it's not easy and should be avoided at all costs. Yes, there are several situations when uninviting a wedding guest might seem like a good idea (which we'll discuss in detail), but your first instinct should always be to keep your invite list intact, especially if you've already sent out save-the-dates or invitations. Your best bet is to be extra-careful when creating your guest list, ensuring that your final guest count will come in under your venue's capacity and that you're in good standing with everyone on the list. Being careless about your guest list can create problems down the road.
Thinking of uninviting a wedding guest? Here are some situations you might be facing, and how to handle
You decide you want a super-small wedding—after sending your save-the-dates to 200 people!
We've said it before, we'll say it again: Do not, we repeat, do not send your save-the-dates until you have certain aspects of your wedding nailed down, namely, your date, location, and guest list. Once your guests receive your save-the-date, they may start making travel arrangements, shelling out cash for hotels, and more—so it's not cool to then tell 'em they can't come. Yes, you might be feeling pretty stressed out and regret hosting a huge wedding, but that's something you should have thought about earlier in the planning process. Barring an emergency (such as a natural disaster or serious illness), the guests who receive save-the-dates should also be invited to the wedding.
You told a coworker she was invited—but she didn't make the final cut.
It can be really easy to tell someone they're invited to your wedding—and really hard to uninvite them later on. You may have absentmindedly told a coworker that yes, she's totally invited to your wedding, only to realize that you don't have the space or budget to accommodate her. If you haven't sent out your save-the-dates or invitations just yet, you can take back your verbal invite—but you have to be super-careful about how you word it. Talk to your coworker in person and politely and apologetically say, "I know that I mentioned that you'd be invited to the wedding, but unfortunately due to budget issues, we can't accommodate everyone we initially wanted to." However, if you already sent your coworker a save-the-date or invitation, you need to keep her on the guest list.
You and your cousin get into a huge fight.
Even people who love each other dearly can get into fights. And in the heat of the moment, you might want to scream: "You can't come to my wedding!" But tempted as you may be, take a deep breath and hold back. Uninviting a guest to a wedding means your relationship will be irreparably harmed and effectively over. Yes, you may be furious at your loved one right now, but how will you feel a year from now when you're still not on speaking terms? If you and a friend or family member get into a massive fight, take a step back and think long and hard before rescinding an invite. Remember that you won't have to spend a ton of time with said person on your wedding day, so is it really worth the trouble of uninviting him or her? If things are really bad, your friend or relative may choose not to attend your wedding anyway. Stay on the right side of etiquette and let that be his or her decision, not yours.
You find out that your family friend has a conflict and won't be able to attend your big day—before you send out your invitations.
After you send out your save-the-dates, you may start to hear from certain friends or relatives who know they won't be able to attend your big day. This may be due to a longstanding work conflict, family engagement, or other can't-miss event. You might then assume you don't have to send them a wedding invite—definitely a money-saver, right? Well, yes, but we still recommend keeping said pal or family member on your guest list and sending them an invite anyway. Plans do change, and they might be able to attend your big day after all, but they'll also appreciate feeling included. By not sending them an invitation, you're technically uninviting them, which will likely cause hurt feelings.
It's a week past the RSVP deadline and your college roomie hasn't sent in her response card—and isn't replying to your texts!
One of the most frustrating parts of wedding planning is when guests just don't follow the rules. If there's a guest who hasn't RSVP'd and isn't responding to texts or phone calls, you might want to just throw in the towel and text in all caps: "DON'T BOTHER COMING!" Yeah, don't do that. While not being sure if a guest will attend or not isn't ideal, it happens and your wedding vendors will be able to handle it either way. Let your vendors know as far in advance as possible about your "maybe" guest so they won't be surprised if he or she shows up—and can add an extra place setting on the fly. Do your best to be a kind and generous host, even if your friend or family member isn't following proper etiquette.