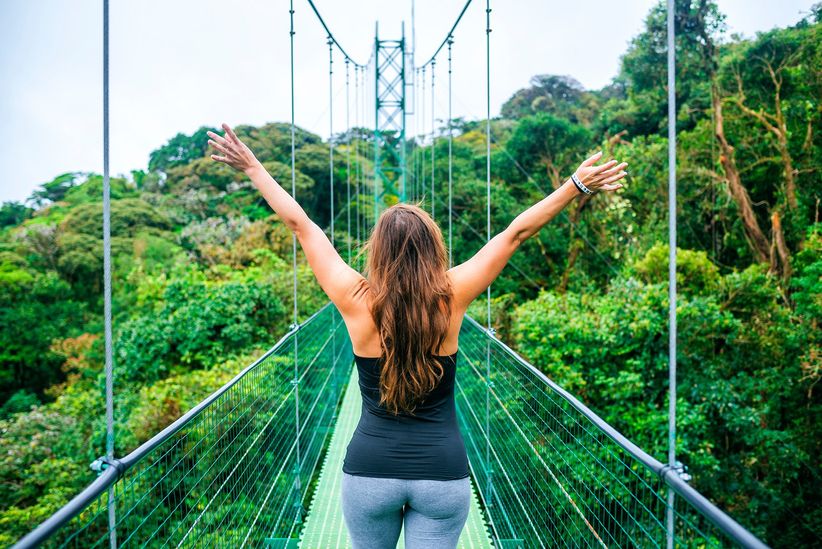 Pura Vida. The language for hello, goodbye, and cheers in Costa Rica says it all. A Costa Rica bachelorette party here is full of fun ways to celebrate life—from surfing waves to beach time shenanigans, your sun-loving bride and her best gal pals will love a Costa Rica bachelorette party.
Start planning your Costa Rica bachelorette party with the help of this handy guide.
What to Do
When the beaches and poolside cabanas aren't enough, just remember that Costa Ricans are all about adventure. And no Costa Rica bachelorette party here is complete without your fair share of an adrenaline rush. At Arenal Park, home to the country's active volcano, you can do it all. Start with the sky trek adventure zip lining tour through the jungle canopy. You'll soar across seven different lines, the highest of which hovers 656 feet above ground. If that's not enough to get your heart racing, take on their rafting tour or bike riding expedition along the lake shore and base of the volcano.
Of course, you can also go to surf camp. The best place to learn is Nosara, a small beach town with an eco-minded community. The white sand beaches are surrounded by mountains, as well as monkeys hanging out in the trees. Take your lessons from Del Mar Surf & Escape. Relax those wave-tired muscles with a private yoga class in the foothills of Nosara's mountains at Bodhi Tree Yoga Resort. (You can also stay at the resort for your Costa Rica bachelorette party if you have a really Zen-minded bride.)
If you want to combine the best of both worlds, Costa Rica Stand Up Paddle Adventures in Tamarindo offers paddle board and yoga classes (yes, your abs will thank you later) in the ocean. Don't worry, flat water options are available.
For a day on the water, rent a private Catamaran through Marlin del Ray. Your full or half-day cruise will include sunbathing, snorkeling, a tropical bar, and fresh made pica de gallo and guacamole for snacking.
Come night time, the city comes alive with plenty of club and bar options ideal for your Costa Rica bachelorette party. Start at Volcano Brewing Company, a beachfront brewery within a surf shop with plenty on draft to keep you busy. For live music and salsa, check out the Crazy Monkey in the Vista Villas Hotel. Or for a different live music vibe, The Roof offers a rooftop bar and a great happy hour. Sharky's Sports Bar is where to go for a karaoke night, while Wild Panda offers Tiki-style cocktails.
Where to Eat
Tamarindo should be the central location for your Costa Rica bachelorette party, with its proximity to fantastic restaurants and nightlife. And of course, many of your dining options will include beachside tables.
Check out Pangas Beach Club, a little north of the city center, for sandy, open-air dining and delicious fresh seafood, including fresh yellowfin tuna and a coconut lobster salad. Or if you want a beach spot closer to your hotel, head to Langosta Beach Club, with a beachside bar, sushi menu, and dinner choices of goat cheesed stuff tenderloin and grilled mahi mahi.
The Shrimp Hole is a hip alternative for fresh, local fare. Here, you'll enjoy poke, shrimp burgers, or Hawaiian mac salad in a super casual atmosphere.
The open air Dragonfly Bar & Grill is a casual but nice dining experience. Enjoy fresh margaritas with fiery Thai-style beef or seafood linguini, all while listening to live music.
For unexpected flavors in this part of the world, Seasons offers Mediterranean cuisine in a fine dining experience. So when you're tired of taco bars (could you ever really be?) head here for a nice night out and a meal of grilled octopus, cauliflower tabuleh, or Middle Eastern grilled chicken.
Where to Stay
Casa de Alces is a great place to stay if you're looking for a private retreat for your Costa Rica bachelorette party. The eight-bedroom, seven-bathroom compound close to (but not directly on) the ocean. The short distance to the beach is made up for by the pool in the center of the home, and its outdoor kitchen and private yoga studio.
If your planting yourself in Tamarindo, the beachfront Hotel Tamarindo Diria is a fantastic option with rooms that offer unforgettable sunset views. There's also an "adults only" part of the resort, so you and your pals can enjoy a serene day at the pool with cocktails in hand and little other disturbances.
Only 15-minutes from downtown Tamarindo in Guanacaste, the luxurious JW Marriott offers villas, an amazing infinity pool, beach club, and access to its semi-private and beautiful beach, Playa Mansita.