Is your brother-in-law on your list of people to shop for anytime a major holiday rolls around? If not, he should be! Giving a gift on birthdays and holidays goes a long way toward making your in-laws feel special and welcome. But shopping for someone you may not know super well yet can be difficult. That's why we've rounded up some of our favorite gift ideas for a brother-in-law. We think there's a good chance you'll find the perfect gift on our list.
Gifts for a Brother-in-Law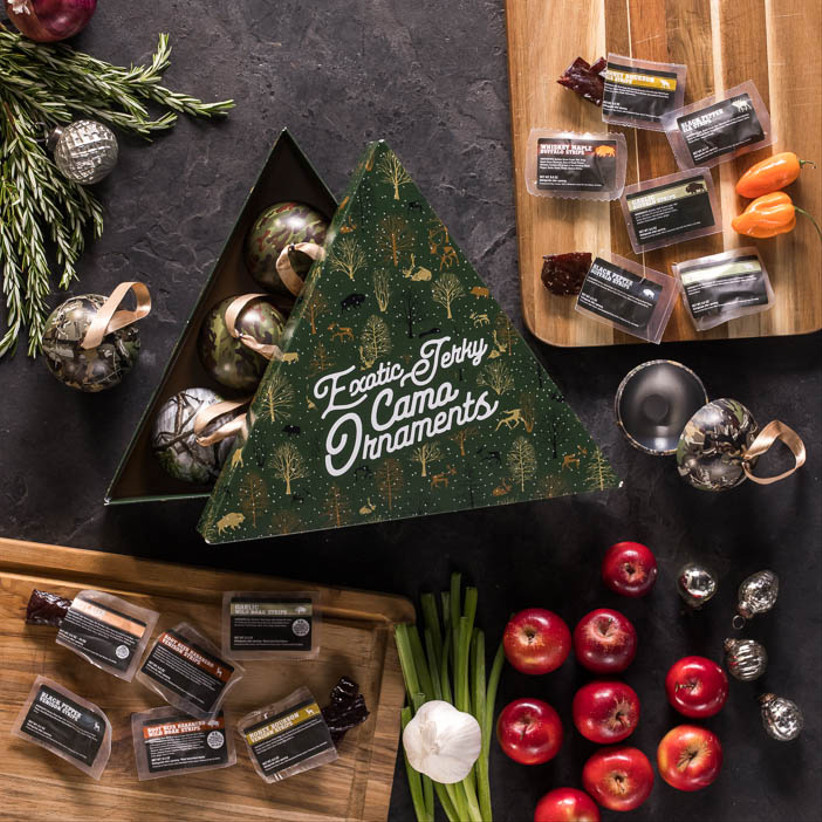 Camo Ornament Jerky Kit
If your brother-in-law sports camo from time to time, this camo ornament jerky kit should top your list of Christmas gifts for your brother-in-law. It's delicious and decorative. What more could he possibly ask for?
Man Crates exotic jerky camo ornaments, $50, Man Crates
Hot Sauce Gift Set
Need gift ideas for a brother-in-law? Gift him some posh hot sauce that everyone's raving about. The modern, geometric design on the cap and sleek packaging proclaims this is something special, and that's just on the outside! Choose from a set of four minis, or go big with eight or even a dozen.
Truff mini hot sauce, $26 for 4, Truff
Funny T-Shirt
Need some inspiration for funny gifts for your brother-in-law? We love this tongue in cheek shirt that proclaims how awesome he truly is.
Brother funny brother-in-law t-shirt, $18, Amazon
Soft Cooler
Yes, it's pricey. But your brother-in-law would be hard pressed to find a better soft cooler than this hip, trendy one from Yeti. He'll enjoy high-end features like superior temperature-maintaining ability, an expansive inner chamber that holds an entire day's worth of food and cold ones, and a premium, soft exterior for comfortable hauling.
YETI Hopper flip 8 soft cooler, $200, Huckberry
Brass and Wood Photo Box
How cool is this brass and wood photo box? Everyone has snaps laying around that could use a home. Now, your brother-in-law can keep all of his memories together in this sleek,attractive box. It's one of our favorite gifts for a brother-in-law.
Artifact Uprising brass and wood photo display box, $55, Artifact Uprising
Leather Laptop Sleeve
We have a feeling this chic leather laptop sleeve will quickly become your brother-in-law's go-to accessory. Available in five handsome hues, it's crafted with 100% genuine leather with a snap enclosure for a safe, secure fit.
Cuyana leather laptop sleeve, $95, Cuyana
Classic Scent
This quintessential man scent makes a great gift for your brother in law. It's a wonderfully versatile scent that can be dressed up or down for an everyday wear he'll love.
Chanel Bleu de Chanel spray, from $77, Nordstrom
Slim Wallet
Is your brother-in-law walking around with one of those bulky wallets that causes his pants to sag? It's time to fix that! A good gift for your brother-in-law is this top-rated slim-line wallet from Magpul. It's designed to hold only the essentials; a few credit cards and three to four bills. Available in black or olive green.
Mapgul DAKA essential wallet, $17, Huckberry
Home Brewing Kit
Hunting for Christmas gifts for your brother-in-law? Look no further than this IPA home brewing kit. He'll get a kick out of making his own brew with hops sourced from Washington's famed Yakima Valley.
Uncommon Goods West Coast style IPA beer brewing kit, $45, Uncommon Goods
Stylish Cap
If you're a fan of simple gifts for your brother-in-law, rest assured that he's sure to love this classic navy Hugo Boss baseball cap embossed with white letters. Other available colors include red, white, black and dark red.
Hugo Boss baseball cap in cotton twill, $39, Hugo Boss
Grilling Spices Set
We can't think of a better gift for your brother-in-law than this sampler of delectable grilling spices. Hopefully, he'll invite you over to try out the results!
Thoughtfully Smokehouse ultimate grilling seasoning set, $50, Amazon
Leather Catch-All
Looking for gift ideas for your brother-in-law who likes to keep things clutter free? This attractive leather catch-all makes the perfect choice. Measuring nearly 10 inches long and crafted from 100% genuine cowhide, this will look amazing no matter where he chooses to display it.
Rustico basin leather catch-all, $40, Huckberry
Globe Decanter
The best gift for a brother-in-law who's into fine liquors? This gorgeous globe decanter makes a great choice. A map of the world is etched onto the glass decanter that rests atop an attractive wooden base. This beautiful gift should be on your list if you're wondering what to get your brother-in-law for Christmas.
Kemstood Store whiskey globe decanter, $40, Amazon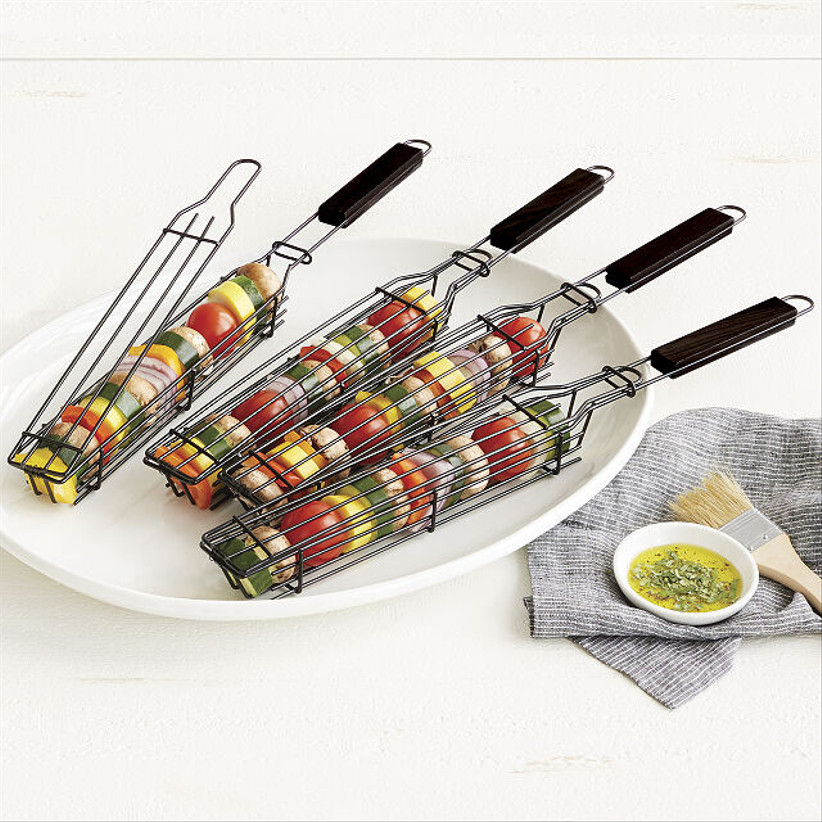 Grilling Baskets
The best gift for your brother-in-law is one that allows him to pull off an effortlessly perfect kabob every time. That's why these ingenious grilling baskets made our list.
Uncommon Goods kabob grilling baskets, $17, Uncommon Goods
Multi-Tool
If it's practical gifts for a brother-in-law you're seeking, you won't find anything better than this tactical multi-tool. This do-it-all gadget sports an array of tools, including a flashlight and window breaker. Crafted from real aircraft-grade aluminum, this is sure to become his can't-leave-home-without-it tool.
TF TAKEFLIGHT tactical self-defense multi-tool, $28, Amazon
Beard Grooming Kit
Keep your brother-in-law's beard in top condition when you gift him this wonderful beard grooming kit. It arrives in a handy (and personalizable!) wooden box for safe storage when not in use, and includes a brush and comb along with beard oil, balm and soap. With 12 available scents, this is a perfect option if you're wondering what to get your brother-in-law for Christmas.
Lusso Sapone personalized beard grooming kit, from $25, Etsy
Photo Calendar
This sentimental gift is perfect for the brother-in-law who has it all. Each month he'll find a new photo to look at, reminding him of his favorite people. Wooden accents offer a minimalist vibe.
Artifact Uprising custom photo calendar, from $25, Artifact Uprising
Phone Case
Full-grain leather in an attractive brown hue adds a touch of sophistication to this iPhone case. It's one of the best gifts for a brother in law if you're looking to give a tasteful gift without spending a ton of money.
The Ridge card iPhone case, $50, Nordstrom
Leather Luggage Tag
This leather luggage tag as a present for a brother-in-law is small but mighty. Available in three handsome colors—camel, black or dark brown—it's the perfect addition to his luggage.
Cuyana leather luggage tag, $40, Cuyana
Mountain Range Whiskey Glasses
Favorite whiskey? Check. Favorite mountain range? Check. Bring the two together when you gift him these unique mountain range whiskey glasses. They're handcrafted from lead-free blown glass for a superior drinking experience, and one of our favorite gift ideas for your brother-in-law.
Whiskey Peaks glasses, set of four, $65, Huckberry
Canvas Toiletry Bag
Add this rugged canvas toiletry bag to your list of gift ideas for a brother-in-law. Available in several different sizes and three handsome colors, this useful bag makes a great gift.
Best Seller Leather personalized canvas toiletry bag, from $16, Etsy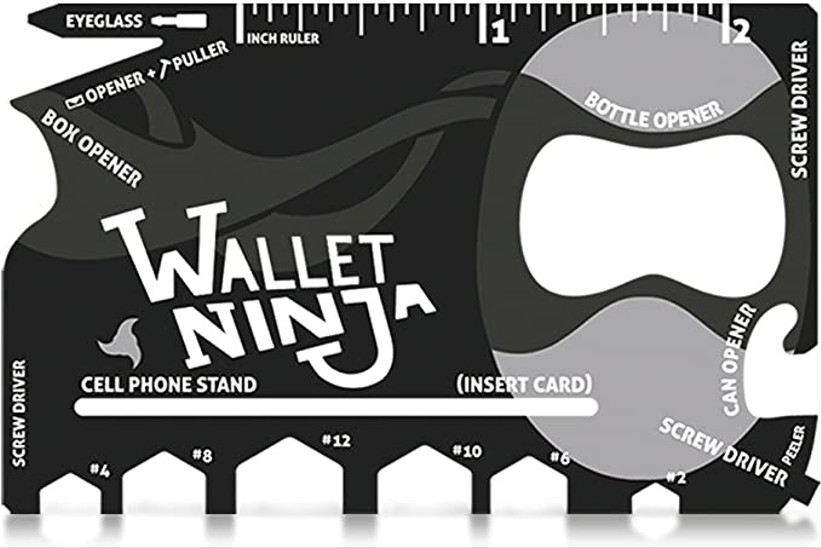 Wallet Multi-Tool
His wallet's never been so useful as when he slips this revolutionary flat multi-tool in there. This unassuming card boasts a whopping 18 tools in just the size of a simple credit card. It's perfect if you're looking for small gift ideas for your brother in law.
Wallet Ninja Store multi purpose tool, $14, Amazon
Color Map Mug
If you're scoping out good gifts for your brother-in-law, don't overlook this cool travel mug. It displays a map that allows him to color in all the places he's visited. Choose from a map of the world or stick with just the US. Either way, we can't think of a better way to keep those #travelgoals top of mind.
Uncommon Goods color map mug, $24, Uncommon Goods
Cashmere Beanie
A cozy but chic beanie to block those harsh winter winds makes a great birthday gift for a brother-in-law, and it's also a great option if you're shopping for Christmas gifts for a brother-in-law. This beanie is made of premium quality cashmere and comes available in camel or black.
Cuyana wool cashmere ribbed beanie, $65, Cuyana
Engraved Pocket Knife
One of the best gifts for a brother-in-law? This handy yet super attractive engraved pocket knife that will quickly find its way into his back pocket.
Palmetto Wood Shop LLC engraved tactical pocket knife, $23, Etsy
Beer Blankets
Ever heard of a Rumpl blanket? It's like the best man gift of 2020. But if you don't feel like shelling out a car payment on a gift for your brother-in-law, these beer blankets are a close second! He can wrap his cold ones in these cute little Rumpl blankets to keep his hands warm, no matter how cold he likes his brew. A handy snap allows for a secure fit, and easy drying when not in use. Available in three cool patterns.
Rumpl beer blanket 6-pack, $29, Rumpl