An Open Letter to My Almost-Married Best Friend
This open letter to my best friend on her wedding day isn't just meant for her, but also, to everyone else who's best friend is getting married soon.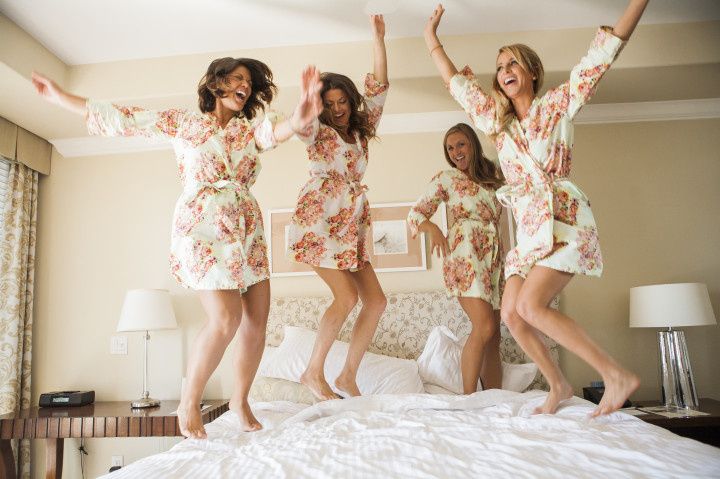 My oldest and closest friend is about to get married and as the countdown gets closer, the nostalgia of our childhood has set in—which is why I wanted to write an open letter to my best friend on her wedding day. We've been there for for all the ups and downs of tween, teen and mid 20s' relationship drama. From running over to her house with a sappy chick flick to help with a breakup… ( the "your girl is lovely, Hubbell" line always cued the tears), to Facetiming before her first date with her now fiancé, we've been through it all. Being one of her bridesmaids I was also there for the ups and downs of wedding planning, too. As her big day approaches, I can't help but be reminded of how much her friendship means to me.
Here is my open letter to my best friend on her wedding day.


Dear Best Friend,


I want to start off this letter to my best friend on her wedding day and say how much you've been a part of my life. We met when we were just two years old and bonded over our shared love of Barbies. That then progressed to spending hours giving each other makeovers with your mother's makeup (I still hope that photo of us never resurfaces). You've been my crutch for over twenty years now, and I'm so thankful that not only did we get to grow up together, but we also remained just as close. So close even that as you enter this new chapter of your life, I'm still here helping track down our old neighbors' addresses for your guest list or calming you down after a disagreement with your mom about table linens. I'm here because that's what best friends do. We're there for each other, whether it's a middle school break up or wedding planning drama.


We all know planning a wedding can be stressful at times, but I have to say I didn't mind being your sounding board. Even when your sister refused to wear the bridesmaid dress you picked out, I enjoyed being the voice of reason. It was oddly familiar, like when she used to get mad at you for borrowing her clothes. I was happy to step in and relieve some of the stress, plan your pre-wedding functions and respond to your frantic "which of these do you like better" texts. It's my duty not just as a bridesmaid but as a best friend to help you, even if it's something minor like figuring out if your cousin's new boyfriend goes by John or Jonathan.


As I sit here now writing this open letter to my best friend on her wedding day, I get giddy thinking about all of our inside jokes from elementary school all the way through college. I remember each celebrity you wanted to marry and how you knew right away that you'd get married in a glamorous ballroom. It's been so much fun retelling all these old stories about our glory days to your fiancé and also making new ones with you—I still LOL when I think about your bachelorette trip. I know the idea of being a bridesmaid is sometimes thought to be an annoying chore, where you end up spending way too much on minuscule things, but I didn't find it to be. The responsibility of being a bridesmaid has let us grow even closer and I'm so honored that you wanted me be part of your special day.


Even though I wish we could go back to the days where we played Barbies and planned out your ballroom wedding with your celeb crushes, I'm so happy that you've found someone who knows just as well as I do how wonderful you are. We may not be neighbors anymore, or play dress up, but you're still one of my best friends. It truly has been so much fun being your bridesmaid and I know that your future-spouse is lucky to call you not only his wife, but best friend as well.


You're my oldest and dearest friend and I can't wait to stand next to you on your big day.