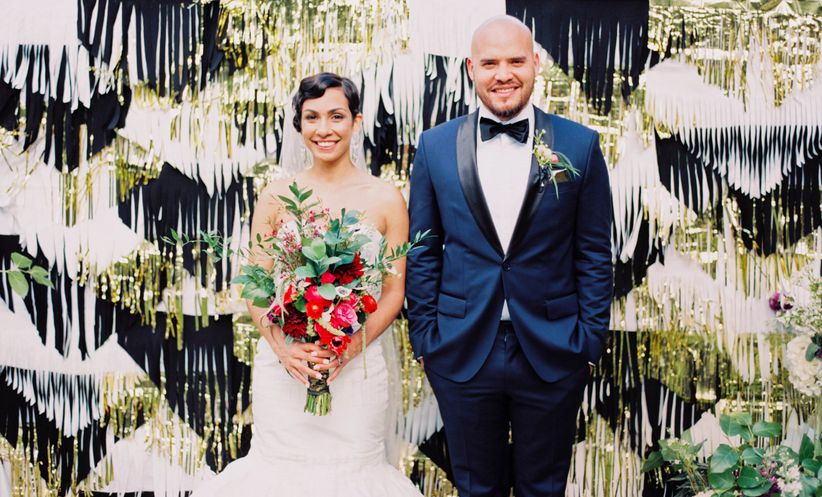 Photo: Michelle March
While your venue should certainly inform the overall look and style of your wedding day to some extent, there's no need to let it completely dictate your aesthetic. You don't have to decorate that rustic barn with burlap and wildflowers if you don't want to, just as you shouldn't feel obligated to fill a ballroom with crystal and roses if that's not your thing. In fact, some of the most unique, refreshing wedding styles are a product of tossing the "rules" out the window! Don't be afraid to get a little creative. Let's take a look at four unexpected venue-aesthetic pairings that work really well.

Modern Barn
The juxtaposition of clean lines, bright hues, and contemporary accents against a rustic barnwood backdrop can create a super chic effect. Bring in acrylic ghost chairs, drape tables in geometric runners, and hang modern drum lights or capiz pendant chandeliers from the vaulted ceiling beams. Fill the space with vibrant pops of color or add sculptural blooms like calla lilies or orchids for a bold, fashion-forward look.

Woodsy Ballroom
There is a natural tendency to go glam and opulent in a ballroom setting—and there's certainly nothing wrong with that! If you want to mix it up a little, though, we suggest decorating the space with organic, whimsical elements for an enchanted forest feel. You'll still get that dramatic fairytale look—but with a bit of a twist! Opt for giant branching centerpieces using curly willow, tree blossoms, berry branches, or long, wispy wildflowers. Bring the outdoors in with details like forest-inspired GOBO lighting, a tree escort card display, cascading greenery chandeliers, or bird cake toppers for a truly magical atmosphere.

Glam Backyard
If you're having your wedding at home, you have the opportunity to take a neutral outdoor space and, at the risk of sounding like wedding planner Franck Eggelhoffer from Father of the Bride, transform it into something spec-tac-u-lar. Go all out! Adorn the trees with crystal chandeliers, drape entryways with gauzy fabric and lush floral tie-backs, dress up the dining tables with sparkly sequin linens and towering gilded candelabras, and tie it all together with a statement piece like a mirrored bar or a fabulous sky-high cake.

Shabby Chic Loft
Soften up an urban industrial space with a healthy dose of French country charm. Think fresh whites and pastels, distressed furniture, mismatched floral china plates, and sweet, fluttery blooms displayed in milk glass vases. Tie the theme together with a vintage lounge area or a French pastry dessert display. These warm, feminine elements provide a lovely contrast to the rawness of exposed brick walls, concrete floors, and warehouse windows.