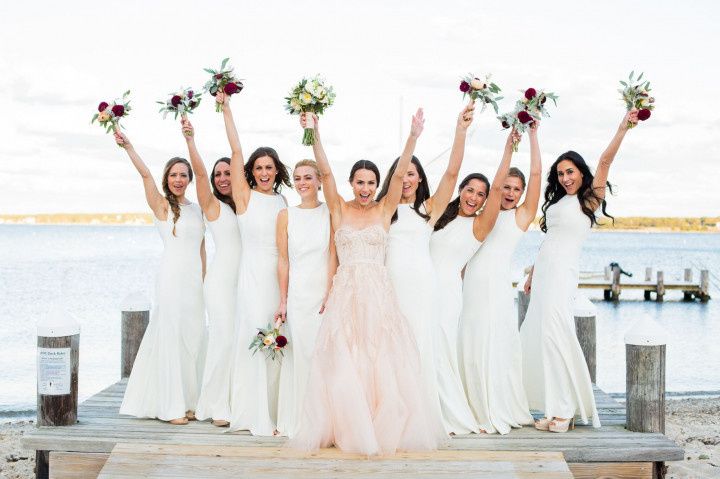 Photo: Ashley Tilton Photography
As we've said time and time again, there's no right way to have a wedding. With that being said there are a lot of misunderstandings floating around about what you should and shouldn't do for your wedding, and we're here to clear things up.


Here are 11 wedding misconceptions you can definitely disregard.

You have to get married on a Saturday
While it certainly is a popular day of the week to get married since it falls on a weekend, you don't have to get hitched then. Some couples might prefer to wed on a Sunday or even on a weekday to save money or because it works better for their schedule. Venues and other vendors may offer discounts to those who wish to marry on a less popular day of the week.

The bride has to wear a white wedding dress
Traditionally the bride has worn a white gown for her walk down the aisle but designers today are pushing the boundaries of bridal fashion and offering a range of unique looks for every kind of bride. From crop tops and pant suits to colored gowns to pantsuits, there are endless possibilities for wedding day looks. Here are 12 photos that prove the bride doesn't have to wear white.

Your bachelor(ette) party has to be a weekend-long rager
While most people think that bachelor and bachelorette parties are absolutely wild, there are many other options for celebrating a weekend with your wedding party. From a vineyard trip to a sporting event, plan something that makes sense for the guest of honor instead of the typical night out.

You have to have an even number of bridesmaids and groomsmen
If your S.O. is opting to keep their part of the wedding party on the smaller side but you have a lot of people you want to include, it's totally fine to be a little off-balance. Bridesmaids and groomsmen can double up during the recessional and your photographer will be able to work with uneven numbers without any issues. The most important thing is that everyone you want to be by your side gets that opportunity!

The father is only one who can walk the bride down the aisle
There are many situations in which both the bride's parents can walk her down the aisle! She can also ask another family member such as her brother or uncle if that better suits the bride's situation. There is no one set person that has to give the bride away, she could even walk down solo if she doesn't want to share the spotlight!

You have to wait until the ceremony to see your S.O. on your wedding day
Many couples opt to have a first look before the ceremony. This sweet moment can be captured by your photographer and you'll be able to make it to your cocktail party instead of taking dozens of pics after your ceremony. This is also a great way to calm wedding jitters. Not sure if a first look is right for you? Take our quiz to find out.

You have to have your cocktail hour between the ceremony and reception
At Lauren Conrad's wedding she opted to have a cocktail hour before her wedding so guests could mix and mingle before the ceremony. They also had the option of bringing their drinks to their seat to enjoy while she and Mr. Tell exchanged vows. This twist on a traditional wedding day schedule is a fun way to change things up.

You'll spend all your savings on the wedding
This very common misconception can easily be proven wrong. There are many ways to save a couple bucks here and there from the dress to the catering. Also, if you create a reasonable budget with WeddingWire's free budget tool, you'll be able to track your spending more carefully. Read up on our tips and tricks to avoid going over budget (it's not as hard as you think!).

You have to serve cake for dessert
Gone are the days of cake being your only dessert option! From baked goods such as cupcakes and cookies to more creative offerings such as popsicle bars and candy buffets, nothing is off limits when it comes to sweet treats! Check out our round-up of all the other desserts you can serve.

Dancing is the only form of reception entertainment
Depending on your venue you'll probably be able to offer other forms of guest entertainment in addition to dancing. You can get a photo booth, offer personalized Mad Libs, or set up lawn games such as cornhole and bocce. We recommend have at least one other form of entertainment so non-dancing guests can have fun too! We've even got a few ideas for you.

You have to leave for your honeymoon the day after your wedding
There's no rush to jet off for your honeymoon the day after you get hitched. If you want to give yourself time to unwind or your work schedule doesn't allow for it, it's perfectly okay to hold off a few weeks or months before taking your trip. Not sure if it's the right choice for you? Read about the pros and cons here.