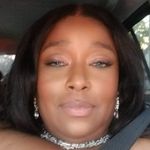 Monique
I am a 48 yrs women a mother of 6 girls and 3 boys. And grandmother of 12 grandchildren. I'm in the health care industry I work hard and love hard I... View More
I am a 48 yrs women a mother of 6 girls and 3 boys. And grandmother of 12 grandchildren. I'm in the health care industry I work hard and love hard I believe in the God. And had some health problems but with God's power I am over came them. I am very happy to wake up to see other day
🕐 WEDDING COUNTDOWN...
October 30, 2022

Hey everyone tells us what type of food
Hey everyone tell us what type of food that everyone is having. Rather it's a buffet style, sit down dinner etc. We would love to hear from you it can help someone else for some ideas. So for myself...