39 Reviews
Recommended by 99% of couples
Quality of service

4.9 out of 5 rating

Average response time

4.9 out of 5 rating

Professionalism

4.9 out of 5 rating

Value

4.9 out of 5 rating

Flexibility

5 out of 5 rating
3 User photos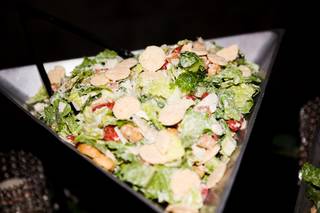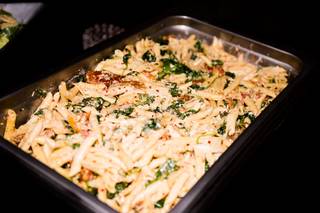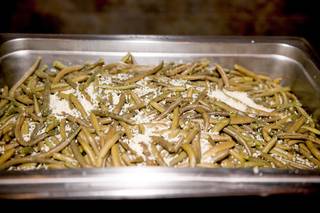 Kim N.

Married on 06/04/2022

Best wedding day ever!

Rebecca-the owner of Heart's Desire Catering made our wedding day absolutely wonderful and the best day we could have asked for! We had our wedding at Ralston's Crossing June 2022. This venue is a hidden gem--Randy-the owner of the event center and Rebecca worked perfectly and seamlessly together. Everything went according to plan and that is difficult to do with so much involved on such a big day. Rebecca is just amazing to work with starting from planning in the beginning with her excellent recommendations regarding menu, table linens, place settings, and floral arrangement/bouquets/boutonnieres to the day itself in that she took care of everything and made sure all went smoothly and on time-not once did I worry. We could enjoy our wedding day! Rebecca was an excellent resource with what we needed and what we didn't need-helping us stay in budget. Our guests commented that our wedding was one of the best they had ever attended. The Heart's Desire Catering team was just as amazing. The guests were served efficiently and quickly, the dinner was warm like it just came out of the oven and tasted delicious. We do not know the last time we could say that about a wedding I attended. Thank you to her entire team who were such a huge help not only with serving but also clearing tables and ensuring our guests were taken care of. Rebecca's talents continue on with her floral designs. We had some photos of flowers we liked and some ideas for bouquets and arrangements but again she had wonderful recommendations. I remember when she handed me my bouquet, it smelled and looked so beautiful. We highly recommend Heart's Desire Catering. The highly personalized service we received helped make our wedding 'our wedding' and not just a standardized one size fits all wedding. Thank you for making our wedding day so memorable and perfect.

Kat S.

Married on 07/17/2021

AMAZING Experience and Food

We had Hearts Desire cater our wedding at Church Ranch Event Center in Westminster. Working with Becky and her team was one of the best decisions we made for our special day! From the very start Becky made us feel valued and special with her kind demeanor and attention to details! The food, experience and service was absolutely wonderful from start to finish and our guests raved about how wonderful the food was! It can be quite overwhelming to choose a caterer for the big day but time and time again we would choose Hearts Desire!!

Christine

Married on 07/03/2017

"Using Hearts Desire as our caterer for my daughter's wedding was the best decision we made! The food was fabulous, but even more so, Becky and her staff made the evening a pure joy for me and my husband. Becky had told me the week prior to the wedding that, as mother of the bride, she wanted me to feel like a guest. Mission accomplished! I didn't have to think about anything all evening but could just enjoy spending time with our guests.

The extra food was all packed up for us to take with us by the end of the evening and they even had "to go" boxes prepared for our daughter and her husband to enjoy later that evening. What a joy it was to work with Becky and her staff! Thank you!"

Are you interested?

Send a message

Jordan

Married on 10/02/2016

Sandy was AMAZING! She was so knowledgeable, kind and attentive. We got so many compliments on our wedding food, and Sandy personally made sure we were happy and comfortable every step of the wedding process, including the wedding night, in which she made sure we were served first and able to actually eat! We would highly recommend her!

Sandy was absolutely amazing! We set up a time to meet up with her to go over pricing, she spent over an hour and a half with us going over decorations, meal combinations, how we can accommodate those in our family who have allergies, set up design, decorations, pricing, clean up and everything else you could possibly think of. She prepared us a full meal of all the food options we could choose from and were able to take it home reheat it all with her instructions and it was fantastic! She was extremely kind, very sweet and so enjoyable to be around. I would highly recommend her to everyone!!

Patty

Married on 06/25/2016

Sandy is truly a life saver. She met with my daughter and I at the venue and walked us through the entire process as well as bringing a full meal for us to take home and try. We have people still raving about how delicious the food was at our daughters wedding. Sandy accommodated those with food allergies and did a mid evening snack. We even had her cater a family brunch the next day and was totally blown away by that food as well. We will certainly use her for our next event.

Natalie

Married on 01/01/2016

Wow.. What a fabulous job Sandy and her team did on the food for our reception. We had 70 guests and decided to do heavy hors d'oeuvre's instead of a sit down dinner and what a HIT! Our guests are still raving about the food a week later. My mother-in-law even said "How did you afford her?" Sandy is affordable and creates amazing dishes. Her staff is attentive and helpful and the décor on her buffet tables looked better than I could've ever imagined. She even sent us home with the leftovers from the wedding which was so nice because we had a lot of family from out of town and we were all able to get together and enjoy the food again the day after the wedding! She did an absolutely wonderful job on everything at our reception. I couldn't have asked for a better caterer for our special day. I would absolutely recommend Sandy and her team at Hearts Desire to cater your next wedding/event. Thanks Sandy!!!!

Sandy has been so sweet and helpful. She is working with our budget and vision.

Melissa

Married on 05/22/2015

Sandy and her team are wonderful! Hearts Desire was recommended to us by our venue and photographer and I am SO glad that we went with her. Sandy is the sweetest lady and is super willing to work with oyur budget to get everything you want. During our tasting Sandy sent us home with a feast! We had another couple over for dinner to try food with us and still had leftovers when everyhting was said and done. We also did our own centerpieces and Sandy and her team set them up for us, no problem! We also had a late evening reception so we decided to substitute an item off the buffet and put out another appitizer. There we quite a few guessts at our wedding (including two that I didn't know about until the night before the wedding) who had dietary resrictions. Sandy happily prepared dishes for each individual to ensure that everyone could enjoy dinner together. It honestly ment the world to me that everyone was able to enjoy celebrating without worrying about what they could eat. Throughout the evening Sandy checked to see if we needed anyhting to drink and made sure that the night ran perfectly. She and her team we absolutely outstanding!!

Monique

Married on 05/21/2015

Sandy thought of everything we didn't. She was always helpful and ready to answer questions. And her food is amazing!

Mike

Married on 05/07/2015

Sandy met with us a few months before the wedding. She was recommended to us by our venue. We met and everything about her was great! We really liked her, but it wasn't until we tried the sample dinner she made for us until we fell in love. Sandy delivered all the food, with plenty of extras, took care of all the minor details and worked to make this wedding absolutely flawless. Her food was absolutely delicious, her staff was friendly, hard working and professional, and they made sure everything was smooth, even stuff I would have never expected from a caterer. Her pricing was the most fair that I found, even with a long drive and all the costs were explained in detail. She was very flexible with changes and worked with us to remain in our budget. I would highly recommend Sandy with Hearts Desire Catering to my friends and family! (Our wedding was an hour and a half drive for Sandy and her staff and had 125 guests)

Amy

Married on 10/17/2014

Sandy at the Hearts Desire is so amazing! We just loved her. She does such an amazing job. Her food is so delicious and fresh. You definitely get your monies worth with her. Sandy and her team go above and beyond. They pay attention to every detail and they are so selfless. It was amazing to work with a vendor who put our every need and want before her own.

Brande

Married on 09/04/2014

Sandy went above and beyond her call of duty. She tweaked our menu until it was perfect. My guests LOVED the food which was a relief. Sandy is worth every penny and we'll be using her again. ( smothered chicken enchiladas delish!!!)

Hearts Desire did an amazing job on our wedding on 5/26/14! Sandy and her staff go above and beyond on every detail. We had SO many compliments on the food and the service was outstanding. They not only cooked and served the meal, they also helped with setting up the room and packing everything away at the end of the night. We even asked if she would provide gluten free options mainly for my grandpa who has celiac disaese and she made him is own meal that was 100% gluten free! I would recomened them anyone. Defiently don't go cheap on your catering, it will be well worth it.

Susan

Married on 10/30/2013

Wow! They were perfect in every way! Sandy is the nicest person who obviously knows what she is doing! Her staff was so friendly and professional. I hired them on a recommendation and did not have a food tasting and it was a delicious meal with excellent value for the $$. One staff member even held my grand daughter for a while cause my grand daughter wanted to go with her. That is true insight there!! Thank you to all of Heart's Desire. Stellar performance!!

Armando

Married on 07/19/2013

Sandy and her crew are very professional and great to work with we are very thankful to have them part of our special day.

Thank you


Angela

Married on 04/13/2013

Sandy from Hearts Desire Catering was withough a doubt my favorite vendor that we hired right from the start! We were on a very low budget so we were originally planning on just ordering food from Maggianos. Our venue recommended that we meet with Sandy and I am so thankful that we did. Her sweet, charming personality immediately won us over! She was so kind and was willing to talk to us about all areas of the wedding, not just the catering. The food she sent home with us to taste was so delicious and there was so much that it took us a week to eat it all! She threw in freebies here and there and also volunteered to set up our centerpieces for us. We told her our budget and she worked with us to fit into it perfectely. At the walk through she was very detailed, took notes and made us excited for the big day. At the reception she checked with us several times to make sure that everything was okay. All of the guests commented on how delicious everything was. And her presentation of the bufett table was so beautiful! I absolutely adore Sandy and would highly recommend her and her amazing food to anyone.

Trisha

Married on 04/05/2013

Our caterer was chosen via a venue vendor package, but we couldn't be happier with the results. The food was amazing, and we fell in love with it at first tasting. We KNEW that we had to have this be our caterer. We also had some guests with extremely important food needs, and Sandy was more than willing to accommodate them and stay within our budget. We loved the food so much that we requested that some "leftovers" be packaged SPECIFICALLY for us, we didn't want to lose out while traveling!! Overall, such a wonderful caterer who is super friendly, responsive, and talented!

Liz

Married on 02/23/2013

I had my wedding catered through Hearts Desire in February 2013. In one word AMAZING!
Amazing food, service…everything! Sandy was so incredibly understanding of our budget was very prompt to returning calls and email, and above all she was sooo sweet throughout the process- from start to finish. She made it less stressful having to deal with vendors.
The food was delicious! We received nothing but great comments from our guests- both on how delicious the food was and of her staff. Her presentation and quality of food and service did not make it seem like we had a tight budget! Thanks Sandy and Hearts Desire for the great experience xoxo!


Our daughter and son-in-law were recently married in Louisville, Colorado. We are extremely grateful to have found Sandy at Heart's Desire Catering to cater the wedding. The food and service exceeded our expectations at every level. Beyond that, our bride and groom were thrilled with everything she did to make their special day perfect.

This was my first time planning a wedding and I was so blessed to have Sandy by my side navigating me though the process. This was a large wedding with 600 guests and I had no idea where to start, but Sandy sure did! We hosted two large receptions with different themes on the same weekend. She not only helped us select amazing menus, but worked hard to help us stay within our budget. Sandy worked with the bride and groom to tie the menu into their two themes. The food at each reception was absolutely delicious, plentiful, and presented beautifully. We had many complements from our guests and we have referred them to Heart's Desire several times already.

Sandy is a delightful to work with and made our "wedding reception experience" very special. She is truly a customer service expert. Our wonderful experience with Heart's Desire is already becoming one of our family's favorite wedding memories.

We are delighted that Sandy and Heart's Desire Catering were part of our family's wedding experience and cannot thank her or recommend her strongly enough!


Leesa

Married on 02/19/2012

Everyone loved the food! So easy to work with and let us try all the food before hand. Sandy literally brought us two full meals to taste to decide what we wanted and she gave us an amazing spread that was within our budget. Plus she is so incredibly nice and worked so hard during the reception to make sure we were taken care of. Her prices do not fluctuate with market prices which assured us that the same meal would be within our budget come February even if the cost of asparagus or something shot up. She also threw in something extra because my husband is in the military which was sweet. Use this caterer if you want good food at any budget!

Julie

Married on 09/17/2011

Sandy was AMAZING! She was able to provide us with EXACTLY what we wanted. We had a hard time deciding between a couple of options (because they tasted so incredible), so she even let us re-taste some of the options to help us decide. We were also able to customize a couple dishes. She also gave us invaluable advice about the whole wedding day in general. I felt very confident in her advise, especially since she has been doing this for so long. We are STILL hearing from people about how amazing the food was, which makes us feel great because usually wedding food is so forgettable. Everyone loved it, and we were delighted.

Ashley

Married on 06/15/2011

Sandy at Hearts Desire is fabulous! The food for our wedding was incredible. Everyone, everyone at our wedding stated that the appetizers and dinner was great food; even our DJ said it was the best beef he has ever had! The staff were phenomenal, they made my plate so that I would spill food on my dress, and they made sure to save some appetizers for me and the groom so we didn't miss out! Sandy was better than I could have wished for prior to the wedding too. Sandy and her staff took a lot of the worry out of my planning, and the reception tables and food buffet looked beautiful. I cannot say enough good things about Sandy and Hearts Desire Catering.

Regina

Married on 04/15/2011

Sandy with Heart's Desire is absolutely amazing! We met for a tasting and she sent us a full meal home that we ate for 3 days! She offered to help us with any wedding planning, even if we didn't use her. The food was soooo good. Our guest really enjoyed it and so did we. We had under 100 people, which was what we had to pay for with the package, and Sandy really worked with us. She added appetizers, fruit trays and extra entrees to make up for the difference in guests. She even let us take the extra food home to help feed the family still in town after the wedding. Her staff is great, very professional and her buffet set up was beautiful!

Brandy

Married on 06/24/2010

We loved the food and the service provided to us by Sandy! She was awesome and so was the food!
Are you interested?
Send a message