58 Reviews
Recommended by 99% of couples
Quality of service

4.9 out of 5 rating

Average response time

4.9 out of 5 rating

Professionalism

4.9 out of 5 rating

Value

4.9 out of 5 rating

Flexibility

4.9 out of 5 rating
Awards
7 User photos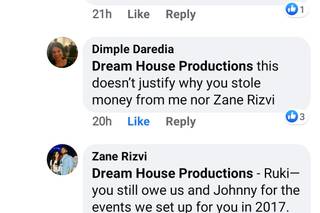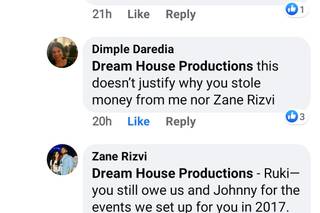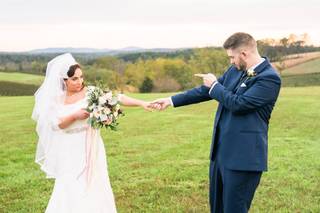 + 3

photos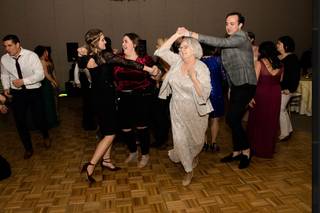 Abbas K.

Married on 12/03/2022

Amazing music!

Ruki was amazing. We had music and dance over 2 days and Ruki made sure the dance floor rocked. The guests loved the music.

Mihir P.

Married on 11/28/2022

Absolutely Amazing

Ruki exceeded our expectations as a DJ for our wedding. Despite having another event right before ours, he made everything incredibly easy for us and expertly crafted a playlist based on a short list of our favorite songs. He had a great understanding of the energy of the crowd and played to it perfectly, with everyone at the wedding loving every moment. His freestyle scratching was particularly electrifying. We highly recommend Ruki for any DJ needs - he truly went above and beyond to make our special day perfect.

Jaime

Married on 09/30/2022

Best DJ Ever

From the beginning of planning our wedding to the day of, DJ Ruki was awesome to work with. Very professional and kept us updated during our reception of what to expect next (grand entrances, speeches, special dances, etc.). He also kept the dance floor packed the entire night. We had a wide range of ages from 2 -80 and everyone enjoyed the atmosphere and the dance floor. DJ Ruki also perfectly blended our Filipino and Mexican heritages, which we greatly appreciated. People are still telling us how great the music/DJ was at our wedding and it was the best wedding they have attended. You will not regret booking Dream House Productions for your next event!

Are you interested?

Send a message

Shrey

Married on 07/23/2022

The Best official family DJ you can find.

Working with Ruki is an absolute pleasure. You deal with a lot of vendors when your wedding planning but there are very few that go the extra mile just to put a smile on your face. Thats Ruki. He has DJ'd 3 family weddings for us and 2 events for me personally and each time the dance floor is lit up past midnight. His sound system has the capability to blow the roof off. Even if you think you are second guessing going with Ruki call me for a reference ill tell you personally why you need to have Ruki DJ for you.

Hannah S.

Married on 06/24/2022

If you're still looking for a DJ-- Stop

If you're still looking for a DJ- Stop. You've found the best of the best.
Ruki did an AMAZING job of combining so many styles of music (pop, reggaeton, salsa, bachata, Italian, hip hop) and really played a pivotal role in making our wedding a wonderful party.
He took song requests from guests, was able to read the crowd, and really kept the party going strong.
Ruki was very professional and helpful not only during the wedding, but also beforehand in the preparation process.
If you're still reading all these reviews and vetting different vendors, save yourself some time and secure Ruki to DJ your wedding. You and your guests will have an amazing night to remember for years to come!

Alex O.

Married on 06/11/2022

Best vendor at our wedding

Ruki was an instrumental part of our Sangeet, ceremony, and reception events. He conducted himself extremely professionally in all communications leading up to the events, which included clarifying itineraries, preparing for announcements, and making sure he had the the most amazing playlists for each event. Not only did Ruki play a huge role in making sure our events ran smoothly and on time by communicating clearly with the wedding party, but he absolutely nailed all of the announcements, introductions, and general crowd rapport. For example, he stopped the father of the bride during the beginning of his speech to remind the crowd to please be quiet (in as kind and firm of a way as possible) during the speech as this was an important moment for the bride's parents and for us. This gesture meant a lot to us and exemplified the experience and care he brought to the job.

And WOW, we haven't even gotten to the good part - the music was incredible, from the pacing, energy, song selection, and ridiculously cool mixing to his ability to get and keep people on the dance floor the entirety of both nights. Ruki's DJ'ing alone made our celebration truly special to us, and we could not have hoped for a better outcome with respect to the music. On top of that, because our wedding guests were culturally mixed, he balanced playing both Indian and non-Indian songs beautifully. We cannot recommend Ruki enough - he and his team went above and beyond for us and we are so thankful for the amazing memories they helped to create.

Ryan

Married on 06/04/2022

Incredible at keeping the dance floor energy level high all night!

DJ Ruki did an incredible job keeping our dance floor packed for the entire night and seamlessly mixing songs to ensure that the energy level stayed high and reading the crowd to make sure to play music that everyone was excited about. The communication throughout the planning process was superb and he was extremely organized and detailed to ensure that everything went seamlessly on the day of. Even weeks after the wedding all of our guests keep telling us about how much fun they had and it is truly all thanks to the energy that Ruki brought, truly can't recommend him and the rest of the team enough!!

Eva G.

Married on 05/21/2022

Best experience

We are so thankful that DJ Ruki was our DJ! His music selection and mixes were such crowd pleasers for our sangeet, wedding/baraat, and reception! Not one dull moment on the dance floor. He also has quality equipment like uplights and sparklers. Not only is his music awesome, but he himself is such a great advocate as well for couples and truly does make sure he does his best. Very good at communicating, professional, and very organized. Highly recommend him and his team!

Prashant J.

Married on 05/01/2022

Tremendously helpful in planning, amazing in execution!

Ruki was fantastic to work with throughout the process of planning and putting on our wedding! He was very well organized in helping us understand his role in putting our special day(s) together and provided lots of assistance and tools to make the planning process as simple as possible. Even with the times that my now-wife and I messed up with some planning aspects, he was there to help us correct course and fill in the gaps. Especially on the day of our wedding where some unrelated scheduling issues came into play, Ruki instantly improvised to make the night appear incredibly seamless; no one knew that we carried out our reception completely out of order! And perhaps most importantly, Ruki was fantastic as an MC, making sure everyone was informed of what was going on and getting people moving on the dance floor when it was time to party. And his set was just as awesome, full of energy and with something that could appeal to everyone, seamlessly mixing songs from Bollywood, top 40, classic and modern hip hop, and much more.

We'd be remiss if we didn't mention that Ruki also provided DJing and audio services for parts of our wedding beyond the reception, including the actual wedding ceremony itself, our day-before event, and the entry procession (Baraat) where he utilized a mobile speaker cart to lead us!

We couldn't be any happier with how everything turned out, and we owe a huge amount of that to Ruki and his team. We would 100% recommend his services to anyone looking for a top tier DJ at a great price. Thank you so much Ruki!

Amber M.

Married on 11/06/2021

Absolutely fantastic!!

Ruki was the DJ for our wedding in downtown Chicago last weekend, and our guests are still talking about how great the music was and how they couldn't stay off the dance floor. Not only was the music exceptional, but Ruki has so much experience he was instrumental in helping us plan our timeline for the evening. I can't say enough about the job he did for our wedding. He is also an incredibly nice guy! I highly recommend Ruki for any event!!

Darshan T.

Married on 10/16/2021

Indian Wedding in Chicago

Ruki was incredible from beginning to end! He completely rocked the party at our wedding! So many of our guests kept coming up to us and telling us how they could only leave the dance floor for a quick drink because DJ was so good they had to run back to the dance floor. We have attended tons of Indian weddings over the past few years, and honestly I have never seen a dance floor consistently packed like we had at ours. Ruki's mixing was so so sooo good, especially the way he was able to mix Indian and American songs back and forth. Also, man can he actually mix -- at so many weddings, the DJ just plays songs or a mostly premade set of mixes, but Ruki was live mixing every single song!

During our wedding week, we unfortunately had to make some last minute changes (literally right before some introductions) and he was quick to help us out to make sure our event ran smoothly.

We actually decided to work with Ruki and Dreamhouse back in 2019 for a 2020 wedding but our wedding was pushed back four separate times. At all times, Ruki was super professional and easy to work with. He was understanding and always willing to help with anything we needed.

We would highly recommend Ruki to anyone looking for an awesome DJ for your next Indian wedding! He will surely make the event one to remember!

Ryan K.

Married on 08/07/2021

Amazing experience!

Where do I start? I have known Ruki for years now and have seen him DJ many times and enjoyed it every single time. So, when it came time to plan our wedding which was originally supposed to take place in August 2020, I knew Ruki and Dream House Productions is where I would go. As you all know Covid came and changed plans for many people, including ours, but Ruki made rescheduling (many times) as easy as possible due to his flexibility with us and wanting to make sure we still had the best experience we could have. Fast forward to our new wedding date of Aug 2021, we worked with Ruki as the date got closer to iron out all the details of the wedding, which he became a huge part of how our reception flowed. The reception was changed to be a cocktail style reception, in a smaller venue, with a much smaller guest list, so we didn't have the best idea on a format of how everything would flow throughout the night, but Ruki helped us through this and provided a lot of insight on how things should/could go and we used all of his suggestions and we do not regret it!

The portal that Dream House Productions offers was very helpful when it came to choosing music and having a place where all the details could be shared and keep everything organized. Speaking of the portal, this allows you to provide your music/song suggestions (must plays) for the wedding so you get to hear exactly what you want without having bug the DJ the whole night.

Wedding day! We had Vaughn has our DJ for the evening of the wedding and I must say that we couldn't be any happier. When we filled out the portal of "must plays" for music, we purposely didn't put 4 hours of music so that he had to play directly from a playlist, but specifically put a couple hours of songs and asked for Vaughn to make his best judgement and to feel the room out and play what he thought was best and actually "DJ". He did an absolutely amazing job and we were asked by our guest about the music and DJ selection over and over as they were all thrilled. From the moment the music started until we were kicked out of the venue, people were on dance floor and we wouldn't have had it any other way! Thank you to Vaughn and Ruki for your professionalism and expertise in making our wedding night as special as it was!

Kawinthi F.

Married on 07/24/2021

Kept everyone on the dance floor all night!

When we started planning our wedding, our biggest priority was making sure we hosted an incredibly fun event, where our guests would be out on the dance floor all night long. Even though DJ Ruki is based in Chicago and our wedding would be in New Hampshire, he was the only DJ we spoke to, and the first vendor we booked after securing our date - we were THAT excited about him, and man, did he deliver! Our guests raved about him all night, and are still talking about what an awesome mix he curated. From the beginning, Ruki was incredibly communicative, and really understood the vibe we were hoping to pull off. His DJ portal was easy to use, and even though we didn't have many must-play requests, he clearly understood the type of party we were looking to have. We hosted 200 guests at our wedding, and there were probably 180 people on the dance floor at any given time, until the last song was played (not an exaggeration). Our late night snack vendor even commented that he had fewer guests than normal for him, because so many people were on the dance floor until the very end. We also had a specific need for a mix of American and Sri Lankan music, as my family is Sri Lankan, and that made up 30-40% of our guests - Ruki SEAMLESSLY mixed in Sri Lankan dance music with American bangers, and everyone loved it all! Lastly, after all was said and done, Ruki actually let me know that the sound equipment he was renting for our wedding fell through at the last minute, and he had to troubleshoot with another DJ colleague of his who came up to NH from Philadelphia to help! Of course, I had no idea about any of this until afterwards, and am SO happy we trusted DJ Ruki. He only had our best interests in mind, from the start, and we couldn't have asked for a better party. If you're looking for a DJ that really gets to know you, is reliable & trustworthy, and will throw an absolute rager - DJ Ruki is your guy!

Rishab S.

Married on 07/17/2021

Amazing music all night

RJ Ruki, the owner of Dreamhouse Productions delivered a fantastic performance for our Wedding! His transitions from song to song and genre to genre were flawless and he did a great job of reading the crowd to know when to keep a certain vibe going. All our guests raved about the music the next day!

Chris S.

Married on 07/10/2021

Far Exceeded Expectations

Dream House Productions absolutely exceeded expectations. They were very responsive throughout the whole process, suggested certain music-types and songs for the cocktail hour/reception, set the right vibe, and played requests that matched the energy in the room. Ruki held a meeting with us before the wedding and made sure everything would go smoothly. The DJ even accommodated a custom song mix for our mother/son dance. We couldn't have asked for a better DJ experience. Extremely satisfied and would recommend Dream House to anyone.

Maggie O.

Married on 10/30/2020

Epic Dance Floor

I have worked with Ruki for years and knew when it came to our wedding music, Dream House Productions was the only answer. Ruki and his team were great to work with and did an amazing job at our 10/24/21 wedding. Our guests kept coming up to us saying how great the music was and how they didn't want to leave the dance floor. Ruki really took into account all of our requests and spun them with other songs that fit our vibe. They are super responsive and their client portal was super helpful to use. Thanks for making our party epic!

Katrina C.

Married on 09/09/2020

Best party ever! Music was lit!

"The only DJ and wedding production you will ever need!" The three main elements of a wedding are food, booze, and MUSIC. We could not have picked a better DJ than Ruki. He was easy to work with and always available for any of our questions. From planning to execution his services were detailed and organized. Our ceremony, cocktail, and reception were all in one place, Ruki customized our event based on our needs and gave us suggestions and ideas of what we could do. A few days before the wedding day we had a conference call with him to go through the event details, reception program, wedding party introductions, and all the songs for the first dance. We also requested "dance in the cloud," based on another wedding he hosted.. It was the best "extra" idea we made. It added more romance to a room already filled with love. He wasn't just our vendor but he is also a friend of ours. We know he will not disappoint us but what we did not know is that he EXCEEDED our expectations. He did not just play a whole song but he mixed it up based on everyone's mood, age, and music genre.. the dance floor was never empty. Our wedding guests loved him at the reception and still talks about how amazing our DJ was and that the music was LIT!

Karan P.

Married on 07/25/2020

Highly recommend for an unforgettable night that will be raved about for years to come

The two most important partners we wanted for our wedding were great food and music. DJ Ruki was everything we were looking for in our music partner and we highly recommend him and Dream House Productions!

Our wedding was half American half Indian, and he played a mix so good it had both sides of the family on their feet all night. We've thrown lots of parties and been to many weddings, but we've never been to an event where everyone was on the dance floor *immediately* after the first dances ended. Ruki led off with bangers and kept the energy high throughout. He mixed both American and Indian musix flawlessly and even worked in some traditional Indian dance music to cater to the crowd. Everyone had such a good time we extended the reception later into the night, which he happily accomodated. He was a fantastic MC as well. We were running about 30 minutes late from pictures between the ceremony and the reception, and he worked with our venue coordinator to adjust our schedule and keep everyone on track. He also had someone with him who helped

Ruki was great in terms of service too! He was very professional, clear and responsive in his communication, and made sure that we thought and talked through every detail of the event in advance so he knew exactly what to do. We documented everything in his planning portal and shared a Spotify playlist of music for reference, and that worked perfectly. His prices were very reasonable as well for the level and quality of service provided.

All in all, if you want an unforgettable night that people will rave about for years later, we can't recommend DJ Ruki and Dream House Productions more highly!

Christopher M.

Married on 07/10/2020

Wedding Review

Ruki and his DJs are absolutely phenomenal. When we attended my cousin's wedding, we knew that we needed to hire the man who had the dance floor rocking all night. We made an awesome choice and Ruki did our wedding this October.

He made our life easy. He is accommodating, runs a great business, and is genuinely an incredible person. His wedding portal is easy to use; he makes great suggestions about order of events, how to keep the flow of the wedding going, and how to keep everyone engaged in the reception.

As far as the wedding, all our guests remarked about how great the music was. The energy did not drop an ounce all night! We could not have asked for a better DJ. I would recommend Dream House Productions to anyone. In fact, we hope to use him again in the future!
Chris and Kiara-Jade

Megan R.

Married on 05/09/2020

Thoughtful, Professional, Attentive

Ruki and his team at Dream House Productions are thoughtful, attentive, and go above and beyond expectations. We did not have a wedding planner/coordinator at the reception and Ruki was the perfect master of ceremonies - he kept things rolling, while ensuring we took advantage of every special moment. Not to mention the music was on point! 10/10 would recommend. Thank you, Ruki and team!

Christian R.

Married on 01/02/2020

STL Wedding

Dream House Productions made our wedding a great success. We had 180 people for a wedding in STL. Ruki and Vaughn traveled to the wedding with all of their sound equipment and it sounded amazing. Got the party going and kept the atmosphere perfect for a large wedding. Great experience and highly recommend these guys!

Christian & Sarah, married 02/01/2020

Carrie

Married on 08/03/2019

Super Impressed!

Had an excellent experience with Dreamhouse Productions for our wedding!! Ruki set us up with Jim and he did an absolutely fantastic job. He was super nice and very on top of things. He played every song we requested and facilitated the evening with flying colors! I felt super confident with him running the show.

Dipika C.

Married on 07/27/2019

Highly Recommend!

We loved Ruki! We hired him for all of our wedding events and he executed flawlessly. He is friendly, organized and easy to work with. We gave him some general direction on the type of music we like, and he read the crowd so well and kept everyone dancing the whole night! Multiple guests complimented us on our DJ choice. He also did a great job managing music changes during performances and entrances. Everything was perfect! I would highly recommend him and his team!

Kavita

Married on 07/06/2019

Best wedding DJ ever!

Would highly recommend Ruki for an Indian wedding (or any event) & would hire him again in a heartbeat!

We hired DJ Ruki for our Indian wedding at the Drake for three different events: baraat, ceremony, and reception. In the planning stages, he was always timely and responsive to emails and was very organized. He even opted to meet with us twice in person before the wedding to ensure that he understand our complicated requests for the ceremony.

During the baraat, his generator unfortunately malfunctioned but he was able to try and salvage using the car system. Eventually we were unable to get the system to work, so Ruki comped us for the baraat - without us even bringing it up! For our ceremony, we had very detailed/mixed-custom music playing representing both Gujurati and Tamil customs. Ruki somehow made both our sets of parents incredibly happy, and it was seamless!

For the reception, everything was FIRE. Ruki nailed all the programmed part (e.g., microphones for speeches, the correct songs for dances). More than that – he kept EVERYONE on the dance floor for a full 4.5 hours. People could not be pulled away! He played an amazing mix of Tamil, Hindi, and American hits, and people kept telling us later how hype the DJ was.

Colleen

Married on 06/28/2019

Ruki is hands down the best DJ!!

Ruki is an amazing DJ! Ruki is funny and easy to talk to. Everything ran seamlessly, from booking with him to our wedding day. He made sure that all of our requests were played and he was super accommodating. I (the bride) changed my processional song an hour before the ceremony and Ruki was so flexible and made it work. At our wedding reception, the dance floor was packed all night and all of our guests were raving about the music and Ruki's MCing. I would highly recommend hiring Ruki and his team for your wedding/events! Thank you for making our wedding so special Ruki!
Are you interested?
Send a message